Good artists borrow; great artists steal.
Who are they stealing from?
Graphic design has only been in existence since the 1950s, but since its birth, people have truly complexified the art of what is seemingly just putting together typography and graphics. Some designers are followers.
But followers need leaders.
The giants in the world of graphic design are those who have taken risks, been innovative, and made an impact on the way we see things.
10 famous graphic designers
There are millions of people who call themselves graphic designers, but here are some that have really left their footprint on the metaphorical moon of the industry.
Paul Rand (1914 - 1996)
We've listed Rand first because not only is he an influencer of graphic design, but he's considered the father of it.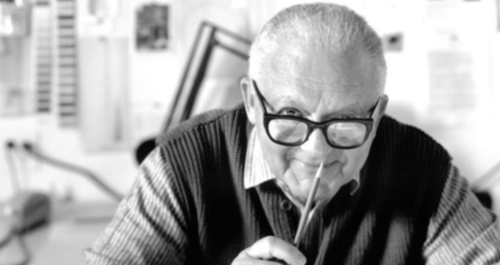 Source: Entrepreneur's Handbook
In 1947, Rand published his book titled Thoughts on Design which contained theories and beliefs that shaped the entire future of graphic design. One of his largest points was the ideology that graphic design should be a "functional-aesthetic perfection". The balance between beauty and practicality was one that he believed should be executed in order to make something look good while getting the message across in an effective manner.
Rand taught graphic design at Yale University and designed the logos of IBM and ABC. He also pioneered the movement of Swiss Style graphic design, which focuses on cleanliness, readability, and visual hierarchy.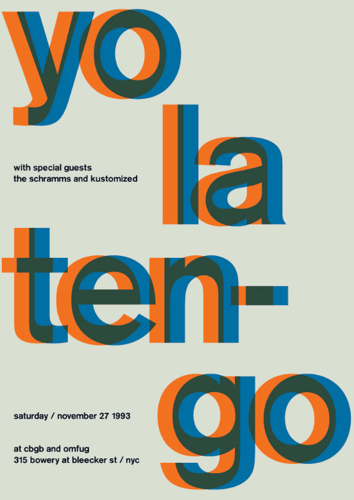 Source: Print Magazine
Overall, Rand is the designer that differentiated graphic design from fine art by stressing the importance of accessibility alongside aesthetic.
Ruth Ansel (1938 - )
Ansel is an American graphic designer who became one of two art directors of Harper's Bazaar, and the first female art director of The New York Times Magazine, House & Garden, Vanity Fair, and Vogue all in one lifetime. For over 40 years, Ansel has worked with artists, photographers, and illustrators alike. You might have heard of some of them: Andy Warhol or Annie Leibovitz ring a bell?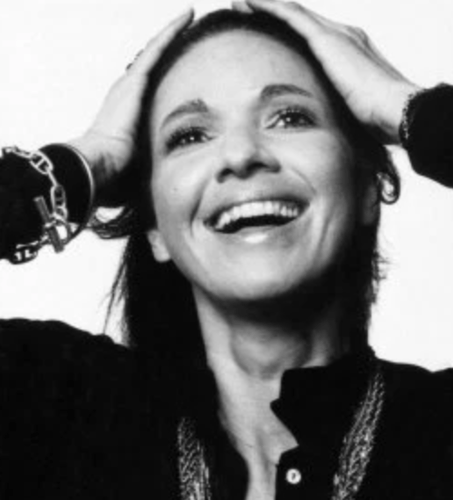 Source: Culture of Design
She's also produced campaigns for Karl Lagerfeld, Versace, and Club Monaco.
In other words, she's a legend.
With so much experience, you'd think she'd have published some general guidelines for how others can follow in her footsteps. The closest thing we get is from her interview with AIGA in which she discusses the four rules she always follows when designing magazine layouts: provoke, inform, entertain, and inspire.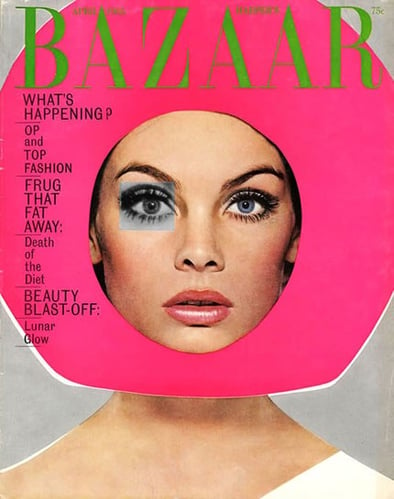 Source: Bazaar
Milton Glaser (1929 - )
This guy needs no introduction.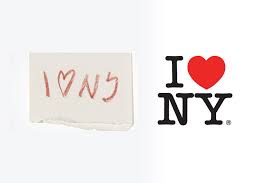 Source: fineprintart
Glaser designed one of the most recognizable logos in the back of a taxi (see above). He founded New York Magazine. His art has been featured in Georges Pompidou in Paris and the Museum of Modern Art. He is the first graphic designer to be presented with the National Medal of the Arts by the United States government – the highest award for artists and art patrons. Glaser has been teaching at the School of Visual Arts for over half of a century.
It's no surprise he's one of the biggest names in the industry.
Kate Moross (1986 - )
Moross is a London-based graphic designer art director. While the above inspirations have been around for a while, Moross had made a name for themselves at only 26. Now 33, award-winning Moross has a list of clients including names like Nike, Vogue, and Ray Ban.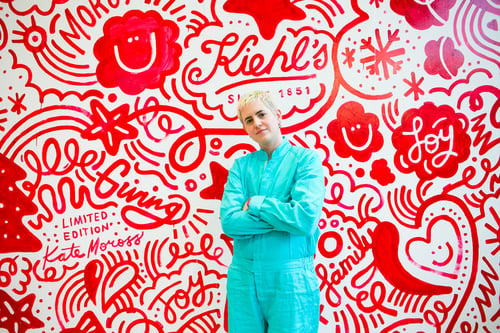 Source: Kate Moross
Moross used near-illegible typography and bold color to claim their space in the world of graphic design. In 2012, Moross founded their own studio – Studio Moross.
Moross is sure to keep busy. While the studio focuses on branding and commercial projects, they've also found themselves working on music videos, solo shows, and attending lectures as a guest speaker on a topic they know all too well: how to make a name for yourself in the competitive world that design has become.
Saul Bass (1920 - 1996)
Bass was one of those people that had an opportunity, took it, and rode it out for the remainder of his career. When he was asked to design a poster for the 1954 movie Carmen Jones, the design was so impressive that the directors asked him to design the movie credits as well. This was the end of Bass's life as an advertiser as he knew it, and the beginning of his life as a graphic designer.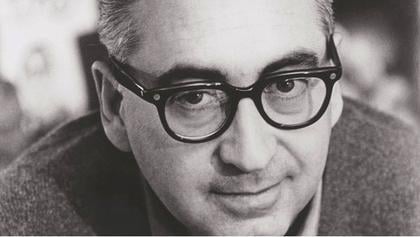 Source: Wikipedia
Bass distinguished himself as a designer in Hollywood by implementing kinetic typography into movie titles and closing credits. Kinetic typography is the process of animating text to express ideas. He used this technique on a multitude of movies including Vertigo, Psycho, and The Shining.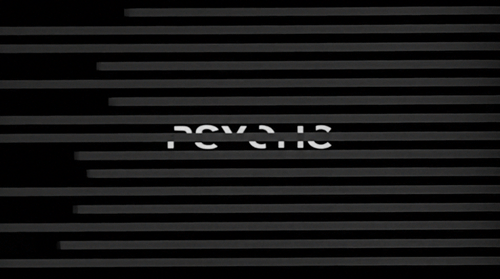 Source: Saul Bass
If that's not enough for you, the designer who introduced kinetic typography to Hollywood is the same designer who created logos for Kleenex, Girl Scouts, Dixie cups, and Quaker Oats. Although some of these designs have gone through a logo evolution, they remain tied to their Bass roots.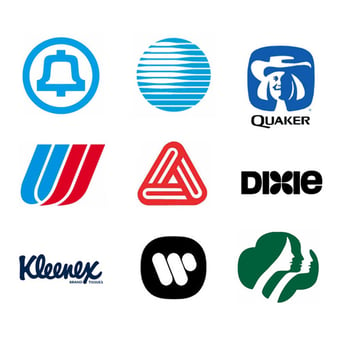 Source: NF Logos
Chip Kidd (1964 - )
Kidd is an author, editor and graphic designer, best known for his book cover designs. Beginning at Knopf publishing house, he's designed around 75 book covers a year since 1986.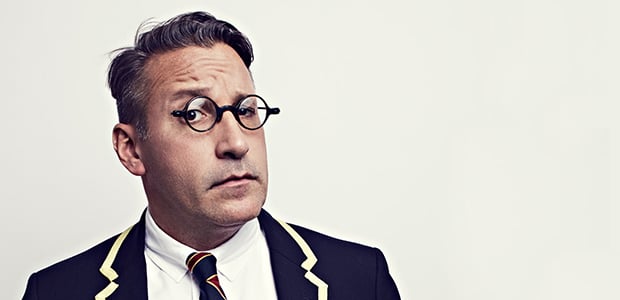 Source: UCLA
Kidd is still employed at Knopf and is also the art director for Random House and supervises the comic book cover designs for Pantheon. He's designed for Donna Tartt, Dean Koontz, and David Sedaris. Neurologist and author Oliver Sacks even has a clause in his contract stating that Kidd must be the exclusive designer for his book covers.
Although he says he's largely against the idea that the cover is what sells the book, he believes that visual representation is needed. And Kidd definitely delivers.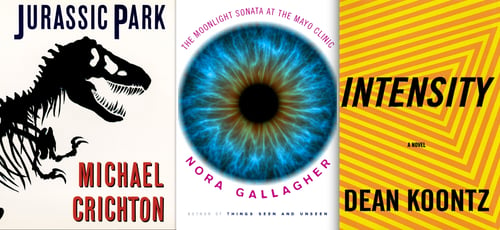 Source: Cool Art Blog
Carolyn Davidson (1943 - )
Davidson is the creator of one of the most iconic logos of all time: the Nike swoosh.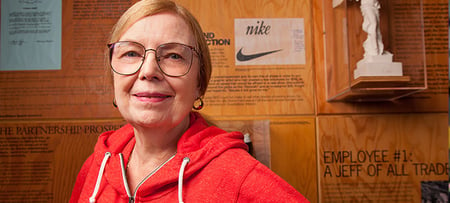 Source: Awkward Media
Her story is a classic: one of the founders of Nike, Phil Knight, approached Davidson, then a graphic design student, to design a logo for a shoe that "had something to do with movement".
Davidson came up with five drafts, Knight picked one, and Davidson was paid $35. For a priceless logo.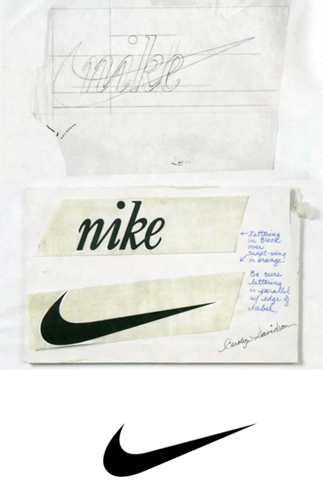 Source: 99Designs
The story doesn't end there, thankfully (although that's where a lot of people like to end it).
When Nike went public in 1983, Knight gave Davidson up to 500 shares of stock along with custom Nike Swoosh chocolate and a gold Swoosh ring. Davidson retired in 2000, but this story never will. It's a reminder for women who work in creative fields not to undersell themselves, believe in themselves, and ask for what they deserve.
Alex Trochut (1981 - )
Another fresh face in the graphic design world, Barcelona native Alex Trouchut is up-and-coming.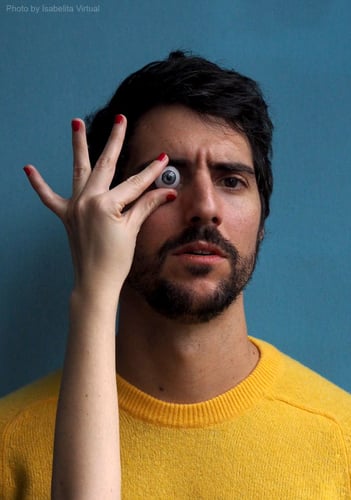 Source: Alex Trochut
Typography has two elements: the image that the characters make and the word that the characters spell. For Trochut, the image comes first and he draws his inspiration from street culture, fashion, and pop culture.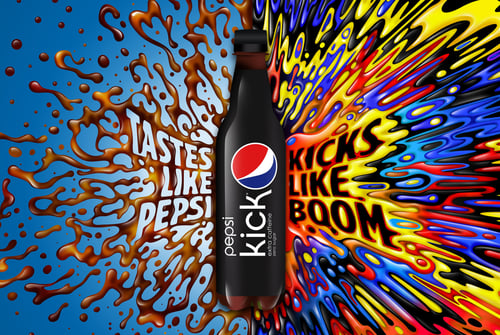 Source: Alex Trochut
Trochut's list of clients is nothing short of impressive: Coca Cola, Nike, MasterCard, Audi, Adobe, Washington Post, The Rolling Stones, Vampire Weekend, MAC, The Oscars, Apple, and the list goes on.
You don't have to keep an eye out for his work – it's pretty eye-catching to begin with.
Morag Myerscough (1963 - )
For more than 30 years, Myerscough has been displaying art that is larger than life. Her work resides in environmental graphic design: wayfinding and pop-up pieces that make spaces exciting, colorful, and mind-boggling. Her overall goal is to design places that make people feel a sense of belonging.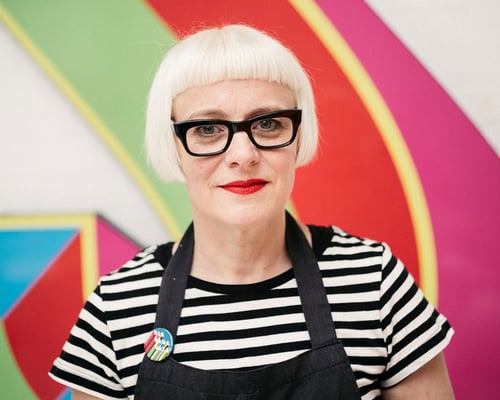 Source: Tim Cole
Myerscough owns Studio Myerscough – one of the UK's superb studios with a focus on environmental graphic design: schools, exhibitions, offices, and wayfinding projects that are largely three-dimensional.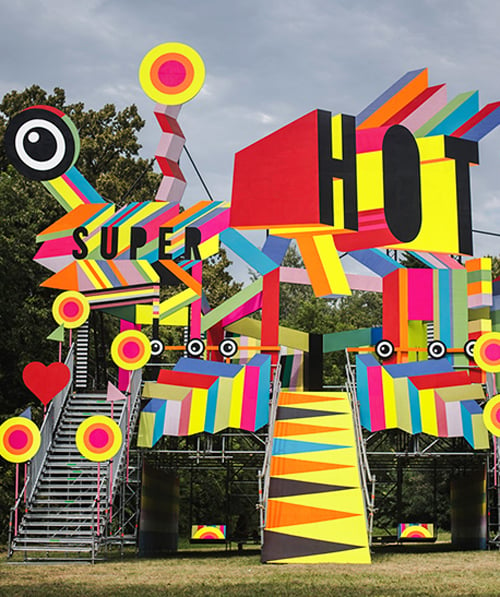 Source: Designboom
Studio Myerscough is comprised of Myerscough and two assistants, but the work that she produces looks like it would take a team of at least 50.
Max Miedinger (1910 - 1980)
Remember that Swiss Style we talked about under Paul Rand? Miedinger took part in that as a Swiss typeface designer.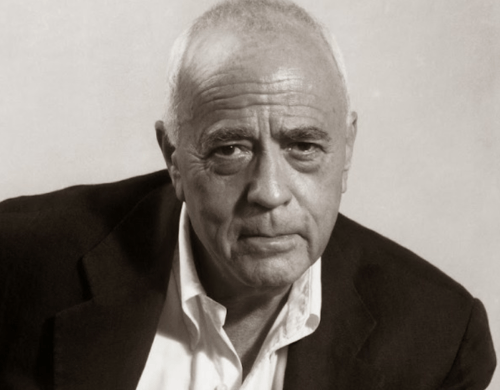 Source: Hypocrite Design
Swiss typefaces strip characters of all of their embellishments and make them as minimalistic as possible. He created Neue Haas Grotesk in 1957. Not familiar? In 1960, it was renamed Helvetica.
One of the most well-known typefaces in the world, Miedinger's contribution to Swiss design was invaluable to the movement.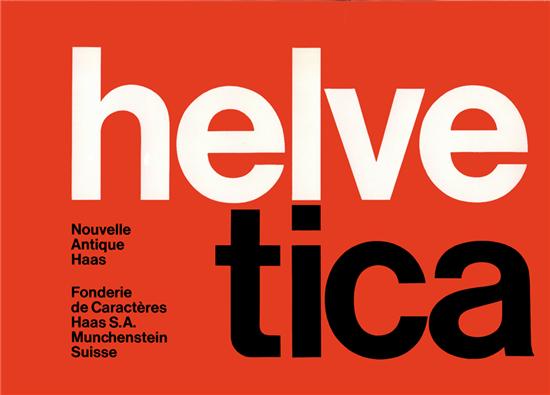 Source: History of Graphic Design
Follow in their footsteps
What do those footsteps look like? Nobody knows. Each of these creative graphic designers marches to the beat of their own drum and each produces something unique, impactful, inspirational, and beautiful. Taking a risk is a dangerous move for some. For others, it's the key to success.
We keep saying "graphic design" – what is graphic design, anyway?