Getting to know your brand's audience might be the most important factor to increase engagement and interaction.
Think about it. Social media is all about connecting with people. Whether that be friends, family, colleagues, or consumers, social platforms are a place where we can really get to know someone. For marketers, the more you know about the people who like your page the better you can become at targeting them based on their data.
Every day, brands have the opportunity to analyze and understand their audience. That's where Facebook Audience Insights comes in. If you want a closer look at who your audience is, consider using Facebook Audience Insights in your Facebook marketing strategy.
What is Facebook Audience Insights?
Audience Insights is a tool in the Facebook Ads Manager that collects data about your target audiences so that you can create more relevant advertisements for them.
The big question is how do you use this information to your advantage? In this post, we'll go over everything you need to know so you can optimize your audience with Facebook Audience Insights.
How to use Facebook Audience Insights
Exploring your data
Saving your audience
Why you should use Facebook Audience Insights
Having this data at your fingertips is incredibly beneficial when trying to slim down your audience. Targeting a smaller group of people who interact with your page will lead to more engagement and less ad money spent on your part.
Facebook Audience Insights is one of the most dynamic tools available to brands and businesses right now, providing important demographic data you can use to understand the people who are interested in your brand. As long as you have a Facebook business page, you can use Audience Insights for free.
How to use Facebook Audience Insights
Now that you know just how important Audience Insights is, let's go through how to use it step-by-step.
Step 1: Choosing an audience
Audience Insights is the first link in the Facebook Ads Manager drop-down menu.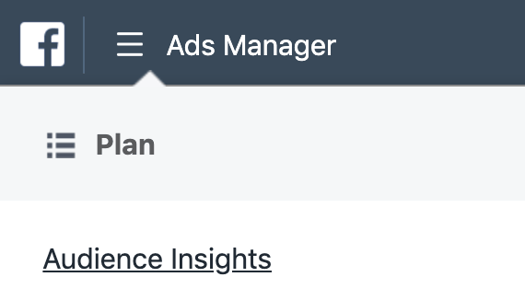 Upon clicking "Audience Insights," you'll first be prompted to select an audience. There are two options here:
Everyone on Facebook: This option allows you to advertise to the entirety of Facebook. If you're looking to understand data, likes, and interests broadly across the platform, this is the one you want to choose.
People connected to your Page: This option will lead you to select your own Facebook page. If you want to understand your existing audience, this is the one you want to choose. (alt-text: choosing an audience prompt in Facebook audience insights)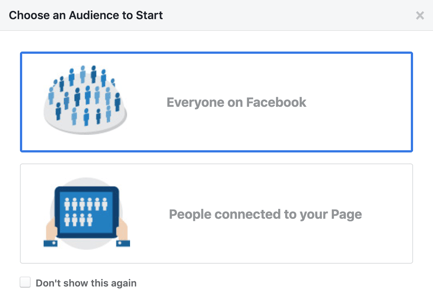 For this example, we'll be selecting the first option – but don't worry, it's the same process for both options.
Step 2: Defining your audience parameters
Once you've selected your audience, it's time to start getting specific. You should be looking at a page that looks like this: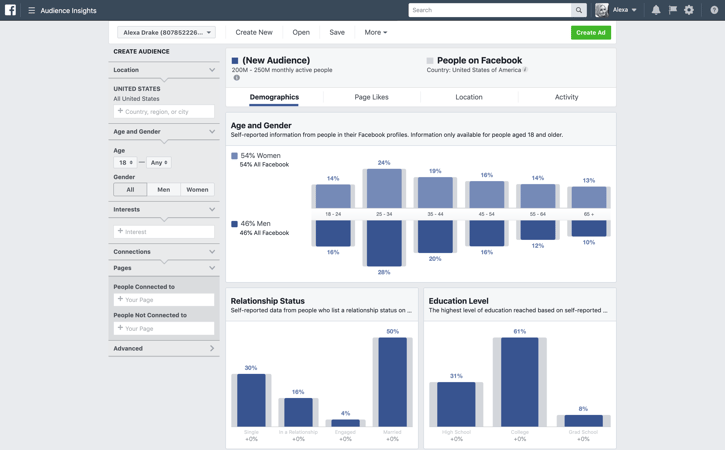 The Audience Insights page is made of two sections. On the left sidebar, you can customize segments based on Location, Age, Gender, Interests, Connections, and Pages. The right side of the page shows graphs and statistics related to your brand's audience.
Let's take a look at the demographic bar on the left.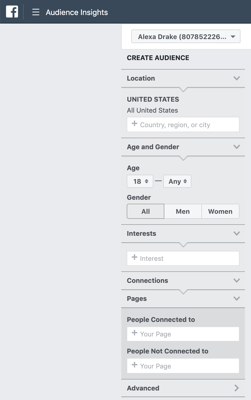 Location
Facebook automatically selects the United States, so if you want to target another location, you can always exclude it altogether. Just hover over "United States" and click the little x.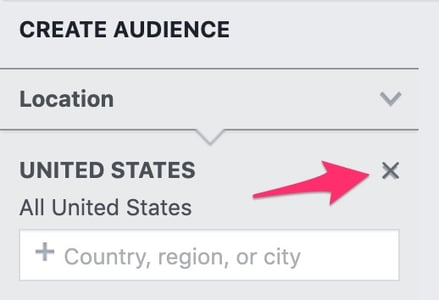 You can also add locations by typing in the white box and selecting from the drop-down menu. Consider your brand. If you own a brick-and-mortar store in Tulsa, Oklahoma, you'll be better off selecting Tulsa and towns around it. If your brand is selling online, you may benefit from not selecting a location at all. If you choose not to select any location, all of Facebook will be advertised to. For the examples in this post, we're going to select Italy and pretend to be Italian bakery owners.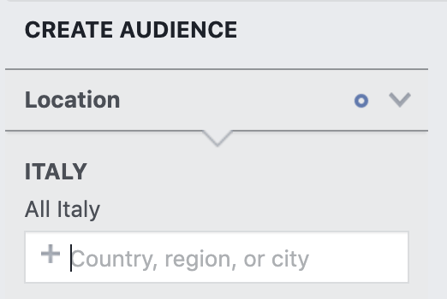 Continuing downward, you can begin to segment your audience with other categories like age and gender.
Age and gender
You can use these categories to narrow your audience down and target a specific group of people. Leave the defaults as is if you're not sure which ages and genders you want to hone in on. After playing around with Audience Insights, you'll discover who your audience is and will be able to change these settings later on.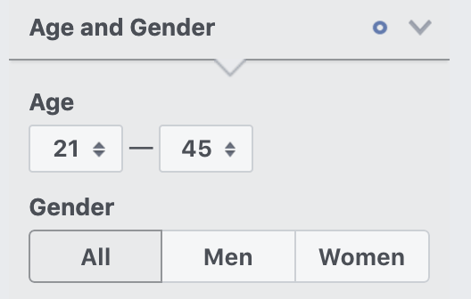 Interests
When you click on the Interests box, you'll see a drop-down menu. Here, you can select from a number of industries like Food and drink, Entertainment, Fitness and wellness, and Shopping and fashion. By targeting a particular industry or interest, you can advertise your brand to consumers who already like these categories.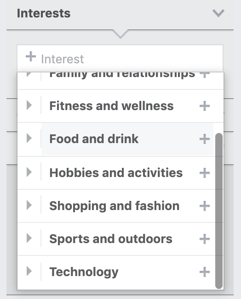 If you're a local bakery in Rome, Italy, you might select some of the following:
Food and drink > Food > Desserts
Food and drink > Cooking > Baking
Food and drink > Restaurants > Fast casual restaurants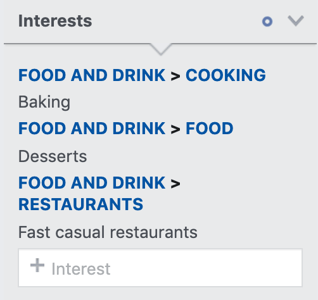 Advanced
If you click on Advanced, you can get even more specific. You can narrow down your target audience by categories like Language, Relationship Status, Education, Work, and so on. If your business is in a big city with lots of tourists, you can choose the Life Events category and select Away from family, Away from hometown, or Recently moved.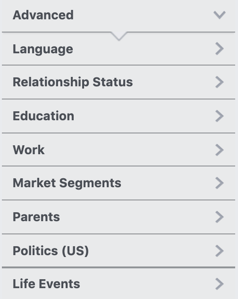 For our bakery, we'll select English and Italian from the Languages category, All parents from the Parents category, and Away from hometown from the Life Events category. You can learn a lot from focusing in on a specific demographic so continue to add and delete categories in the future to get to know your audience.
Demographic charts
Every time you make changes in the left sidebar, the graphs on the right change. The data that makes up these graphs comes directly from people on Facebook and the information they've self-reported, like their age, education level, and relationship status.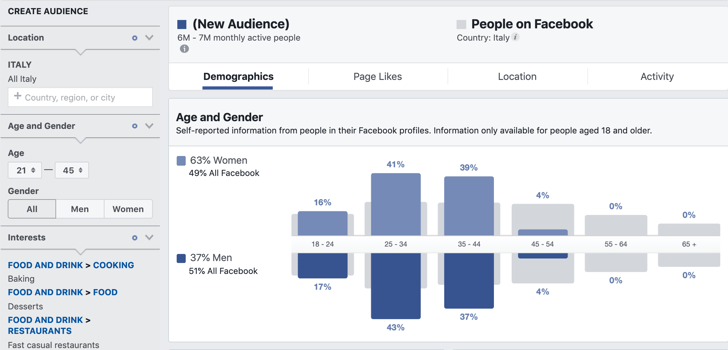 For our Italian bakery example, we can see that our audience is skewed toward women, most of whom range between 25 and 44 years old. This is valuable information we can use for our next marketing campaign.
Below the Age and Gender segment, you'll see two more data graphics. It's here where you can see your audience's Relationship Status and Education Level. For our example, we can see that the majority of our demographic is married with a college degree. Again, this is incredibly useful data we can use to tailor our marketing efforts toward this audience.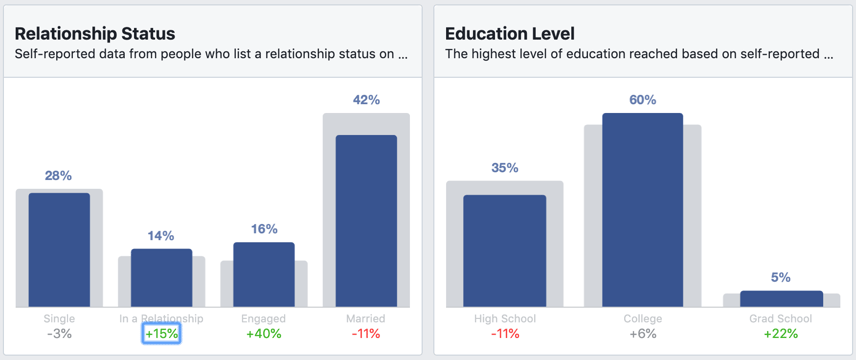 At the bottom of the Audience Insights page is the Job Title segment. You're able to determine what industries your audience works in. We can see that 25% of our demographic works in Administrative Services. That's 3% higher than the general Facebook audience.
Narrowing down your audience is beneficial to your targeting. Remember, the more detailed you manage to get with your targeting efforts, the more defined your audience will be. You'll find a core audience that really cares about your brand and be able to market directly to them.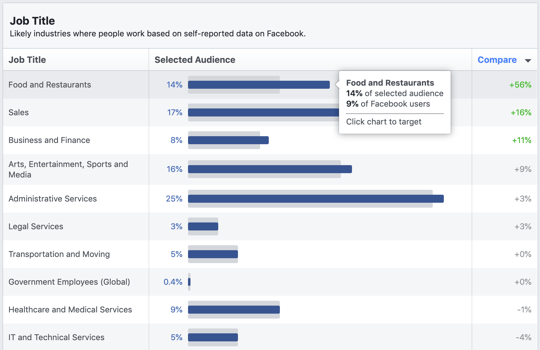 Note: the smaller your target audience is, the more ROI you'll get for your Facebook ads.
Step 3: Exploring your data
After you narrow down your audience, Facebook Audience Insights will start to work its magic. Now that basic parameters are set, Facebook takes a look at your audience's data and serves it right to you. We're going to be taking a look at the other tabs at the top of the page where we can discover what our audience likes.
Top Categories
Click on the Page Likes tab. This segment will break down the Top Categories your audience likes most. For our Italian bakery example, we can see that the number one category for our audience is baby and kids goods. Other categories include clothing stores, ice cream shops, movies, jewelry and watches, and home decor.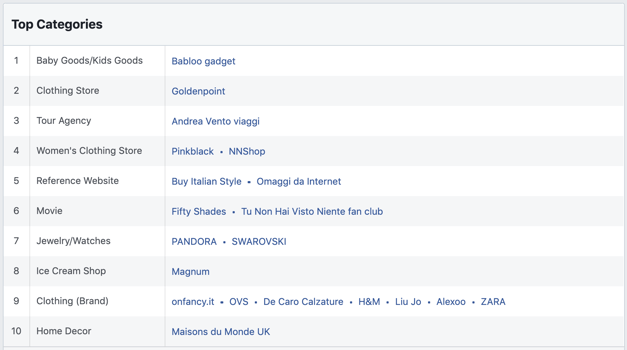 Audience Insights won't just give you these broad categories; Facebook will lay out the exact pages your audience likes. In the ice cream shop category, Magnum is highlighted as the ice cream our audience enjoys the most. This is useful data because we now know that if our bakery were to add ice cream to our menu, we could attempt to make a deal with Magnum and have their product available in our shop. We wouldn't have known this before using Audience Insights.
Page Likes
Below these categories, you'll find the Page Likes segment. This is where it gets interesting. In this segment, you can see the existing Facebook pages that your audience has already interacted with. These pages are relevant to your audience and split into Relevance and Affinity. What does that mean and why is it important to understand?
Facebook defines the two terms as follows:
Relevance: the pages that are the most likely to be relevant to your target audience based on affinity, page size, and the number of people in your audience who already like that page.
Affinity: how likely your target audience is to like a given page compared to everyone on Facebook.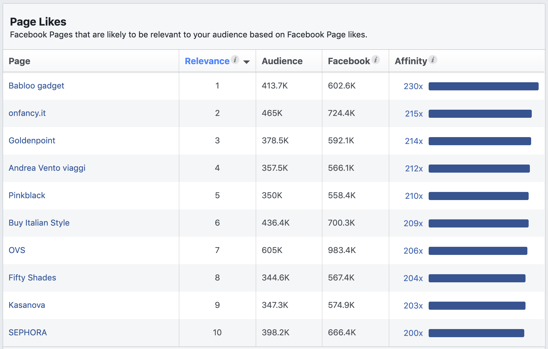 Looking at our data, we can determine that our audience has already interacted with pages like Babloo gadget, Goldenpoint, OVS, Kasanova, and SEPHORA. It never hurts to study and track these pages to observe what kind of marketing tactics they're using. Implementing some of these found tactics into your own marketing strategy can really boost your audience engagement.
Location
The next tab over is the Location tab. Click on it. As one would expect, this segment tells you where your audience lives and what languages they speak. If you've already filtered your location to only include one country, the cities listed will only be located in that country. For our example, our audience is split between a variety of Italian towns. We can use this information to target them more accurately and be certain that our advertisements are reaching them.


Activity
The final tab is the Activity tab. The segment is made up of two data graphics: Frequency of Activities and Device Users. This data helps us to understand how our audience browses Facebook and how active they are. We'll go through both.
Frequency of Activities
This data shows the number of times the audience performed actions like liking a page, commenting, liking a post, sharing a post, redeeming a promotion, or clicking on an ad.

Studying this data, we can observe how active our audience is. This can help to determine if the audience you're targeting will respond well to your Facebook ads.
For our example, we can see that our audience has liked 31 posts, commented 10 times, and clicked on 30 ads in the last 30 days. Looking at these stats, we can infer that our ads and posts need to stand out if we want to keep up with our competition.
Note: Always remember that this data will vary for every audience you create.
Device Users
This data shows the types of devices the audience uses to browse Facebook. For our bakery audience, the majority browses Facebook on Mobile and with an Android device. This is useful for future advertising designs.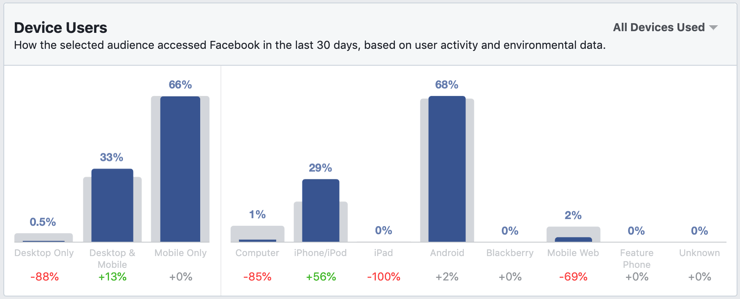 Combining this with what we already know about how active our audience is, we get a bigger picture of how our audience likes to interact with the posts on their timeline and how we can change our advertising efforts to target them more effectively.
Check out our social media marketing hub to learn even more about social analytics.

Step 4: Saving your audience
If you're happy with the audience you've built in Audience Insights, you can save it for future use. All of the data collected with Audience Insights will help you make informed decisions on how to engage with your brand's audience.
To save your audience, just click Save at the top of the page. Once clicked, you'll be prompted to name your audience. This name is saved in Power Editor and selected within your campaigns.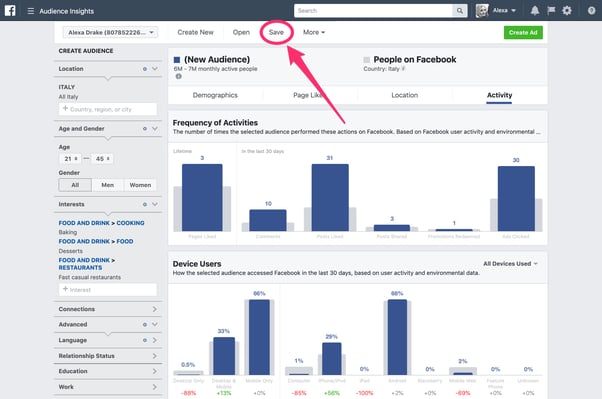 To create an ad with a target audience, click Open (next to Save). Select the audience you want to advertise to and click the Create Ad button. Facebook will automatically enter the Audience Insights parameters into Facebook Ads Manager.
Target your new audience
Facebook Audience Insights is a tool you should implement into your advertising and marketing strategies. It provides valuable behavioral and demographic information which you can use to understand your brand's audience better. If you're already using Facebook Ads, you can only benefit from playing around in Audience Insights.
Social media analytics software will also help you measure your effectiveness on Facebook.
Remember to continually test and track different parameters to find that perfect target audience. If you manage to pin it down, you'll bring more people to your page and maximize your overall ROI.
After breaking down Audience Insights, I'm sure you see just how useful this data can be. Now go get on Facebook and find your perfect audience! Interested in using this data to create Facebook Ads? Check out our post on how to advertise on Facebook.