Celebrities are doing it, your family is doing it, and so are your friends.
They're all using FaceApp.
Moments like these are amusing. We all have our differences, but when a mobile app goes viral, everything quiets for a moment so we can partake in the fun.
FaceApp, owned and operated by Wireless Lab, is the latest app to see an explosion of downloads and purchases. Even Google Trends predicts the search term to reach peak traffic for mid-July.
Here's more insight about FaceApp, the technology behind it, and some outcomes that occur after running your photo through the application.
What is FaceApp?
FaceApp is relatively new to the Android and iOS mobile app scene, only starting in 2017. It falls under the Photo & Video category on both Google Play and the App Store. If you're searching for it now, you won't miss it.
The app rose to fame in August 2017 soon after its initial launch, by boasting its powerful facial recognition capabilities enabled by artificial intelligence.
However, the app came under fire for featuring "ethnicity filters" to change a user's skin tone. This sparked controversy, and the developers quickly pulled the filters from the app. FaceApp lost most of its fame until now.
The technology behind FaceApp
It's been a few years since we've seen FaceApp making headlines, so it's worth checking out some of the advancements they've made since then.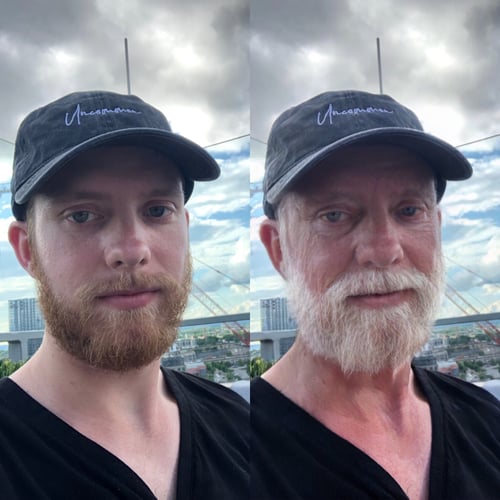 I ran a picture of myself through the app and used the 'old age' filter since it's currently trending. Right away you can see the power of FaceApp's photorealistic transformation, but how exactly does Wireless Lab achieve this somewhat creepy level of realism? Through image recognition software.
In simple terms, image recognition utilizes deep learning technology to recognize the key features of the human face. Think of Snapchat filters, but on a much more advanced level.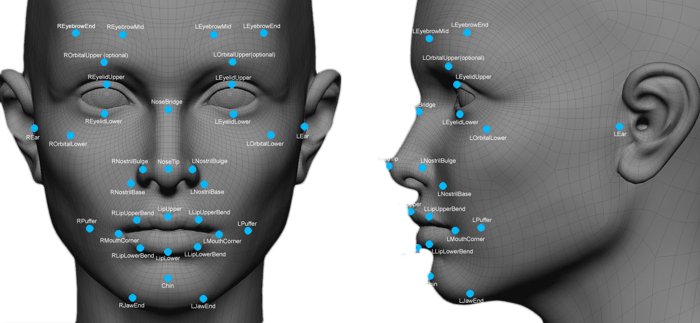 If you're not sure what deep learning is, just know it's the most advanced type of machine learning today.
Using deep learning, image recognition feeds sample data through deep neural networks to learn all the nuances of the human face. The sample data, in the case of FaceApp, are pictures of me, your friends, your family, celebrities, and essentially everyone who has allowed the mobile app to access their camera rolls.
For deep learning, the more sample data that is run through the neural network, the more accurate it gets at generating those hyper-realistic 'old age' photos you're seeing across social media.
What else can FaceApp do?
Refining a neural network takes time, resources, and deep knowledge. It's clear the FaceApp team has some talent. So, what else can the app do?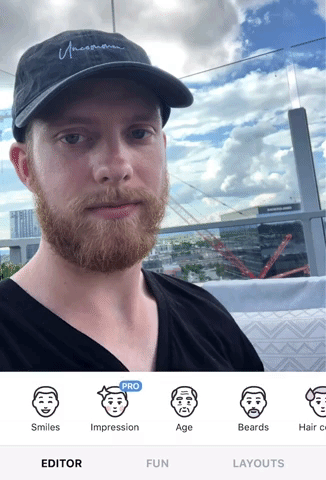 Scrolling through the app, you can see there are many image-manipulation options. For example, users can apply eyeshadow and lipstick, change hair color and style, add beards and mustaches, even add accessories and alter facial expressions.
Below I applied both glasses and the smile expression to my original photo. Creepy, huh? This is the power of deep neural networks and image recognition software.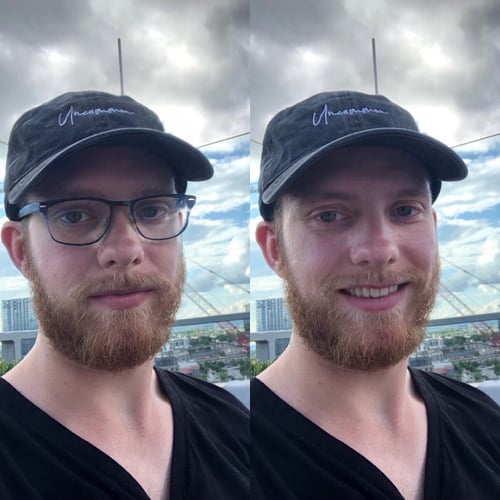 FaceApp even recognizes when a photo of a man has been uploaded versus that of a woman. Pretty intricate stuff.
Should I be worried about FaceApp accessing my camera roll?
There have been viral posts floating around warning users of giving FaceApp access to photo libraries and camera rolls.
Users' privacy concerns are justified, but many of the apps on our smartphones right now have 'read and write' access to our photos based on our consent. That's what happens when you scroll through the terms and conditions without fully reading them first! Be sure to read FaceApp's documentation to understand how exactly your data is being used.
For iOS, you can see how FaceApp is using your camera roll by going to Settings and scrolling down to the application.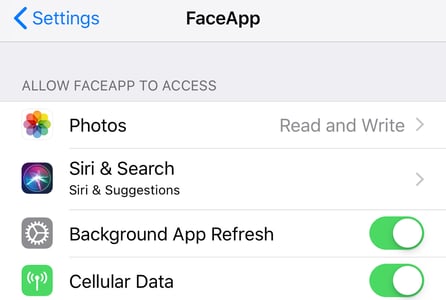 If you'd like to revoke camera roll access, simply change from 'read and write' to 'never.'
Keep your finger on the tech pulse
Artificial intelligence has been around for decades, but the technology never ceases to make advancements. For enthusiasts interested in learning more about the technology, here are 11 applications of artificial intelligence today.