With all that goes into developing an optimized and successful email campaign, the whole email marketing process can be overwhelming and confusing.
But before you can even worry about your click-through rate or conversion rate, you have to make sure that your emails are being opened by your subscribers in the first place.
Enter the email open rate, a telling metric that will outline just how successful your newsletter is at gaining the time and attention of your subscribers.
What is email open rate?
Email open rate is a metric that measures what percentage of your subscribers opened an email over a given period of time.
Email open rate: definition, how to calculate, how to maximize
Email open rate is a metric that can be a temperature check to gauge how your subscribers are receiving your emails and how engaged they are with your brand. We'll go over what the open rate is, how to calculate it, and ways to make it as high as possible.
Email open rate basics
Email open rate serves as a good barometer of how well your email is attracting the attention of your readers. Within the email itself, you have the opportunity to highlight the value your brand can deliver and why they should stay subscribed to your emails. On the other hand, your open rate depends purely on the strength of your brand name and your subject line, as these are the only two visual elements of an email in your subscribers' inboxes before it is opened.
In terms of email metrics, it's easy to merely focus on numbers such as conversion rate or click-through rate, which are more directly tied to actions that drive revenue. However, achieving good results with these metrics is only possible if your open rate is high in the first place.
A "good" email open rate can depend on your industry and the end goal of your email, however a solid range to shoot for is about 15-25%. After mastering how to build an email list, an email open rate around 20% should get your material and links before plenty of eyes and drive a solid amount of engagement with your brand.
How to calculate email open rate
Email open rate is calculated by dividing the number of emails successfully delivered in a given period of time by the total number of emails opened in that same period of time. Here is an example of how to calculate the open rate for 404 opened emails out of 2,020 emails successfully delivered: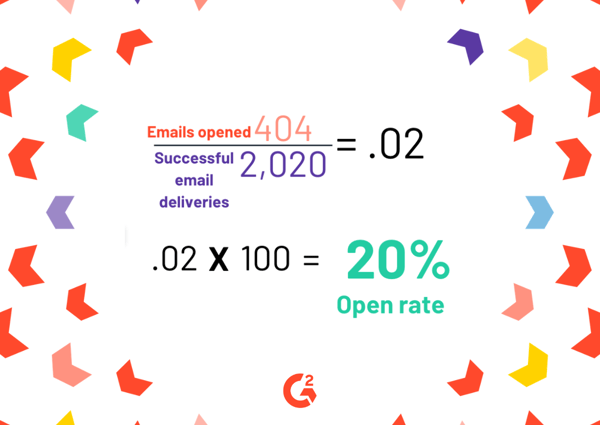 Proven tips for increasing your email open rate
We've put together some strategies that are proven to boost your email open rate.
Subject line
The most obvious way to gain clicks on your email and improve your open rate is via catchy and enticing subject lines. Think of all the other emails in the inboxes of your subscribers that you'll be competing with for clicks. Your subscribers only have so much time to look at email, and the subject line is your chance to stand out and prove to your subscribers that your brand is worth their time and attention.
Personalization
Another way to boost your open rate is through personalizing your emails to appeal to individual subscribers. Grouping your recipients by demographics such as location, purchase history, or browsing activity can make your emails more effective and appealing to your readers. By tailoring your emails to specific readers, you can increase the relevance of your brand and offers to your readers, and in turn boost both your newsletter's open and conversion rates.
Another important strategy you can use in personalizing your email list to boost open rate is sending content that matches your recipients' individual stages in your funnel. Acknowledging that there are different stages in the customer journey goes a long way in being able to personalize your emails and appeal directly to your recipients to address their current wants and needs.
Concise language
Avoid being long-winded or overcomplicating your writing in your emails. If you're looking to gain as many loyal subscribers as possible, keep the focus of your emails on what is essential and the takeaways you want your readers to have. Oversaturation can distract your readers and take their focus away from your end goal. Try to keep the main focus of your article on getting your subscribers to keep wanting more from your brand and understanding the value your emails add to their inboxes.
Getting started
Now that you've learned the basics of what email open rate is, how to calculate it, and how to make sure it is as high of a percentage as possible, it's time to put this to use. Remember that your strategy for obtaining a high email open rate can change and adapt to different trends you're noticing between emails. If you think a certain length or type of subject line leads to better open rates for your brand, stay on that path. Use these tips and strategies to find what works for the highest email open rate you can achieve, and you'll be well on your way to attaining email newsletter success.