Designing an engaging email newsletter is quintessential to the success of your email marketing campaign.
A stunning email newsletter can help build your brand identity and create more awareness, which in turn can lead to a stronger customer base. If you already know how to create a newsletter, here are tips and tricks you should keep in mind every time you begin the process.
Tips for Email Newsletter Success
If you're having a hard time with your first newsletter, email marketing software companies are constantly adding new features to make creating stellar email newsletters even easier. So whether you are a beginner or expert, email marketing tools can help you design and deliver newsletters that will take your marketing game to the next level.
Looking at newsletter examples you know and love can also help inspire your next newsletter. Those brands have it figured out, so consider emulating them when it comes to design, content, call-to-actions and more.
Following are email newsletter basics to always keep in mind.
1. Know your audience
As with most things involving content, it's important that you know your audience. The majority of email marketing tools have the ability to integrate with other systems, such as CRM systems, to help you understand your customers better.
Use the information provided by a CRM software or contact management system to create a newsletter that is catered toward the people who are more likely to subscribe. Design plays a big role in this as well, but the content within the newsletter has to be relevant and interesting to the people you are trying to target.
2. Write tantalizing subject lines
It doesn't matter how amazing the content of your newsletter is; no one will open it if the subject line is dull and unclear. Be straightforward about what the newsletter contains, convey the benefit it will have on the reader, and keep it short and snappy.
Focus on coming up with something inspiring, clever, funny or eye-catching to hook people in when writing a subject line. Also be careful to avoid words and punctuation that could flag your email as spam; the words "free" or "limited time," or excessive exclamation points, could lead to your newsletter missing inboxes entirely.
3. Make a great header
A well-thought out header image is important because, well, it's at the top of your newsletter. It's the first thing people see, meaning it's not something you want to rush. You want to make sure your brand is represented the way you want, and that it meets the needs of those you're sending it to.

Take this header image by IS Design + Digital, for example. The color and contrast grab the reader's attention fast, making reading the headline almost voluntary. The box around the text draws the eye and creates a memorable message. Good spacing, clear messaging and strong contrast are all effective elements working for this header image.
Since the header is basically your make-or-break section, take the time to craft a beautiful image that not only aligns with your brand's identity, but also forges an emotional connection between you and your subscribers. You want those reading your newsletter to feel as though they are receiving a nicely packaged gift, not a piece of unwanted spam.
4. Focus on the format
Formatting your newsletter in a way that speaks to your current and potential customers helps keep things consistent. The message you decide on needs to be relevant to a specific group of people, and it should be formatted in a way that caters to their needs. Ultimately, this means a large part of deciding on the format of your newsletter will be dictated by your target audience's interests.
Pulling customer data from a CRM or similar system comes in handy here. It is essentially a hub for all customer-related information, giving you detailed knowledge of who your ideal customer is. Using this data can give you a clear understanding of what your customers want to see and how they want to see it. From there, all you have to do is produce a design that accommodates them.
5. Stack your content
Most email marketing tools provide you with some templates to use as a starting point, making life easier for those who are less interested in design (or small businesses that simply don't have the time or money).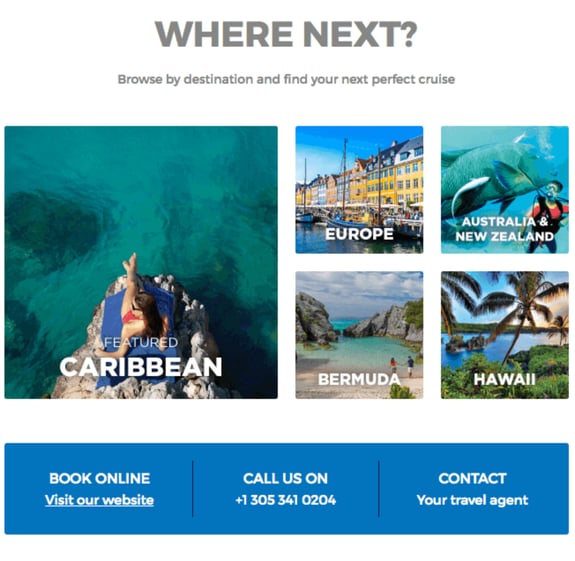 Email newsletter templates allow you to organize and stack content into neat boxes, like the example from Really Good Emails above, making for a much better user experience. Instead of starting from scratch, templates provide an easy way to quickly create a newsletter that is visually appealing and easy for your subscribers to navigate.
6. Balance information with promotion
Yes, your email newsletter's main focus should be on helping your customers by providing valuable information relevant to them. However, it's still perfectly fine to promote your own products and services, as long as it doesn't dominate the newsletter.
Your newsletter template can certainly help you balance the right amount of targeted information with your own call-to-action (CTA) and materials worked in throughout.
7. Stay on schedule
Sending out your email newsletters on a consistent schedule helps readers know what to expect (and hopefully look forward to). There is definitely a science to determining what day and time newsletters sent via email perform better, which also depends of who you are writing to.
Once your readership knows what to expect, they can work reading your material into their schedules. That being said, it's still important to give them something interesting to chew on in order to keep them coming back. This starts by religiously updating current offers and promotions that provide up-to-date, impactful information.
8. Stay on brand
This has been mentioned a little bit throughout, but staying on brand is critical for marketing success. If you're a marketer, you know how important developing a consistent brand is. This certainly holds true when producing your newsletters.
Just like feeding people content at the same time each day, week or month, keeping your brand message the same helps with recognition and engagement. As discussed above, people like knowing what to expect, and creating a consistent newsletter can help retain subscribers.
9. Have a clear call-to-action
Having a clear CTA helps you better understand if your readers are engaging with your content in the way you would like. Once you decide on the single most important action you want your newsletter to encourage, come up with a CTA that prompts readers to take that action.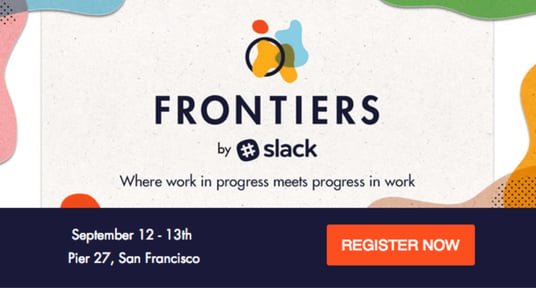 (Image via Really Good Emails)
That being said, it's not unheard of to have more than one CTA in a newsletter. It is critical the reader knows, however, which CTA you want them to act on the most. Design plays a large role in this, using size, color and other elements to help direct readers to the primary action you want them to take.
10. Test it!
There is only one way to know if your email newsletter works on your target audience: You have to test it! Send it out to your friends, relatives and focus groups for initial reactions. View it on different browsers and devices to look for flaws. Do anything you can to make sure your message is clearly and correctly conveyed.
Email marketing tools, with the help of A/B testing, can help you determine which version of your newsletter people are more likely to click. Even if you think you've created the most incredible, visually stunning email newsletter of all time, it's not worth much if people aren't opening it. After running through all manner of testing, simply take the feedback and improve.
Making your first email newsletter
Ready to dive in and design your first email newsletter? Leverage the best free email marketing software in 2018 to help you send a great first newsletter.