With worldwide retail e-commerce sales projected to increase, the industry is booming without plans to stop any time soon.
Because of this, many businesses are unprepared for the security threats that come with running an e-commerce company. In an ideal world, brick-and-mortar stores can run without worrying too much about security due to systems and setups put in place by the government of their respective localities.
Things are quite different with e-commerce businesses, however; the onus to protect yourself is on you, and having a clear understanding of the various security threats and ways to protect yourself is important.
Why e-commerce security should be top-of-mind for your business
Retail e-commerce sales is projected to hit $4.13 trillion this year.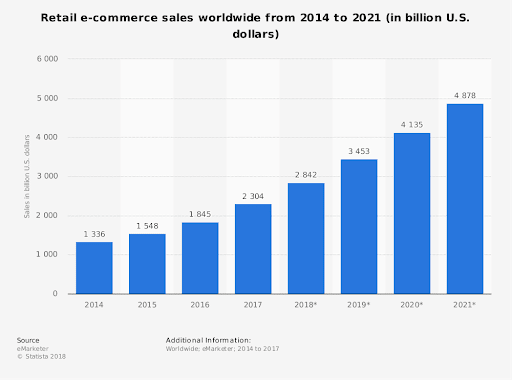 In terms of actual percentage of retail sales, this means e-commerce will account for 15.5 percent of total global ecommerce sales in 2020.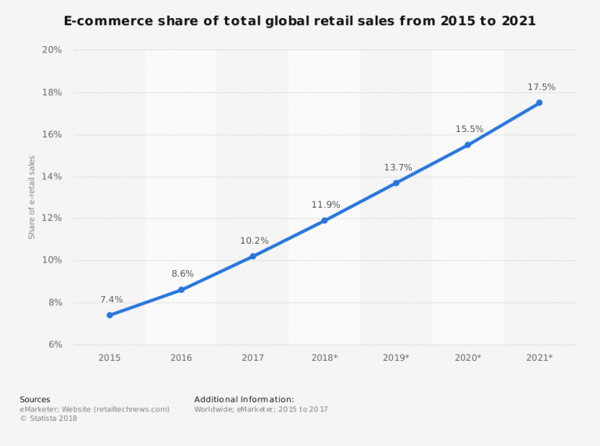 While the actual e-commerce figure and percentage of retail sales e-commerce is responsible for continues to rise, so do the threats and challenges associated with e-commerce.
A study by Magneto IT Solutions found the following:
50% of small businesses report that attacks and attempts at compromising their e-commerce security are becoming more severe and sophisticated
54% of companies are likely to experience one or more successful attacks
60% of small businesses that suffer a cyberattack are unlikely to survive beyond six months
This study makes it clear that while e-commerce is very promising, the threats are very real and should be taken seriously.
It is also important to realize that simply relying on the built-in security features of your online store builder or CMS of choice won't cut it. While Magento is the most popular choice for building online stores, powering 12 percent of all e-commerce sites, it is also the most hacked. Just last year, a report found that the number of Magento 2 stores compromised by malware doubled monthly for three consecutive months.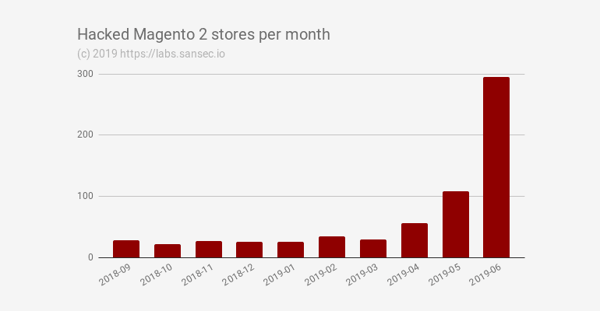 Credit: Sanguine Security
So effective e-commerce security goes beyond simply relying on your e-commerce CMS; it is essential to have an understanding of the different security threats and to take adequate measures to protect yourself.
This article details the six most dangerous e-commerce security threats you should watch out for and the steps you can take to protect yourself.
6 dangerous e-commerce security threats to watch out for
Contrary to what many expect, most e-commerce security threats do not require use of groundbreaking technology on the part of the hacker. Most security threats only require a bit of social engineering and deception toward key people at the target organization.
The eBay database hack – in which personal details belonging to 145 million users were stolen – wasn't due to hackers being able to break into eBay's computers. It was due to hackers compromising the login details of three key eBay employees, and then using this detail to gain access to the eBay network.
A lot of e-commerce security threats operate in a similar way. Let's explore ways you can protect yourself from these e-commerce security threats.
1. Phishing attacks
Many e-commerce business owners aren't aware of how much of a threat phishing poses to their business, yet it is consistently one of the main ways hackers take over e-commerce sites.
Phishing is a method in which a hacker sends deceptive emails disguised as an email from someone or an organization that you know in an attempt to get you to reveal your login details.
For example, with enough information, an attacker could create a phishing page that looks like your e-commerce site login page, or like your payment processor's login page, send you a message that something is wrong and then ask you to log in to fix what is wrong. Wrongly assuming the email to be legitimate, you give them your details which they take note of and use it to log in to the actual site and perpetrate their crime.
Phishing is so common that a whopping 76 percent of businesses have reported being a victim of a phishing attack in the past year. Research shows that the e-commerce and retail industry is the fifth most targeted, and you can expect the percentage of phishing attacks to increase as more businesses move online.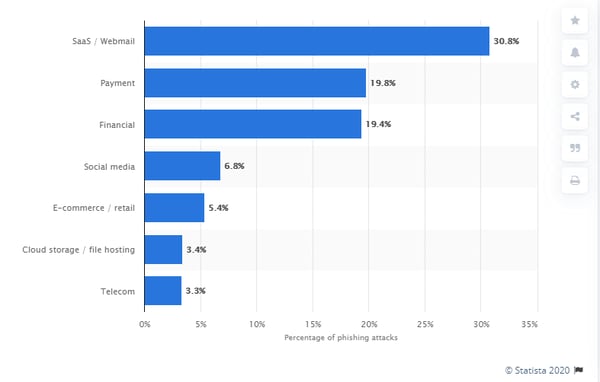 Unfortunately, a lot of e-commerce businesses are not properly prepared to deal with a phishing attack. In fact, 37.9 percent of untrained users fail phishing tests, so it might be a good idea to learn how to identify phishing attacks and train your employees also to prevent your e-commerce business from being compromised.
2. Spam emails
Spam emails are also one of the major threats to e-commerce stores, and it is one of the major ways through which some of the attacks on this list are carried out.
In a lot of cases, phishing attacks and malware attacks are carried out through spam emails. Spammers also occasionally hack the email accounts of individuals or organizations you know and then use these emails to send spam emails aimed at compromising your ecommerce store hoping that you will believe them to be legitimate.
These emails can sometimes link to phishing sites or link to infected sites that can compromise your computer security.
3. Distributed denial of service (DDoS) attacks
A distributed denial of service attack, or DDoS attack, is an attack in which an attacker uses multiple computers to hit your server with fake traffic in order to make your website inaccessible, or unable to function properly, for legitimate users.
While many are used to hearing about sites "hacked" or compromised in a way that leads to data being exposed, very few are familiar with DDoS attacks and how damaging they can be; even the biggest e-commerce brands have fallen victim to these attacks.
There have been reports of major e-commerce platforms such as Etsy, Shopify and PayPal suffering significant downtimes due to these attacks. Smaller e-commerce businesses are particularly at risk if measures are not taken to protect against malicious traffic.
Here are some of the ways DDoS attacks can affect your e-commerce business:
They can paralyze your server by overloading it with traffic and making your site go offline.
They can make your site extremely slow for users thereby negatively affecting your conversion rates and revenue; slow websites aren't exactly good for user experience and conversions!
They can slow down your server and make it almost impossible for you to carry out operations on the back-end.
So how do you protect yourself from DDoS attacks? Here are some ideas:
You can use a Web Application Firewall (WAF) to automatically filter out bad traffic and make it difficult for DDoS attacks to have any impact.
You can enable geo-blocking if you notice that the majority of the traffic keeps coming from a particular foreign country.
You can change your server IP or inform your ISP so that they immediately take measures to protect you.
4. SQL injections
SQL injections are generally regarded as the most common form of cyber attack today, and e-commerce businesses aren't exempt.
These attacks involve hackers trying to gain access to your e-commerce site by injecting malicious SQL commands into existing scripts that your site needs to operate. Once successful, this changes how your site reads key data and allows the hacker to execute certain commands on your site or shut it down at will.
Pretty much any e-commerce site that uses an SQL database is vulnerable to an SQL attack. Methods you can use to prevent an SQL attack includes making use of whitelists that ensure only certain people can access certain portions of your website, making sure your website is regularly updated and making use of latest technology, and regularly scanning your web applications for vulnerabilities.
5. Malware
Hackers will sometimes take things to the next level and target the computer of a key person who has advanced-level access to an e-commerce site or target the server hosting the e-commerce site itself. When they want to do this, they often use malware.
Malware will often allow a hacker to take over your e-commerce server and execute commands as if you were the one doing so in the worst case scenario; in the best case scenario, they will allow hackers to gain access to data on your system/server or hijack some of your traffic. This could result in lots of lost revenue for your e-commerce business.
6. Credit and debit card fraud
Credit and debit card fraud is even more insidious, and research shows it is the number one kind of identity theft fraud, responsible for a whopping 35.4 percent of all identity theft fraud. Credit and debit card fraud is so serious that an estimated $24+ billion is lost to it annually.
In essence, credit and debit card fraud occurs when users steal the credit card or debit card details of unsuspecting victims and then use it to make a purchase on your e-commerce store. Not knowing that the details used to purchase from you is stolen, you go ahead and release the product or service to them. When the real user learns of this fact, they request a refund or issue a chargeback to your e-commerce business.
This results in lost revenue and could potentially hurt your standing with your payment processor.
5 ways to combat e-commerce security threats
The above-listed are some of the most common security threats you will face as an e-commerce business, and some of these threats were listed with accompanying solutions. As an e-commerce business in general, however, you'll be generally safer if you do the following five things.
1. Encryption
Every e-commerce site should have one or more levels of encryption in place. When you think about it, pretty much every major e-commerce site you can think of (Target and eBay are some top ones that quickly come to mind) has suffered a data breach at some point. So no matter what you do, you're still at a level of risk. As such, the first thing you should do is to make sure that data gotten from you is pretty useless should you get hacked.
While you continue to take measures to ensure you don't suffer from a data breach, you should also make sure you properly encrypt all of your data so that the impact of a data breach on you and your users will be little or none even if there is a data breach.
When encryption is enabled on your e-commerce server, user data is converted from normal text into "cipher text" that can only be read once decrypted; depending on the level of encryption used, very few people are able to decrypt properly encrypted data.
2. Make sure your payment gateway is secure
Since payment is a core component of your e-commerce business, it is very important to take careful measures to ensure that your payment gateway is secure.
Many e-commerce businesses become a victim of credit card and debit card fraud due to using unreliable payment gateways; most online store builders will allow you to integrate with dozens of popular payment gateways including PayPal, Stripe, and other enterprise payment gateways, so there is no excuse for not using a reliable one.
3. Secure your website with an SSL certificate
Using an SSL certificate is one of the best ways to protect yourself as an e-commerce business. When properly installed, an SSL certificate will encrypt all of the information users send on your e-commerce website and make it difficult for hackers to eavesdrop on this data or make any meaning of it should they eavesdrop on it.
Google generally ranks sites that use SSL better, and users also tend to trust e-commerce stores that use an SSL certificate. Many people would not do business with a website that doesn't use one. Besides protecting sensitive user data submitted on your website, an SSL certificate will also result in a lift in traffic and conversions.
4. Use antivirus software
It is also important that you, and any employee who will be accessing sensitive areas of your e-commerce site, use reliable antivirus software.
While an antivirus software won't necessarily protect your e-commerce site, it will protect your computer and that of those who will be accessing the backend of your e-commerce site. A good antivirus software will let you know if a hacker is trying to install a virus or malware on your computer, and advanced antivirus software will sometimes let you know if you visit a potentially harmful site or if you receive a bad link in a spam email.
5. Implement firewalls
If you are yet to install a firewall on your e-commerce server, then you just might be waiting for disaster to happen. A firewall is a network security system that monitors traffic (both incoming and outgoing) based on security parameters you put in place.
The barrier put in place by a firewall analyzes traffic to your server, determines which traffic is legitimate and which isn't, and then only allows legitimate traffic to pass through it. In a lot of cases, a properly configured firewall will protect your e-commerce site from most DDoS attacks.
Conclusion
Your e-commerce business is only as robust as the security systems you put in place to protect it from being hijacked by malicious hackers. Taking steps to protect yourself from the threats outlined above will go a long way to protect your e-commerce business.
Ensure your processes are streamlined with the best e-commerce tools for your business.