There are many reasons why a person might want to download their Instagram stories and, further, all their Instagram data.
Maybe you posted something so brilliantly hilarious that it deserves to live in infamy. Maybe you want to share your story with someone who isn't on Instagram. Maybe you're tracking Instagram marketing data to share with a social media client and you need visuals. This can be aided by social media monitoring software.
Luckily, the secret to downloading your Instagram stories is hiding in plain sight - and that's not all. It's now possible to download all of your Instagram data - photos, videos, comments, profile information and more.
Download Instagram stories and Instagram data
Download Instagram stories
Open Instagram app and find your story
In the lower right corner, click "More"
Click "Save Story" once the menu appears
You have successfully downloaded your Instagram stories to your camera roll!
It's quite simple to download your Instagram stories from the mobile app.
Steps to download Instagram stories
Open your Instagram app, and navigate to your story. In the lower right corner of your screen, tap "More."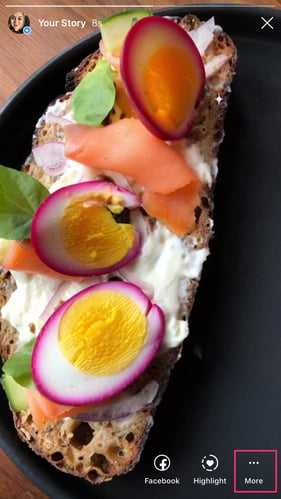 Click "Save…" once the menu appears.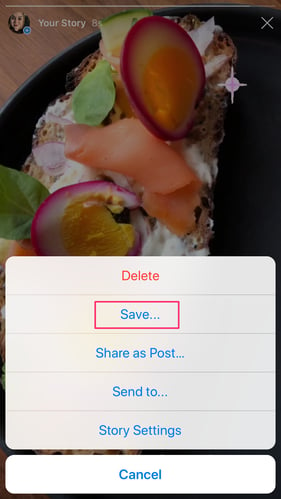 Select "Save Story" if you'd like to download the individual story slide. Select "Save Video" if you have multiple story slides up and you want them to save as a video.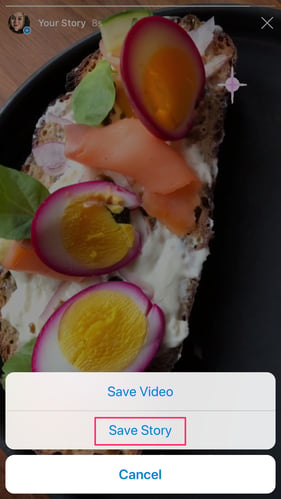 Once these stories are saved, they'll live in your camera roll, with all the captions, gifs and illustrations you've added as well.
Steps to download all Instagram data
If you're looking to download previous stories as well as all your prior Instagram content, it's completely possible and easy to do so.
Download all Instagram data
On your Instagram profile page, click the top right corner.
Click Settings at the bottom of the page to download all Instagram data
Scroll to Data Download
Enter your email address and click Request
First, go to your profile page on your mobile app and tap the top right corner, where three horizontal lines appear.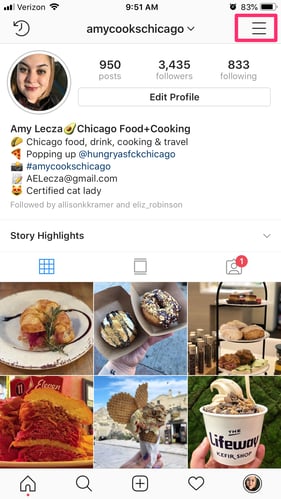 Then, navigate to Settings at the bottom of the page.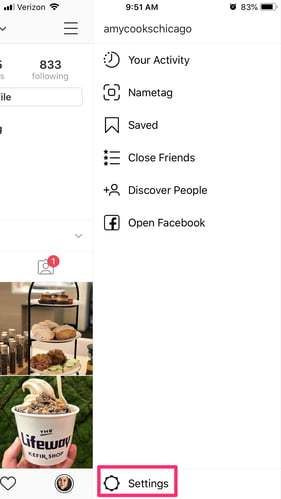 Scroll down to Data Download.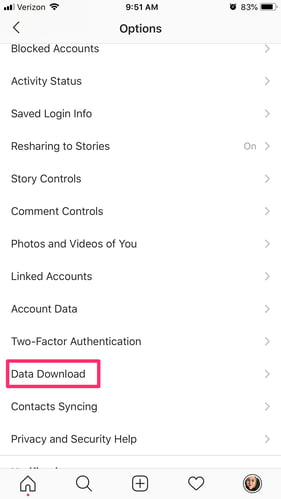 Enter your email address, then click Request Download - you'll receive all your Instagram data in your email address.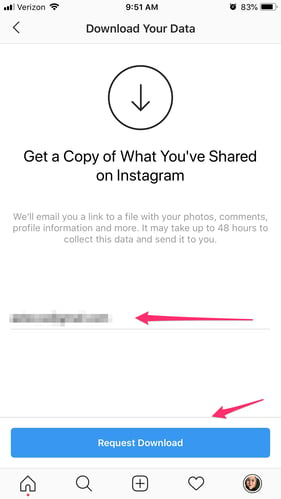 Ready to take your Instagram to the next level?
Download The Beginner's Guide to Instagram and get started 🚀
---
Now that you know how to download your Instagram stories and download all Instagram data, you have full access to all of your data on Instagram. Take a look at some other Instagram-related content that might be useful: