By 2020 the majority of children in the United States are projected to be a race other than non-Hispanic white, according to the U.S. Census Bureau.
Meaning, children from ethnic backgrounds such as Asian Americans, African Americans, Hispanic American will be the majority, and children who are of European descent will be the minority. So as the U.S. becomes more and more multicultural, knowing the importance of cultural awareness is crucial.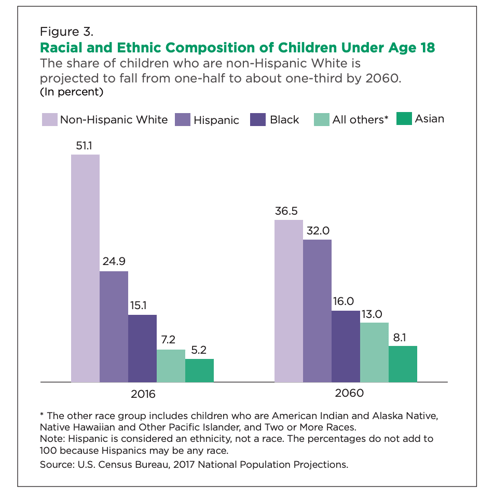 Photo courtesy of U.S. Census Bureau
These facts explain why diversity is such a hot topic across media outlets. Much-needed changes are being made and professionals in the communications industry need to use their platform to evoke these changes.
Given the sensitive nature of diversity topics, it's important for public relations professionals to truly understand how to effectively represent and work with people from a wide variety of backgrounds.
If you'd like to jump ahead, use the links below. I'd suggest you stick around because there's no harm in thoroughly understanding the importance of diversity in PR.
Diversity in public relations
Public relations professionals represent people and brands from all different backgrounds and cultures. Clients can be local or even global, and they look for PR that is reflective of this. Forward-thinking and diversity-focused communications are critical to the PR industry, and anyone who doesn't prioritize diversity will lose clients and any valuable relationships.
Non-Hispanic white women dominate the public relations industry, and diversity efforts start where you work. Advocating for diversity in your workplace is not the last step in your process or a box to check-off, it starts with the people at your company.
Diversity needs to be part of your business model. Focus on hiring people from different backgrounds so that your employees can work together to widen the conversation.
In an effort to practice what I preach, I asked a variety of professionals in the industry about diversity and inclusion in public relations and compiled the results into a guide to diversity and inclusion in public relations.
The general consensus is of no surprise– diversity is lacking in public relations, and people are aware of it. Understanding the importance of diversity is the first step, but not many companies know how to get there.
PR firms will lose clients and employees due to a lack of diversity. In the workplace, a lack of diversity creates an echo chamber where ideas become uninspired, and as an industry that focuses on creating positive images and dialogues, it's time PR takes the lead.
Cultural awareness
A lot of initiatives start with awareness, which is a good place to begin. You can't solve a problem if you're part of it. Gaining a sense of cultural awareness will help you to identify areas that need work within your company or PR strategy.
According to PR experts, cultural awareness in PR is important because it helps to maintain relevance, elevate brand awareness, makes your clients happy, and enhances your bottom line.
Aside from these direct impacts to public relations, being culturally aware also helps society as a whole. This all sounds great, but how can you get to a place of cultural awareness.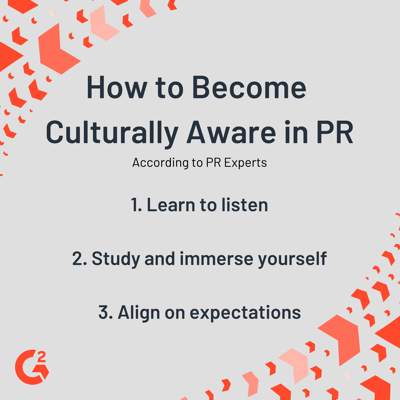 Working effectively in a diverse workplace
As I mentioned before, the most important step in making diversity a priority and not just a box to check in PR is hiring a variety of individuals from different backgrounds. But often times once a workplace becomes diverse, people don't know how to interact with people who are different from them.
Creating an open and diverse workplace will increase the number of viewpoints and solutions for client asks. You'll also retain employees because people value companies who value all. There are numerous situations in PR where you'll have to communicate with people from different backgrounds. Mastering your communication style and avoiding cultural appropriation will help you to lead by example no matter your position.
Cross-cultural communication
Cross-cultural communication is the study of how individuals from differing backgrounds communicate across cultures. Sounds pretty straight forward, right?
Well, unfortunately with the intricacies of cultures, communicating cross-culturally isn't as simple as it seems. Cross-cultural communication is important in PR, especially when working on international brands. You may have a time when you have to present to individuals from a country other than the U.S., or you may have to create a campaign that goes global.
Reflecting on your own culture is the first step in effective cross-cultural communication, that way you can identify cultural differences between yourself and others. Noticing these differences will help you adjust your perceptions and open yourself up to learning about other cultures. You'll never be able to learn everything about all cultures, and there are people who don't identify with their culture. It's best to avoid over-generalizing and to ask questions instead of assuming stereotypical aspects of certain cultures.
Never make people feel singled out when asking questions. Instead of calling someone out in front of a group, wait for an appropriate time and make sure they're ok with you asking some questions.
When cross-cultural communication goes wrong, it's often cultural appropriation.
Cultural appropriation
Cultural appropriation more times than not happens in PR when professionals use minority cultures for financial or commercial gains without any genuine understanding or interest in the culture.
The public relations industry must gain understanding so they can enable brands to communicate more empathetically, and stop the use of harmful stereotypes that hurt members of marginalized groups.
Again the best way to face these problems head-on is recruiting a diverse workforce. Just remember that those employees won't stay with your company if their culture is appropriated. Invite everyone to have a seat at the table and be part of the conversation from the beginning so you don't end up with a culture that lacks diversity or a campaign that goes horribly wrong.
With the right approach, PR professionals can become leaders in increasing diversity across the communications industry. And also, being nice and inclusive is just the right thing to do and the right way to be.
TIP: If your company is having issues with diversity overall, try HR case management software to organize, manage, and resolve all employee relations cases.
Don't just check the box
The U.S. is the most multicultural nation in the world. Now that you've read about diversity in PR, it's time to put your learnings into practice. Start a media panel and gather insights from thought-leaders in your company or industry. Launch a program that helps move diversity efforts forward. Own the conversation and be the first to share news about diversity efforts in PR. Be forward thinking and your success will grow.
Every office needs to focus on diversity, no matter the industry. Learn about what diversity in the workplace is and how to achieve it.