Like The Beatles said, "I get by with a little help from my friends."
The entire reason why customer service jobs were created was to assist customers in the process of finding, buying, and experiencing a company's product or service. Customer service has played a crucial role in pretty much every industry's marketing, sales, and advertising strategies and isn't going anywhere anytime soon.
Although customer service is relatively easy to understand, there are a handful of job positions that fall under the customer service umbrella. Many people mistake one position for another, so in this article, we'll set the record straight and lay out the basics of 14 different customer service positions and the skills you need to land the job.
Click on a customer service job to learn more about it:
Customer Service Job Titles
Customer service jobs: breaking it down
A vast majority of people think of customer service jobs in a very cut and dry way, but there are different subsets of customer service roles that don't have the same functions.. The three subsections we'll be going over today are customer service jobs, customer support jobs, and customer success jobs.
Customer service job descriptions
Like we said earlier, there is a long list of customer service jobs out there, each with their own responsibilities, qualifications, and descriptions. The first position we'll look at is the customer service representative.
1. Customer Service Representative
A customer service representative's main duty is to work with customers. Shocker, I know. These reps reach out to customers to offer service solutions, inform them about discounts and sales as well as announcing any related company news. A customer service representative is there to ensure the buyer is getting the most out of their purchase and offer support when needed.
Skills needed
This position relies heavily on the back and forth between them and the customer, so excellent communication skills are a must. Other skills can include persuasion skills, patience, sufficient knowledge of products and services, and thinking on their feet.
2. Remote Customer Service Representative
Remote customer service representatives assist customers in the same way customer service representatives do. The only difference is that they work remotely. I bet you could've guessed that. They may be a part of a completely remote customer service team or live in a different state than their employer.
Related: Do you work from home? Have you ever considered accepting a remote role? The G2 content team spent a week working from apartments, coffee shops, and workspaces. Hear what they had to say about it and how it affected their workflow.
Skills needed
This position requires the same skills as a customer service representative. Excellent communication and persuasion skills, knowledge of the product, and patience. The only addition is self-motivation. Because the rep is remote, they will need to be able to motivate themselves and communicate with the team efficiently.
3. Customer Service Engineer
A customer service engineer is similar to a technical support representative, but instead of waiting for customers to reach out with questions, the engineer will offers solutions and easy fixes for products in advance. In short, customer service engineers focus on solving tech problems customers are experiencing with their product or service.
Skills needed
A customer service engineer will need substantial knowledge of computer systems as well as patience and great persuasive skills. Oftentimes, these roles will require a degree in engineering or tech.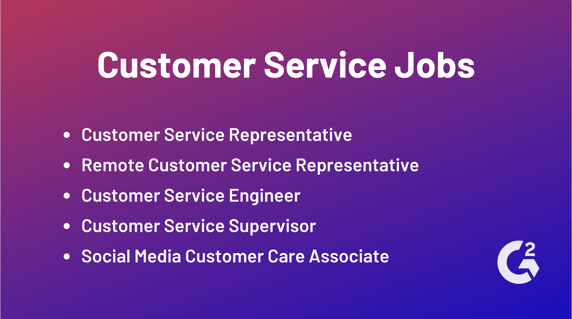 4. Customer Service Supervisor
Customer service supervisors manage junior customer service representatives. They may also oversee a portion of the entire team. They act in a managerial way and will answer questions employees may have about solving customer problems or general product information.
Skills needed
This position requires excellent leadership as well as interpersonal and collaboration skills. Leading a team is a large portion of a supervisor's job, so self-confidence and determination are needed. Previous experience in the industry in a supervisory role is usually required as well.
5. Social Media Customer Care Associate
A social media customer care associate is responsible for handling a company's online presence on various social media platforms. The associate monitors these social accounts to answer customer questions, resolve issues, and keep the company customer base happy.
Skills needed
A social media customer care associate is expected to have excellent knowledge of social media and marketing. They will also need patience, problem-solving skills, a friendly tone, a helpful attitude, and will know when it's necessary to have a manager get involved.
Customer support job descriptions
Just like customer service jobs, the lines of customer support jobs can get blurred. In this section, we'll go over a few different customer support positions and the skills you need for each.
6. Customer Support Representative
Customer support representatives work to answer questions from customers. A support rep will not contact customers; rather, they'll respond to any questions the customers submit to them and offer solutions. This role's responsibility is to provide support on phone calls, texts, emails, social media messages, and live chat messages.
Skills needed
This position requires excellent communication skills, patience, and on-your-feet problem-solving skills. Having insight into what solution will solve the problem is also crucial in this role.
7. Technical Support Representative
A technical support representative assists customers in solving technical problems they may be experiencing. These reps can often access the customer's computer remotely to help solve the issue more efficiently. They analyze and troubleshoot customer problems and quickly determine next steps.
Skills needed
Because this position often works for cable or internet providers, extensive knowledge of technology is usually required, although training may be offered. Strong analytical and problem-solving skills are essential. Technical support reps may also be scheduled to work on the weekend, so keep that in mind when applying.
8. Customer Support Specialist
A customer support specialist is responsible for answering customer questions about the product or service they bought. They often act as an intermediary between customer support representatives and their managers, acting as the manager themselves when necessary.
Skills needed
This position requires patience, leadership skills, and of course, great communication skills. Because the specialist may act as a manager at times, the ability to step up to the plate and understand how to manage a team is needed.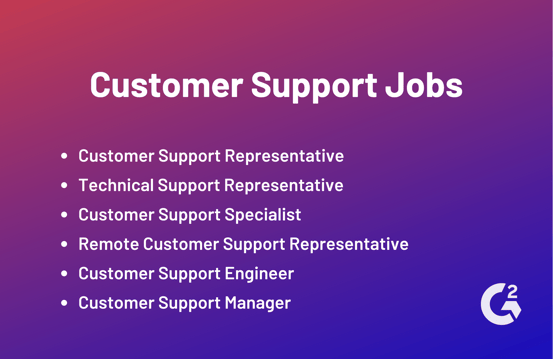 9. Remote Customer Support Representative
A remote customer support representative has the same responsibilities as a customer support rep, the only difference is that they're…remote! These reps provide support on phone calls, texts, emails, social media messages, and live chat messages from a remote location.
Skills needed
Remote customer support reps need to possess great communication skills, lasting patience, and the ability to solve problems quickly. They will also need to have self-motivation considering they work from home or from a remote workspace.
10. Customer Support Engineer
A customer support engineer specializes in analyzing and troubleshooting technical problems a customer may be having with their product. They are responsible for recording customer data in order to improve future products and services.
Skills needed
This role requires great knowledge of computer technology, excellent communication skills, and (usually) a background in engineering or tech.
11. Customer Support Manager
Customer support managers are responsible for managing a customer support team and training new representatives. They are expected to track the progress of new hires to make sure their team is knowledgeable about the company's products and services.
Skills needed
A customer support manager will need to be able to handle any conflicts that arise on the team. Strong leadership, communication, and persuasion skills are also highly recommended. Previous experience in customer support is a prerequisite.
Customer success job descriptions
Now, let's go over a few customer success job descriptions.
12. Customer Success Associate
A customer success associate will act as a point of contact for customers. They are responsible for offering insights and providing helpful resources. In short, they can be thought of as a consultant that suggests tools and solutions as well as providing relevant information to the customer.
Skills needed
This position requires excellent communication and interpersonal skills. A customer success associate will also need to have extensive knowledge and insight into the company's product or service so that they can educate the customer accurately.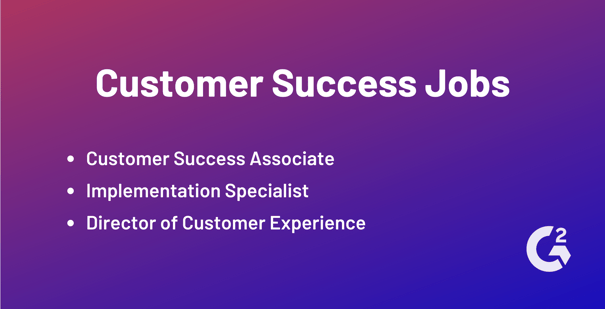 13. Implementation Specialist
Implementation specialists focus solely on assisting customers with product setup and onboarding. They work to identify customer needs and help determine how the customer will use the software they've purchased. Implementation specialists also work to carry out product campaigns as well as project management.
Skills needed
This position requires the ability to communicate and explain instructions clearly and effectively as well as extensive knowledge of computer technology.
14. Director of Customer Experience
Directors of customer experience are responsible for creating and facilitating a company-wide strategy that focuses on the customer. They will work to continuously improve their customers' experience with their company and set goals for the quarter, half, and fiscal year.
Skills needed
For this role, you'll need to have worked your way up the customer experience ladder. Impeccable leadership skills are require considering you will be leading all the teams across the company. Because the role is customer-focused, you'll need to have a dedication to them and always be thinking about how you can best assist them before, during, or after the purchase.
The skills you need for customer service, customer support, and customer success jobs
A great candidate for a customer service job will have excellent communication, listening, problem-solving, computer, and phone skills. They'll also be pros at analyzing information, resolving conflict, multi-tasking, and relationship-building.
The vast majority of customer service roles require at least a high school diploma and basic knowledge of computers. Many positions will provide new hires with on-site training. Management positions or higher typically require a college degree or previous experience in the field.
The hunt is on
Although overlooked, customer service positions play a large role in a company's overall success. Every job we talked about is essential to understanding the customer and improving their experience going forward.
Now that we've gone over 14 different customer service, support, and success job descriptions, it's up to you to determine which one is the best fit for you. If you're new to the job world, starting at the bottom and building your way up is the best way to advance within any industry. Check out the top job boards you can use to find your next career move.
There's more to customer service than just communication. Read our comprehensive list of customer service skills you'll need to land your next position.