Customer reviews should be monumentally important to you for one reason: they're important to customers.
In fact, nearly 95% of them read reviews while researching an online purchase. It makes sense. Reviews assist in product discovery and trust, and even help retailers decrease returns.
Incorporating customer reviews into the inbox
Let's ake Rent the Runway as our first example. With just five brick-and-mortar stores, Rent the Runway, a billion-dollar unicorn as of March, largely exists online. The high-end rental service's customers can't necessarily go into a store and try items on, which means that many of them rely on reviews.
Rent the Runway's reviews are featured alongside women's profiles, which include their height, dress and bust size, and body type for context.


Rent the Runway emails customers asking them to leave reviews. It makes sense if you think about it; reviews aid in product discovery and consumer confidence. However, people who have had a negative experience with a brand are far more likely to tell the world about it.
Customers that have had a great experience are more than happy to share – you just have to ask them first. For instance, Rent the Runway is a consistent top performer on the annual Retail Personalization Index, and the company's strong triggered email messages is a large reason why.
Generating more than three-quarters of email revenue, triggered messages are generally sent in response to specific customer behaviors such as signing up for an email list, abandoning an online shopping cart or making a purchase. That means that unlike batch-and-blast campaign sends, they're behavior-based and inherently personalized.
That makes post-purchase email the perfect platform for collecting customer reviews. It's proactive and inbound, and it's also the channel where people want to hear from you. When consumers were surveyed about their communication preferences, 70.8% said they prefer brands to communicate with them via email, compared to phone calls, text messages, direct mail, and social media. Direct mail came in a very distant second place in the survey at 7.5%.
How can you make your email marketing and reviews work together? Here are five best practices.
1. Act fast, but not too fast
Since customer reviews are baked into your post-purchase stream, they should be prompt. To an extent. Think about what it is you're asking someone to review. If it's a service or an experience, the following day is perfect timing. Retail purchases have slightly longer timelines. That may be too soon for an apparel brand; the customer hasn't even received the item yet, let alone worn it. It may take someone a week to really learn their way around a new laptop, while new shoes take a few wears to break in.
Barnes & Noble had the right idea with this email, asking for a book review about three weeks post-purchase.

But there's a twist: this book was pre-ordered and wouldn't arrive for two more months. Once you have your timing right, these emails are easy to automate.
2. Personalize
Personalization and email go hand-in-hand. Campaign Monitor analyzed millions of emails to determine which words have the biggest impact on subject lines and open rates. The number one "power word" was simply a first name. If a customer sees their first name in a subject line, they're more likely to open that email.
And that's the lowest-hanging fruit of personalization, something you can achieve by pasting . Imagine the power of a fully personalized email.
You can theoretically send every new subscriber the same welcome email, but in the case of post-purchase messaging, you have to reference a specific customer behavior. Don't blow it by going generic from there.
"Please review your recent purchase" feels so canned, the antithesis of the personalized experience you should be going for. Include a photo of the item for good measure to jog their memory, too.
See how easy Target makes it look?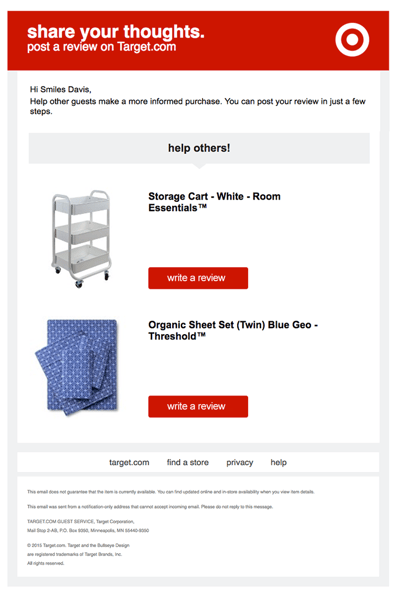 TIP: Personalization becomes a breeze when you're using the right type of email marketing software to help you do it. Find the optimal solution for your company's needs!
3. Realize you're asking for a favor
"Can you please do me a favor?" "Help me move on Saturday." We won't ask which one sounds more palatable to you since it's obviously the former (plus, moving is the worst). When you request customer reviews, you're ultimately asking for a favor. Use deep linking to make it as easy and seamless as possible.
Mind your manners, and say please and thank you. Context can also help your cause. Reviews assist customers in making purchase decisions and they're just as valuable for you. Make it known that feedback enables you to enhance the customer experience (CX), which appeals to regular customers and boosts loyalty by making them feel like part of a community.
Everlane nailed this email, which had a great conversational tone, asked nicely and came from an actual human being, rather than just "Everlane." Most importantly, it appealed to the customer's sense of community.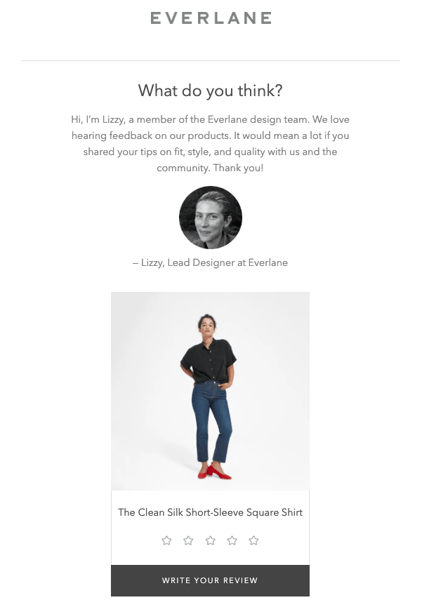 4. Provide an incentive
Customers may be inclined to leave reviews to give you helpful feedback and be a part of the brand community. They may be more likely to do it if there's something in it for them. "You scratch my back, I'll scratch yours," right? Many brands incentivize reviews, be it a timely discount, sweepstakes entry, or loyalty program points.
By leaving a review, Zappos Rewards members earn 100 bonus points, which translates to $10.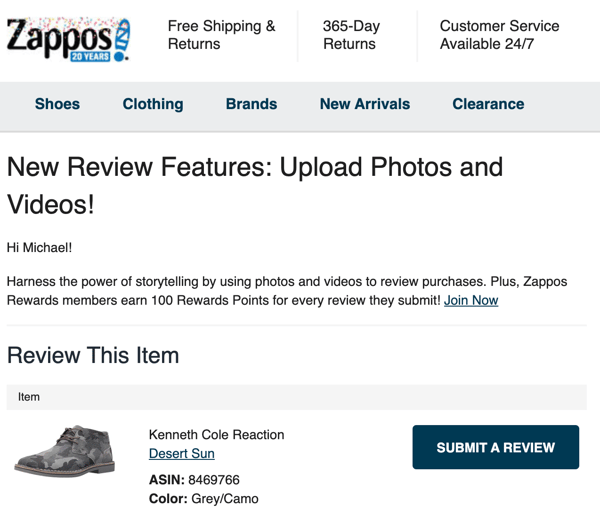 However, incentivizing customer reviews requires careful execution. Review sites have strict guidelines around this as it can be argued that the customers were biased and not writing them of their own volition. And definitely don't promise a prize for a positive review.
UrthBox, a subscription service for healthy snacks, did that back in 2017 and the FTC was not pleased. The company ended up paying a $100,000 fine.
5. Use customer reviews as recommendations
Email is a great way to not only collect reviews, but share them. Amazon's recommendation engine accounts for 35% of the e-commerce giant's revenue, while more than half of holiday shoppers purchase items that come recommended by a retailer. Every retailer includes product recommendations in email marketing; why not bring reviews into play?
When it comes to recommendations, best sellers are a sure bet. These popular items instill customer confidence for new shoppers and loyalists alike. In this email, Express even made its top-rated products the centerpiece. Above each item is its star rating on the retailer's website and notice how they're not fives.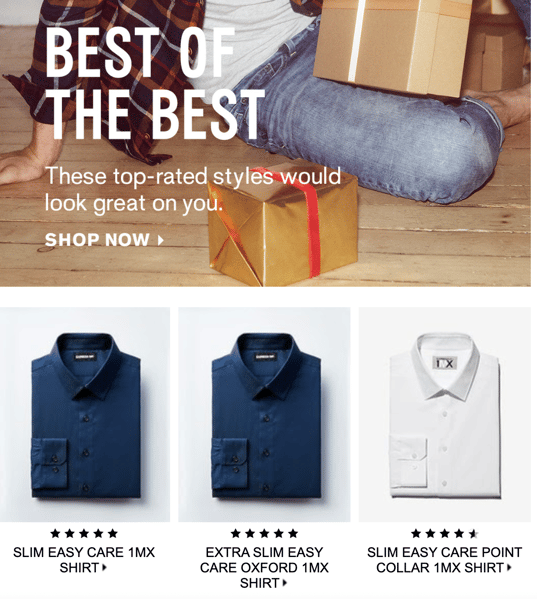 Consumers often believe perfect reviews are too good to be true. As a result, people have the most faith in reviews between 4.2 and 4.5.
The rundown on reviews
There you have it. Customer reviews via email do as much, if not more, for your company than other forms of marketing may. What's more, email outreach to your customers will ultimately result in more timely, accurate, and honest reviews from people who genuinely care.
If you're a B2B brand selling software or services, claim your free G2 profile and start adding reviews to your email strategy.