Do you pay close attention to the details that others miss?
Or maybe you have a passion for math and statistics.
If this sounds appealing, then the right job for you could be a cost estimator. Unsure what the road to becoming a cost estimator looks like? You're not alone.
What does a cost estimator do?
The role of a cost estimator is to calculate how a product or service will be manufactured, constructed, managed, and priced.
How much does a cost estimator make?
The average salary for a cost estimator is $68,420. Senior level cost estimators could reach a salary of over $100,000.
They often will visit worksites to review manufacturing process, as well as have particular expertise surrounding a product, service, or industry. They will prepare the cost estimates to assist management, products, or industries in price discrimination or bidding.
Nearly everything a business does, from launching a new product to developing a new service, will need an estimate of what it will cost and an analysis of why. A cost estimator could estimate the price of cars, ships, software solutions, or even government programs.
Unlike the role of a financial analyst, a cost estimator won't counsel businesses or individuals on making investment decisions. They will simply collect and analyze the data to properly estimate the time, resources, and labor that will be required for various projects.
Cost estimator degree
Those interested in becoming a cost estimator should plan to get a Bachelor's degree. When it comes to your major, it's going to depend on the industry you're most interested in.
For instance, those looking to go into the construction field should major in engineering, building science, or construction management. However, manufacturing companies will look for majors in mathematics, statistics, or physical science. There's also the option of other business-related fields, like finance and accounting.
The specific major you choose will matter less than the skills you develop during your academic career. Some of those skills will be: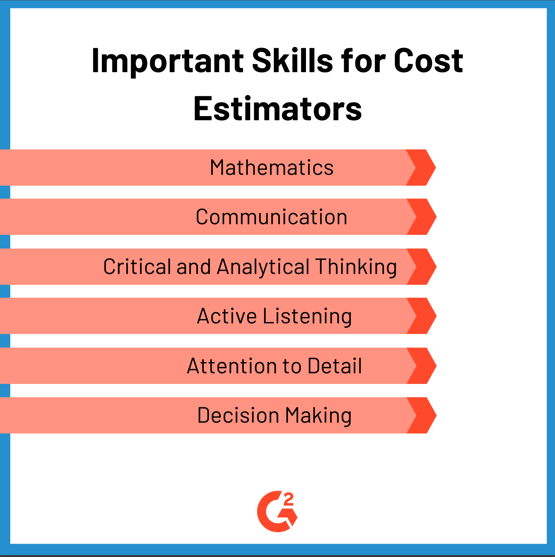 Cost estimator job titles
As a cost estimator, your job title is going to depend on the field you decide to go into. Some common job titles include:
Construction Estimator
Senior Cost Estimator
Building Estimator
Senior Cost Manager
Construction Lead Estimator
Contract Analyst
Most cost estimators work in an office environment, but some also will visit construction sites and factory assembly lines.
Related: If you're interested in going into the construction industry, then make sure you check out our roundup of the best construction estimating software! It'll assist with generating estimates, create templates for bids, provide access to cost databases, and more.
Cost estimator duties
A lot goes into becoming a cost estimator and you should expect that your day-to-day tasks and duties to be vital to the company you work for. Some duties include:
Gathering proposals, blueprints, specifications, and other related documents to prepare estimates
Identifying factors that will affect cost, such as production time, labor, and materials
Working closely with engineers, architects, clients, and contractors
Coming up with ways to reduce costs
Presenting the prepared estimate by assembling numerical and descriptive data
Maintaining information surrounding costs by entering and backing up data
Did you know: Employment of cost estimators is expected to grow 9% from 2018 to 2028. (Source)
Cost estimator salary
When it comes to the salary of a cost estimator, it's going to depend on the industry and company. While the average salary for a cost estimator is $68,420, the best 25% in the field make roughly $82,330, while the lowest 25% make about $48,710.
According to the Bureau of Labor Statistics, the average annual wage for cost estimators by industry were as follows:
| | |
| --- | --- |
| Civil Engineering Construction | $73,040 |
| Construction of Buildings | $68,310 |
| Specialty Trade Contractors | $63,620 |
| Manufacturing | $61,320 |
| Automotive Repair and Maintenance | $55,110 |
Best paying cities for cost estimators
There's no denying that the role of a cost estimator is in high demand, but do you live in the city that pays the most to become one? Here are the top five cities to be a cost estimator: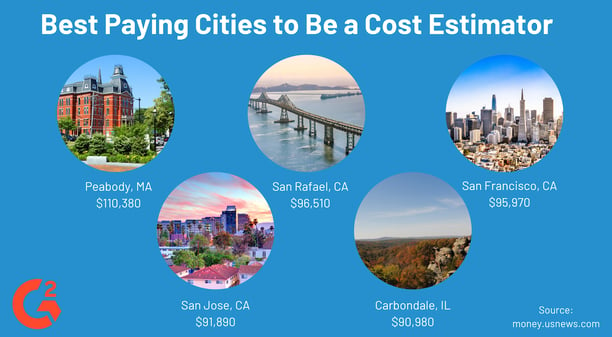 Best paying states for cost estimators
If you're not interested in moving to any of those specific cities, consider the top five best paying states for cost estimators: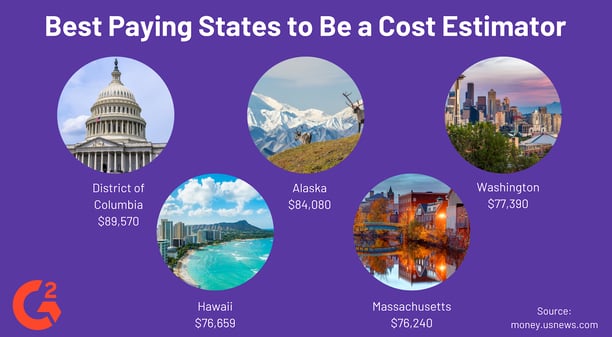 Tips from the experts
We asked professional cost estimators about the ins and outs of their daily life, as well as tips for those just starting out in the field. Here's what they had to say!
Know your craft backwards and forwards
"Our company buys houses in Utah to fix & flip or hold as long-term rentals. In the house flipping business, inaccurate cost estimates can bankrupt you.
In order to become a professional cost estimator in any field, you must start by intensely studying your craft. Books, magazines, and articles can only get you so far. It is important to build a network of other professionals in your field.
When your brain is filled with knowledge and your network is thriving, dive right in and get some hands-on experience. Don't start by risking (and potentially losing) real assets. Run some simulations first, or shadow someone on the job then compare notes."
- Stan Mead, CEO of Summit Home Buyers
Find your passion and work your way up
"I started by going to architecture school and eventually getting into the construction side of the career. I gained years of experience first for a drywall company, then General Contractor, and lastly with a commercial drywall company.
I started a construction estimating firm a few years back when I saw the need in the industry. Estimating is one of the more important parts of a construction company and
that's what I do every day. It's very interesting to see the different types of construction nationwide and to interact with so many clients. Most contractors are extremely busy so helping them with this so so valuable to them.
In terms of the typical day of a cost estimator, much of the work is very tedious, yet rewarding. First I measure all the quantities, then put it in our Google Sheets based software, and the apply costs to each item. I then double check the formulas and I refer to my check list to make sure nothing was missed.
- Daniel Quindemil, Certified Building Contractor and Consultant at I AM Builders
Estimate to perfection
No matter which industry or field you decide is right for you, the role of a cost estimator is crucial to any company. Make sure to dot your i's, cross your t's, analyze all the data, and double check your work! It could mean all the difference when getting approval on a new product or service.
Ready to apply to be a cost estimator? Brush up on construction and estimating software you'll need to get the job done.