Talking to your audience is important.
Ok, it's not just important, it's essential in running a successful company. Conversational marketing is one of the most effective ways to help potential buyers move through your marketing and sales funnel by the power of authentic and real-time conversation. Before we dive any deeper, let's define it so we have a jumping-off point.
What is conversational marketing?
Conversational marketing is "the one-to-one approach to marketing that companies use to shorten their sales cycle, learn about their customers, and create a more human buying experience." It's the process of engaging with your audience with a feedback-oriented approach to grow customer loyalty, expand your customer base, drive engagement, and increase revenue.
Feedback is the backbone of conversational marketing. It fuels the strategy and helps you to tailor your marketing strategy to your customers' needs. In this article, we'll discuss why conversational marketing is so important, the benefit of implementing it into your strategy, and go over a few examples.
Why do you need a conversational marketing strategy?
Elements that help conversational marketing stand out
Conversational marketing examples
The importance of conversational marketing
During conversational marketing's initial growth in popularity, it relied on (and still does) technology and the ways customers and businesses engage with each other. Whether it's on their website, on social media, or even over email or text, technology has helped conversational marketing to land a secure spot in the list of reliable marketing strategies.
One of conversational marketing's main drivers is artificial intelligence. Over the years, AI has been a disrupter for a large majority of companies. The world of artificial intelligence technology is expansive, but most marketers are pretty familiar with one: the chatbot.
Chatbots (also known as virtual assistants, digital employees, and intelligent assistants) have become more and more normal as time has passed. At the heart of every good marketing strategy is communication. If you're browsing a website for a new suitcase, a chatbot can be helpful if you need questions answered right away. This is exactly why so many companies are using them now.
For example, Away has a chatbot right on their website's homepage ready to chat if a potential customer has any questions.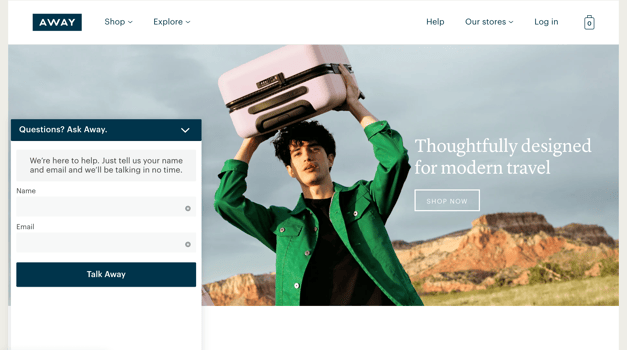 On the other hand, a company cannot truly know how they can improve their product or service without the feedback of their consumers. Companies can tune into what consumers are saying by checking in on their social media accounts. When a marketing team posts on social, they should be keeping up with their analytics (such as Facebook Analytics, Instagram Insights, and Twitter Analytics) to keep tabs on the buying habits and interests of their audience.
Analytics can give us great insight. We know this. But what about talking to the customer one-on-one and in real-time? If you thought "chatbots can do that" you've already got it.
Want to implement one on your website, on social, or into your text message campaign? Take a look at G2's best chatbots software grid to help you decide which is right for you.
Why do you need a conversational marketing strategy?
Social media has become the norm when it comes to marketing. Potential customers are online every single day, and even though they may not be intentionally shopping, a chatbot can certainly increase the chance that they'll enquire about your product.
Bots are more than just a glorified customer service representative. They serve as the first point of contact for customers. Bots can either go above and beyond to delight a potential buyer or (when done wrong), they can deter them from purchasing entirely. People associate customer service with a formulaic question and answer conversation that usually doesn't satisfy both the customer and the business. AI technology can reinvent the way we communicate as well as collect valuable data that can help inform future customer engagement.
Many companies use conversational marketing software to identify interested buyers on social networks of product websites, answer questions, assist customers in choosing the right product for them, and transfer them to payment gateways to initiate a purchase.
Use G2 user reviews to help you decide which tool is right for your company.
Elements that help conversational marketing stand out
You may be thinking, "Okay, conversational marketing sounds a lot like my marketing strategy." You check your analytics, post on social consistently, and engage with your audience. While these are all elements of conversational marketing, there are a few key reasons why it's different.
Conversational marketing meets customers where they are
Good marketing will give the customer what they want, provide value, and meet them where they are. If the majority of your customer base lives on Facebook, make sure you set up a chatbot within Facebook Messenger chat to answer any questions customers may have. It's much easier for a customer to send a quick message rather than search for your company's number or email address and contact you that way.
Conversations are in real-time
Listen, people are busy. Business owners adopt conversational marketing because they understand that conversations between them and potential customers should happen on their schedule. A customer may browse your website for a bouquet of flowers at 7 am before they drop their daughter off at school and not respond to your chatbot's question until 4 pm. It's important for chatbots to be responsive but it's equally important to let the customer decide how constant the conversation will be.
Conversational marketing can scale
Any marketing strategy you execute should be scalable. Although human interaction was the way to sell for decades, technology has taken over and made it almost too easy to avoid it entirely. This is why conversations online can scale your company quicker than the traditional sales strategy. Nowadays, businesses don't have to worry about the number of salespeople they hire to sell their product or service. With the help of conversational marketing, that worry has practically vanished.
Conversational marketing examples
So far we've talked about social media and chatbots in relation to conversational marketing, but there are a variety of examples that stretch beyond them.
Email marketing: Email marketing may not be the first type of conversational marketing you think of, but it can be endlessly helpful. It's no secret that some companies have email all wrong and resort to sending out newsletter after newsletter that don't grab the customer's attention.
Related: Want to craft a newsletter of your own? Click through to discover how to create an email newsletter that will knock everyone's socks off.
No one wants to open an email from a company that boasts about how fantastic their product is and only tries to sell you on it. Being creative with your email campaigns and finding ways to interact with your customers can make the difference between an audience and a group of brand loyalists. Consider adding a survey within your email to ask them how they like a product or implement the bad, ok, great smiley emoticons they can click. The easier you make it to communicate with you, the more the consumers will reciprocate.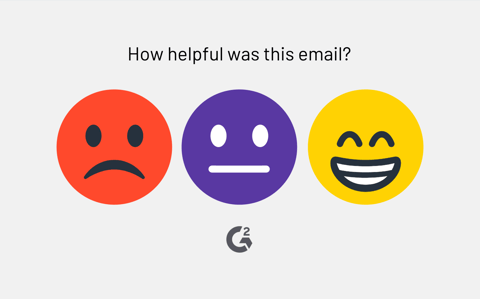 Live customer support: Although not typically thought of as a marketing role, customer support (also known as customer service) plays a big role in your customers' experience with your company. Offering a high level of support to your customers is a key component of the conversational marketing strategy. If you really want to delight your buyers, consider integrating things like 24-hour helplines, price matching, or a designated Twitter "help" account.
In short, if your customer service isn't great, your sales won't be either.
Related: Take a look at some of the customer service skills you'll need to have in order to engage with your customers effectively.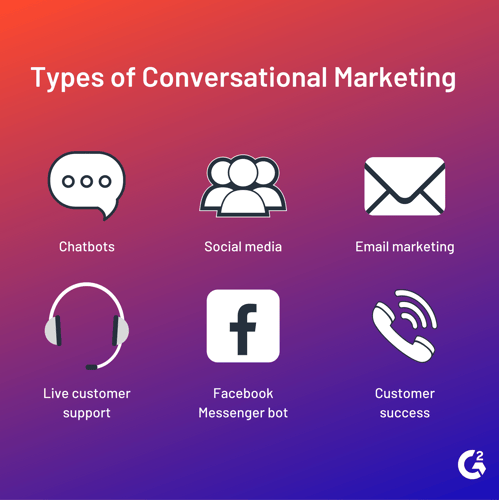 Customer success: You may be selling off the shelves, but think about this: a following up check-in. Incredible!
By hiring a customer success team to check in on your buyers, you can ensure that they're getting the most out of their purchase. These are a myriad of ways to do this but the most common is a follow-up email asking how they're liking their product/service and if they have questions. It may seem like a small thing, (which it is and why you should be doing it) but it can increase the chance that they'll buy again.
Time is of the essence
We've come a long way from cave drawings, letters, telegrams, and carrier pigeons. It's the easiest it's ever been to communicate and your company should be taking advantage of it. Fostering a good relationship between you and your customers is one of the most effective ways to understand where they are, what they want, and the easiest way you can give it to them.
As chatbots continue to evolve, experiment with the different ways you can implement conversational marketing. Lead your customers to the purchase, delight them with automated assistants, and become a brand that listens to their audience.
Live chat is another way to communicate with your buyers. Check out a list of noteworthy live chat statistics you might not have known or browse the best live chat software on the market!