There are thousands of content jobs on the market right now.
Job hunting can be a little overwhelming, especially when there are dozens of job titles that all sound the same. On top of that, you've probably seen a handful of marketing professionals label themselves as gurus, ninjas, and rockstars. It can feel like there are endless titles with different job descriptions, but don't worry, content marketing jobs are a bit easier to understand. There aren't as many job titles within content marketing and thankfully, there are a core seven you should be familiar with.
Types of Content Marketing Jobs
Content Marketing Specialist

Content Marketing Manager

Content Marketing Director

Email Marketing Specialist

SEO Specialist

Content Promotion Specialist

Social Media Specialist
In this article, we'll go over these seven content marketing jobs, what purpose they serve within the content team, and the qualifications you'll need to land them. Let's get started.
Click on any of the job titles to read their respective responsibilities:
Content Marketing Specialist
Content Marketing Manager
Content Marketing Director
Email Marketing Specialist
SEO Specialist
Content Promotion Specialist
Social Media Specialist
Content marketing jobs: breaking it down
To start off, we'll begin the list with the Content Marketing Specialist. Make sure to make mental notes of which skills you already have and the ones you can begin to develop.
Content Marketing Specialist
Content Marketing Specialists are the creators of the content team. When you browse the web and find yourself clicking on an article for a quick read, a content marketing specialist wrote it. They're the visionaries that strategize, create, and publish the content the team relies on.
Usually, content marketing specialists are synonymous with creating high-quality articles for their blog or website, but they're not relegated to just writing. Content marketing specialists may help collaborate on creating images with a graphic designer or may be involved in producing video content that enhances their writing.
For the sake of this article, we'll focus mainly on writing. A content marketing specialist will map out high volume keywords, create a basic article outline, write the content, and meet with editors for final checks. They will also continuously brainstorm with the content team to ideate topic ideas that their audience wants to read about.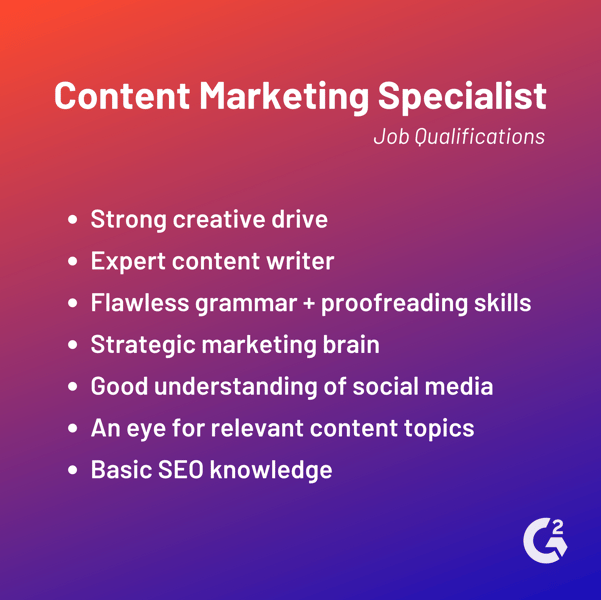 Content Marketing Manager
A Content Marketing Manager is held responsible for all content marketing initiatives and campaigns across their team. They lead the Content Marketing Specialists and oversee the production and publication of all marketing collateral. The Content Marketing Manager's job is to help drive traffic, leads, engagement, and sales as quickly and efficiently as possible.
A big part of the job is developing a solid and effective content marketing strategy for the team and carry it out across various social platforms. A great Content Marketing Manager will have a clear vision in mind when leading the team and constantly think of the best way to optimize content and increase traffic.
TIP: A Content Manager is a specialized role that's not to be confused with a Marketing Manager, which is a more generalized position. Check out this marketing manager job description for more details.
This person will organize the editorial calendar as well as manage team member workflows. They will work closely with the content team as well as the SEO Specialist and Email Marketing Specialist to tweak content where necessary and optimize the company blog or website.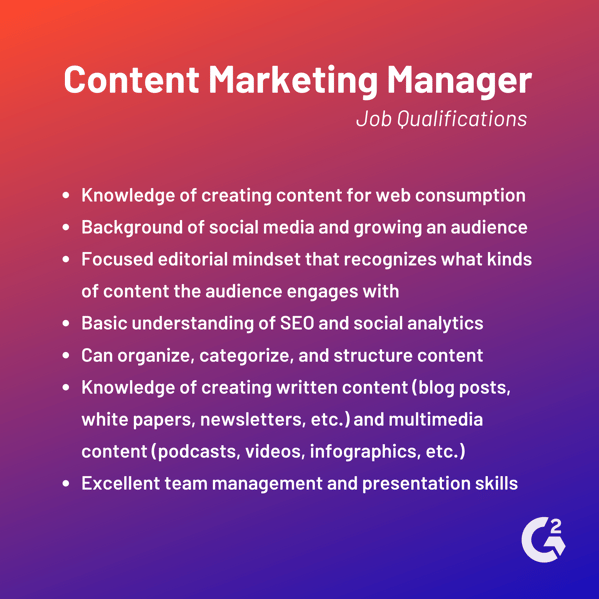 NOTE:
Job descriptions may vary depending on the company's needs. Some teams may be looking for a manager that has a heavy background in video while others may be in need of someone who's highly skilled in email marketing. Always be sure your skills meet the qualifications.
Content Marketing Director
A Content Marketing Director is the entire content team's leader. This person leads all owned media channels such as email, social media, web content, and direct mail and usually has an extensive marketing background. The Content Marketing Director manages the overall content marketing strategy as well as design, execution, and brand reputation.
This role is responsible for making sure every member of the content team is on the same page and producing high-quality content for online distribution. They are sometimes involved in the training of team members and often collaborate with managers that report directly to them (Content Marketing Managers).
The Content Marketing Director plays a big role in developing the vision of the content team. They consistently review data about their audience so that they can be sure that the content that the specialists are creating is effective and useful. They sometimes work with sales to discuss how they can expand their audience and cast a wider net of potential customers and often work with the brand team to create a unified vision across the company.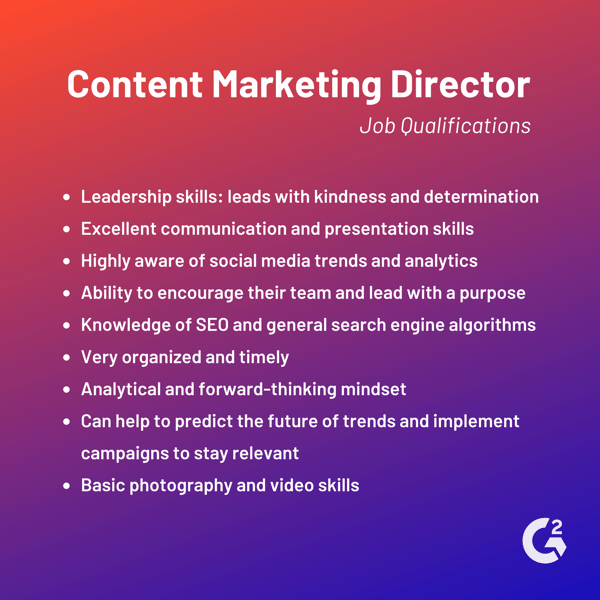 Email Marketing Specialist
An Email Marketing Specialist conducts and leads the email campaigns that let customers as well as fellow business partners know of product launches, company news, products that are in the works, and general updates. Think of a company newsletter. Email Marketing Specialists are the geniuses behind them.
If you've ever purchased something online or subscribed to a brand newsletter, you've experienced the work of an Email Marketing Specialist. Putting it simply, this person will figure out the best way possible for a company to reach their audience via various email campaigns. They keep the customer in the loop about new company developments and promote products and services through email blasts.
Email Marketing Specialists assemble and keep track of large email databases that they pull data from each week or month. Because this can be overwhelming, they often collaborate with the content team, fellow Email Marketing Specialists, or web analysts.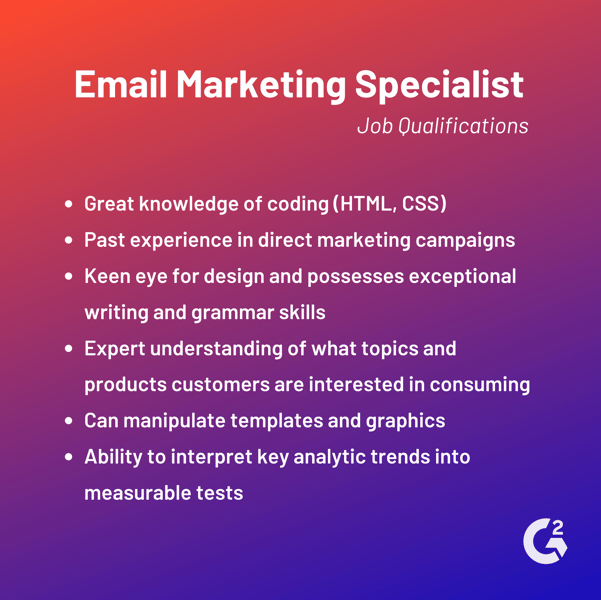 SEO Specialist
An SEO (search engine optimization) Specialist is essentially a jack of all trades. They have an extensive knowledge of analytics, search engine algorithms, and a keen eye for building a website's credibility to help its content rank higher. Putting it simply, SEO Specialists help companies and brands analyze and streamline their websites so that the pages (and content on them) rank higher on Google or other search engines.
Great SEO Specialists will be able to see where a website or landing page can improve and make changes to the headings, within the body, and add links where necessary. They help companies to expand their customer base, improve page quality, and assist pages in ranking higher.
One of the main ways that SEO Specialists help company websites rank higher is by building as many backlinks as possible that point people to the site. They can also help with light writing and content optimization such as tweaking titles and keyword selections.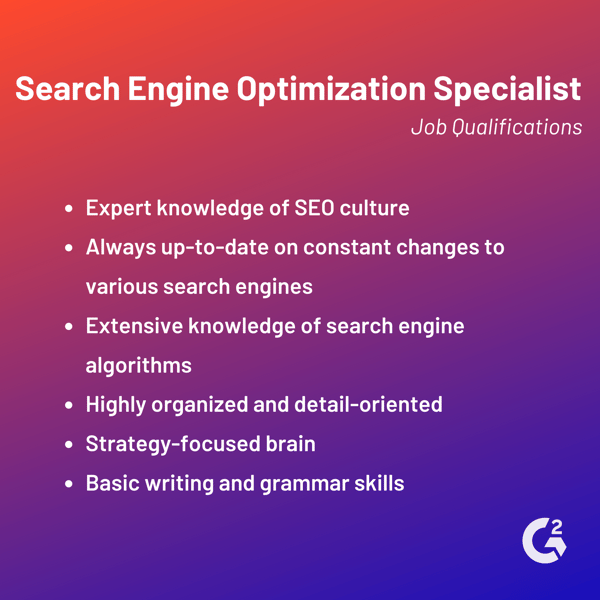 Content Promotion Specialist
The Content Promotion Specialist is responsible for implementing marketing strategies such as content marketing, digital relations, and SEO. This person will use already created content to connect with other industry content teams and drive non-company traffic to the website via building links across the web.
This person may also be involved in some light content writing and website optimization, but the majority of the role will be ideating off-page SEO opportunities such as guest posting and content collaborations. The Content Promotion Specialist will drive SEO campaign growth with existing relationships and suggest potential content collaborations.
In short, this person manages content promotion and the offsite SEO team. They are there to scale the backlink program and may manage the guest posting program. The Content Promotion Specialist will oversee on-page SEO optimization for proper keyword targeting, anchor text matching, and internal linking. Keeping a strong relationship with editors, influencers, and other content marketing teams is a key part of the role.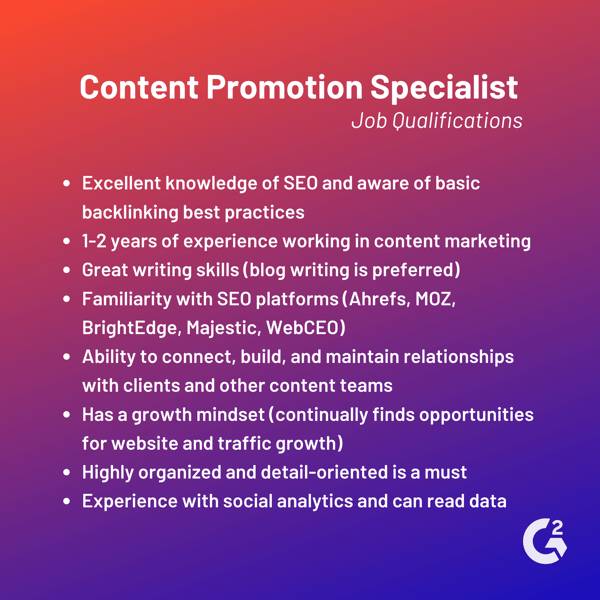 TIP: Not interested in content? Consider pursuing a career in sports marketing instead.
Social Media Specialist
A Social Media Specialist assists in implementing marketing strategies on various social platforms. Sometimes thought of as the "they-can-do-it-all" person, a Social Media Specialist has an abundance of skills.
This person will have a firm grasp of the current social atmosphere and be able to develop and carry out marketing campaigns. This could include creating blog content, assisting with the creation of graphics and video content, and most importantly, understanding a brand's audience and standing in to act as the brand if customers have questions or concerns.
Social media monitoring is a big part of the Social Media Specialist position, so naturally this person will be able to stay calm and collected if customers voice their unhappiness. Keeping the audience happy is key in this role and the Social Media Specialist will continuously oversee and promote the content the brand shares on social.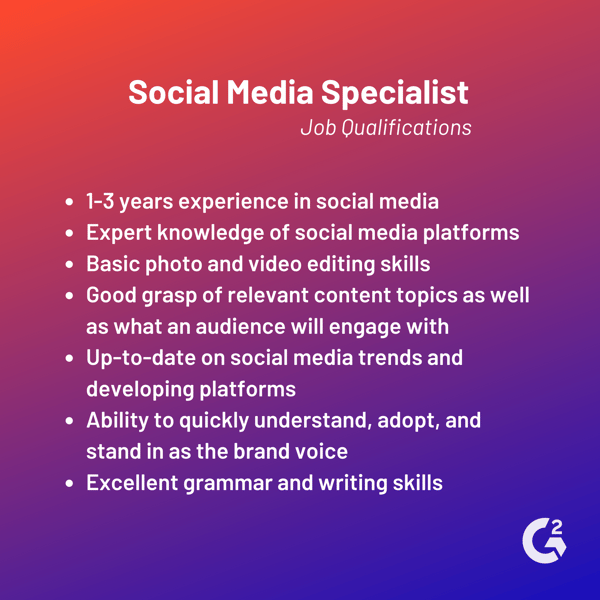 Using content management software can help you stay organized and on-track. Browse some of the most highly-rated software tools and try one out for yourself.
There's a job out there for you
You just have to find it! Now that you have a better grasp of the job titles that are out there, you can have the confidence and motivation to reach out and go after a position in the content marketing world. No matter what field you're in, continuous growth and improvement is always in style. Use the skills you have to build up your resume and land the job of your dreams.
Want to learn more about the world of content marketing? Read up on content keyword mapping and the importance of repurposing content.