Shoppers hate long checkout lines.
A major pain point at brick-and-mortar stores is long lines at the checkout counter, which means people often opt to abandon their cart if the line to check out is too long. When the likes of Amazon Go exist in the retail landscape, it is important that retailers create a seamless checkout experience to avoid losing customers.
That's where contactless payments come into the picture. Contactless payments allow customers to skip swiping their cards. For retailers, this means shorter lines and a faster checkout experience. It is also good news for banks and credit card issuers. Consumers that use contactless payments use their cards more.
What are contactless payments?
Contactless payments or tap-and-go is a secure method to make a purchase using a debit, credit, or smartcard leveraging RFID or NFC (near-field communication).
Since they do not require a signature or a personal identification number, this is a faster mode of payment compared to traditional swipe and pay cards. While we've talked about the benefits of contactless payments for retail, it is widely used for public transportation systems. In fact, that is how it all began.
A brief history of contactless payments
Let's go over a brief history of contactless payments that have amounted to what we know and use today.
1995: UPass
South Korea's transit authority in Seoul launched contactless payment systems in 1995 to facilitate an easy way for bus riders to pay for their trips. Now known as the UPass, it transformed transit industries across the world.
1996: EMV
The first version of the EMV standard was published in 1996. Over the next 10 years, banks and merchants began to implement this security standard by reissuing credit and debit cards and updating to NFC-capable terminals that eventually led to contactless payments.
1997: Speedpass
In 1997, Mobil offered Speedpass that allowed customers to pay for gas using a special fob at participating gas stations.
2001: FreedomPay
FreedomPay, one of the first mobile payment platforms launched a new type of contactless payment. Customers just had to wave a small plastic wand at the till to pay for their purchase. McDonald's was one of their partners where this system was implemented.
2003: Oyster Card
Contactless payments didn't become widely popular until London's transit agency introduced its prepaid contactless Oyster Card system in 2014.
2007: Barclaycard
Barclay issued the first contactless card in the European Union called Barclaycard. Barclays debit cards debuted a year later in 2008.
2008: EAT and North American Banks
EAT, a British food chain, was the first restaurant chain in the UK to adopt contactless payments. Around the same time, Visa, American Express and MasterCard jumped onto the contactless payment bandwagon by offering their version of the contactless credit cards.
2011: QuickTap, PayPass, PayWave, Google Wallet, and Android Pay
Barclay partnered with Orange Credit Card to launch Europe's first mobile wallet called QuickTap. The system allowed customers to use their phone to make purchases. The system used a secure SIM-based approach to ensure there are no fraudulent transactions. Users also had the option to enter a PIN on their handset before each transaction that added an extra layer of security.
Also in 2011, MasterCard PayPass and Visa payWave were introduced. Both used the power of NFC to allow customers to simply wave or tap their smartphones at the checkout to make purchases.
At the same time, Google launched Google Wallet allowing users to make payments with their smartphones. Android Pay allowed users to make purchases using NFC.
2014: Weve
MasterCard partnered up with Weve, a joint venture between UK's three largest mobile operator, to focus on mobile payments. At this time, the number of contactless transactions had grown by 220% in Europe. They wanted to capitalize on this growth and use contactless payments from location-based initiatives to POS engagement.
2014: Apple Pay
Apple finally followed suit and introduced Apple Pay in select markets.
2015: EMV in the United States
US finally adopted EMV that allowed thousands of merchants to switch to NFC-powered POS terminals to facilitate contactless payments.
2016: Apple Pay in Canada
Apple Pay reached Canada after a partnership was struck with five of the largest banks.
2017: Wearables allow contactless payments
Fitness enthusiasts have always struggled with where to stash their cash or wallet when outdoors and had to forgo an after workout snack as a result. To solve this issue, Fitbit launched Fitbit Pay that allowed customers to pay for purchases by scanning their wrists at checkout. Garmin followed suit with their version of Fitbit Pay called FitPay.
2018: Europe goes contactless + Google Pay
Nearly half of all card payments in Europe were contactless in 2018. Google decided to merge the Google Wallet and Android Pay and called it Google Pay.
2019: Wells Fargo (and rising concerns)
Wells Fargo decided to roll out contactless cards. While some retailers like Target embraced contactless payments, others like JCPenney pulled the plug on Apple Pay. At the time, JCPenney hadn't complied with US regulations on upgrading to EMV enabled terminals and it decided to cut out contactless payments altogether.
Why hasn't the US been a pioneer of the contactless payment industry?
The United States has lagged behind much of the world when it comes to contactless payments. 60% of all face-to-face Visa transactions made in countries other than the US are contactless. Mastercard's global consumer survey revealed that eight in 10 consumers use contactless payments.

The problem is primarily the fragmentation of payment systems. When you look at Asian countries like China, South Korea, or India, there are some major players like WeChat or Paytm in the contactless industry that dominate making it easier for consumers and retailers to come on board.
Contactless cards vs. digital wallets
Contactless payments have evolved from physical contactless cards to digital wallets, mobile banking apps, and wearables.
Digital wallets
A digital wallet is a broad term for software that allows you to store your card information in the cloud and then access it via a device. This includes services like PayPal.
Mobile wallets
Mobile wallets are a type of digital wallet that are usually accessible through an app on the phone or wearable. Think Google Pay, Apple Pay, or Samsung Pay.
This also includes peer-to-peer transaction apps like Venmo or Cash app. Mobile wallets aren't limited to leveraging NFC. Retailers can create QR Codes with logos to accept payments as well.
Mobile banking apps
Another form of contactless payments, mobile banking apps facilitate transactions through QR codes, UPI (unified payment interface), or via instant money transfer.
Buy now, pay later apps
A subset of mobile wallets is a category of apps that allow users to buy now and pay it off later. These allow consumers a certain credit limit based on your credit card and repayment habits. When users shop, the app pays the merchant on their behalf. At the end of the billing cycle, users have to repay using their card online or convert the purchase into EMI.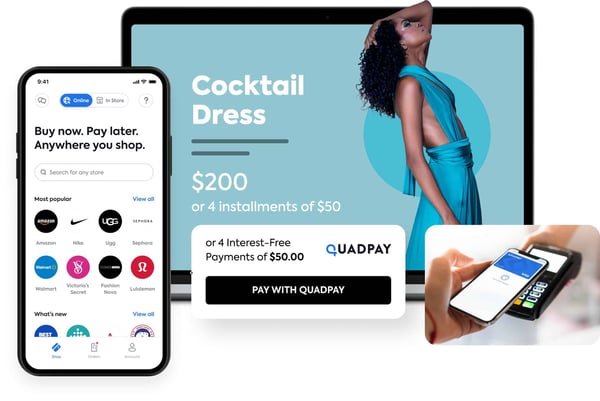 How do contactless payments work?
Merchants that support contactless payments either have a contactless payment symbol on the POS terminal. The symbol looks similar to the WiFi logo, but turned on its side. Customers have to bring their card one to two inches from the symbol and there is an instant beep, green light, or checkmark to indicate that the payment has been made.

For digital wallets, POS terminals have an NFC/QR code sticker that customers have to tap or scan through the app on their smartphone to make instant payments.
Benefits of contactless payments
Switching to contactless payments has obvious benefits. Some of which we've already outlined i.e. faster checkout, shorter lines, and added convenience. But do they hold up to traditional cards or cash transactions? The answer is a resounding yes.
The process enhances security and reduces risk of fraud
They have the same protection as EMV chips and PIN payments making them safer than cash transactions. There is in-built protection that does not allow the same transaction to occur twice and if intercepted, the details and numbers cannot be decrypted because unique numbers are used for transactions that do not correspond to the actual card numbers.
The process is more convenient for consumers
Swipe and pay cards require signatures or a PIN which is simply not the case with contactless cards. Mobile contactless payments allow users to make payments if the card is out of reach or if they've left their wallet at home.
Contactless payments are more hygienic
Here's a gross fact. Your money is contaminated with bacteria.
In fact, 94% of bills tested in a 2002 study were bacteria-filled. While most of this bacteria was harmless, 7% carried dangerous pathogens like E. coli. Cash is a rather hospitable environment for virus and bacteria making contactless payments are a viable alternative when it comes to hygiene. Granted, the surface of a smartphone or a card isn't the cleanest, but it isn't widely circulated like cash is, and it's in the individual's hands alone without being passed from person to person as much.
The process is faster than regular card payments
Given the speed, convenience, and security of contactless transactions, retailers witness an increase in the average transaction value because customers are neither constrained by the amount of cash they are carrying nor frustrated by an inefficient checkout process. This leads to a reduction in abandoned sales.
You can onboard users into business loyalty programs
Studies show that 93% of shoppers in the United States use a coupon code or a discount throughout the year. Since the main incentive of a loyalty program is discounts, it would make sense that customers want to be part of a loyalty program.

However, the pain point with traditional methods of onboarding shoppers onto loyalty programs is the inconvenience. Shoppers are asked to fill out their information at the checkout counter either on a digital screen or a paper and pen form which puts them off.

Mobile contactless payments are a neat way for retailers to onboard shoppers onto their loyalty programs. They can create a landing page that appears after shoppers make the purchase that allows them to check out the benefits and fill it up on their device.
Contactless payments boost app adoption
For retailers that provide their own digital payment systems like Walmart, contactless payment can boost app adoption rates. The convenience of cashless transactions acts as an incentive for shoppers to download the app. When you factor in the added benefits of exclusive discounts, coupons and location-based in-store notifications, downloading an app is a no brainer.
They promote increased card use
The convenience of a tap and go system over traditional methods means users are more likely to use their cards more often. This also results in incremental transactions from increased use.
Capture transactions usually made by cash
With contactless becoming the norm, issuers have the unique opportunity to capture transactions usually made by cash. They can then leverage this data to offer benefits to users or invest in co-branding opportunities.
Targeted discounts based on expenditure
Digital wallets partner up with merchants to offer exclusive discounts to users increasing the usage of the wallet and shopping at the merchant. The data collected from past purchases can be leveraged to display targeted discounts on digital wallets.
3 brands that have accelerated contactless payments
The following brands have opened the door to making contactless payments a reality.
Amazon
Amazon Go stores use a myriad of technologies to facilitate a contactless shopping experience which includes contactless payments. When shoppers exit the store, their card linked to their Amazon account gets charged automatically.
Target
In December 2017, Target rolled out their mobile wallet that allows shoppers to make payments using their Target REDcard credit and debit cards. Last year, they made the move to accept contactless payments including Apple Pay, Google Pay, Samsung Pay and contactless cards.
Nike
Nike's flagship store House of Innovation in NYC created instant checkout stations using QR codes, allowing members to skip the line and make payments on their smartphone instead. These QR codes are pasted on walls of the store and require shoppers to download the app to make payments.
Contactless payments in relation to marketing
The future of transactions is definitely contactless but can it spawn a new way to market in-store? Absolutely.
An added benefit of contactless payment modes especially NFC and QR codes is that the level of consumer awareness about this technology is at an all-time high. This allows retailers to leverage the same technology to create a low-cost high impact contactless shopping experience.
Add the native capability of smartphones being able to read NFC tags and scan QR codes to the equation and it is an obvious next step. Decathlon uses QR codes all over their store to enable customers to view product information, reviews, leave feedback and add products to their cart. NFC tags have similar capabilities and have been used for connected experiences.
Nike, Puma, Nestle, and PepsiCo all leverage QR codes and NFC tags in-store or on product packaging to create interactive experiences for consumers. With AR experiences being delivered by the same technology, contactless marketing is a new segment that is bound to grow.
Are contactless payments the future?
Google has recently introduced a new payments feature "Confirm with voice match" for the Google Assistant for smart speakers and displays. Currently, this feature is limited in its capabilities, but it could transform the contactless payments industry and potentially be the start of v-commerce or virtual commerce.

The global market size of the contactless payment industry is expected to grow from 10.3 billion dollars in 2020 to 18 billion in 2025 at a CAGR of 11.7%.
Across industries, retail is expected to be the front runner. As part of an ongoing effort to modernize the shopping experience, contactless payments will take center stage. Including reduced transaction time and increased revenue, contactless payments also improve operational efficiency and minimize operating costs.
In all likelihood, contactless payments are going to emerge as the one-stop solution to making purchases and transit safer and convenient with customers, retailers and card providers emerging as clear winners.
Don't get left behind. Find the right POS software solution for your contactless payment business needs today.