Communication is essential in the remote work culture of today.
If there's no live collaboration, nothing gets done.
Even for the in-house employees, the ability to communicate visually is key to improved performance. Despite having the possibility to talk to each other in person, checking the work from your own desk and throwing a quick comment instead of walking to somebody else's desk shaves minutes off your day. These minutes become hours in the span of a week.
Tools for clear communication
To ensure you aren't continually losing time, you need to find the right tools to make your team productive. So here are some options for software that will save that time for your team and will increase your overall productivity.
Note: The tools listed in this article are not ranked by G2; they are just an array of options within different software categories that may be useful for PR and Content teams.
From the wealth of features InVision has, you'd think it's a huge investment. It's not. For the maximum price of $99 a month, you get nearly everything you could want from a collaboration software.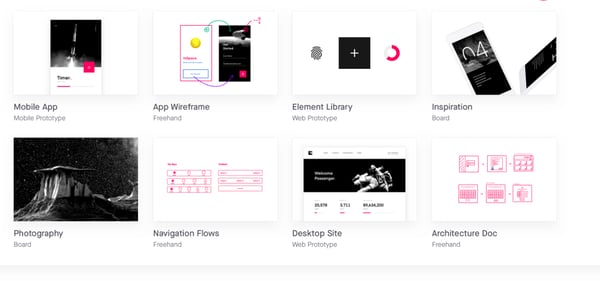 Source: InVision
For starters, InVision is not just a communication software, it's a mock-up tool in and of itself. Sure, it may not have the options and the processing power of Photoshop, but you don't need that. It's a great tool to create live prototypes and test them on the go.
The best part about it is that InVision lets you communicate directly in the wireframe app and see live feedback. Instead of trying to explain your ideas in words or send screenshots back and forth, you can draw over the design and tell what needs to be changed and how.
The app also has the more common communication features like chat and voice calls and connects with Slack and Trello to make it easier to transition. Overall, it's a great tool that can house your whole project if you run a design agency.
Don't trust a third party enough to use their custom-made tools or just prefer to keep what you already have? Well, you might be better off using Bluescape instead of InVision.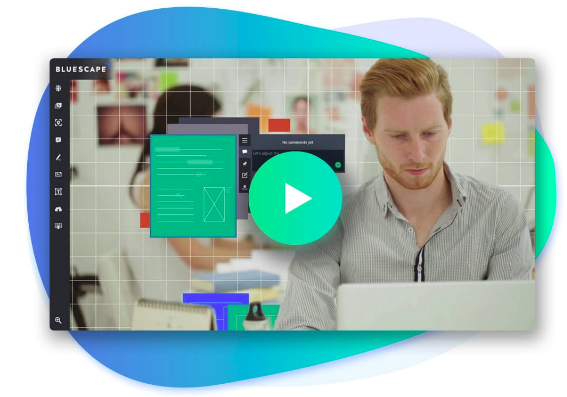 Source: Bluescape
"This company has all the features InVision has save for their own editing tool. Instead, you can connect Bluescape to Photoshop, Illustrator, or any other app your team is using, and receive live feedback on the spot."
- Head of Content Marketing from Pro Essay Writer
The app allows you to collaborate with inside teams and third parties and share the product preview with clients, managers, and more. It keeps the whole production process easily accessible without complicating it by using custom-made editing software.
MURAL is your typical whiteboard collaboration app. It lets you create an infinitely zoomable digital whiteboard and co-create all kinds of stuff from quick product sketches to mind maps. Use it as your daily planner and creativity space combined.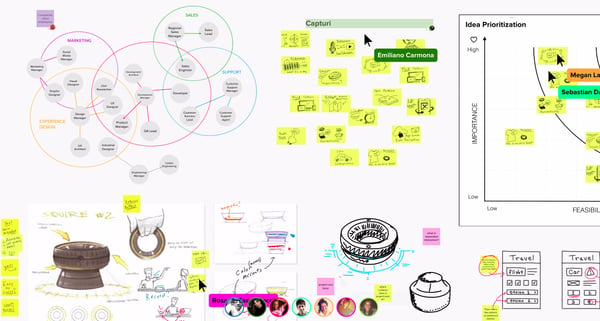 Source: MURAL
It's all the features it has, however, so you'll only be able to use it as a secondary tool.
Miro is a lot like Mural, but with some features added on top of it. It has a bit more editing tools and video call functions. You can add multiple video calls on the whiteboard and interact with people in real-time.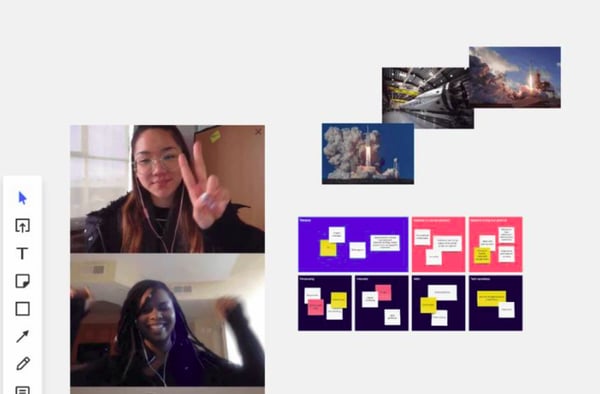 Source: Miro
It's a bit more personal than Mural because of it. But Miro still by no means is an all-around solution.
BeeCanvas is the ultimate whiteboard solution. It has more tools and options than any other software out there. You can use this app as an organizer to pin to-do lists and notes on it, paste anything from a video to an excel table, and call your team when you want to give them a more detailed instruction.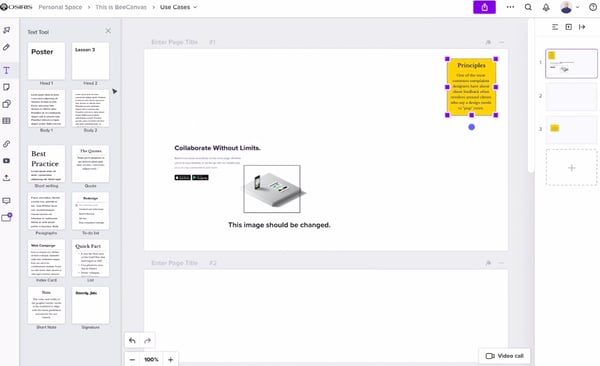 Source: BeeCanvas
You can use BeeCanvas to create a very basic mock-up, but you'll soon find yourself running out of features so you'll need to use a full-scale wireframe tool. Other than that, it's perfect for collaboration and creation.
Samepage is more than just a chat software that lets your team collaborate via texts, even though it's one of the apps core features. What's more important is that Samepage lets you create, edit, and manage files on the platform. Essentially, it's your more advanced and more secure version of Google Drive.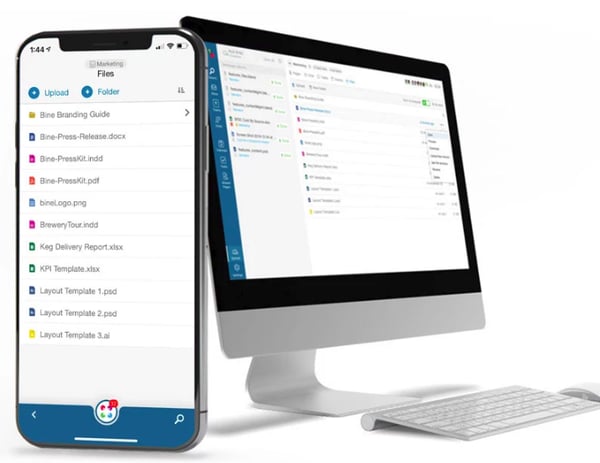 Source: Samepage
The team can edit files together, and no outsider will have the opportunity to get into the cloud storage. The problem with Samepage is that it's not a solution every company can use to their advantage. If your business is content creation, all you need to do is integrate editing software and you're set. If you're creating web applications, this file management system is redundant since you'll be storing all files on Github.
At first glance, Jive can seem too simplistic. It does offer plenty of opportunities to collaborate and communicate as a team, but they're not very interactive. The basic collaboration hub in Jive is a Reddit-like platform. It's gamified which will drive some employees to perform better to compete with each other, but does it make it unique?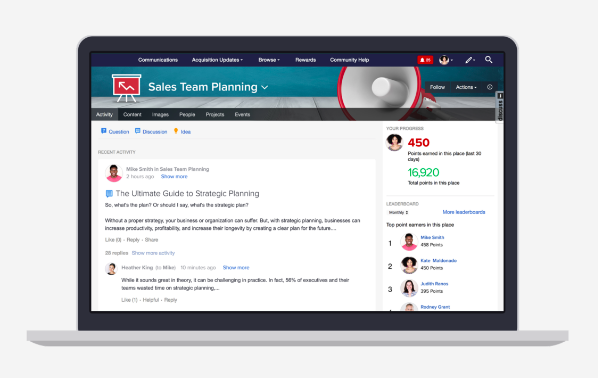 Source: Jivesoftware
It doesn't. The ability to use machine learning to measure your team's collaboration and productivity does. Jive offers a broad range of analytical tools to keep track of every process in your company. On top of that, you get the possibility to integrate almost any app.
Skype is the staple of office collaboration. It's easy to use, it has both texting and video calls, and most people already know how to use it. This means you don't have to do any onboarding. This is why so many companies use Skype for collaboration.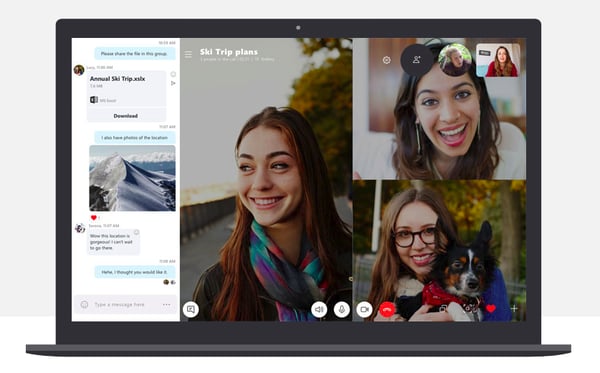 Source: Skype
There's one huge drawback, however, that can cancel out the positive sides. Since many people use Skype, they may have relatives or friends on the platforms. Getting messages from your loved ones during work hours is distracting enough, but it can be too much to handle if you get them in your workspace collaboration app.
If that's not a problem in your team, Skype can be a great app to do texting, screen sharing, and video calls.
Slack is a step up from Skype. It is a closed software, so you don't run the risk of getting your employees distracted with personal messages. Slack has all the features Skype has, and even more. Text in multiple chats, create an off-topic chat for informal team building, video call your coworkers and share your screen.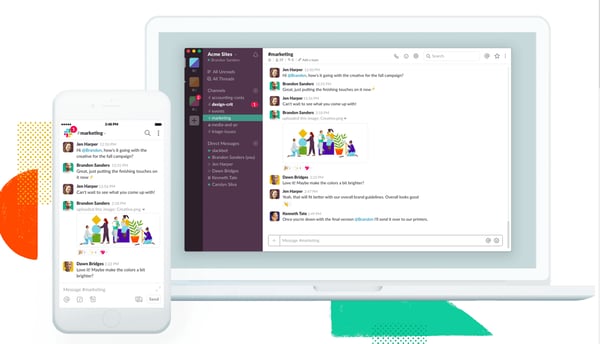 Source: Slack
It's simple and straightforward. The best part about it is that you can get most features for free and integrate the app into most other software solutions. It makes Slack a must-have addition to your collaboration software. Also, if you are worried about your team losing focus on the instant messenger, we put together a list of Slack tips to help keep everyone productive.
Google Jamboard seems like your typical whiteboard software. It allows the team to work together to create tips, mind maps, to-do lists, mockups, and more. But there's a twist that changes the game completely.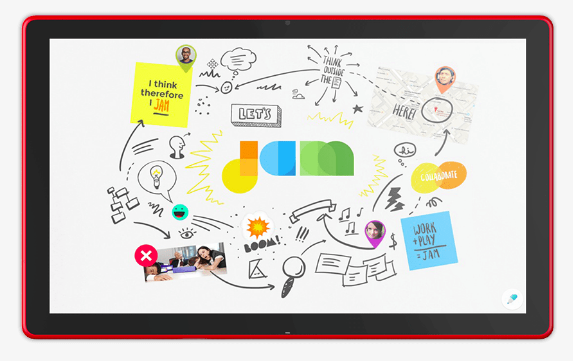 Source: Google Jamboard
Jamboard is a 55" touchscreen that can quite literally become your office whiteboard that at the same time keeps all the features of a digital one. It doubles as Playstation screen for Friday chillouts, so it may be worth the investment.
Takeaways
The main part of effective communication is providing the right tools. From full-scale software solutions to a simple video call, your options are endless. There's more than one way to collaborate. Go out and see what's best for you. Test trial versions of software you like the most and form your own opinion.