I've seen both worlds - working with agencies as a marketer and as a client.
Typically, my favorite side is being the client. It's easy to do. You go to the meetings, make decisions, discuss with the team, and move on to the next step.
Through this process, I have obtained valuable insights and skills into how to keep everyone happy, both as an agency and client. If you get it wrong, you'll lose time, creativity, resources, and become more frustrated, which can start a new avalanche of consequences. If you get it right, there's a long list of benefits.
Client management is the key to upgrading your agency to the next level. It's a behavior, skill, and aptitude that you need to master quickly, whether you're a social media manager, account management, or the CEO.
In this article, we'll explain some of the critical aspects of client management and how this can be improved.
Understanding client management
Before you can become truly stellar at client management, let's first define it.
What is client management?
Client management is the approach to managing interactions with current and potential customers. To do so, responsibility for all aspects of the working relationships between the client and the company must be taken account for.
Without your clients, your business would crumble. Fostering the best possible relationship with them should always be front-and-center. A lot goes into it, so let's jump right in.
How to improve the agency-client relationship
Excellent relationship management, efficient marketing activities, and the best tools on the market will help you deliver value for the long term. However, if you're looking for techniques on doing something right now, let's start from the low-hanging fruit.
Weekly updates
Communication is vital when it comes to client management. Sometimes you realize that you've been working so hard on many different tasks over the past month but can't mention anything valuable or big to say.
I've been through this myself, and I get it. Start the week with a short and positive "weekly update" that summarizes everything you worked on last week – the good and the bad. It will make your life easier and improve the feedback process. Here's a template you can follow.
Hi, everyone.
I just wanted to share some of the highlights of the past week.
Awesome stuff:
Not so awesome:
I was sick last week. Therefore there will be some delays in the design project this month. I'm sorry about that.
Questions:
We'd love to jump on a call to discuss a few issues on the latest feature we're developing right now and make sure we're on the same page. Are you available this Thursday at 2 pm?
Thanks, looking forward to hearing back from you soon.
A simple and elegant template will help you improve client management and make sure everyone's happy.
Highlight success
Every time something significant happens - communicate this. It's a positive reinforcement of their money and a sign of your results in time. Don't just tell them that your post was published. Announce any great results you've had, like high engagement, impressive replies, or high coverage of a content piece.
Also, at the end of every day, quickly make note of what went well and what you're looking forward to tackling tomorrow. Capture your day-to-day successes, while also keeping your progress in the context of larger projects and how you're helping your organization move forward.
Learn your client thoroughly
Based on your previous experiences with clients, you likely have an idea of situations, triggers, and problems that commonly arise in your work. Create a guide of these everyday situations and have them ready. It will help you be aware of any potential issues during the project and provides a roadmap for fixing them. Here's a list of questions to keep in mind when working with the client:
Why are we doing this project? Outline the goal and objectives.
Who will be using this project? You're looking for an answer on demographics, psychographics, purchasing habits, and current metrics.
What does success look like? What's the end product?
How can we avoid failure? As I've mentioned earlier, a short and straightforward guideline to prevent typical mistakes and stay on track.
Also, stay informed about industry development and monitor their competitors to bring better results.
Companies focus on acquisition more than customer retention, even though it can cost seven times more to acquire new customers. Any business owner knows that retaining is the low-hanging fruit. Gain an understanding of how to create loyal customers, as keeping them is one of the most important things for you. Globally, the average value of a lost customer is $243, and that's not something you're eager to lose, right?
The elements of client management
Anyone that has worked with clients knows that it can be frustrating. There's always that client that you can't stand. Account managers or an internal stakeholder understand what's happening behind the scenes and the complexity of your work.
On the other side, your client only sees the results, that 10% of your work. Many of them have unreasonable expectations about the project, are not following deadlines, and require multiple iterations on the project. There are numerous solutions to create an efficient client management workflow. However, I think that the essential pillars of it are these.
Share your roadmap and stick to it
As a client that worked with an Unfold (a branding agency), this is what I loved most. The purpose of our initial conversation was to discuss and outline the project. Afterward, they surprised us with a clear roadmap for the next five-six weeks. I was reassured that this was a great decision, and they're professionals in the space.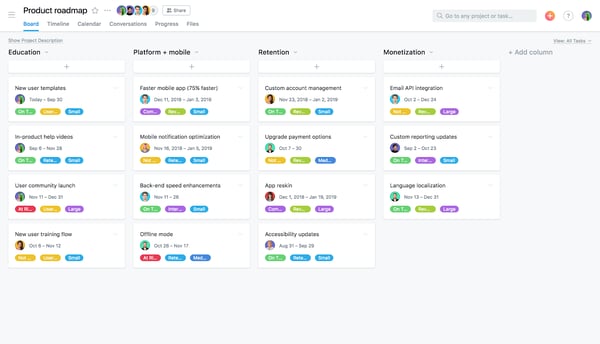 Chances are they repeat this process with every client, so for you, as an agency, these steps are clear, straightforward, and distinct. But for the client, it's impressive. They gain access to the agency world with a clear and direct structure. I'd suggest sharing only the critical tasks and not go too deep into the details. Outlining the process should be enough. Best of all, you set all the expectations clear.
Making sure everyone is on the same page
Once you complete a specific step in their project, notify your client. There are multiple collaboration platforms with an approval and collaboration workflow in mind. They'll allow you to get notified via email or mobile phone to check for any updates. Also, it will give your clients a seamless experience to exchange ideas and content.
Centralize all files and communication with client management software
There are many tools and platforms out there that we use, including emails, spreadsheets, storage platforms, and many more. Therefore, it's a must to establish the tools of the trade.
Dropbox
Dropbox is a cloud-based file storage and collaboration platform designed for the modern workspace to reduce busywork, so you can focus on the things that matter.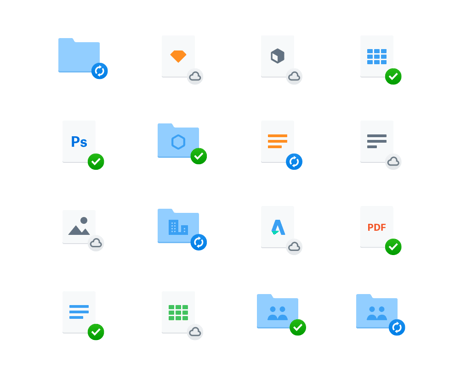 It brings your files together in one central place. They're easy to find and safely synced across all your devices—so you can access them anytime, anywhere. No more wasting the day tracking down work.
Related: If you frequently use Dropbox, whether it be personally or professionally, tell your peers what you think, and see what other people have said as well.
Slack
Slack is the single workspace that connects you with the people and tools you work with, no matter where you are or what you do. With this internal communication software, you get real-time messaging through calls and chat, a searchable record of all your files and conversations, and integrations with a growing number of handy bots and apps. Now everyone can finally be on the same page and get their work done. Slack: It's where work happens.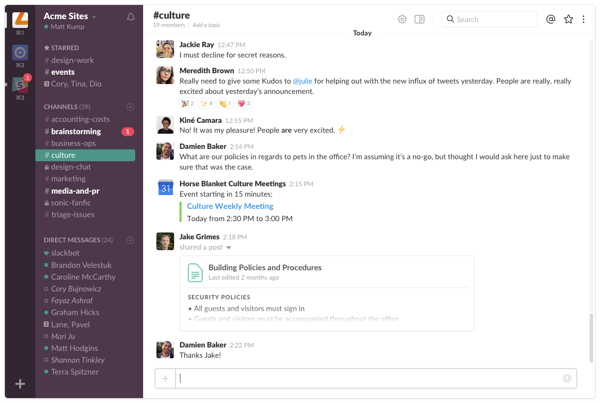 Related: Not sure how to use this popular internal communication software? Learn more about the basics of Slack!
InVision
InVision is the Digital Product Design platform used to make the world's best customer experiences. We provide design tools and educational resources for digital teams to navigate every stage of the product design process, from ideation to development.
Today, more than 5 million people use InVision to create a repeatable and streamlined design workflow; rapidly design and prototype products before writing code, and collaborate across their entire organization.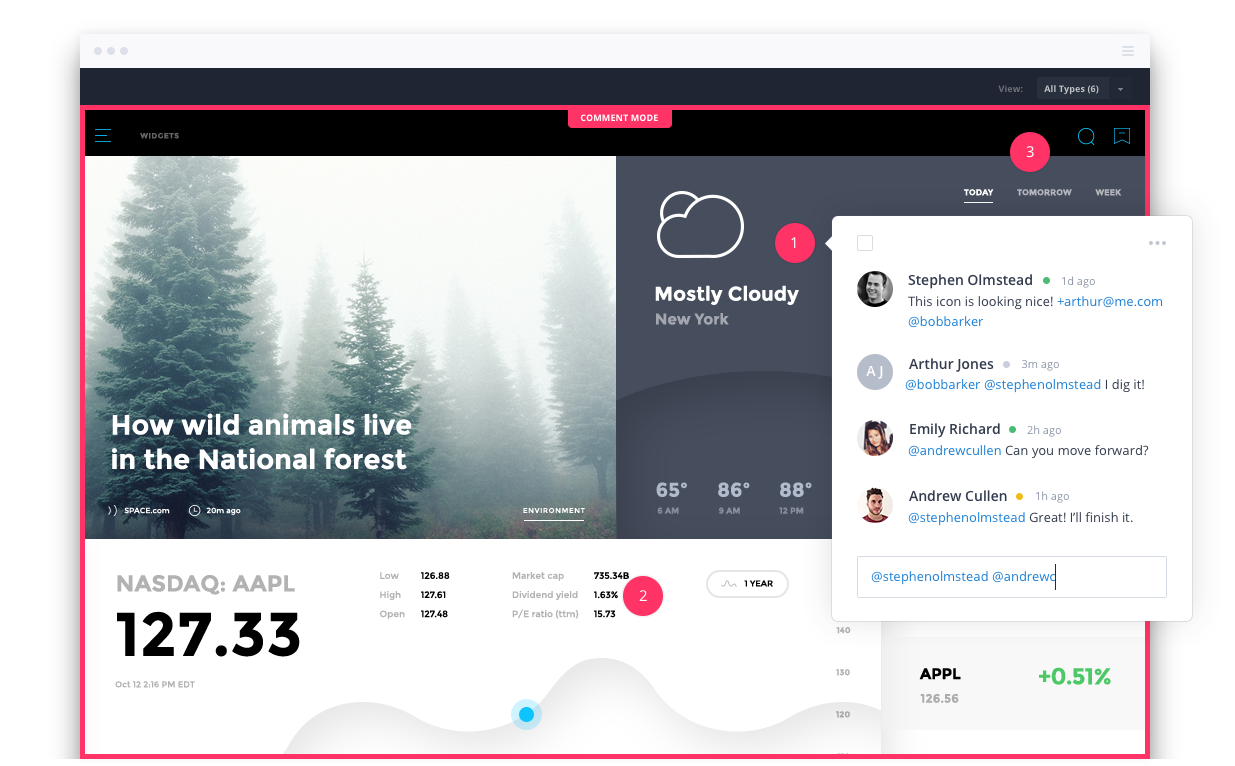 Zoom
Zoom unifies cloud video conferencing, simple online meetings, and group messaging into one easy-to-use platform. Our solution offers the best video, audio, and screen-sharing experience across Windows, Mac, iOS, Android, Blackberry, Zoom Rooms, and H.323/SIP room systems. Zoom was founded in 2011 by experienced leaders and engineers from Cisco and WebEx.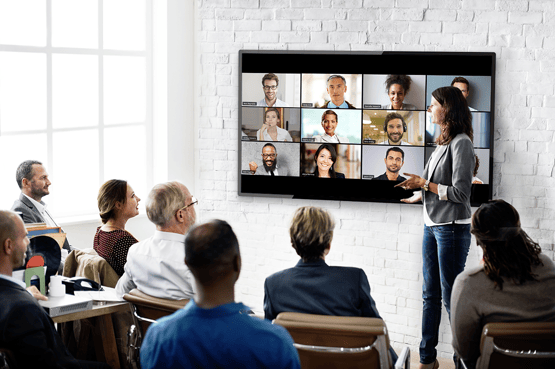 Planable
Planable is the command center of social media campaigns, bringing all of your people and content in the same place. It's a platform that allows agencies, social media managers, freelancers, marketing and communication teams worldwide to create social media campaigns and exchange feedback in the most visual way.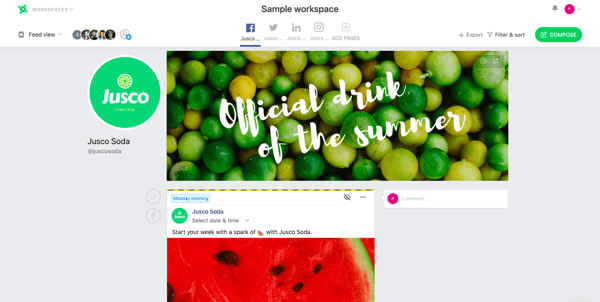 You get the point. These will help you keep all work and files in one single epicenter.
If anything changes, everyone is in the loop — no need to exchange information on email and start the game of telephone. When everyone can see the same thing, no misunderstanding can happen.
Moreover, place transparency at the core of your collaboration. You reduce the energy in managing the relationship and let it flow naturally, being able to focus on doing the actual work.
Get managing
Client management doesn't need to be painful. It's simple as building trust by communicating your progress and timeline. As long as you put the time and effort into making the relationship the best it can be, you are sure to reap the benefits of a strong relationship.
Go one step further and learn how to impress a new business client. Then, find the best social media management software solution for your company's needs to help keep you on track.