Anytime you send an email, you of course want to know how your recipients are reacting to it.
After making sure your emails are being delivered successfully via bounce rate, a metric that helps measure what percentage of your recipients are interacting with your emails is click-through rate.
What is email click-through rate?
Email click-through rate is a metric through which we can see how many people clicked on a given link within a particular email. This link could be one that redirects viewers to your website, signs them up for a newsletter, or any other given call-to-action.
Click-through rate: definition, how to calculate, how to maximize
The click-through rate is the most important metric for lead generation. Sure, it's nice if you've mastered how to build an email list and now have an abundance of subscribers. And while it's great that these subscribers are reading your emails and gaining awareness of your brand, the end goal of your emails should be to generate a particular response from your readers.
If they aren't clicking anything within your emails, then you aren't doing a good enough job eliciting this response and driving any further engagement with your brand.
Click-through rate basics
The click-through rate measures how many email recipients clicked on a given link within a particular email. It is a broad measurement of email engagement, and thus has a few factors that can impact it.
The number of links that your email contains will impact the click-through rate. This will vary based on the number of actions you want your readers to take. It also may depend on how much tracking you are capable of.
The majority of click-throughs that go into calculating the click-through rate will come from a small percentage of your subscribers. These subscribers are the readers that are most interested and thoroughly engaged by your emails. A key to a high click-through rate is understanding which of your subscribers make up this small, thoroughly engaged chunk, and what incentivizes them to click.
Email length is another element that affects your click-through rate. Short emails that are to-the-point are key for better engagement and higher click-through rates. Sending shorter emails with fewer links simplifies the process of earning a click from your readers. There is less information for them to be overwhelmed by and a clearer objective at the core of the email.
How to calculate click-through rate
Click-through rate is calculated by dividing the total number of clicks on the links in your emails by the total number of emails that were successfully delivered. Here's an example of how to calculate the click-through rate on an email that had a link that acquired 140 clicks out of 970 successful deliveries: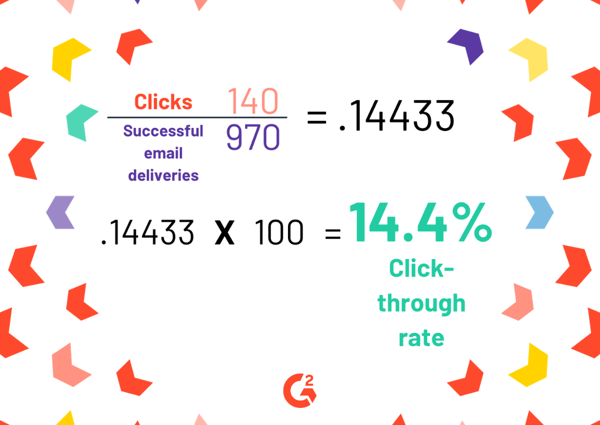 How to maximize click-through rate
There are a few key strategies you can employ to maximize click-through rate. To drive higher engagement in your emails and incentivize more clicks, try to keep the following tips in mind:
Get creative
At the center of earning clicks from your readers and maximizing your click-through rate is planting the idea in their heads that an action within your email is essential. To argue this fact to your readers, use appealing language and an attention-grabbing subject line. Write with the goal of earning these clicks at the front of your mind, as it should drive the central message of your email.
Keep emails concise
Avoid being long-winded or overcomplicating your writing in your emails. If you're looking to gain as many clicks as possible, keep the focus of your emails on what is essential and the links that you want your readers to click. Over-saturation can distract your readers and take their focus away from your end goal. Try to keep the main focus of your article on getting your subscribers to click on your links and engage with your brand.
Be explicit in your end goal
Make sure that the action or click that you want your readers to make is clear to them. In order to get what you want out of your emails, you cannot rely on your readers to read between any lines or make assumptions as to what you want from them.
Clearly outline the benefits that clicking on your links will provide and how important they are for both you and your readers. Then, your readers will know exactly what they are getting out of your emails and you'll gain their trust as a straightforward and honest brand.
Include the same link multiple times
Referencing the same link at multiple points in your email increases the chances that your readers who did not click on it at first can reconsider its appeal. This can be done by linking to your landing page at first in your email and then including a call-to-action button linking to the same page, or just referencing the page again in your email by emphasizing the value it could bring your reader.
Similar to a follow-up email, a second link to the same page in your email reinforces the importance of the action that you're aiming for the reader to complete and emphasizes how much value it provides.
Focus on your call-to-action button
A strong call-to-action button that attracts the attention of your readers is key to a high click-through rate. The call-to-action is the crucial element of your email where you can convert readers into customers. Making it impossible to miss, or better yet, click on, via appealing language and an exciting design can only help your click-through rate. Focus on the call-to-action button to work as the centerpiece of your campaign for clicks, and good things will follow. Enlisting the help of email marketing software can help develop a solid call-to-action as an attainable end goal for your emails.
Does this click?
Now that we've gone over the basics of click-through rate, how to calculate it, and ways to maximize it, it's time to put this knowledge into action. Employ some of these strategies and then calculate your click-through rates. With an email campaign that keeps click-through rate in mind, you'll notice increased engagement with your brand.