The way we travel is changing. We look for flights and hotels differently than we used to, we get around our destination differently than we used to, and our experiences center on priorities that we might not have had in previous, less technologically-advanced eras.
So shouldn't the way we travel for business change with the times as well? Why should your company stick to the same, antiquated corporate travel policy that has stayed in place for years?
This article examines some ways the business travel industry is changing in an era of specialization, personalization, and the sharing economy.
Business travel trends and news
Business travel contributes over one trillion dollars alone to the global economy, and a survey of industry professionals (from Statista) suggests that this economic impact is only primed to increase in the coming years.
When evaluating this industry that is still rapidly on the rise, we examined some key trends to watch out for in business travel. Here are eight of them below.
1. The booking process will take longer- and that's not a bad thing
The traditional mindset of the business traveler was simple. Find the flight that was at the perfect time. Locate the hotel where you'll have your business obligations as close to the site as possible. Rent the car that your company told you to rent. At no point did this process resemble the ways in which most people try to book personal travel. With business travel being reimbursed as long as it hung closely enough to a company's corporate policy, there was no incentive to take any time to look at options outside one's usual booking routine.
Now, with a multitude of new options for business travelers to maximize both their comfort and preferences on a trip, the booking process won't be constrained to the traditional standards of narrow flight and hotel options. Travelers will continue to use unique booking platforms fit for flexible itineraries and mobile, on-the-go booking. Putting more thought into how and why business travelers book the flights and hotels that they do will make the business travel experience more personal and comfortable.
2. TMCs are in for a rude awakening
Travel Management Companies (TMCs) have maintained a strong hold over the business travel booking market. The benefits of using a TMC for corporations include being able to set corporate rates and track adherence to company policies. However, they can also lead to inflexibility for the traveler and can sometimes hide the best times for flights or locations for hotels based on default settings.
With more booking options arising (including relatively new, industry-changing services such as Skiplagged and HotelTonight), it has become easier than ever for travelers to book on the open market instead of with a TMC. The intersection of business and leisure travel also complicates the old form of booking only for your business needs through a travel management company. As companies continue to become more employee-centric and value the desires of their business travelers, these travelers will command greater customization of their itineraries in ways not all TMCs are equipped to handle.
3. Employee interests will continue to be leveraged
In the traditional sense, business travel has always been centered on efficiency and corporate compliance. In today's landscape in which millennials are no longer as loyal to their companies as they once were and are often on the move in between jobs, corporate loyalty is less of a strategy that moves the needle. In order to have employees comply with traditional corporate travel policies, there must be unique benefits that are offered as incentives for the travelers themselves.
Some travel platforms offer employee-focused rewards for beating a particular budget on a flight or hotel, while others offer more flexible policies for platforms where employees can book or a period of time after a trip where they can extend their stay for personal time. In order to make sure that business travel can remain an attractive bonus for employees, companies are making sure that it includes extra perks that incentivize further willingness to participate on the employee side.
4. Bleisure on the rise
"Bleisure," or a combination of "business" and "leisure," has emerged as a popular element of business travel in recent years. Employees have begun to view business travel as a perk rather than an obligation, especially when business trips involve attractive destinations.
A report from the Global Business Travel Association and Hilton published in June of 2018 found that in the past year, 37% of North American business travelers extended a business trip for leisure. 48% of Millennials that were surveyed partook in bleisure, compared to 33% of Gen-X travelers and 23% of Baby Boomers.
This trend shows that the youngest generation in the workforce, Millennials, are becoming accustomed to business trips involving some form of extended period of time for leisure almost half of the time. What constitutes an extended stay? In the same report, the GBTA found that only 23% of reported bleisure travelers extended their trip for more than three days after their business expectations are complete.
What does this mean for employers? Employees who are willing to go on the road to conduct business and who value the opportunities their companies give them do so. Bleisure is turning business travel into a perk rather than a responsibility, and it is benefiting both employers and employees in the process.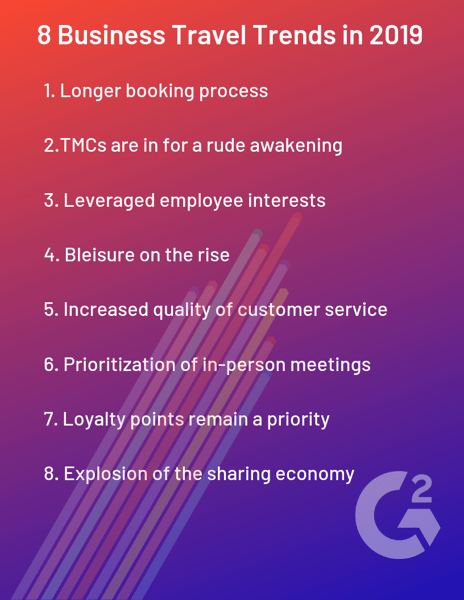 5. Increased quality of customer service
Between weather delays, personal life interferences, and rapidly changing business interests, traveling for work is volatile by nature. To handle all of the changes that can arise from an urgent trip that can so easily be altered or derailed by a variety of factors, booking tools need well-trained and effective teams equipped to provide customer service. In the digital economy, it is easier than ever to contact support teams through live chat software. For more complex itineraries, customer service teams will continue to be essential to help travelers meet their required business obligations.
With an increase in online booking platforms, there are more customer service teams that will be competitive in offering the best support to travelers to strengthen the brand of their service or booking tool. This competition is only good for business travelers, as the overall quality of customer service is due to continue to rise and become more specialized in the coming years.
6. In-person meetings continue to be prioritized over video calls
Although some may have predicted that the business travel industry would shrink in size due to the rise of video conferencing software, companies have continued to make sure that in-person meetings remain central to the way they conduct business. Face-to-face meetings are still driving an increase in business travel on a year-to-year basis, and statistics from Inc show that companies still find in-person meetings essential to business and irreplaceable by video calls.
The priorities of the big players in business travel- consulting firms, public relations professionals, and accounting firms, to name a few, will continue to drive the trends in the industry. If they are still deeming in-person meetings to be highly prioritized, then business travel will remain a thriving industry.
7. Loyalty points remain a priority for travelers
A traditional incentive for business travelers is the loyalty points they are able to accrue through taking the same airline or staying in the same family of hotels repeatedly over the course of multiple trips. While this type of thinking can be an inefficient use of company money because it boxes travelers into opting for a certain airline or hotel that could be much more expensive than other feasible options, it does reward the employee for traveling for business by allowing them the opportunity to earn points for personal use.
Loyalty points were systems put in place essentially for business travelers that spend so much time on the road. These programs from airlines and hotels are tailored exactly to the needs and wants of travelers, and it's natural that they will continue to be popular options for many travelers who value their time away from home as a tradeoff for being able to spend points they earn on personal rewards. Expect loyalty rewards programs to remain popular for travelers that have already built up a sizable amount of points and do not view giving up their program participation for greater flexibility in their travel.
8. Business travelers continue to thrive on the sharing economy
As the sharing economy continues to increase steadily (with over 77 million users this year alone, according to Statista), business travelers will continue to be counted among the many people engaging in ridesharing and home sharing on their trips. When traveling to a large conference in an expensive city like New York or San Francisco, renting out a condo for multiple travelers makes much more economic sense than overpaying for multiple hotel rooms that marked up for the conference. Similar principles apply to ridesharing, as having to rent a car and drive around to different business destinations on a trip may cause more pain (and expense) than is needed.
The sharing economy is invading our personal lives as well, and as it continues to gain more traction in terms of everyday use, it will also become a more normalized thought for business travelers to use on their trips. Not to mention the fact that renting a home in a less crowded area could appeal to the sensibilities of some business travelers more than staying in a small hotel room in the middle of the city for the same price. The sharing economy makes sense both economically and in terms of allowing business travelers to have a bit more personal preference as to how they'd like to spend their trips.
Trending up
These business travel trends signal an industry adapting to travelers wanting more personalization and customizability in their business trips, lending to more overall comfortable experiences on the road. While many thought that video conferencing software and other advances in technology would diminish the scope of the business travel, technological advancements have only grown the industry and improved the quality of business trips for travelers.