It's not always easy to remember someone's name. It's even more difficult to remember what they do and who they work for.
Attending a conference or networking event can be an opportunity for you to meet your next client, partner, or even investor. Because these possibilities are always looming, it's important to always collect the information of those who take the time to say hello. Often, a business card is the easiest way to do that.
But once you have those contacts, how do you keep them organized so that you and your business can partake in post-event networking? Enter the business card scanner.
What is a business card scanner?
Business cards are an easy way to grab someone's contact information, but they're also fairly easy to lose. In order to prevent that, business card scanners were designed to save that contact information directly to your smartphone, and later be transferred to desktop software so that all of your contacts can live in one place.
How does a business card scanner work?
Powered by Optical Character Recognition (OCR) technology, business card scanners are apps that work by using your smartphone's camera to read and automatically save contact information from the card. The contact information can then be interacted with in the app with a simple tap to make a phone call or compose an email. This information can also be saved or exported to a larger CRM database.
Below, we'll go over some of the most effective business card apps and software that you and your team can use to keep your contacts neat, organized, and all in one place.
Best business card scanning software
G2 lists several different business card scanning software options, ranked by a G2 score. Those software with more than 10 reviews will be listed in this article.
The G2 score is based on our research methodology, which includes reviews from the user community as well as data from online resources and social networks. Below, we'll go over the top four business card management software that helps users both scan and manage business cards in bulk.
NOTE: Some of the customer quotes below have been lightly edited for readability.
1. Sansan
Based in Japan, Sansan is a business card contact management software designed to help companies keep track of their most valuable contacts.
Sansan is capable of reading and digitizing not only business cards in Japanese and English, but in some of the world's other major languages as well. Sansan allows for business cards to be scanned with a physical scanner set or via their mobile app. Integration with Salesforce is available.
Beyond just a database, Sansan has integrated HTML emailing, meaning that you can send personalized and bulk emails right from the Sansan itself.
Along with the software itself, Sansan has a smartphone app available for both iOS and Android that enables the access of your database from anywhere at any time. New contacts can be scanned into the database on the go and calls or emails can be placed directly from the app.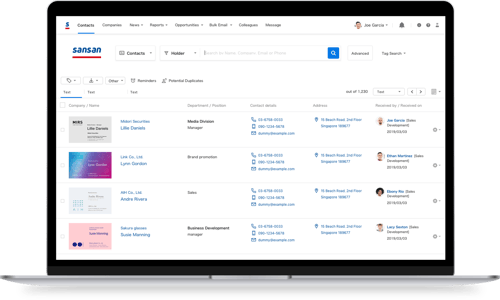 What users like:
"It is quite easy to build a complete and accurate digital contact database. I have tried to use several name card digitization tools in the past and this is the most convenient one in terms of accuracy and user interface. It is also possible to access to a database of my colleagues in the same organization."
Sansan review from Hisayuki K.
What users don't like:
"Not many disadvantages of using Sansan. Sometimes the camera auto detection does not work well if the business card has a complicated design."
Sansan review from Mid-Market User
2. CamCard
Available on iOS and Android as well as on the web, the CamCard Business app allows users to quickly scan business cards to both smartphones and the company database simultaneously.
CamCard has the ability to centralize all employees' business cards and customer data in one place, and can be accessed from multiple devices. When working internally, Camcard can help you assign tasks to colleagues and set reminders, and can grant different roles to each user regarding access of the master database.
Best of all, customer data can be exported to Salesforce, SugarCRM, Outlook, Google Contacts, Microsoft Dynamics, and Excel.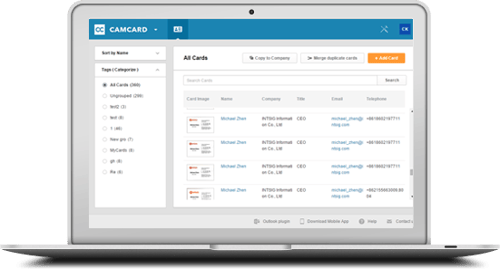 What users like:
"This app is simple to use and does a good job at picking up information from business cards by simply taking a picture of a card with your phone's camera. It also allows you to easily add contacts to your phone or easily export your contacts to an Excel file which you can upload to almost all CRMs, Outlook, etc. As an easy to use and affordable product, you can't beat the price. I looked for a long time to find a different route than buying an expensive card scanner and this has met all of my expectations up to now."
CamCard review from Robert C.
What users don't like:
"Very rarely it will not read the content on the card as precisely as it should."
CamCard review from Tyler L.
3. Knowee
Available for iOS and Android, Knowee transforms paper cards into interactive, virtual ones. Phone calls, emails, and map locations are all easy to interact with, requiring just the tap of your finger or the click of a mouse. Almost like a preview to a LinkedIn page, cards can be shared on social media to inform your clients and prospects of the best ways to reach you.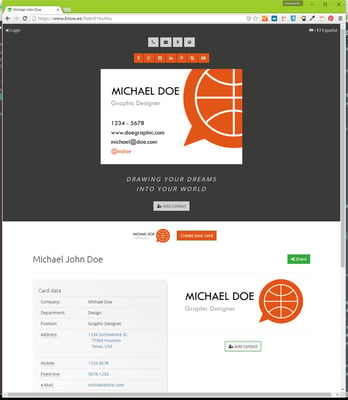 What users like:
"What I like about Knowee is that thanks to it I can design my presentation card without having to spend on printing something that thanks to this wonderful application I am in the past, it also allows me to quickly store the physical card data of manual way. The designed cards can be shared through social networks, email, WhatsApp or any instant messaging application. Besides that it is much more elegant to store business cards in digital form than to carry a lot of papers in the wallet, this application really came to make life easier."
Knowee review from Enterprise User
What users don't like:
"One of the few things that I do not like about Knowee is that the application is a bit rigid when it comes to designing business cards. I think they should add clear effects and images without falling into excesses since as we know it is an application with a strict labor character."
Knowee review from Enterprise User
4. ScanBizCards
Marketing themselves as the best lead-capture software for solution for B2B events, ScanBizCards uses Optical Character Recognition to scan not only business cards, but also conference badges.
With features like duplicate prevention and email signature capture, ScanBizCards is great for capturing B2B leads at any event. ScanBizCards can be integrated with Salesforce and SugarCRM, and is available on iOS and Android.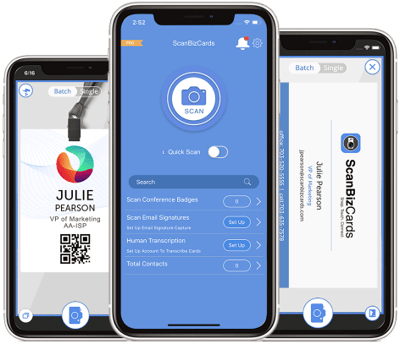 What users like:
"I like the ease of use for the app. In particular the scanning is very accurate and the connection process is very fast. Also, it's innovative technologies such as follow up and CRM export function, and address book sync makes it very easy to export connections in a variety of ways such as excel, your own phone book, etc."
ScanBizCards review from Ethan C.
What users don't like:
"It needs to improve on the text reading. Sometimes it does not read the information on the business card correctly. This could be due to the different fonts used on business cards but it would be better if it was more accurate at times."
ScanBizCards review from User in Financial Services
Call me, beep me
Business card scanners have revolutionized the way that we keep each other's information handy. No longer do we have to remember which pocket we shoved that piece of paper into last night. With the right software in hand, having that information disorganized, or losing it altogether, is a thing of the past.
Looking to manage those business cards you receive in bulk? Check out some of the top business card scanning software.