Quick! Think of your favorite brand.
I'm sure you were able to come up with one in just a matter of seconds. But what exactly is it that makes the brand your favorite? Is it the excitement and anticipation of the newest innovation just around the corner? Is it the brand's values and the way it fights for sustainability and corporate responsibility? Or, is it just the way you feel when you see the brand on TV or on social media?
Whatever your specific reasoning might be, it's clear that the brand resonates with you, and that's not by accident. It means the brand managers of that company have done their jobs successfully.
Brand manager job description
A brand manager is the main point of contact for everything (you guessed it) brand-related at a company. They are responsible for the overall brand image and ensuring that it properly resonates with its target market. To accomplish this, they have to analyze and stay on top of market trends, carefully watch the competition, and lead marketing and advertising campaigns to ensure the brand image is upheld.
To get the best sense of what a brand manager does, let's hear from Daleep Chhabria, the former Senior Brand Manager for Call of Duty in the UK and Rest of Europe:
"The brand manager has to define the brand, find its audience, build and strengthen the connection between the brand and its audience, and then grow the audience while building and guarding the brand using the full marketing mix to support sales to achieve targets.
This typically begins with strategic brand elements like defining the brand's name and how it will look, which is usually achieved by briefing creatives and agencies. A brand manager must also define important elements such as the value proposition, brand positioning statement, and more. These components are essential when communicating your brand and its objectives to the wide variety of people it will be exposed to.
With the sales targets and audience defined, the budget needs to be split and spent across the marketing mix into various tactics. For example, packaging (if relevant), website development, promotions, public relations, advertising, content creation, social media, and more. Depending on budgets, some of this is done by the brand manager, some by their team, and some by agencies. Brand managers should also leverage what they can achieve in the press, usually through a PR expert or agency. The other area a brand manager should support is sales, either through the actual sales team or by having direct contact with customers, especially if operating within a value chain."
Average brand manager salary
As with any career, salaries vary greatly depending on the company you work for, the city you work in, and specific titles and responsibilities you have. Remember, these numbers are country-wide averages, so take this information with a grain of salt. With a lot of hard work, dedication, and talent, there is truly no telling what your potential earned salary can be!
According to Glassdoor, the average salary of a brand manager in the United States is $96,333. It's noted that additional compensation is typical and can range anywhere from $11,667 to $27,859.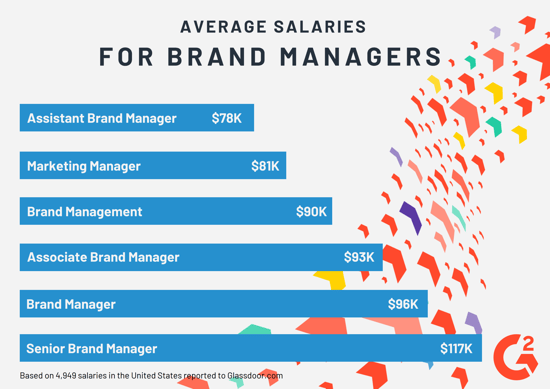 Keep in mind that brand managers can go by a slew of other titles within the company while taking on additional related marketing duties. In this case, you might be curious to know that a typical marketing manager earns an average of $81,078, making it clear that having a specialized role and tailored responsibilities yield higher earnings.
TIP: Salaries may vary by title and location but that doesn't mean you shouldn't have control over how much you're compensated. Learn how to ask for a raise to ensure your salary reflects the quality of the work your'e doing.
Skills every brand manager needs to have
Becoming a successful brand manager takes time, and the only way to gain the valuable skills needed is through experience that you'll accumulate throughout the years on the job. Of course, there are still skills that you should have and refine while building up the experience you need to move forward.
Some of these skills are a no brainer, but others might surprise you. Possessing innovative creativity while still having the ability to think analytically is not an easy task and not everyone is skilled at it. This is a job that will call on the skills of both sides of your brain, which is why It's so important to be well rounded as a brand manager.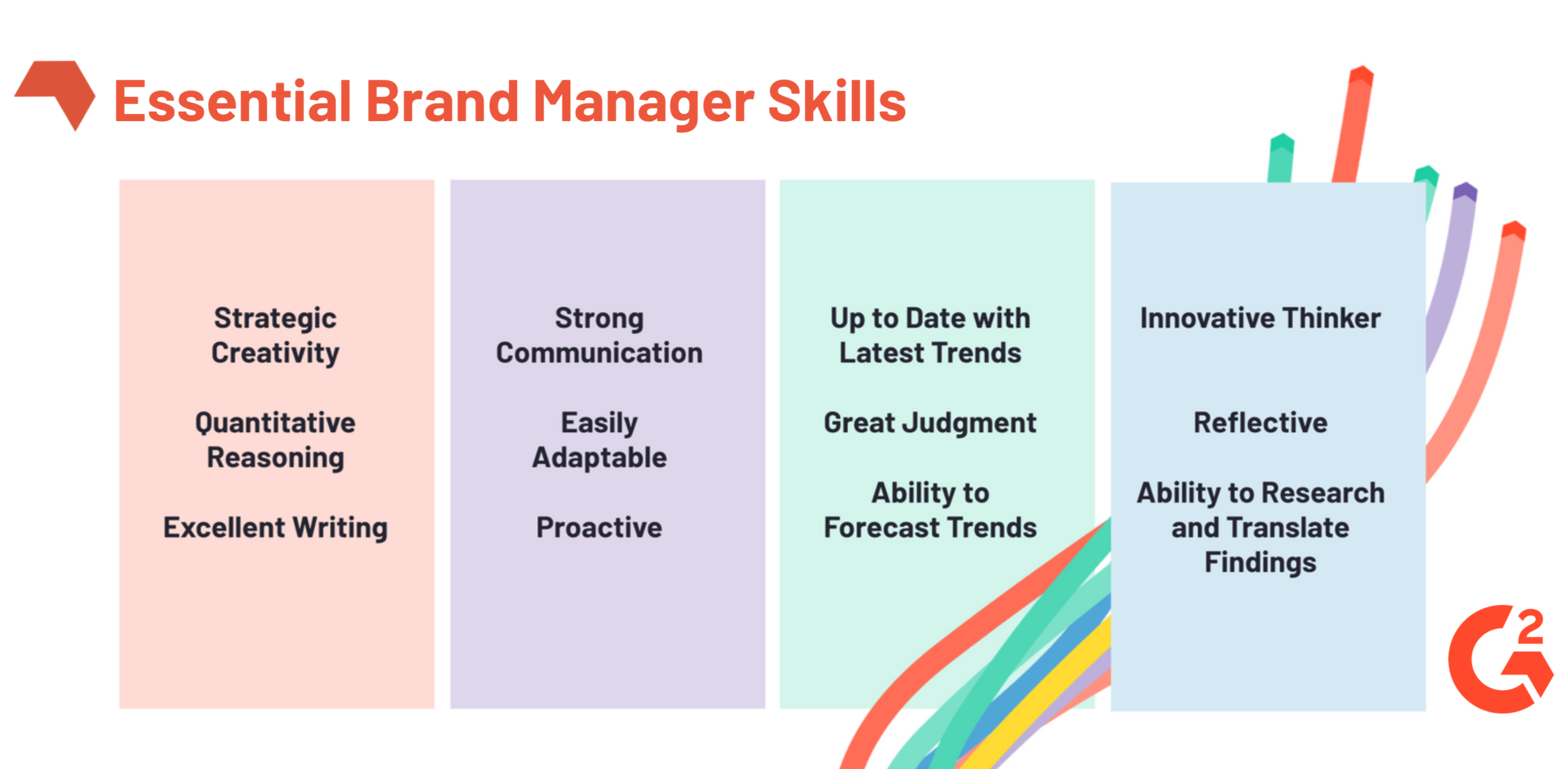 TIP: It's crucial to be on top of the latest trends and data related to your brand. To help manage the numbers, take a look at the best marketing analytics software to keep everything you do organized.
Career advice from current brand managers
What better way to learn the ins and outs of the brand manager career path than from those currently in the role? To get the best understanding of what it's really like, I asked successful brand managers in a variety of industries what their typical days look like, lessons they've learned while on the job, and any advice for those aspiring to break into the industry.
Here's what they said:
What does a typical day look like?
"Being a brand manager is an all-in-one job: a bit of a brand strategist, UX designer, data analyst, and project manager. I usually describe my job as being a Product Owner, but the Product is the whole brand. My brand is growing faster than ever, and our branding needs to keep up with all those changes. With that pace, it's not easy, especially when more and more new people are involved in the brand's communication. To keep it all together and provide a state-of-the-art brand experience for both clients and employees you need one thing: coherence & repeatability."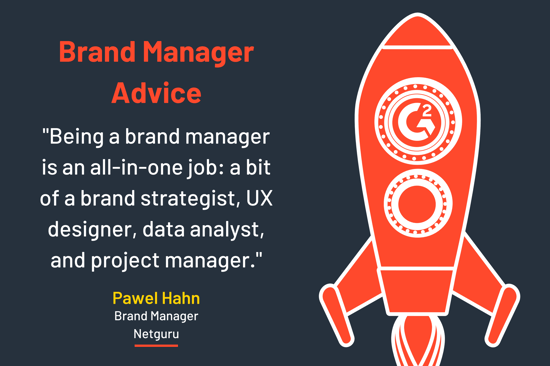 - Pawel Hahn, Brand Manager, Netguru
"A typical day might include researching the marketplace to determine product-market fit, creating advertising strategies, designing ads, managing promotional activities, evaluating pricing and sales, or finding ways that the brand can expand to a wider audience."
- Ryder Meehan, Co-Founder & CEO, Upgrow
"No two days are the same in branding. Depending on different client goals, I might be in a client's office refining strategy and interpreting data for marketers, on the phone with journalists clarifying information and providing them with assets for a media placement, or out of town vetting industry-specific events to determine if building awareness there would be a strategic fit for our clients."
- Jonathan Mentor, Founder & CEO, Successment
"A typical day includes strategy sessions, content writing, working with graphic designers, and pretty much every other associated team. You are steering the ship and guiding the vision of how you believe the brand should be represented - the common thread, tone, voice, values, and impressions you want your brand to make on your audience. So one day you may be outlining the goals you want the brand to achieve and the next day you are outlining the assets you have to help get you there, then you may spend two days writing content. Everything moves very quickly!"
- Matt Erickson, Marketing Director, National Positions
"This really varies from one brand marketer to another, based on the company's needs and the brand's maturity. For me, I typically start by reading up on my clients' deliverables and the project milestones that need to be completed for the day. I then review (and add to, if appropriate) recently posted content and check social media engagement. Then I go into brand campaign planning and status checks before diving into content writing and editing."
- Swati Kumar, Founder & Chief Story Consultant, Plotline
The most important tips and tricks
"An important tip for those aspiring to be a brand marketer is to always consider the user experience when developing your efforts. This can be their experience with a physical product or within a retail environment. One way to get more perspective on this is to actually immerse yourself into the environments.
For example, in my role as a brand marketing manager, I spent about half of my time on the road and in stores to see how the brand was being executed at the ground level. Sometimes brand initiatives make sense on paper, but it's critical to see how they are being perceived on the ground level, both from a customer and employee execution standpoint. Another tip is to be very organized. There are a lot of moving parts in an organization and many details that go into the conceptualization of a brand or marketing of a service or product. Set daily schedules and goals and use visual project timelines like Gantt charts to track and sustain progress."
- Chris Stasiuk, Founder & Creative Director, Signature Video Group
"Brand managers need to be great multitaskers and have the ability to see the big picture, or vision, and how many small elements fit into that vision. They also need to be comfortable in a leadership position as your job is to drive the brand forward."
- Deanna Backos, Owner, the midnight oil group
"Communication is the most important characteristic to focus on. A brand manager's job should be open and honest. This means regularly engaging customers and responding to any questions or concerns they may have. Remember that one tiny mistake can affect your brand in a negative way, so be careful not to step on anyone's toes by being unreliable."
- Nathan Ripley, Director, Maid Just Right
"Be passionate, have finesse, and be BOLD. Branding is all about creativity and moving a client outside of their comfort zone. Take risks and be accountable for the outcomes of those risks. Remain strategic and keep client ROI top of mind and monitor how your efforts drive business. No one remembers a brand that plays it safe. There are a lot of dreamers in the field, and it's important to remember that a client is going to be concerned with their bottom line and the return on their investment in branding. If you are managing a brand, you should always keep in mind how your outcomes can be measured."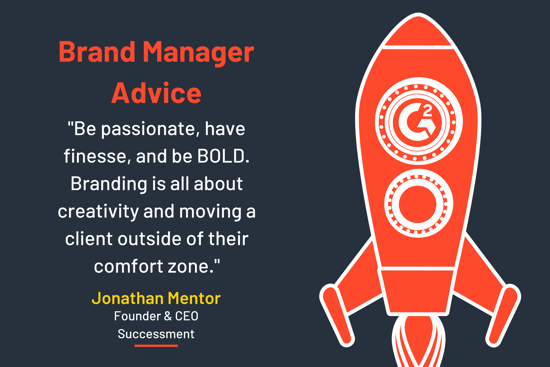 - Jonathan Mentor
"Form habits around your strengths. To be a successful marketer, you don't need to be an expert in every channel, one or two areas of expertise will be enough. However, experiment first with a bunch of different skills to see what is the best fit for you!"
- Morgan Lathaen, Marketing & Brand Coordinator, thumbprint
"You need to have both vision and skill - be adaptable and focused. Ultimately this is not a role for a rinse-and-repeat personality. Know that not everything is going to go as planned, and you will need to embrace this ambiguity."
- Matt Erickson
"Try to be clear on what your brand actually is. A company's brand isn't what the leaders want it to be, it's how the target consumers actually perceive it. In order to improve something, you must first identify it properly."
- Swati Kumar
"It helps to have studied marketing to get into brand management, but it's not essential. If you're passionate about getting into brand management, there's a lot you can do to build your understanding. Read marketing publications, case studies, analyze a brand's marketing activities to try and figure out the strategy and objectives for yourself! My absolute favorite tip for anyone without a job in brand management - build one because you learn by doing."
- Daleep Chhabria, Marketing Expert & Strategist, Growth Forte
How did you become a brand manager?
"I studied marketing and picked the best companies I wanted to work for. I got those opportunities through a combination of relentlessness, passion, and luck. Call of Duty didn't exist before I got into brand management - I was already in brand management. But by learning everything I could about the brands I was responsible for, and hard work, I grabbed the opportunity to work on Call of Duty when it appeared. I became the Senior Brand Manager for Call of Duty (UK & Rest of Europe). I knew we had massive goals for Call of Duty, and I wanted to make it a household name, but I didn't know how huge it could grow. I just worked hard and did my best to build the brand."
- Daleep Chhabria
"I entered branding from a completely different industry. In previous roles I found myself solving for the problem that I was hired to solve but wanting to expand and make a difference. Part of our mission at my firm is only to partner with clients that are developing solutions that will drive benevolence and the greater good. The difference between what I was doing before and what I'm doing now is that I get to do what I'm passionate about every day!"
- Jonathan Mentor
"I evolved into this path moving from business education to content, video editing, start-ups, etc. I have had my hands in almost every aspect of the business, so I enjoy the fact that I can work across teams and speak different languages. If you are considering this path, you need to like people, enjoy telling stories, and be willing to grind and be flexible."
- Matt Erickson
What are the most important lessons you've learned?
"My biggest lesson learned in brand management and marketing overall is that the primary purpose of marketing within your organization is to support sales. If you don't connect the two, you cannot effectively grow your brand no matter how great your marketing executions might be. Much of brand management is about planning, coordination, and control. Therefore another tip is to position yourself confidently as the owner, guardian, an expert on your brand within your organization."
- Daleep Chhabria
"Some of the best lessons I've picked up over the years are to first understand the customer on a very deep level. Give them a name and list their interests and how they spend their time. It sounds excessive, but it really helps marketing to focus on that specific user and think about how they would respond to your message."
- Ryder Meehan
"I've learned that this field is highly strategic and misunderstood. Branding means things to different clients and managing outcomes and expectations is critical to success. Drawing upon my experiences from different industries I've worked in, the end goal is no different: driving sales. Balancing strategy and creativity is what drives this business and it's professionals."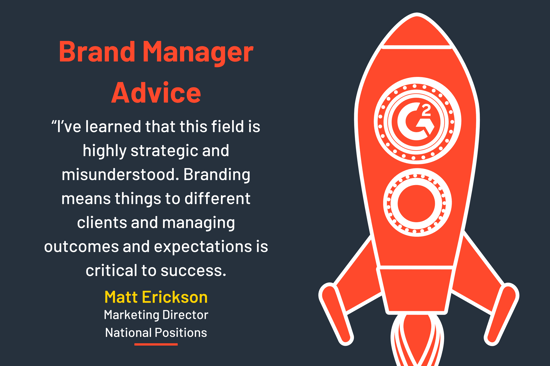 - Matt Erickson
"I have learned that a big part of brand development is actually very data-driven. Making decisions on what needs to be done next and how to move forward requires a review of progress and success. This is often best measured numerically, which requires a good set of goal metrics at the beginning of a project and target milestones throughout."
- Swati Kumar
"I have learned that growth is everything. Think about your job as being the plane's pilot rather than the air traffic controller. Everything you do should help your brand grow. Use centralized asset management for your brand. You would be surprised to learn how much time is wasted on 'looking for things'.
Simplify your branding toolbox. Make sure that your team can re-use each other's assets. Build a scalable system, and whatever you do, always ask yourself: can we make a template out of it for everyone? Is it applicable to more than one channel? A brand is a living thing. Keep your brand's guidelines updated and easy to use. Nowadays, anyone in the company can be your marketer."
- Pawel Hahn

Manage your brand!
Having the title of brand manager is a big deal. You are the one responsible for making your brand a household name. There is no doubt that it's a lofty job to take on, but if you start sharpening your skills and reflect on the advice shared from our brand experts, you will be well on your way to becoming the next successful brand manager! So, what are you waiting for?
Are you curious to learn more about other marketing titles and responsibilities? Take a look at the top seven types of content marketing jobs!