Traditional marketing is no longer cutting it for consumers. With all the competition that exists across channels, directly targeted messaging doesn't hold the same clout it has in years past.
Think about your day-to-day life and how frequently brands talk at you. Everything from ads on social media to billboards on the drive to work bombards your brain telling it to "do this" or "try that." In fact, the average consumer is shown as much as 10,000 brand messages each day.
Imagine how overwhelming it would be if you actually took in each and every one of those messages.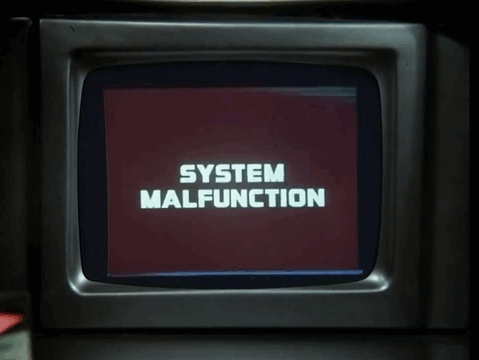 With all of this constant noise thrown at consumers thousands of times each day, it's challenging to make your product or service stand out from the rest. That's why the brands that will survive – and thrive – moving forward are the ones that dive in with interactive marketing.
If you are looking to guide potential customers through your sales funnel from building awareness to conversion, you're going to need to do more than send some advertisements their way. It's essential to prove to them how you are the solution they've been seeking.
One way to do this is with an interactive assessment. But what exactly is that, and how can it help?
What is an interactive assessment?
Interactive assessments are a mix between a quiz and survey. They feature a series of questions in various forms that help participants identify something about themselves and your business.
That "something" can range from which "Golden Girl" they are to how much it would cost to buy a home charger for their electric car given their specific residential situation. There's a reason BuzzFeed quizzes inundate social media sites, and you often find yourself taking yet another assessment when procrastinating on that big project.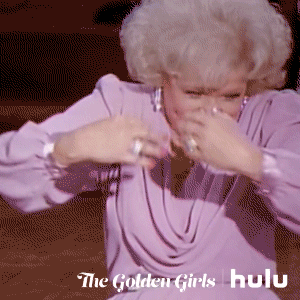 People love to know more about themselves and their given situations. They like learning why they feel the way they do, why they face certain obstacles, who else is facing them and who can help. But generic is no longer accepted. They want answers to their specific circumstances.
Interactive content is 93 percent effective at grabbing and focusing consumers' attention whereas static content is 70 percent effective Jonathan Lacoste, co-founder and president or Jebbit told Inc.
Most importantly, effective interactive assessments guide respondents through that self-discovery in a meaningful, genuine and often fun way. It subtly shows them how your business can help their situation, or answer a question they've been thinking about. These assessments also reveal plenty of repurposable information about the respondents that is useful to your business; often this pertains to what they are seeking from a product or service.
So how do you create an effective interactive assessment? Keep it short and conversational, include a variety of media throughout, feature various question types, personalize it and ensure its mobile compatibility.
Short and Conversational Assessments
No one likes to be spoken at – it often feels condescending. This is especially true when a customer is beginning their journey through the sales funnel.
Participants don't want to simply hear that you're the answer to their research, they want to come to that conclusion themselves.
Effective interactive assessments open conversations with respondents. These assessments use words such as "we" and "us" to show that your business is learning as much about the participants and their situations as they are learning about your business. This helps build trust between the participant and the business. They feel as if they are working with someone who is genuinely listening to them instead of spouting off a bunch of reasons why they should "buy now!"
However, you have to be quick and to-the-point when building this trust because studies have shown that humans now have less of an attention span than a goldfish. According to the study, which had 2,000 participants, humans now have an attention span of eight seconds compared to a goldfish's believed nine seconds.
So what does this mean? Keep your interactive assessment short if at all possible. If not, try breaking it up with some words of encouragement such as, "Congrats, you're halfway through – keep going!"
A Variety of Media
A picture is worth a thousand words, so imagine how much a GIF or video is worth. According to HubSpot, if a relevant image is paired with information, people retain 65 percent of the information three days later (compared with only 10 percent with text alone).
Remember, you are competing with thousands of pieces of content each day and decreasing attention spans, so you need to do everything you can to stand out and capture focus. One way to do this is to use fun GIFs, photos, and videos.
We recommend saving GIFs and videos for the fourth or fifth slides of your interactive assessment. This breaks up the routine a bit and increases the likelihood that respondents will continue on their interactive assessment journey.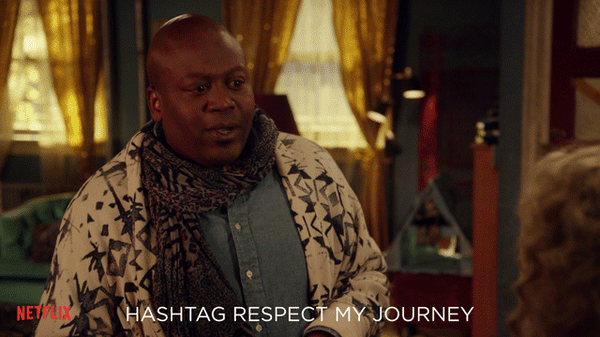 Free GIFs can be found at Giphy and photos can be downloaded from websites such as Pexels, Pixabay, and Unsplash.
Different Question Types
Interactive assessments can be fun, but if done incorrectly, they can quickly become redundant. A repetitive assessment decreases the likelihood that participants will finish.
One way to combat this is to mix up the style of questions. Sprinkle various options such as multiple-choice, picture choices, scales, and even emoji questions. This will also decrease the likelihood that people will absent-mindedly click through the assessment because each slide will offer a new experience.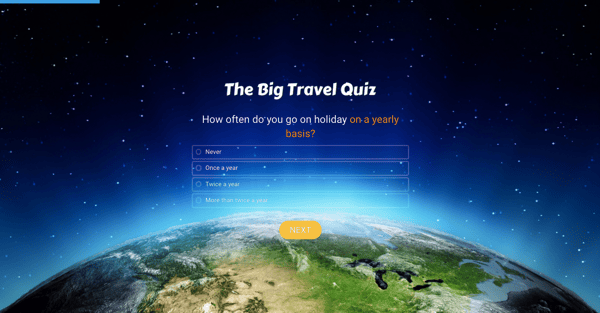 Example of a multiple-choice text question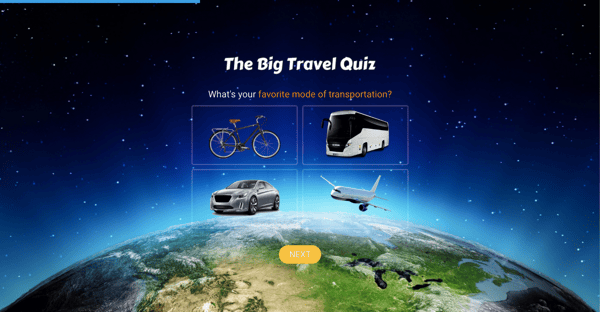 Example of a multiple-choice picture question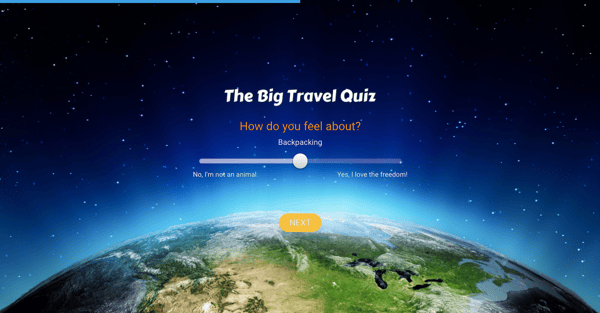 Example of a scale question
Personalization of Interactive Assessments
Everyone's situation is unique, so it's important to make sure you let the participants know that you and your business understand that. No one wants to be lumped in with hundreds or thousands of others, and making them feel as if they are can quickly turn them off from your assessment.
That's why personalization is so important. Functionalities such as piping or skip logic enable respondents to work through the assessments in their own way.
This builds trust and credibility because it feels like the assessment is building off of the specific answers given by respondents, creating a personal experience. This also helps the assessment stay short and relevant for the participants.
A brand new tactic to personalize the assessment is to send a PDF to the respondent based on their answers. This can be something as simple as a certificate or coupon, but also more advanced things such as a tailored brochure or an individual report.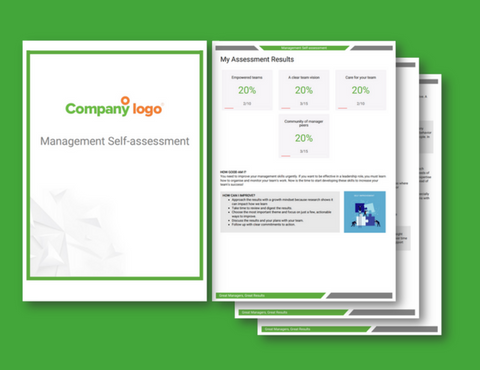 Mobile Friendly Assessments
Think about how much time you spend each day on your phone. Most of your life is programmed into that small rectangle - from your social media platforms to your banking information.
Research gathered by Survey Anyplace shows that more than 50 percent of assessments are taken on mobile devices, so it's extremely important to make sure yours adapts well to phones.
This is easier said than done, especially if your assessment is embedded on your website. However, most interactive assessment software tools provide responsive embed codes or WordPress plugins, making this a simple task even for those without an abundance of technical knowledge.
With all the competition, it's not easy guiding potential customers through the sales funnel from awareness to conversion. However, interactive assessments provide fun, personalized and inclusive experiences that will be sure to boost your conversion rate.
Learn more about converting customers through the funnel with conversion rate optimization strategies.