Buildings aren't 2D, so why would you design them in 2D?
What does BIM stand for?
BIM stands for building information modeling and is a type of software technology that allows building design professionals to design, construct, test, and manage new infrastructure.
What is BIM?
Building information modeling, sometimes known as building design, generates a 3D representation of a physical structure and all of its characteristics.
BIM software products are frequently used in the architecture and construction industries because these industries are entirely focused on building large structures. Since these industries make up the vast majority of BIM software users, these solutions tend to offer tool sets specifically for users in these fields.
BIM tools are popular in these industries because its 3D design capabilities take drafting a step further than traditional 2D design. BIM software allows users to visualize what their buildings will look like upon completion.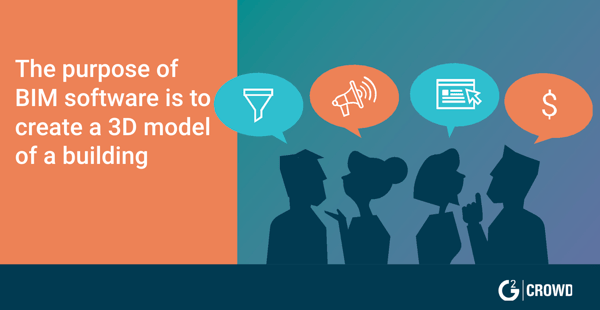 Who uses BIM?
BIM software is not just for architects. These tools store massive amounts of information within the platform, making them applicable to users in many different fields within the building industry.
AEC (Architecture, Engineering, Construction)
AEC professionals are the most obvious group using building designs tools. Think everything in the building and design lifecycle from initial concepts and ideation of designing structures, to post-construction managing of that infrastructure to keep up with maintenance.
MEP (Mechanical, Electrical, Plumbing)
People in MEP create internal systems within a house, such as the electrical or plumbing. BIM software helps those users to estimate systems quickly and accurately. They reduce risk and waste, so that users can drive a better MEP fabrication.
Structural Engineering
These engineers can utilize BIM tools to ensure the buildings they are working on are as sturdy as possible. BIM software lets these users streamline workflows to connect design to detailing and improve the quality of your design.
Features of BIM
The goal of using a BIM solution is to create a 3D model that users can manipulate. A 3D model enables users to understand relationships between spaces, materials, and various systems within a physical structure. BIM software can be used for every step of the process, from planning to design to construction. Every step of the process is vital to users building a structure in the real world.
Planning
A BIM user starts by drafting an initial design within the software platform. BIM solutions make it possible for multiple users to simultaneously work on a design at the same time. This ensures that as many eyes as possible will see the design before it is approved. After the initial design is complete, users can present designs to clients for approval to move forward.
TIP: Discover the best home design software for DIY projects.
3D modeling
A common misconception is that BIM software is just a design tool. The design aspect is simply the beginning of the BIM process. These tools offer users 3D modeling capabilities. Once a user has created a 3D model, it is possible to simulate and visualize various elements of the physical building. BIM provides insight into how real-life elements will impact a building once it is constructed. For example, by using various rules of physics, BIM solutions show how sunlight will hit a building in different seasons, how the sunlight will affect a building's energy performance and more.
TIP: Learn about the best 3D modeling software and free 3D modeling software in 2019.
Construction
When it's time to move forward with construction, BIM solutions let users sequence the steps and elements of the building process, including the materials and crews needed to complete the construction. Construction crews can review the 3D model within the BIM platform and perform clash detection to ensure that the design will work in the real world. Users can simulate the construction process, analyze and resolve issues, and ensure that the project is completed in a timely manner.
TIP: Learn about the best construction management software in 2019.
What features are found in BIM software?
The following features can typically be found in any BIM solution:
Import/export 2D designs
If your organization is making the switch from 2D to 3D drafting, BIM solutions can ease that transition. Many BIM solutions enable users to upload their 2D drafts and continue to design in 2D, or update the design to 3D.
3D modeling
This is one of the most important features of a BIM solution. 3D modeling is the process of designing a three-dimensional software object that eventually becomes the basis for a building or structure. 3D modeling allows users to add as much detail as possible so the model will closely mimic the completed structure.
3D rendering
To visualize a 3D model in a fully realized virtual environment, the model must be rendered. The rendered model's graphical settings enable users to scale, navigate and interact with their 3D model. BIM users can design details as intricate as windows, doorways and more.
Sequencing steps
BIM software allows users to plan each step of the construction process with models and sub-models. Users can sequence the steps and include specific details, such as the crews and materials needed for each phase of the construction process. Some BIM solutions even enable users to animate each step.
Document storage
Designing a large structure takes a large team. Many people will contribute thoughts, designs, edits and more. A BIM platform lets users store and manage all of their documents within the platform, and allows other users to access them whenever they need to.
Mechanical, electrical and plumbing (MEP) fabrication detailing
Many BIM solutions offer MEP fabrication detailing. Users can create a model of whichever MEP system is needed so they can see how the system integrates with the building design.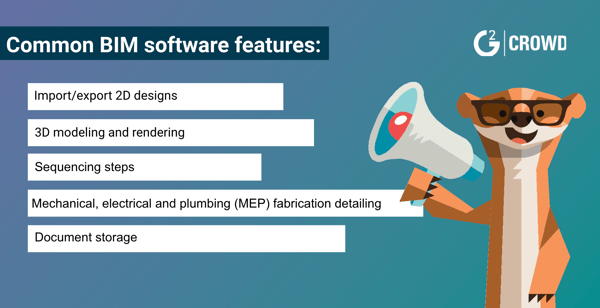 What are the advantages of using BIM?
BIM offers a number of benefits for users. The following are just some of the advantages a business will realize from using a BIM solution:
Accurately capture reality
2D drafting works, but it cannot model the physical components of a building and how that building will interact with outside elements. Thanks to its 3D modeling capability, BIM software can integrate with mapping tools, allowing users to capture real world information like aerial imagery, scans of existing infrastructure and elevation.
Go green
By going the 3D route, there's no need to waste paper on rework and duplicate designs. BIM software allows users to do the same designing and annotating that they can in 2D, but do it more quickly and efficiently.
Track project history
BIM software gives users the option to track their entire project history. The information provided in a BIM platform becomes a single source of truth. Every design version is stored within the BIM platform, as opposed to an endless stack of 2D-drafted designs. The BIM software stores every version of a design, so nothing is ever lost.
Improve collaboration
There are many hands that go into designing a new building, so BIM ensures that colleagues can easily collaborate with each other. Many BIM tools offer project management functionality so that the team can track who is working on what and view each other's design notes. BIM's review and markup functionality keeps collaboration neat and orderly.
Quickly resolve conflict
By designing with BIM software, users can identify and resolve problems before the actual structure is built. For example, BIM automates clash detection so that construction crews won't be surprised by a design that calls for ductwork to run through a beam. By catching these mistakes before building begins, companies can save a significant amount of money and time.
Design from any location
With BIM software, design can happen anywhere, not just in the office. BIM is typically cloud-based software, meaning that users have the power to access designs remotely and outside of regular business hours.
Best BIM tools in 2019
Now that we've sold you on BIM solutions, here are a few that are rated highly by G2 Crowd users (with a rating of at least 4.3 out of 5 stars). These reviews were submitted by verified users of the products.
1. Revit
G2 Crowd star rating: 4.5 out of 5.0 stars, with 252 reviews
Overview: This solution was built specifically for the building information modeling process. It empowers designers and construction professionals to bring their ideas to life. Revit includes features for architectural design, mechanical, engineering, construction and more.
What users like: "This software is so vast, elaborate and has so many diverse
options one can play with. [It] makes 3D & BIM modeling very easy and
convenient. The interference and clash detection is the best tool for designer
engineers dealing with multiple discipline models within Revit." — Revit review by Lakshya G.

2. ARCHICAD
G2 Crowd star rating: 4.4 out of 5.0 stars with 60 reviews
Overview: ARCHICAD is a BIM solution developed by architects with architects in mind. This tool offers a variety of functions that will seamlessly take you from the planning phase all the way to a completed construction project.
What users like: "How to begin this review? This software is so delightful! Actually, this software is my first option on BIM world. The render engine quality is amazing and very likely and customizable. This is an AMAZING OPTION, an AMAZING PRODUCT, the best [choice]." — ARCHICAD review by Luis Guillermo G.
3. Vectorworks Architect
G2 Crowd star rating: 4.3 out of 5.0 stars with 99 reviews
Overview: This solution was named a Leader in the BIM category on G2 Crowd by our users. Vectorworks Architect is a modeling, drafting and documentation tool created with the design process in mind. This tool enables users to increase energy efficiency and streamline costs.
What users like: "Vectorworks allows me to work the way I wish to work. Provides me with all the tools I need and some I didn't know I need. It's a very powerful all in one solution to handle the smallest of projects to large team collaboration projects." — Vectorworks review by Rob N.
TIP: Similar to BIM is computer-aided design. Learn the best free CAD software in 2019 from real users.
---
Next steps with BIM in 2019
Now that you've learned all about BIM, what are you waiting for? Take a spin through the category, read some reviews, and see what interests you. Leave us a review of your new solution once you have made a final decision and implemented your system.
Ready to learn more about building design? Check out these free BIM tools you could be using right now.