We've all been there.
Your parents/sibling/mother-in-law/cousin's best friend is in town and they want to grab dinner. And you have two choices: Take them to your old standby, or try somewhere new. If you're lucky, you have a spot you've been dying to try or a friend who is supremely in-the-know and will have just the spot on the tip of their tongue. If you're not so lucky, you'll be spending an afternoon looking at online reviews.
The depths of Yelp (and TripAdvisor, and OpenTable) are vast and full of the echoes of people who did not get their water with the exact number of ice cubes they prefer. Finding the perfect restaurant is hard. And sorting through the reviews to determine what's accurate and what's noise is harder.
But let's flip the script.
You're a restaurant owner. You desperately want this person to bring their family to your establishment and become lifelong customers. Your reviews online are fine. Not great, but not terrible. You're sitting on a solid 3.5 or 4 stars. So what do you do? How do you distinguish yourself? Well, let's look at your options.
First, you can read about how to improve your business with reviews. Maybe you're already trying most of those tactics. Maybe the concept of online reputation management is completely foreign to you.
TIP: Learn how to use online reputation management software to help monitor your brand in 2019.
But let's assume you've already tried everything in that playbook. Time to reassess your goals.
Restaurant online reviews
What's the benefit of online reviews for your restaurant?
The answer to this question is likely: more customers. And that's a great goal. But you need to consider that your lack of online reviews may not be the problem. The issue may be your use of technology in general, and that trickles down to all aspects of your business.
Good reviews are a lovely pat on the back and definitely bring in business. But by focusing on the bad reviews, you'll learn where and how you can make improvements to your business.
Common causes of negative restaurant reviews
Keep in mind that not all bad reviews are your fault. Sometimes a diner is having a bad day and their experience at your restaurant was the straw that broke the camel's back. So there's no need to dwell in needless negativity, but you can learn a lot by looking at overall trends within your bad reviews.
Complaints about slow service
Slow service is usually a symptom of inefficiency somewhere within your operation. And the best way to smooth out some of those bumps is with a tool like restaurant management software. Restaurant management software is designed to help run all aspects of a restaurant. From reservations and seating all the way to back-office administration, restaurant management platforms are designed to have you covered.
If you struggle with communication between the front of house and back of house, restaurant management software can help smooth that over by providing a direct line from the servers to the kitchen. Some platforms will even include either a digital ticketing system or a printer for paper tickets to ensure that communication is clear and direct.
A good restaurant POS software can also help, making it easy for servers to place orders and see the status of each table. Some restaurant management platforms will include a POS system along with myriad other back office and kitchen features. Restaurant POS tools tend to focus on connecting the front of house and back of house, with the occasional accounting or kitchen management features.
If inefficiency is your problem, technology can be a solution.
Complaints about running out of a specific dish or item
It happens to everyone. A hungry (perhaps even hangry) customer orders something only for the kitchen to have just eighty-sixed it. The customer is upset and you're frustrated because you didn't anticipate running out. While there's no way to completely guard against this situation (running out of an item is better than not selling anything) you can set up safeguards. And the first line of defense is restaurant inventory management software.
Restaurant inventory management & purchasing software can ensure that your kitchen knows exactly what, and how much, is in stock at any given time. Some products will even have recipe builders that will allow you to keep track of the ingredients for specific dishes, so you know exactly how many are available for upcoming service. You can also set up alerts when something is running low and needs to be repurchased. The goal of these tools is to reduce both financial and food waste, so you don't need to worry as much about unhappy customers missing out on your delicious food.
Complaints about incorrect orders
Being a server is hard work, and things don't always go smoothly. Between the waitstaff and the kitchen, mistakes happen. But with tools to help the kitchen and your servers stay organized, you may find that incorrect orders happen much less often. Restaurant POS software can help make things much easier for your staff.
TIP: Reviews (both positive and negative) can impact the organic search rankings for a restaurant. Learn about how to leverage SEO for your restaurant in 2019.
How a restaurant POS can help
Many restaurant POS systems today are based around mobile devices such as tablets. With servers placing orders right at the table, there is much less time to potentially forget an order or misread one's handwriting at the server station. Even without tableside ordering, restaurant POS systems can be user-friendly enough to easily make substitutions and accommodate for dietary restrictions.
TIP: Learn more about the best strategies on how to earn positive reviews for your restaurant in 2019.
POS systems that come with ticketing systems can be configured so that the kitchen can easily read orders and get them right the first time. By setting up your staff for success, the byproduct will almost always be happy customers.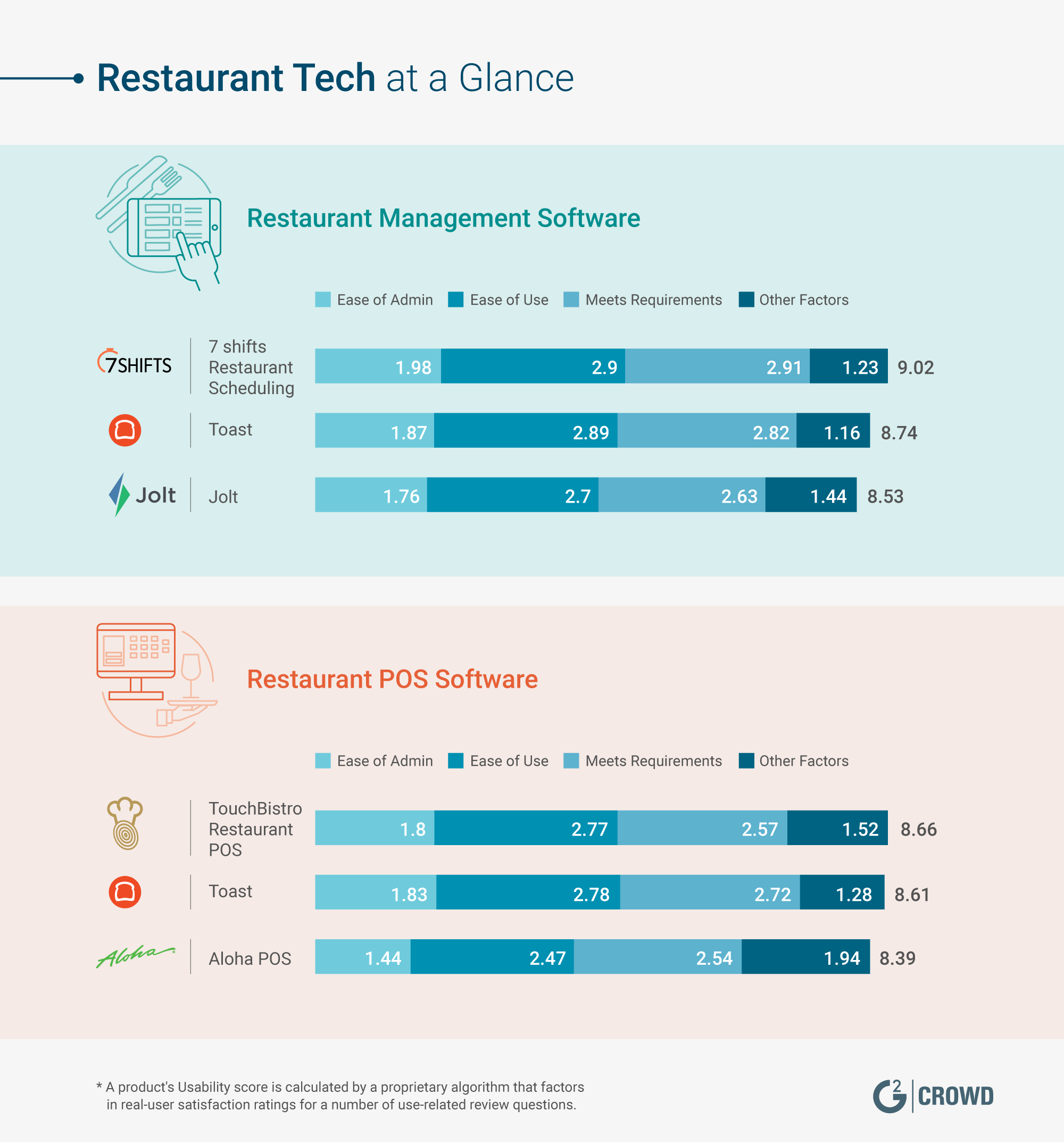 While these certainly aren't the only complaints you may get, these are some of the more common ones with relatively easy solutions. Technology can be expensive to implement, but it's becoming more and more accessible. Consider how prevalent online ordering has become in the past few years. Businesses that would have never considered online ordering can now be pros and supplement their regular business. Restaurant delivery software has created an entirely new market for some restaurants.
Don't let bad restaurant reviews hold you back; use them to fuel your success with the help of technology.
If you want to read more about all the restaurant technology available, check out guide to restaurant technology in 2019.