ASOS is one of the leading brands in the trendy-affordable retail niche.
But while ASOS may be known as a trendsetter in the fashion industry, they're more similar to their failing mall department store retail counterparts when it comes to their knowledge of SEO and organic search (see JCPenney.)
The company's misstep led to a huge crash in pre-tax profits in their latest financial report, showing pre-tax profits falling 87% from £29.9 million in their August 2018 report to £4 in the recent February 2019. So what happened?
What did ASOS do?
ASOS has previously stated that its growth is largely due its strong existing customer base, which it has heavily invested spend in. However, one of its key problems has been new customer acquisition.
To address this issue, ASOS launched 200 versions of its website, duplicating its website to copies depending on what country a visitor was in to match specific user-search queries. The goal was to penetrate new opportunity markets to grow its customer base.
In an attempt to capitalize on its strong current customer based, the brand also made significant changes to the UX/UI of its website, specifically in how ASOS products render.
The company also is undergoing a complete digital transformation by updating its tech stack to meet the needs of its current customers.
"We needed an architecture which provided a globally consistent performance and high availability. We needed the flexibility to introduce new features and we needed the ability to present those new features in innovative ways for our early adopter 20-somethings." - ASOS CTO Bob Strudwick said in a 2017 interview with ComputerWorldUK.
From this, ASOS' main goals from digital transformation include:
Capitalize on its current customer base with big data and predictive analytics
Upgrade its legacy PaaS, databases, and other legacy architecture for better performance
Automation of their warehouse hubs
Why ASOS' SEO plan backfired
First, there is no way to know exactly what has caused their drop. We can only take the evidence we have and make our best-educated guess. Second (and to be fair to the company's digital marketing department), ASOS also cited expansion costs and large promotion and discount campaigns as contributors to the drop.
However, there are clearly a couple of glaring oversights from the ASOS team.
1. The microsites caused duplicate content, cannibalization, and doorway pages
The biggest contributor to the drop is ASOS' microsites initiative. From a content perspective, creating 200 versions of the same site depending on the region of a customer causes major cannibalization, duplicate content, and spammy interlinking issues similar to those of PBNs.
The microsites were also doorway pages, which Google explicitly condemns in their quality guidelines.
What are doorway pages?
Doorway pages are pages or websites made specifically to increase ranking for very specific search queries. Google finds this bad for users as it can lead to duplicate content and pages with overlapping themes, which all take users to the same destination in the end.
Google lists examples of doorway sites and pages in their guidelines, which includes an example that sounds eerily familiar to what ASOS did:

There are also many technical SEO practices that could have been butchered here as well, such as setting up redirects and local tagging. It would seem that ASOS has since reverted this, with the US store appearing as a subdomain, and other country based domains redirecting back to the main ASOS site.
2. ASOS' site redesign ignored SEO implications
The combination of introducing a new software stack, as well as completely redesign the website's navigation, is another factor in the downturn.
While the site may have introduced new functionality, trendier user experience, and predictive analytics features, it seems the company turned a blind eye to any SEO impact these updates would have.
One specific example of this is page load speed. The site's redesign heavily featured new interactive elements, which significantly impacting their load times on both desktop and mobile views. To be fully loaded, the site's homepage takes a whopping 12 seconds.
With two rather obvious mistakes from an outsider perspective, it's also safe to assume many other smaller technical mistakes have been made along the way as well.
Falling organic traffic performance has been a trend for ASOS
And upon further inspection, this one incident isn't to blame for the retailer's drop in search rankings. Looking at the long-term performance of the site, their organic traffic and organic keywords have both been in free fall for a while now.
The graph below is from Ahrefs, and shows the drop in overall organic traffic. From its peak of around 19M in March 2017, to just above 9M as of May 2019, with no signs of growth.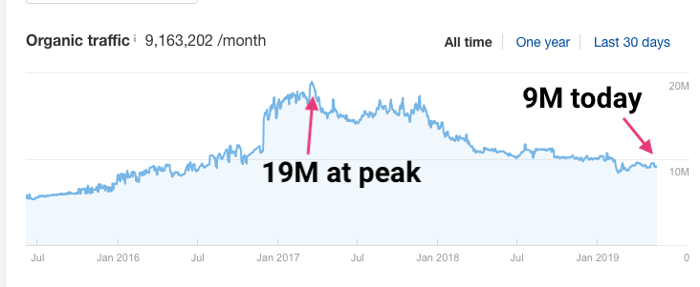 The same can be seen for the number of organic keywords ASOS ranks for;specifically keywords ranking in the top 3 positions. Below you can see that at its peak, it had around 275K keywords in the top 3 SERPs, and in early March of 2019 had fallen to 110K. That's a 60% drop.
There are signs of hope here though, as recently they have rebounded to just shy of 200K keywords in the top 3.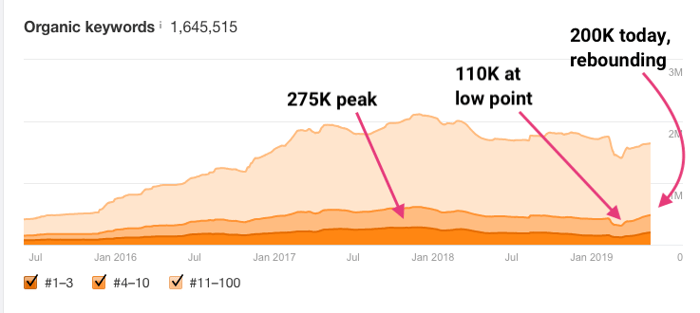 To be fair to the company's digital marketing department, ASOS also cited expansion costs and large promotion and discount campaigns as contributors to the drop.
How ASOS (and you) can avoid similar results
Brands have to be innovative. Brands have to change their site structure. Some have to undergo name and domain migrations (shoutout our recent change from G2 Crowd to G2.)
But there are a few things you can do that ASOS clearly did not.
1. Smaller testing instead of site-wide changes
Maybe there was behind-the-scenes testing that wasn't made public. However, from what we can tell, these user experience and mass microsite creation both happened in bulk.
If ASOS had A/B split tested the site redesigns with segments of its audience, the brand would have seen the slow load times. I'm sure there was some testing, and I'm assuming the engagement with the new interactive site was higher than the old site, hence the change.
But a lack of regard for any SEO implications is a massive mistake.
2. Leverage SEO professionals (and listen to them)
Having an internal SEO team or SEO agency managing your organic search is a must for any successful online business in 2019. They act as a consultant to changes being considered, monitor technical aspects and performance of the site, help implement new tools.
But just having an SEO team isn't good enough. You must listen to them as well.
This is what bothers me the most about with the ASOS example. Its issues would have been detected by someone with a decent understanding of SEO fundamentals.
ASOS is a multi-million dollar, publicly-traded company with more than 3,300 employees on LinkedIn. It had/has an internal SEO team (though LinkedIn only shows 5 with an SEO role.) I'm confident they brought in agencies to help with these decisions.
As Amelia Coleby said in her fantastic LinkedIn Pulse article: "Listen to your SEOs. I may be entirely wrong, but I doubt a team of experienced SEOs would have sailed into this willingly. With a combined experience in SEO adding up to over a decade, a background in respected SEO agencies, and a history - until now - of fairly solid SEO performance, something doesn't add up."'
---
Moving forward: What ASOS is doing to fix it
The company is looking at non-technical, customer service-centric strategies to re-focus on its current customers instead of new customer acquisition, including a new return policy extending the return period from 28 to 45 days and new warehouse hubs in Berlin and Atlanta
ASOS has also already reverted their microsites mistake, and as shown in the earlier graph, are rebounding in key top 3 SERP keywords.
And there is reason to be optimistic for the company. ASOS' stock price to around $50 a share, up from $27 a share at its low point in January (though still far below its pre-profit warning of $67 a share at its peak.)
Ready to learn more about managing your company's SEO? Learn about the best SEO software and SEO agencies in 2019.