If you think about it, visual content is the secret ingredient in transforming text-based content from zero to hero.
For example, you can turn a boring blog post into an engaging read with a photograph, infographic, or a short video. Screenshots and illustrations can make your ebook, product manual, or case studies more relatable to readers.
Current numbers also support this content marketing best practice.
Seventy-five percent of marketers acknowledged that their campaign results were better when visual assets were part of their digital marketing efforts.
However, the same people lamented that custom video is the hardest content to produce. Tight budgets, difficulty finding great videographers, and inflexible deadlines are just some of the challenges plaguing marketers, storytellers, startups, and business owners.
Good thing there's a new visual content asset in town that's easy to produce than videos and equally powerful in grabbing your audience's attention.
Say hello to animated infographics!
In this article, we're going to take a closer look at animated infographics and its advantages over other visual content assets. You'll also find examples of animated infographics that will inspire you to make your own and get your audience to listen (and buy!) from you.
What is an animated infographic?
An animated infographic is a static infographic where some of its elements are animated to add the illusion of movement and motion (it turns out that they don't mean the same thing).
An animator will transform a static infographic into an animated infographic by adding interactive elements, smooth transitions, or pops of color. Objects in the infographic will fade, flash, or move. You can also highlight the most valuable sections in your infographic by adding subtle movements and experimenting with the infographic's visual hierarchy.

In a nutshell, animated infographics are tools to help transform your content into an experience. It's more immersive, familiar, and human to your audience. It also adds personality to your story!
Let's use the infographic below as an example.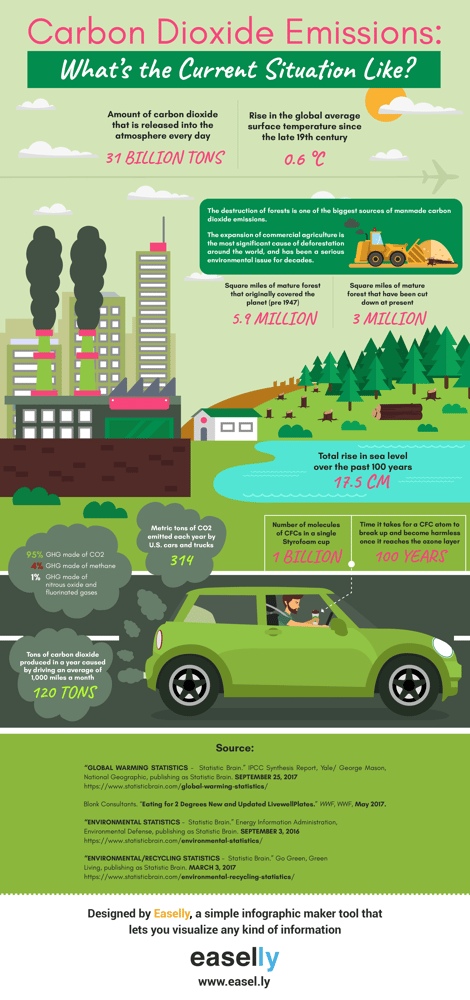 When we transform it into an animated infographic, here's how it would look.


The animated version strikes as more realistic and "in the here and now". It makes people pay more attention to their carbon footprints. When you're able to accomplish this, you also build a connection with your audience.
How are animated infographics different from traditional animation videos?
Like infographics, an animated infographic primarily aims to inform or educate an audience. Meanwhile, traditional animation is almost always rooted in entertainment.
Animated infographics also tend to be shorter in length than animated videos. Think of animated infographics as the lovechild of infographics and animated videos!
10 reasons you should use animated infographics
According to Ryan McLeod in the Animation Handbook, the greatest value animation adds to software is context.
He further notes:
"Animation takes something with no moving parts and adds the appearance of visible change. These noticeable changes provide us with tangible and familiar context, which makes our software more intuitive, discoverable, emotive, and recognizable."
Whether it's in product design or marketing, the context that animation adds to infographics transforms your content into an experience. It's no wonder that animated infographics tend to generate the highest number of social shares than charts, graphs, and other visuals.
You're probably thinking whether you actually need an animated infographic. So here are 10 reasons why animated infographics should be a part of your content marketing strategy, laid out perfectly IN an infographic for your viewing pleasure!

5 ways to make your infographics come to life
Planning to use animated infographics, whether for marketing or internal communications, may be overwhelming on your first attempt. The good news is it's easier to create animated infographics if you already have a library of well-designed, effective infographics to start with.
Here are 5 ways to help you get started with animated infographics, with some helpful examples!
1. Transform a short infographic into a unique, eye-catching piece of content
Want to capture your audience's attention? Make sure your infographic is eye-catching.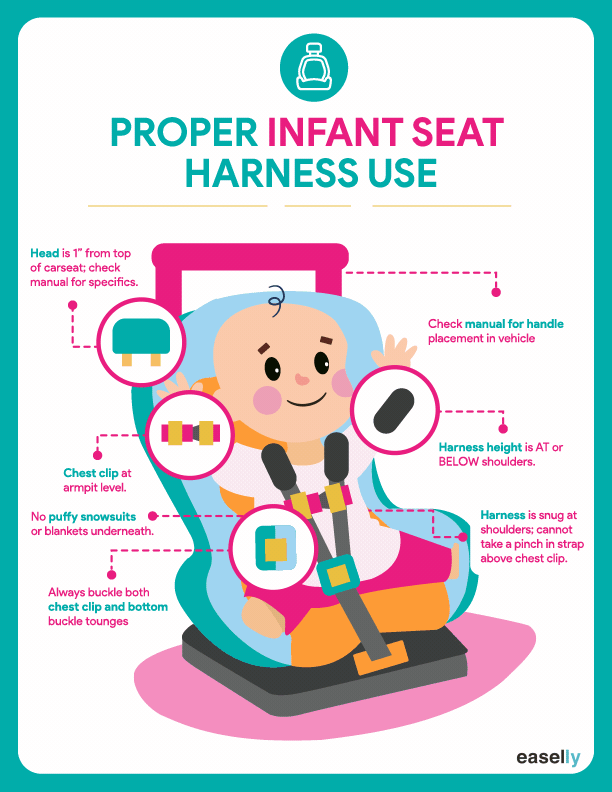 The bouncy effect of the character and icons in this animated infographic artfully transforms this visual manual into a gif that captures the viewer's attention and interest.
2. Animate sections of a long infographic into bite-sized pieces
Here's an example of an infographic where some of its sections are converted into animated snippets. You can easily share these snippets on social media!

Long infographic:

Infographic snippets: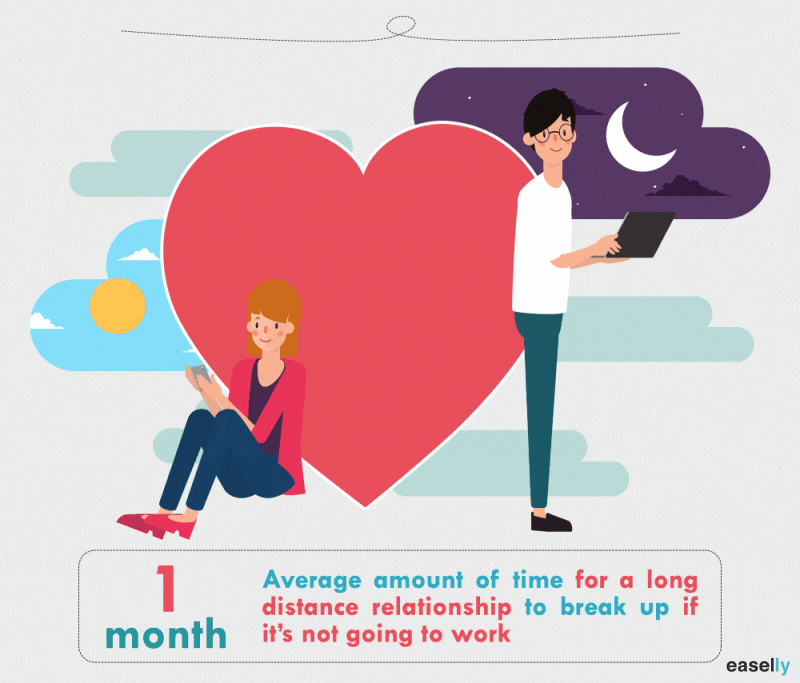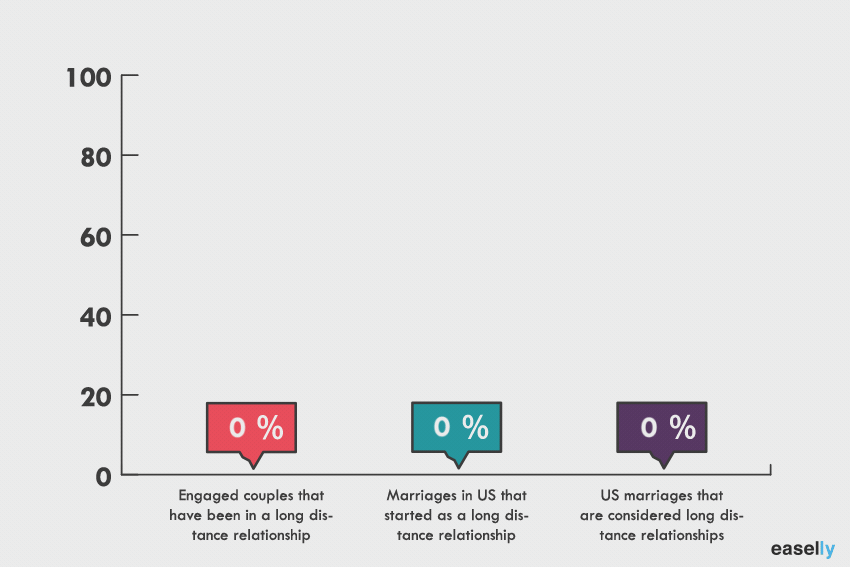 The smooth, creative transitions of the animated snippets make it more appealing and relatable to the audience.
3. Make your infographic easy to understand by adding interactivity
People love interacting with content. Why not have something for them to interact with?

This interactive infographic, courtesy of Groovy Groomsmen Gifts, shows groomsmen spending on every state. It provides readers the freedom to explore the infographic and not feel overwhelmed with all the figures presented in the visual.
4. Turn intimidating figures into appealing concepts
Use animation techniques to make your infographic content more appealing.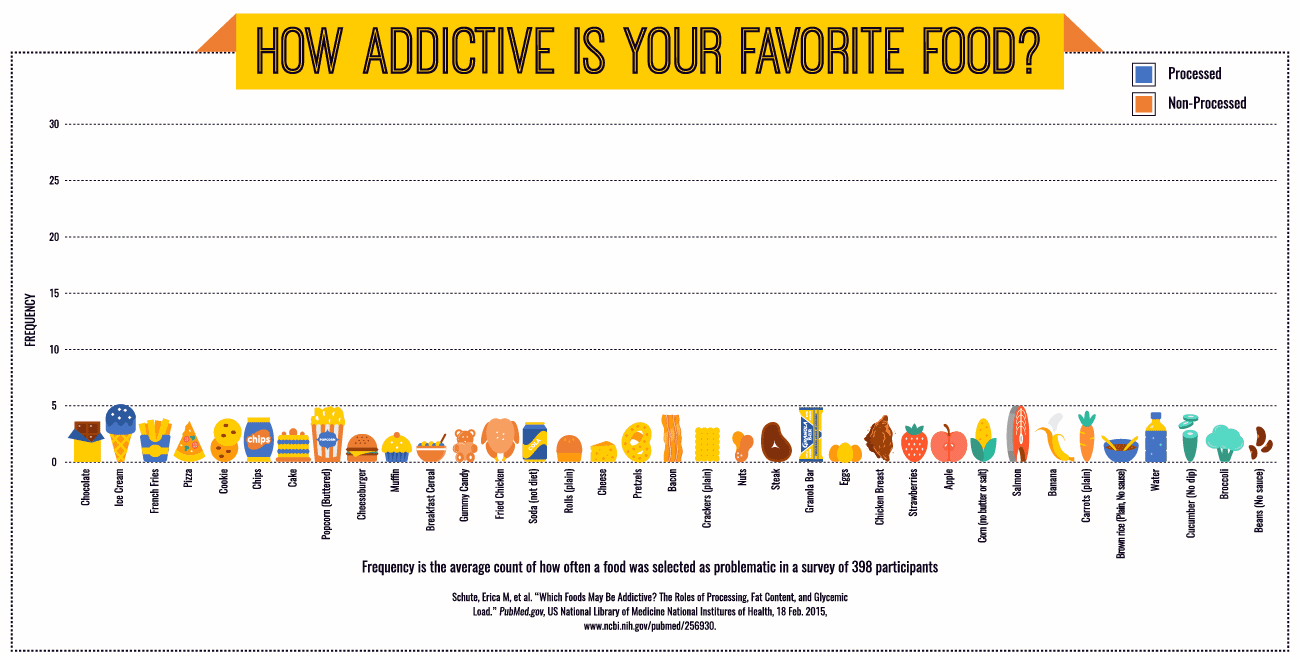 Who would have thought that a graph about food addiction would be this fun to read?
5. Break down a complex concept or make an abstract idea more tangible
If your idea or concept is too abstract, it may go over the heads of your readers. To make it easier for them, break it down into an infographic!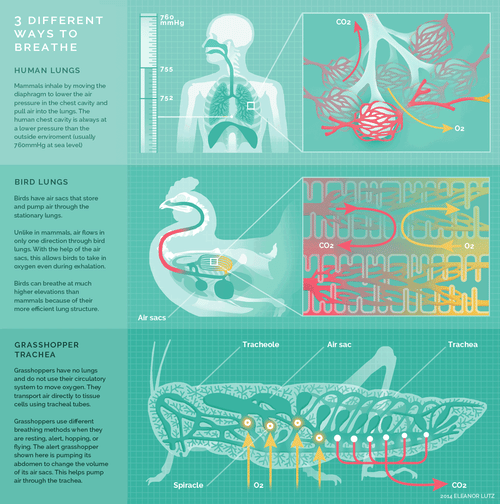 This short-looped infographic on how different animals breathe by science designer Eleanor Lutz showcases makes a quick lesson on physiology more engaging and memorable.
Your action plan
Though particularly powerful, the use of animated infographics is easy to get wrong. Poorly conceived animated visuals, gifs, or infographic videos can distract your viewers from your core message, or worse, lead to misinformation. For this reason, it makes sense to hire a team of expert designers who will collaborate with you.
While the most suitable approach to designing animated infographics will depend on your goals or vision, the golden rules of visual marketing remain: know your audience, add value, and don't forget to measure the performance of your visuals.
Browse all of the graphic design software options on G2 to help you get started creating your own infographic masterpieces!