And to think free one-day shipping with Amazon Prime wasn't enough.
With Amazon's Treasure Truck, they're taking the deals directly to you in an unexpected way.
What is the Amazon Treasure Truck?
The Amazon Treasure Truck offers discounted daily deals to Amazon.com app users who sign up by texting "TRUCK" to 24193. There are 35 vehicles across 30 cities in the United States and the United Kingdom.
Amazon is always on the cutting-edge of e-commerce trends. This deals-on-wheels experience taps into the customer's desire for surprise and delight in the most direct way.
According to statistics, Amazon has 310 million active customers. In order to gamify the shopping experience, Amazon rolled out the truck to keep these millions of customers engaged.
The term "treasure truck" itself brings me back to pirate-themed birthday parties, and this feeling of nostalgia only adds to my intrigue. So let's hop aboard the Amazon Treasure Truck and explore how it works and where on Earth it is.
How the Amazon Treasure Truck works
Inside the Amazon Treasure Truck, you'll find hand-picked items on sale for discounted prices. After you sign up for the text notifications, you'll be alerted of the deals of the day in your area.
These deals can range from a pair of headphones to a local steak. Since part of the concept behind the Treasure Truck is adding an element of surprise, you'll never know what's exactly there. Often times there are other branded surprises (more to come on that).
You'll only find products with an Amazon rating of four stars or higher on the truck, and if the rating dips below four stars the goods are returned and the giveaway is discontinued. This proves Amazon's care for their customers, and that they hold their sellers to certain standards.
After you receive a text about the Treasure Truck in your area, you can choose to purchase an item, and then you determine where the truck drops off your purchase. The Amazon Treasure Truck literally comes to you with the discounted item. Talk about a customer-first strategy.
But why would a brand choose to have all of these trucks driving around surprising cities with discounts? It's not just for the branding, because their brand awareness is very strong. And it's not only about increasing sales because they already have high sales on the website.
It's all about advertising other brands. Brands like Cottonelle provide the Amazon Treasure Truck with discounted items and branded experiences on the truck so that their specific brand can drive sales. It's a more native way to advertise than a print ad in a magazine.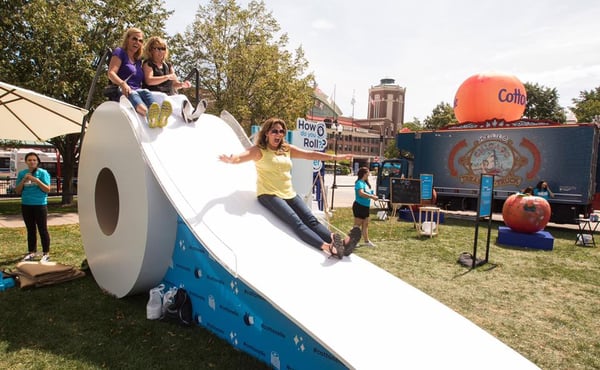 Source: Amazon
More and more brands are beginning to provide out-of-the-ordinary experiences for shoppers. For example, Lululemon Chicago opened a 20,000-foot store with a cafe, meditation room, and apparel exclusive to that location.
Now that you know what the Amazon Treasure Truck is, let's go over some more details.
How to sign up for the Amazon Treasure Truck
It's simple. Just text "TRUCK" to 24193. But be warned, by texting TRUCK to that number you automatically agree to receive automated messages from Amazon. You can cancel at any time by texting "STOP" to 24193.
Once you send the text, you'll be able to get updates about when the next Amazon Treasure Truck is in your area with deals.
Is the Amazon Treasure Truck free?
The Amazon Treasure Truck is not free. It provides extreme discounts available to order. However, it's been reported that brands on-site give away free product samples. As with any treasure, what's inside is unknown until you get there.
Where is the Amazon Treasure Truck?
Looking to find the Treasure Truck yourself? If you happen to be in one of these 30 major cities, you may be in luck. Even if you're not looking for a deal and looking for some of your own e-commerce inspiration, I recommend checking it out.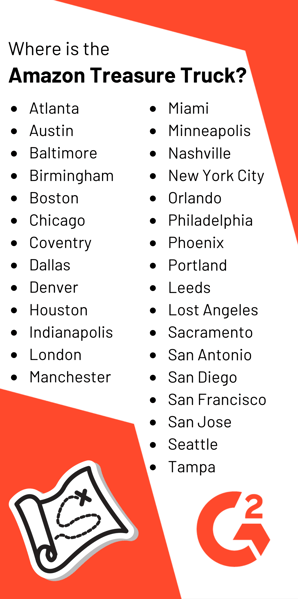 X marks the spot
Amazon provides memorable retail experiences for all, but that's not all Amazon does. If this innovation sparked your interest in selling for Amazon, check out tools for Amazon.
Wondering what else Amazon is doing to expand and innovate in the e-commerce industry? Read all about Amazon Go stores and how this retail model works.