From speedy shipping to subscribe and save, Amazon is all about convenience.
The convenience doesn't stop with the shoppers, either. It also applies to Amazon sellers. And since over 1 million new sellers joined Amazon last year, generating $22.9 billion in revenue, it's only smart that Amazon creates ways to make sellers' lives easier.
Fulfillment by Amazon (FBA) helps sellers, like you, grow your business because it takes care of things like packing, shipping, and customer service. This all seems great, but what's the cost?
What are Amazon FBA Fees?
FBA fees are broken into six categories— referral fees, variable closing fees, FBA fees, individual seller fees, subscription fees, and storage fees. Essentially, for using FBA, Amazon takes into consideration the size and weight of your products, the space your items are taking up in storage, a subscription to be a professional seller on Amazon, and the fact that they are a reputable platform.
Let's break this down a little bit further, so you know exactly what you're getting into when selling on Amazon using FBA.
If you're here for specific information, feel free to jump ahead using the links below.
Categories of Amazon FBA Fees
There are six categories of Amazon FBA fees, and while that may seem like a lot, people are still making six-figures through selling on Amazon using FBA.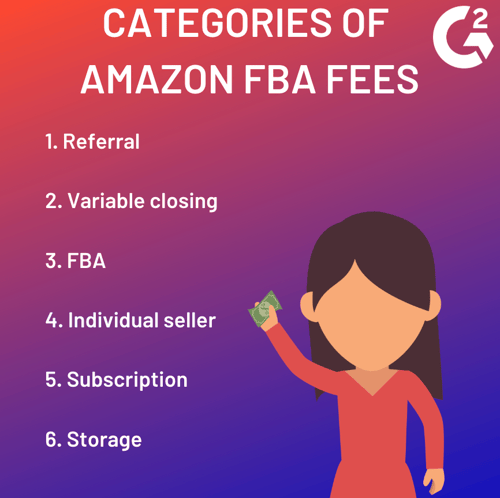 Once you have a better understanding of what these fees are and why they are in place, it'll make it easier for you to make an informed decision on whether or not FBA is right for you and your business.
Tip: Get more help with your Amazon business by using Tools for Amazon. These tools help companies manage and optimize their sales on Amazon so that you can focus on what's most important.
Referral fees
Technically, Amazon is referring you to their customers, so they charge you a fee for the percentage of the price of the product you sold. This fee varies per product.
If you think about the cost of advertising for an independent e-commerce website, you'll quickly realize that this fee is basically for Amazon advertising your product to their 310 million active customers. That's reach that no advertising campaign would be able to accomplish.
Variable closing fees
Books, DVDs, and other types of media come with a flat fee. Since Amazon started as a book dealer, and with the Kindle being one of their original products, they'd like to deter people from entering that space.
FBA fees
These fees cover packaging and shipping, which end up being less than actually doing these things yourself. Since they can do it at such a high volume, this is one of the larger benefits and money-savers of signing up for FBA.
Individual seller fees
This fee only applies to those who are not professional sellers. Individual sellers are people who are selling less than 40 products and not looking to sell on Amazon as a full time gig. If you are an individual seller, then you have to pay $1.00 per item you sell on Amazon using FBA.
Subscription fees
Most people sign-up for a professional seller account because the pros outweigh the cons. Subscription fees are for the professional seller account. The breakdown below shows you exactly what you get when becoming a professional or an individual seller.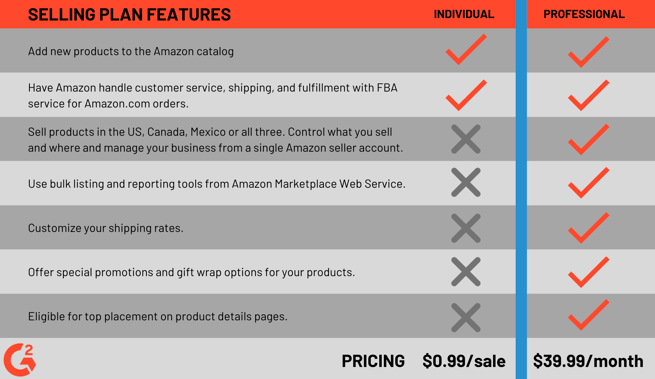 Storage fees
This fee makes the most sense. Of course, if they're storing your products for extended periods of time, they're going to charge you. Storage fees are based on the amount of inventory you have sitting in their warehouses. The more product, the higher the fee, which encourages people to sell at a faster rate to drive down these fees.
FBA calculator explained
Take it from a writer. Doing math is no fun, let alone adding together every aspect of Amazon FBA fees. Since paying for the convenience of FBA is seemingly inevitable if you're a professional seller looking to scale, Amazon provides an FBA revenue calculator.
This calculator takes into account all of the fees mentioned above and shows you your net profit and your net margin. Experiment with it before adding new product lines to your Amazon store to ensure you're making the biggest bang for your buck.
How to sell on Amazon?
If you want to easily sell your items on the most popular and widely used e-commerce platform, then Amazon is for you.
Learning how to sell on Amazon is simple if you follow these six simple steps.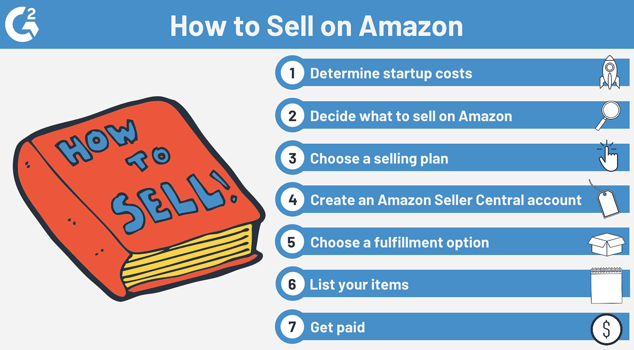 With these steps, combined with the help of FBA and Amazon tools, you'll have all you need to launch a successful
There's no such thing as a free lunch
Don't let all this talk of fees get you down. Most large-scale sellers use FBA and are better off because of it. The best way to prepare to sell on Amazon is through research and getting advice from professionals in the industry, that way you're not unpleasantly surprised when a fee comes your way.
Selling on Amazon can be quite intimidating, especially if you're just starting out. Learn what to sell on Amazon so that your business is a success.