Sales and marketing alignment is a longstanding topic, but the current rise in artificial intelligence is creating new opportunities to deepen and improve this vital relationship.
AI within marketing has opened more doors: think about lead/account scoring cementing account-based marketing (ABM) as the new norm; signal and intent data driving revenues that can rival your pure inbound channel; persona-based segmentation of your website' and AI-powered chatbots reducing your time to first touch.
But it has also given marketing teams unprecedented access to the voice of their customers, which is a goldmine of opportunity for sales teams.
AI for marketing and sales alignment
Capturing that voice is key to getting ahead of the competition. This is obvious, right? Not enough marketers are using this vital information, like analyzing interactions with prospects to learn why leads do or do not convert; understanding the driving needs or pain points of your target audience; and ensuring that the customer-facing teams are engaging with prospects with approved/appropriate language and talk tracks.
Once applied, this moves prospects through the funnel faster. Here are four more areas marketing and sales can improve with the power of AI.
1. Deliver better sales enablement
Customers are going to provide feedback. We know that sharing an opinion is something customers love to do. So, when pricing, opinions about features, and overall concerns are aired, the marketing team should be alerted since it benefits every person touching that department.
Product teams
Feedback from a call can help marketers understand what the customer wants in that product. Product marketers can gauge the features customers are looking for and what's said about competitors. It means product marketing can deliver better content, training, talk tracks and see how these tailored comments generate more traction for sales teams - and more value to customers.
Demand generation teams
Content marketers also find value in call recordings. The added transparency into a client's pain points or struggles, allows the content marketing team to tailor the topics of their eBooks, blog posts, or whitepapers to deliver actionable insights and key takeaways that can help move prospects through the funnel.
Sales teams
With the help of the marketing department, sales can provide additional materials like product sheets and how-to guides to the customer. This will shorten the sales cycle and ensure everyone is on the same page.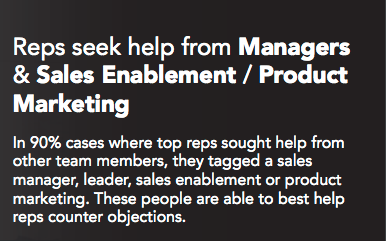 Source: Objection Handling Cheat Sheet
2. Review and analyze calls
The ability to review business calls while traveling is a significant advantage. We know that understanding the customer journey – why and how someone decides to interact with your brand – is crucial to sales and marketing success.
So how can you recreate that same path to your door? To do this, uncover why a viable prospect reached out and how they found you in the first place. Did the prospect learn about you because a peer at another firm uses your product and recommended it? Did they contact your call center after seeing a digital ad served up online? Maybe it was a piece of marketing collateral they picked up at trade shows or the result of an executive speaking at an event.
Do you know what message or asset was the magnet that attracted the potential customer? The easiest way to get to this information quickly is to replay critical moments from those calls, identify the scenario that brought the prospect in and duplicate those efforts per use-case.
Don't shortchange those discovery calls
Your sales reps had to dive deep to reveal exactly what the prospect needs and wants. Don't waste such useful insight. Leverage it to understand why prospects are searching for a potential solution in the first place.
You might find out they're already working with a competitor but frustrated with the service, or they're growing fast and need a solution that can scale. Whatever the case, using this information can further shape your messaging or help you realize there's potential to target a new market or type of user.
3. Deliver instant coaching
Access to customer and prospect conversations recordings can help improve the skills of the sales rep. Not only can marketing confirm reps are applying what they learned in training after a new sales pitch or methodology is rolled out, they can also ensure reps understand and are using a new talk track effectively to support the launch of a new product.
Create a playlist of successful conversations
By creating a playlist of successful conversations, the onboarding process is simplified and expedited. That way, reps can listen to conversations and hear the voice of the customer firsthand. It reduces the burden on marketing teams, who otherwise would need to invest a lot of time in "hand-holding" sales reps as they learn how to talk about the company and its products with customers.
Through tracking and analysis of sales calls, you can also alert sales leaders to reps who might need more coaching on when and how to use certain assets and messages in customer conversations. You may even identify an opportunity for the entire sales team to take a different approach with prospects based on insights gained during sales calls about competing products.
4. Set trackers to gain insight to help shape content
Today's B2B customers typically do a good deal of research before they decide to reach out to or take a sales call from a company. So, make their jobs easier – and help sales reps focus more on selling during calls – by determining what is top of mind for most customers. Figure out those common topics and create website content or blogs to answer customer questions.
Prioritize the voice of the customer
Marketers already using AI-powered tools to understand their customers' needs better are ahead of the game. They are well-positioned to help their organizations get aligned with, and stay attuned to, the voice of the customer.
They can use timely, specific, AI-based insights to create messaging and content that helps the sales team to break through with, and win over, prospects. And while product team is able to create relevant solutions, the overall company continues innovating new ways to deepen customer engagement and loyalty.
To gain more insight on how artificial intelligence can bring your sales and marketing teams more closely aligned, check out G2's AI hub with 50 incredibly useful resources.