Account executives used to be reserved exclusively for advertising agencies. They handled the big accounts that pulled in millions of dollars in ad-spend.
The rise of SaaS companies has expanded the role of an account executive (AE) and generated a demand for more specialized, in-house AE's. Whether you're hoping to carry on the legacy of advertising account executives or you're looking to target a specific company, we've got you covered. This guide will tell you exactly what it takes to become a top-tier account executive.
What does it mean to be an account executive?
An account executive acts as the go-between for companies and their clients. They manage their client's day-to-day tasks, act as brand ambassadors for the client, and ensure their account holders are satisfied with the work done on their behalf.
The role of an account executive is a mix of sales and customer service. It requires both the dedication and knowledge to become familiar with multiple external brands and the savvy to close big deals. Does this sound like your wheelhouse? Keep reading to find out more!
Interested in learning something specific about becoming an account executive? Use the links below to jump ahead:
What is an account executive?
An account executive is the brand champion for external clients. They are the primary point of contact for clients and their internal agency team, often acting as the middle-man between the two companies.
In addition to nurturing relationships with current clients and keeping them happy, account executives also scout and foster new partnerships. What makes the role of an account executive unique is that they work with every team in the company to ensure the client's needs are met. It's their role to know the ins and outs of their client's brand.
What does an account executive do?
The role of an account executive doesn't change much between industries. The day-to-day might look different depending on which client you're working for, but overall you can expect some of the same key elements in an account executive job.
Some of these account executive job duties include:
Coordinating paid media, press releases, and social media content
Blogger and influencer outreach
Event management
Competitor and consumer research
Marketing and advertising
Prospecting leads and assisting with sales
Account executives are like the hype-men of the business world. Nobody understands the adage "the customer is always right" more than the account executive. As long as you're managing a client account, it's your job to know as much, if not more, about that client than the people who work there.
What's the difference between an account executive and an account manager?
These roles are defined differently depending on where you work, but for the most part, an account manager is only responsible for growing and maintaining relationships, while an account executive is also in charge of securing new business. You could argue that an account executive role is more sales-focused than an account manager role.
What skills do you need to become an account executive?
There is no single set of skills or personality traits that will make you a great account executive. It's important to remember that experience plus the combination of hard and soft skills will lead you toward success in your career.
That said, there are some universal skills that recruiters might be looking for that you can brush up on: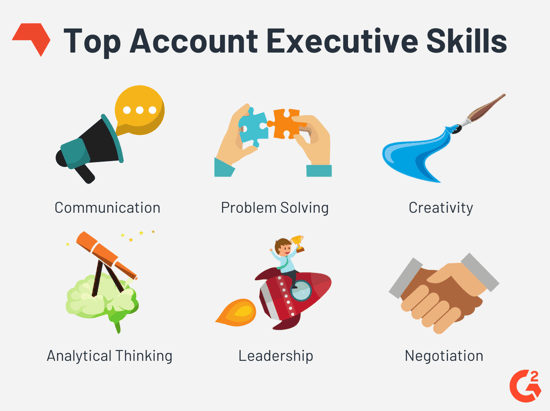 If there's one skill you must have as an account executive, it's communication. Your job as an account executive is to be the go-between for your client and your company.
As Vlad Calus, Cofounder at Planable points out, communication is the key to success:
"Account executives must be excellent communicators. When it comes to managing projects and clients it's easy to get lost in the amount of information, communication, people, and stakeholders involved. Therefore, AEs must be able to see the big picture, the whole thing, develop sales strategies, stay on top of the trends, and build a long-lasting relationship with all the stakeholders."

What experience do you need to become an account executive?
Most account executive roles require a Bachelor's degree in business, marketing, sales, or a related field. Previous experience working in client-facing roles can help as well. Most companies look for 2-3 years of experience interning or in a related field for entry-level roles.
As you get further in your career there are certain certifications and licenses you can acquire, but a proven track record of closing deals and scaling accounts will have a bigger impact in the long run.
How much does an account executive make?
According to Glassdoor, account executives in the United States make about $67,669 annually. This doesn't include bonuses and doesn't take into account the salary range in specific cities. If you're hoping to find a more accurate look at the salary expectations for a certain role, you should consult a job search website and tailor your search.
Find the best account executive jobs in your area today!
Execute your next job search in style!
Your job search is in your hands! If you're looking for inspiration from other people on how to get started, follow some account executives on LinkedIn and see what they did to become successful. And keep checking back to the G2 Learn Hub for more career advice.
Ready to start applying for account executive jobs? Learn how to write a resume that communicates your skills.