Being a project manager involves more than managing projects.
While you will spend many hours doing this, an equal or greater amount of your time will be devoted to other work. This might involve completing administrative tasks, one-off jobs not related to a project, ad-hoc work, answering emails, doing cross-functional initiatives with other departments, and so on.
You might have great project management software in place to help you out, but it doesn't take care of the rest of your duties.
You could handle these with a cumbersome mix of shared spreadsheets and Google Docs, workflow charts built with word-processor templates, customized web pages to track work progress, emails to send and receive assignments, and on and on.
Or you could go for an elegant, easy-to-use, all-in-one work management solution that is flexible and easily adaptable to your wide range of operating needs – a system that automates workflows, makes collaboration easy, integrates with your favorite tools to break digital silos, captures data for anyone and anything, and provides dashboards with all the pertinent information to your work role. In short, you need a work operating system (work OS).
What is a work operating system?
Project management software is an essential tool, but can be very specialized, requiring the knowledge of methodologies and and execution knowledge of a senior project manager to use. It is great for endeavors with clearly defined objectives, timelines, budgets and other specific project management parameters, including a lot of planning work at the front end.
A work OS, on the other hand, covers a full range of organizational work tasks and responsibilities, of which project management may be one part. It is a comprehensive but simple-to-use software solution that combines smart work automation with centralized communications and collaboration tools.
Work OS solutions allow managers to easily track everyone's work and make data-driven decisions, keeping them aligned with business goals and operational standards. And it liberates teams from menial work, allowing them to focus on the work they love with intelligent productivity, communication and collaboration tools.
Organization-wide use
Because of its flexible features, all users in an organization, regardless of function or team, should be able to use the work OS.
Building blocks
Users should be able to compose and capture data through the use of functional building blocks. All work OS users should be able to break apart and reassemble any workflow or application offered on the work OS.
Data store
A work OS captures all data through the actions of its users and through integrations. The work OS is able to make all data complete and digestible, with users consuming the data as-is or through the lens of the building blocks.
Integrations
Users connect external data sources and apps into a unified workspace, so all users can continue using their favorite tools and centralize them in one place.
Automation
A work OS allows users to automatically execute predictable, repetitive things. Automation occurs within the work OS and also throughout the external apps that are connected to the work OS.
Data visualization and analytics
A work OS allows for the data in the system to be visualized and analyzed in a variety of ways.
Permissions and governance
A work OS includes the ability to set permissions over who can view, update and enter data as well as who can integrate and automate work.
In-context communication
A good work OS improves cross-team collaboration, reducing emails and meetings with capabilities that include commenting on tasks, annotating images and many others.
Tracking progress
Some work OS offerings provide transparency into project, process and workflow progression.
Workflow apps
Some work OS offerings provide a low-code/no-code facility for developers to create custom widgets, workflows, integrations and apps.
What does project management software entail?
According to Technopedia, "project management software is software used for project planning, scheduling, resource allocation and change management." With IT project managers, stakeholders and users are able to better manage costs and budgeting, do quality management and documentation, use it for administration, and collaborate and communicate with one another.
There is a wide range of project management solutions available that offer many different options and functionalities for the full gamut of project management uses. Some systems require hefty investments of cash and training time, and demand specialized professional knowledge. So a lot of care needs to be taken to ensure that a system meets, or is customizable to, an organization's unique project management needs.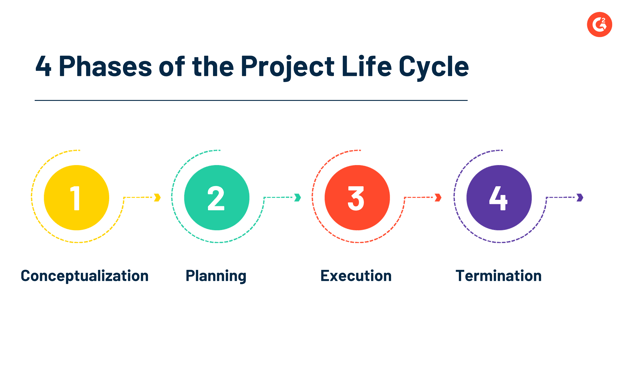 The four phases of a project life cycle: conceptualization, planning, execution, and termination.
Primary functions of project management software
Project management software's primary functions include the following:
Project planning, including mapping tasks and visually describing task interactions
Task management, including assignments, deadlines, and status reports
Document sharing and collaboration through a central document repository that can be easily accessed by everyone involved in the project
Calendar and contact sharing
Bug and error management
Time tracking for all tasks, including records for third-party consultants
These capabilities enable project managers to shepherd their projects through the entire development cycle and deliver them on time and on budget. Cloud-based software packages enable a team or teams to work together across different geographic locations.
Many recent project management software solutions include a variety of sharing and collaboration tools, allowing real-time communications and centralized access to files, ensuring everyone is on the same page at each step of a project.

Some packages can automate processes and provide comprehensive data through one central hub that allows managers to offer real-time progress reports, so that resources can be better allocated and pivots made to keep projects on track.
Can a work OS replace project management software?
Project management software is very good at handling the specific requirements of this type of work. Work OS excels at handling a wide range of work tasks. So in the vast majority of scenarios, it's not a matter of using one solution or the other but having them work together, providing a synergy that leads to greater efficiencies, and time and money savings.
Project management can be narrowly defined as the the "application of knowledge, skills, tools, and techniques to project activities to meet the project requirements." Generally speaking, work OS has a more flexible structure than project management software "because it does not revolve around projects, permitting discussion – and more generally, collaboration – to arise on any topic."
While a work OS solution can be used by every information worker in an organization, project management software is usually the domain only of PMs in a project management office. A work OS reduces workloads with its workflow automation and centralized resources, and a project management solution can be labor intensive, requiring the management of dependencies, assigning resources, and more.
How can a work OS supplement project management software?
Project management software's support for formal project management techniques and methodologies make it a necessity for most PM professionals. While it allows for high-level planning, it doesn't provide visibility into how team members execute a project. This is where work OS comes in, enabling PMs to track the execution of projects in real time. The collaboration aspect is what work OS excels at at the organizational level, department level, and team level.
The flexibility of work OS solutions and their easy, effective communication and collaboration capabilities make them particularly useful for agile project management. With distributed or local teams, it makes communication updates, and sharing task lists, feedback and assignments easy.
For agile task management, it's useful to have a system that has different views of tasks on a board, whether Kanban, Gantt-style charts, or list views. The Digital Project Manager points out that work OS can also cater to the metrics, reporting and analytics important to agile projects with its time-tracking and projection capabilities, and "easy-to-understand progress reports for stakeholders, quality assurance, and progress with tools to identify and remedy project obstacles, evaluate performance, and appraise financials."
Conclusion
Yes, there may be some project-intensive environments where project management software can get away as the only solution, just as there are less-rigorous project management situations where work OS can provide everything needed. But in most instances, the wide-ranging capabilities of a work OS yoked to the deep vertical functionality of project management software is a match made in project heaven.
Become more knowledgeable about all things project management with G2's PM hub with over 40 useful resources to keep you on track for success.