If you're thinking about making a podcast, you're going to need to understand what makes a show stand out.
Recently, I wrote an article that surveyed the top 50 podcasts by category and learned a staggering amount about the fundamental ingredients shared by all of the best podcasts.
5 elements of a good podcast
Focus on a central idea.
Play to an audience.
Regular schedules.
Show structure.
Authenticity.
While there's no foolproof formula for creating a chart-topping series — that's a combination of luck, strategy, and innovation — these are some of the tools you need to be aware of in order to allow the merits of your podcast to shine through unimpeded by faulty execution.
What makes a good podcast?
Before we get started, let's talk about what I mean by a good podcast.
The idea that any given piece of content is good is ultimately a subjective one; what you love as familiar and authentic, someone else might dismiss as hackneyed and derivative. Despite this, people often come together and elevate certain works as popular and lend them importance through the sheer amount of unique voices who agree on their merits.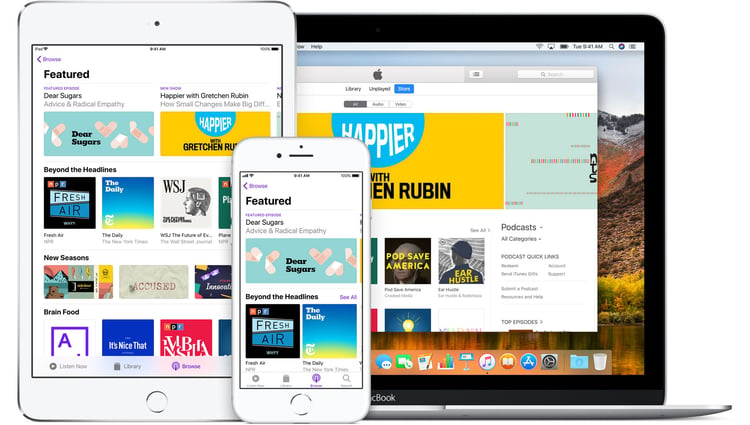 Source: Apple.com
Clearly, these chart-topping shows are getting something right. Even if you hate almost everything about the current recommendations on your podcasting platform, you can't deny the fact that people are listening to them.
So, what's the secret sauce?
1. Focus on a central idea
Every podcast has something it's trying to convey to an audience. This can be anything from a specific political viewpoint to sharing knowledge about a particular topic. The core idea is the fundamental reason why any podcast exists.
Good podcasts have their main idea defined and clearly understand what they're trying to say and the best way to express it. If you want to make a podcast about interesting food recipes but spend the bulk of your recording discussing last night's football game, you'll be sending a clear message to your listeners that they should go elsewhere for their cooking content. Each episode of a podcast has an implicit promise contained within it: that the creator is going to explore whatever ideas are at the core of the show to some degree.
Understanding the power podcasting can help you develop this.
2. Play to an audience
The audience is king. This is something that good podcasters understand in their bones.
Podcasts have the remarkable ability to target a specific niche in whatever subject matter they are covering — unlike traditional radio broadcasting that, due to limited airtime, had to try and appeal to as many listeners as possible. With this change, knowing who you're making content for is more important than ever.
This goes beyond the basic of "don't swear on a children's show." Good podcasters know what their audience is looking for, what shared knowledge unifies interested people in a given subject matter, and what problems they can solve with their content (for more on developing an audience persona see: how to come up with an idea for your podcast).
3. Regular schedules
This might seem painfully obvious, but it's also one of the most important. All good podcasts have a regular release schedule they adhere to.
Podcast consumers have expectations of content creators. You're performing a show after all! Like with television programs, having a release schedule that your audience can trust is crucial for maintaining engagement and increasing visibility on your work.
TIP: It's also crucial to use the best audio editing software to ensure a consistently good experience for your listeners.
4. Show Structures
Listening to a new podcast is always a risk. With so much ability for content creators to target specific audiences, it can be hard to tell if a show is going to cover what you expect. Delivering an explicit structure on your content can serve to help listeners know what to expect and keep them engaged with the ideas you want to cover. A great example of this is "This American Life's" act structure, which serves to delineate the start and end of each new story that highlights a different aspect of the unifying theme of the episode.
A good podcaster is intentional about how their show is structured, using it as a way to organize and express their ideas in a way that forms a meaningful story for your audience, even if it's simply a meaningful development in the conversation being had by the podcast's hosts.
5. Authenticity
This final element is one of the hardest to quantify, but it's present in all the best podcasts nonetheless.
Podcasting is an extremely intimate medium; defined by the singular relationship between the podcast's host(s) and the listener. This is something that a good podcast creator embraces by opening up and speaking from a place that is authentic and vulnerable, the podcast host invites their audience to form a relationship with them. They become characters in the drama of their shows, and this empathetic link between audience and host is crucial for maintaining engagement with a show.
With all these ingredients…
You should be able to cook something truly special. By executing on each of the elements of a good podcast, you can ensure your show is as impactful for you or your business as it was always meant to be.
Looking for help coming up with good ideas for your podcast? Check out our guide on podcasting 101.