To those at an existential career crossroads, with an open mind and a desire to use both sides of it: Consider UX.
In the past 'design' was generally associated with graphic design. But with the evolution of the design industry terms like 'UX' have surfaced in recent years. That being said, those outside of the design industry might not know what UX is exactly.
What is user experience (UX) design?
In short, it is exactly what it sounds like: mapping and laying out the visitor journey, both physically and emotionally. In practice, though, it's an arduous juggling act — one that only so many people can perform. And companies are being stretched thin in the search for these mavericks known as UX designers.
What is UX?
UX stands for user experience, and is the process of providing users with a meaningful experience when using products. It's an elemental component of any website, including the one you're on right now.
But it doesn't stop at web design – UX is integrated into the design of many products. No matter what you're selling or promoting, UX is the goo on the flycatcher: the difference between bounce and retention.
There are more than one billion websites online at this very moment. Equal parts art and science, the mastery of UX grows more difficult by the minute, as businesses struggle to stand out and be seen, yet deliver the comforts that visitors know and love. User experience is the key, and requires dedicated individuals or service providers to make it click. But the talent pool is quite shallow relative to the demand, as technical schools and career counselors are slowly waking up to the news and adjusting as necessary.
TIP: UX is not the same as CX (customer experience.) Learn more about the key differences between CX and UX.
What's the difference between UX and UI?
UX designers research, map, and develop the user experience to best meet the needs of visitors to a site or users of a product. They are responsible for making sure the a product or website is meeting the needs of their users in an intuitive way.
UI stands for user interface and works very close to the UX team. UI designers are responsible for front-end design and visual aspects of a website or product. UI design helps bring the experience the UX team has crafted up to brand standards and overall make a site or product aesthetically appealing.
UX is on the rise
"I would say the most in-demand skill set right now is user experience," says Hirewell senior recruiter Frank Nicolia. "Every company wants and needs these folks, even if they don't truly understand what it means."
A quick search of the keywords "user experience" on Indeed.com pulls up 170,000-plus job listings across the globe, compared to 135,000 listings when you just search for "developer." Even if all these businesses don't completely "get it," as suggested by Nicolia, they seem well aware of its urgency — and willing to pay top dollar for the right people. And unlike, say, "just developers," the right people are quite limited in number. Nicolia says he sometimes spends two or three days scoping potential UX candidates before making a single phone call.
One explanation is that the best UX designers — up to this point, at least — come from varying backgrounds with no consistent pattern. In its primordial days, the vocation fell squarely in the tech realm. Nowadays, according to Nicolia, it's a more nebulous calling that can involve design and digital marketing skills in equal measure. This can make the quest to fill these roles a tad more precarious than others. "The concept of user experience is not new, but the job title is," explains Amanda Samy, a resident UI/UX designer at G2 Crowd. Samy majored in interior design and worked as a design engineer for seven years before jumping into UX.
"Companies still seem to be figuring out where UX as its own discipline fits in and how design can help them achieve their business goals," says Samy. "I think there's a lot of confusion about what companies are looking for in a UX candidate. There's still not even an official title for it — UX designer? UX architect? UI designer? Product designer?"
"If you're looking for a UX designer, what specific challenges are you hoping they will help solve?" asks Jase Miller, a fellow UI/UX designer at G2 Crowd. "Consider, too, what you believe makes a 'qualified' candidate. If you're looking for people with a well-established path through design schooling, you're likely to be disappointed. Good UX web designers I know are well-rounded, versatile and draw from a lot of different experiences and educational interests."
Before arriving at G2, Miller gathered experience as a web designer, brand strategist, creative director, communications director and impact designer. Now, in his UX role, he describes his job duties as being "[A] champion for people who use our products," looking for "ways to solve problems they face by helping design solutions for them — and even with them."
"At G2 Crowd we put buyers first, so I'm keen to find the best ways to empower them to make great decisions," says Miller. "High degrees of transparency and trust are essential to that relationship, and our design can help build or erode that dynamic."
UX design means users first
The core philosophy for Samy, Miller, and the burgeoning militia of UX designers is called "design thinking," or human-centered design. It's a simple concept on the surface with leagues of complexity below: getting inside the heads of your users, as varied as they are, and concocting the experience that appeals to all of them. It's an endless challenge that calls for certain traits you can't learn from coding alone.
"You (and your coworkers) are not the user," says Samy. "It's easy to get stuck in your own head and make assumptions, but at the end of the day that is not 'user first.'"
"Be a good listener. Seek to empathize. As people, technologies and cultures change, design must too," says Miller. "The essential tools are less technical — observation, research, connecting ideas for new insights, problem solving, post-it note wrangling and drinking lots of coffee. Those skills have more in common with sociology and psychology than with traditional design disciplines. From those insights, you prototype, conduct A/B testing, design and implement solutions."

"Test, test, test!" advises Samy.
Implementation is, naturally, the end goal with UX design. Certain companies demand that UX architects can also build the UI (user interface), which calls for competence in one or more development languages and software platforms. Others will employ UI developers separate from UX designers, allowing each to focus on their allotted task. The latter is a more realistic play, according to Samy.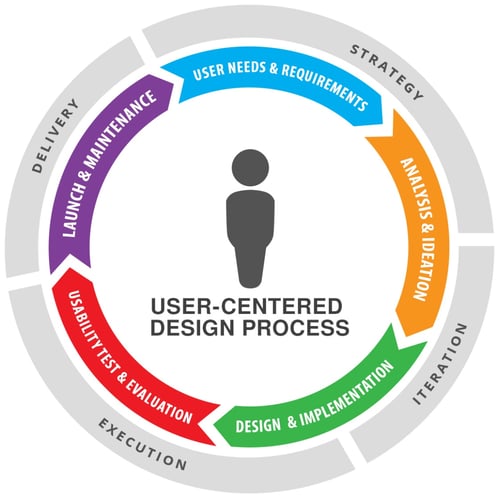 "When I was job hunting a few years ago, many companies were looking for UX unicorns: an expert in user experience, visual design and development," says Samy. "It is a bit delusional to think that one person can fill all three roles competently."
It is invariably the union of the two that generates the completed product — and alters the fate of the brand along with it.
TIP: Learn about the best practices for mobile UX design in 2019.
Learn more about becoming a UX designer
This sudden indispensability of qualified UX specialists is a harbinger of a coming torrent: Schools will offer more UX courses; major publications will preach the gospel; the candidate pool will inevitably become crowded, and with a wait for the diving board. But just as with any position, only so many divers can stick the landing. It's critical for businesses to learn the concepts, fully develop their needs and be picky when hiring. As an employer, don't get razzled by the hullabaloo; it's well worth the patience to get the job done right.

As a potential candidate, Samy recommends putting in the time and effort to make yourself desirable, and thoroughly prepared for what a UX role might entail. Informational interviews and shadowing of the UX architects at your current or past jobs is one way to get your feet wet and begin to understand the thought process. You may also consider a bootcamp that drills home the disciplines and processes over an intensive but brief duration.

"When I decided to switch from design engineering to UX and digital design, I quit my job and attended a UX bootcamp here in Chicago called DESIGNATION. It was a very intensive six days a week, 10 a.m. to 10 p.m., four-month-long program which taught me the basics of UX, visual design and development," says Samy.
A key difference between a traditional course and a bootcamp is the gradual transition into actual production — a bullet point that even the smallest companies will likely require in an applicant's resume.
"The last part of the program was working on real client projects with different entrepreneurs in the area who needed help creating apps and websites for their business ideas," says Samy. "This hands-on, real world experience is really what helped me prepare for my role — being in an agile work environment, user testing, creating style guides and working with developers.
"As a UX designer, creating a quality portfolio showcasing your thought process from the beginning to the end of each project is essential, and also the most difficult part of the job search process. Once I had a few case studies demonstrating who I am as a designer and my design process, I didn't have any problems getting callbacks and interviews."
Of course, the training is only as worthwhile as the students make it. For those seeking to join an in-house UX team or one of many user experience design companies available for hire, know that it won't come easy. These are some of the hottest jobs on the market and could be for the foreseeable future. Only the hungriest in the field will get seats at the table.
Want to learn more? Check out our tips to make the best use of your app prototype or learn the A/B testing tools to measure the success of your UX tests.