Volunteers are a nonprofit's best untapped resource.
So, why are so many nonprofits failing to utilize them correctly? The answer may lie in how they approach volunteer management. The name sounds simple enough even though the work is anything but.
Without the right volunteer management strategy, your nonprofit could struggle to fill vital volunteer roles that will push your company towards growth. Don't put volunteer management on the back burner any longer: read on to learn the best ways to hack your program.
Looking for information about volunteer management? Use the links below to jump ahead:
What is volunteer management?
There aren't any tricks here – volunteer management is exactly what it sounds like.
It's the practice of managing the volunteers who work for your nonprofit. This work can be done by a single volunteer manager or you may have an entire team dedicated to managing your volunteers. It all depends on the size of your nonprofit, the number of volunteer openings you have, and the training your volunteers might require.
What does a volunteer manager do?
Manages volunteer schedules
Writes volunteer job postings
Matches volunteers with open needs
Recruits and trains new volunteers
Collects and maintains volunteer data
Volunteer management is a full-time job. If you want to successfully harness volunteers to work with your nonprofit, you need a dedicated employee managing them. A bad volunteer experience can have negative consequences not only on your volunteer program but possibly on your organization as a whole. That's why nailing the process of recruiting, training, and retaining volunteers is so important.
4 tips for managing volunteers
Keeping your volunteers happy is essential to a successful volunteer program. There are a couple key ways to streamline the volunteer process and make things accessible to everyone. Here are four easy tips you can use to help manage your volunteers.
1. Optimize the application process
Finding volunteers is tough, getting their information is even tougher. A lot of potential volunteers will lose interest in your nonprofit if applying for a position takes too long or is too cumbersome. An easy way to circumvent these problems is to streamline your application process.
What should you include in your volunteer application?
Personal and contact information
Questions about previous experience
Survey about volunteer interest
Optional: Disclosure of background checks, if required
There are two ways you can collect this information. Either create a landing page dedicated to volunteer applications, similar to a careers page, and use that to collect volunteer information. Or use a paper copy volunteer form. Both have their pros and cons, so it might be best to have both just to be safe.
We can't create a website landing page for you, but we can give you a volunteer interest form template to help get you started.
2. Write clear descriptions
Are you posting volunteer positions and having trouble filling the roles? Or maybe you can't seem to keep volunteers from quitting after a few sessions. There might be a problem with how you're writing your volunteer descriptions.
Here's how to write the perfect volunteer job description:
Use a clear job title
Provide a high-level overview
Describe the work in-detail
Include the expected time commitment
Outline the skills needed for the role
Keep the language clear and concise
Highlight why your nonprofit is right for them
Taking the extra five minutes to write a clearer volunteer job description will help you get more high-quality applicants, establish expectations, and improve volunteer retention.
3. Recognize volunteers for a job well done
Your volunteers aren't putting in long hours because they crave fame and glory. They do what they do because they love making a difference. However, it would be a mistake to think that some recognition and kind words don't go a long way with volunteers. Recognizing and appreciating the achievements of your volunteers is the cheapest and simplest way to thank them for all the work they do for you.
Here are the best ways to recognize your volunteers:
Write a hand-written thank-you note
Treat them to a special annual lunch
Remember unique things about them
Give out awards for volunteer anniversaries
Shout them out at fundraising events
Create a volunteer of the month
Post about them on social media
You don't have to implement all of these strategies at once. Start small and figure out what you have the time and bandwidth for. Using even one of the examples above will do wonders for the relationship between your volunteers and your staff.
4. Put it all together with technology
Recruiting, managing, and scheduling all of your volunteers can get laborsome. Whether you're a one-person volunteer management team or you're working with several teammates, the right volunteer management software can make your job a lot easier.
Volunteer management software allows you to manage all your volunteer data, including contact details, availability, and interests. It can also provide a hub for you to post jobs for your volunteers to access wherever they are. You can match volunteers with new projects based on their interests and skills, while also tracking volunteer anniversaries.
No matter how big or small your nonprofit, there is a volunteer management software solution for you. Check out the user-reviews from real nonprofit professionals like yourself today.
How to build a volunteer program from scratch
There will be some volunteers who come to one event and never return, while others are willing to give up every Saturday into the distant future. Your program will need to be able to accommodate any type of volunteer that may come your way. Here are four steps to building out your volunteer program:
1. Recruiting volunteers
Finding volunteers is probably one of the trickiest parts of volunteer management. The good news is there's no shortage of people looking to volunteer. According to NCCS, over 25% of Americans volunteered in 2017 with the number of people volunteering continuing to trend upwards. Potential volunteers are out there – you just need to know where to find them.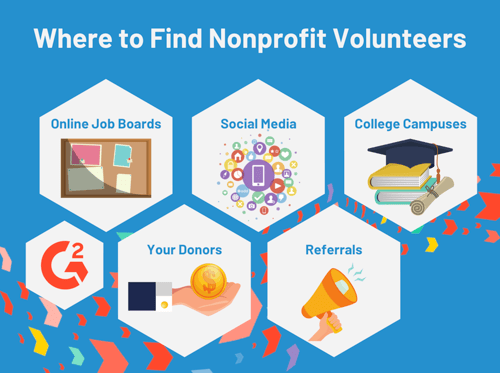 Let's take a moment and break-down why each of the above recruiting techniques works and what types of volunteers you might find from each.
Online job boards
The majority of people who are searching online job boards are looking for paid work: but that doesn't mean your volunteer opportunity will go unnoticed. For people looking to change careers or gain experience to aid their job search, volunteer opportunities are the perfect way to get your foot in the door.
These volunteers might not be as invested in your mission, as they are looking for a way to boost their resume: but that doesn't make them any less valuable. Your organization provides a way for them to get on the job training and they fill a need in your volunteer program. It's a win-win!
Social media
What makes social media perfect for recruiting volunteers is that it's visual, it's viral, and it's versatile. Simply posting photos of your organization or volunteering events can gain attention from people who have yet to hear of your organization.
Social media is perfect for recruiting volunteers because there are so many platforms to choose from, and they are free to use. Plus, you probably already have social media accounts for your nonprofit. Schedule a few posts each month promoting your volunteer opportunities and watch the sign-ups roll in.
Donors
Your biggest untapped volunteer resource are your very own donors. Don't believe me? The numbers don't lie! There are several reasons your donors are great potential volunteers: you have their contact information, they're invested in your cause, and you've built a relationship with them.
The key to turning an unengaged donor into a volunteer is to be selective about which volunteer opportunities you put in front of them. An easy way to gauge interest from your donors is to send out a quick survey and allow your donors to tell you their interest level. You might be surprised at the number of donors that respond!
Find a quick and simple solution for surveying your donors. Browse the best survey software on the market for free.
College campuses
If you think college students are too busy with classes to volunteer, think again. Many college students are looking for opportunities to build their resume, get involved in their community, and gain job experience. Volunteering with nonprofits is popular with college students because it's a low-effort way to achieve all of those things at once.
One easy way to recruit college kids is by contacting local service fraternities on campus and offering to partner with their volunteer program. Another quick tip? Attend campus job-fairs or move-in events and make sure your nonprofit has a table set up with information about your organization.
Referrals
Let's face it, you're more likely to give something a try if a friend has endorsed it. And that's why referrals are a powerful volunteer recruitment technique. Using your current volunteers as advocates for your organization is the ultimate secret weapon. The best way to do this is to empower your volunteers with talking points, information about upcoming events, and encouragement to act as a brand ambassador for your company.
Related content: Learn how to turn current volunteers and employees into brand ambassadors with these simple tips
2. Volunteer training
Once you've recruited your volunteers, it's time to train them. The number one complaint most volunteers have when starting a new role is that they feel directionless. When someone volunteers to work with your nonprofit, you need to let them know how to do the job they signed up for and let them know what it's important.
A volunteer training session can be a one-on-one chat with the volunteer manager, an e-book, an online training course, or an in-person session. The format of your training session will change depending on the number of volunteers you have.
Here's what your volunteer training should cover:
The overall organization, your mission, and who you serve
The job they will be doing (+technology they'll use)
Who they will be working with and supporting
Expectations, deadlines, required information
Why the work they're doing matters
This is the part of the volunteer onboarding process where you should collect your volunteer waivers. A volunteer waiver is a one-sheet piece of paper that volunteers fill out to provide their contact information and expectations. This should also show that the volunteer knows they are assuming the risk of injury while volunteering.
You need to safe-guard your business from potential liability when working with volunteers the same way you would with employees. Every volunteer working for your organization needs to have a waiver on file before they can begin working.
Before your volunteers get to work, they'll need to sign a waiver. We've put together a FREE volunteer waiver template to help get you started.
3. Communicating with volunteers
Ongoing communication with your volunteers is a key part of volunteer management. Your volunteers will need to know what opportunities are open, what hours they need to work, and what they are expected to do for a certain volunteering job. Creating an effective communication strategy for your volunteers will lead you down the path to success.
Here are a few ways to communicate with your volunteers:
Send out a weekly email newsletter
Keep your online postings current
Create a Facebook group
Communicate via text
Create a volunteer calendar
Call them directly
Send direct-mail letters
All of your volunteers are different and will prefer to communicate in different ways. It's important to learn how different people like being reached and adjust accordingly. That process might seem tedious but it will prevent you from alienating potential volunteers.
4. Empowering volunteers
You've recruited, trained, and communicated with your volunteers. Now it's time to set them loose and watch the fruits of your labor grow! A successful volunteer program is one where your volunteers feel empowered to do the work you've assigned them.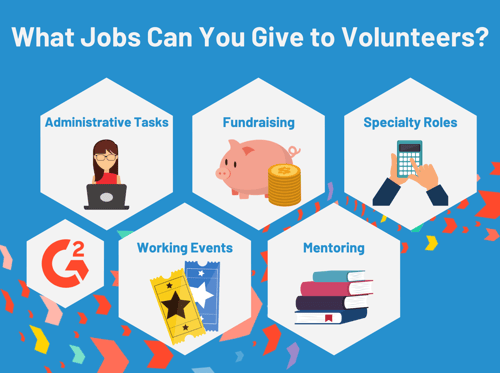 You can empower your volunteers by giving them the tools they need, being available when they have questions, and encouraging them when something goes well. Never underestimate the power of empowerment.
Volunteers might feel rocky on the job at first: don't leave them stranded to figure things out on their own. Dedicate as much time to empowering your volunteers as you do during the recruiting process. Remember, a volunteer manager needs to manage.
We've volunteered the information...
Now, it's up to you to put everything to good use! There's no one-size-fits-all volunteer management strategy. You're likely to hit some bumps along the way, but that's okay! Even a single step in the right direction will help turn you into a volunteer management guru.
Put these tips into action! Check out this article about the best free volunteer management tools for your business.