Nothing sells as well as visual content.
There's something so attractive about visual content that audiences are automatically drawn to it. This is what marketers take advantage of.
In today's world, the best way to sell your products and services is through visual content marketing.
What is visual content marketing?
A picture can say a thousand words; it is because of this reason that people stay interested in visual content for longer.
According to Microsoft, the attention span of every human being is less than 12 seconds, which is less than the attention span of a goldfish. This has definitely made the task of marketers keeping audiences engaged difficult. Because of this, marketers always have to put so much effort into creating engaging content.
The best way to get people's attention is to give them visual content because our brains can process visuals faster than text. Not just that, but when you hear information, you are more likely to remember it. If you are able to pair a relevant image with the same information, people can retain content days later.
This is why marketers rate visual content marketing as the best form of marketing.
TIP: Target your customers' pain points by harnessing the review data in your G2 profile — and address those problems in your visual content marketing to make it even more effective!
In this guide, we will provide you with some tips that can help you to create the right visual content strategy for your business.
Visual content marketing
Visual content marketing includes the use of images and pictures through which you are able to provide valuable information to your customers about your products and services.

Visual content marketing is known to include images paired with relevant information or text, brand images, infographics, screenshots, audio, and video content.
Why is visual content marketing important?
Let's keep it simple. Some of the main reasons why visual content marketing is considered important include:
Visual content has always been more popular and engaging than textual content.
It helps in attracting the attention of your audience.
It is one of the best forms of marketing to use.
Your audience can retain maximum information from visual content.
5 guidelines for a visual content marketing strategy
Now that you know what visual content marketing is and its importance, let's check out five important guidelines for you to follow.
1. Create your own images
When it comes to visual content marketing, the first rule is to create your own images to use. You don't always need advanced software or specialists to help you out.
Yes, they definitely help but you can create images using other simpler ways as well. For example, you can make use of ad design software, like Canva.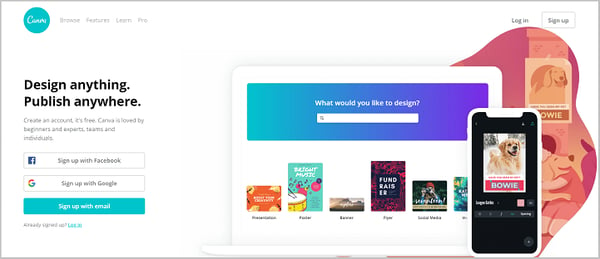 Interested in learning more about Canva? Read what others users have to say about it to help you make an informed decision!
When designing your own image, you should always start with a goal in mind. If needed, you can even look for inspiration. First, collect some ideas and then get started with your work. This will make your work much easier.
The main advantage of creating your own image is that you get the chance to tailor it according to your needs. You also get the chance to develop your brand's unique identity.
Creating viral content can do wonders for your business; keep this in mind when designing your own images.
2. Create infographics
Infographics are always attention-grabbing. Many marketers avoid using infographics because they think they're too difficult to produce. However, you don't need to be a graphic designer to learn to create a nice infographic. With a bit of practice, you will be all set.
Note: Use a lot of white space when making an infographic. White space doesn't have to be white. It's actually the free space between the content. Leaving enough white space allows the viewers' to feel comfortable to read your infographic.
The main purpose of using an infographic is to make the difficult concept easier to understand. Try to put as much information as you can in an infographic.
Learning how to communicate business products with infographics helps marketers explain their value proposition to potential customers in a simple and attractive way. Putting your products into infographics allows you to highlight your product hierarchy, illustrate the creation process, and much more.
Below is an example of an infographic I created a while back: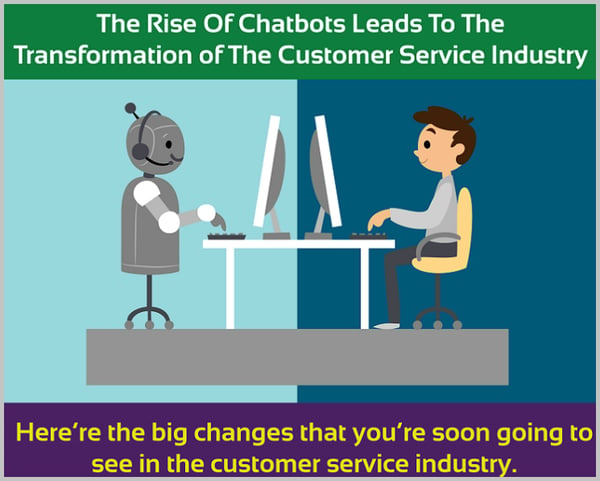 It even caught the attention of Larry Kim.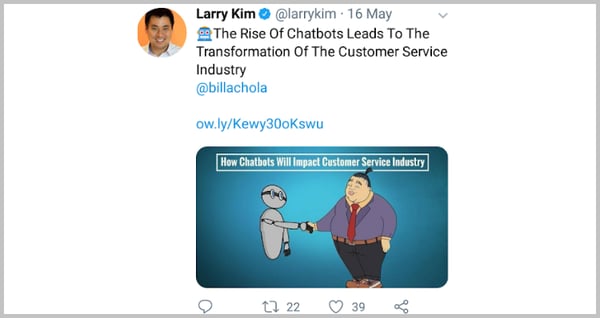 Try to focus on the keywords you are using for your infographics by conducting keyword research. The main advantage of using infographics is that it allows you to provide a large amount of information very quickly. So, why not use it in your marketing strategy to make it better?
3. Use memes
Memes have taken over the entire internet landscape. The good thing is that they're popular across generations. Statistics show that the average person spends about 100 minutes every day on social media. This is enough reason for you to make use of more memes in your marketing strategy. There are many brands that are using memes to bond with their customers better.
Below is a good example from Gucci. The brand decided to market its 'Le Marche des Merveilles' timepiece collection using memes.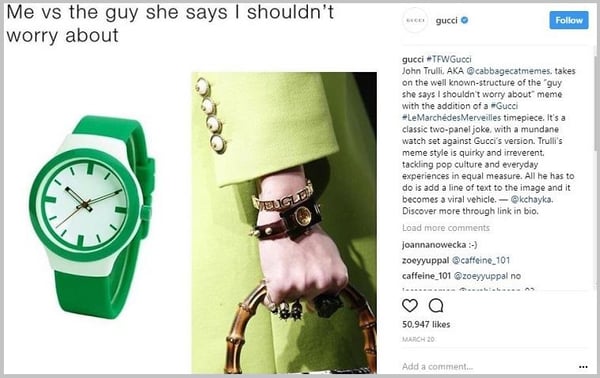 If you want to make your own meme, you can make use meme generators online to get started.
It's true that memes are all about humor; however, you need to make sure they are relevant to your brand. Also, they should be able to make a strong impact on your audience. Be authentic and your audience will thank you.
With the help of memes, you will be able to connect with your audience better and take your brand to a newer height.
4. Use screenshots in your blog posts
Screenshots are also important visual content. Screenshots can help you break up large blocks of text. This will spare your readers from going through the length of sleep-inducing text.
As an example, this picture from United Airlines was used in my article tips for reducing and managing emails.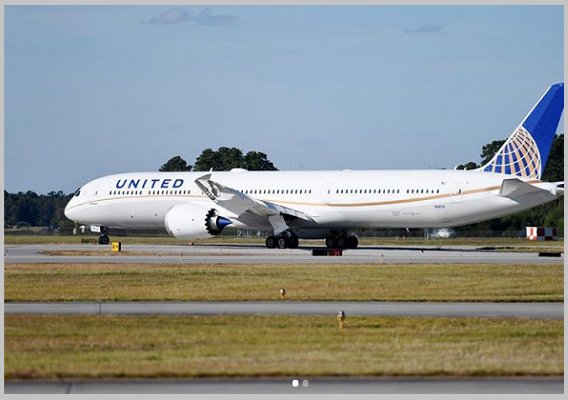 With the help of screenshots, you can make your audience understand better. If you have to explain a process or steps in your blog post, using screenshots is the best option. This will allow you to better communicate the process to your readers. Also, they will be able to follow along easier and faster.
5. Make videos
People above the age of 18 watch more YouTube during prime hours, making video an important entertainment aspect. Not only that, but according to a Cisco forecast, videos will represent around 82 percent of all the consumer-based traffic by 2021.
Another important point is that the majority of people watch videos from their mobile devices. Because videos are so popular, they have more potential to attract audiences.
When it comes to creating engaging video content, you should be ready with the right tools. Whether you use Apple or PC products, there's the right kind of video editing software out there for you.
Takeaways
Let's take a look at some of the marketing experts and what they have to say about marketing:
"Amazing things will happen when you listen to the consumer."
- Jonathan Mildenhall, CMO of Airbnb
"Our jobs as marketers are to understand how customers want to buy and help them to do so."
- Bryan Eisenberg, speaker, and online marketing pioneer
"Successful companies in social media function more like entertainment companies, publishers, or party planners than as traditional advertisers."
- Erik Qualman, digital leadership expert
These lines from the best of the marketing experts teach us what is important in marketing.
Over to you
The key to visual content marketing strategy is being creative. The more creative you get, the better you'll be.
Looking for the right marketing software for your business? Check out marketing software reviews to find out!