Good content can serve as the foundation for an incredible virtual community.
However, there's quite a bit that goes into making written, audio, and/or video content to help support your corner of the digital world. It's not as simple as pouring your heart out into a blog or microphone — though that has its own set of challenges — rather, good content is distinguished by the consideration of others rather than just your own creative impulses.
If you're looking for a more general overview of how to build an online community, G2 has written a guide to help you get started. Read on for tips and best practices sourced from some of the top content producing professionals on the web.
The 9 commandments of building a virtual community
We asked nine veteran content creators and community managers for advice on how best to build and maintain a virtual community. From marketers to independent bloggers, there should be something for everyone here:
I: Thou shalt understand thine audience
"The first step in building a community is understanding your audience. You need to think about who will benefit from your content. All quality content provides value in some way. Whether it solves a problem or expands knowledge on a subject, it's essential to understand what your audience looks like.
My best advice is to find a niche! Break down the big picture and carve out your small piece of real estate in an area that's being neglected. It's better to have 1,000 true followers than 10,000 disengaged and poorly targeted followers."
Nicole Bigar Orban, Entrepreneur and owner of Bigar Creative
II: Thou shalt connect with thine audience
"The best advice I received when I was starting out was to use every possible way to connect with my target audience.
I had success using social media and especially Facebook & Twitter. No matter what kind of content you create or what your target audience is, there are many helpful online communities where you can start making connections.
Now I even have my own Facebook blogging group which grows steadily!
Use the platform your audience is more likely to use and start from there! Of course, it will not happen overnight!"
Chris Kosto, Writer at Golden Bloggerz
III: Thou shalt be consistent
"We don't create video content but we are pretty consistent in making written content for our website's audience. We have grown our business primarily through content marketing, so I think we have a good idea on what newcomers can do to get a community around their content.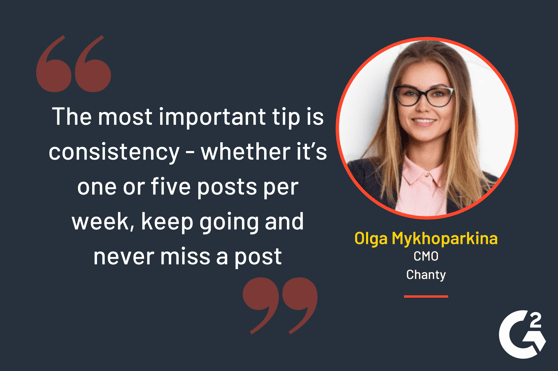 The most important tip is consistency - whether it's one or five posts per week, keep going and never miss a post. Second, be authentic. The internet is filled with listicles and useless content, give your own unique angle to a topic everyone else has already covered. Finally, listen to your audience. Follow the comments, look at the analytics, ask your readers what they think. Do more of what your audience likes, not what you think works."
Olga Mykhoparkina, CMO at Chanty
IV: Thou shalt speak plainly
The best advice I've ever received from my coaches and friends has been to keep it simple and to stick with what you know. Too many times content creators are caught up in the moment and attempt to put out several different formats and subjects. It's better to focus on what you know and love, rather than on what is popular or in the moment. You'll provide better, higher-quality content, and you'll attract a committed fanbase that will stick with you no matter what.
Jake Woehlke, Founder of Nomad In The Middle
V: Thou shalt use SEO
"If you're wondering how to make the online community around your brand, SEO is a perfect solution to it. When your content ranks higher on the search engine, people who are looking for content will stumble on it when searching for something. You will see your number of fans go up naturally as soon as you opt for SEO techniques.
Go out of your way to make sure your current is completely SEO optimized. Make sure you have followed all the right SEO strategies that help your content stand out on Google and other search engines. Posts should also be written in a way that makes search engines like them."
Snow Qu, Founder of Linking News
VI: Thou shalt be authentic
"The best advice i can give someone is to share the small stuff. The things that resonate with my readers are the small embarrassing things I talk about, be it weird childhood theories or cringe-worthy teenage geek stories. People love to share and if you lead by example, they'll open up and join you. It's scary to do that but it's what builds engagement and develops a following, the majority of my readers address me as if they know me."
Brain Heiler, Owner of PlaidStallions.com
VII: Thou shalt be content with steady progress
"Wherever you start may not be where you end up and that's OK. Be open to learning as you go and willing to explore. Learn from things that don't work and view it as what not to do rather than as a failure. It's not. It's just telling you that what you tried did not work for you. Move on.
Too often people start something and have the expectation of tremendous results. Do not put that pressure on yourself. If what you are doing is something that you are passionate about then you will do it even if no one is paying attention to you. Be willing to grow over time. Don't expect family and friends to rally behind you because whatever you do may not be their thing. That's OK. When you do not have a need for a particular outcome, you free yourself. You free yourself to experiment and change directions. Just because you start down one path does not mean you have to stay on it. You may find something else is calling you.
Allow time to pass as you grow and learn. Be ok with crickets chirping. If whatever you are doing is on your heart to put out into the world, do it. Hold the vision of what you want and don't get caught up in comparing where you are to where someone else is. Time is on your side."
Alanda Carter, Founder of AlandaCarter.com
Looking for more options and opinions on the best community management software? Check out G2's comprehensive online community platform software category page today!
VIII: Thou shalt lend your content a creative voice
"One of the best pieces of advice that I can give you is to give the content, whether its a video, an article or even a podcast, give that piece of content a voice. Creating a persona for the content means that the users aren't only interacting with information, but also a living piece that draws their attention at all times. There's nothing worse than reading something that lacks showmanship or listening to a podcast without any excitement.
Giving your content a personality means that it'll continue to develop a following all by itself. Without a character of its own, you'll be left with raw data that's useful but boring. And when content is boring it's dead, i pointless, and won't get any attention!"
Charlie Worrall, Digital Marketing Executive at Imaginaire Digital
IX: Thou shalt remain true to thine heart
"The world is an awesome place. No matter how bizarre your interest might seem, someone across the planet loves it with all their heart too. We make bonkers pop music that has resonated with people in Slovakia, China, Argentina and everywhere else. Just keep making the thing you love and your audience will find you. It doesn't happen overnight so persevere! Just remember you might have to be a barista, bartender, boom operator or butcher for a while. At the risk of sounding cliche; no matter what, don't give up. You got this."
Mark Lentz, Founder of Nice Legs
Go forth, mortals
A virtual community can do wonders for a brand, be it a representation of an individual or a global enterprise. The above tips can go a long way to making sure you've set yourself up for success with your content.
Looking to support your independent content creating endeavor? Check out our guide on securing a sponsorship!