Think about when you applied for your current job.
How long did your interview process take? How long were you waiting by the phone, excitedly anticipating that call from HR but also nervous that all of your hard work may go to waste?
And when you finally received that golden ticket of an offer, how long did it take until all of the introductions and induction rituals ended and you were actually productive at your job?
Let me bring you back to reality: this whole process takes far too long and costs businesses far too much.
As people in the HR and learning and development sectors, we spend so much time trying to find the right candidates and onboarding our new hires that we forget that we already have a superior talent pool hanging out around the water cooler.
So how can we get the most out of our current employees?
Upskill and reskill your workforce
Foster a culture of continuous learning and monitor employee skills so that we can accurately upskill and reskill our workforce. This way, when new positions are required, we can look inward to find the people best suited to the job.
And what if the market shifts or progresses and new skills are needed to do the same job properly? You can retrain your employees so that they have all of the skills that they need to knock their job out of the park.
Research from the Work Institute shows that the average cost of employee turnover is 33% of the position's salary - to put that into perspective, for a job paying $60,000 a year this would amount to roughly $20,000. In contrast, according to new data from the Lighthouse Advisory, 95% of learning professionals say that it takes less than $10,000 to reskill someone for another job.
Upskilling vs. reskilling
Upskilling is the development of additional skills to help make someone more valuable in their current role. For example, a software developer learning an additional coding language.
Reskilling is the development of significantly different skills to make someone suitable for a different role. For example, retraining a former cashier to work as a personal shopper instead
So why does all of this matter? We've compiled a complete rundown of the top reasons you need to start upskilling and reskilling your workforce and how to incorporate this into your 2020 learning strategy.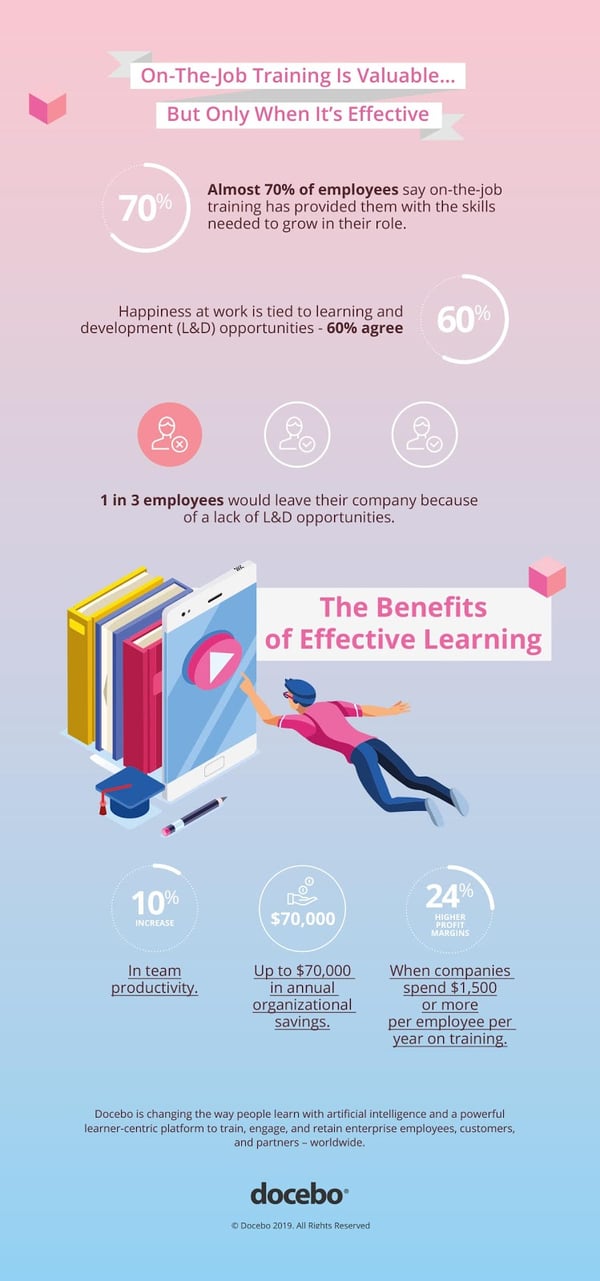 Now, let's look at seven ways upskilling and reskilling your workforce is key to achieving major success.
1. Reduce costly rehiring
When we took a little trip down memory lane at the beginning of this article, we only saw it from an employee's perspective. But what about this same story from your company's angle? How much did it cost them to find a suitable fit and then get them up and running?
Businesses must always be conscious of the return on their investments (ROI) if they want to be profitable, but according to the Aberdeen Group, while the average tenure of a top candidate is 1.2 years, the average payback period (time until ROI) is 2.2 years.
You don't have to be good at math to know that something doesn't quite add up. To mitigate this, concentrating on upskilling and reskilling your teams can drastically reduce your costs as you search within a pool of existing employees and accurately match their skills with the skills that the new role requires.
2. Retain your top talent
On a similar note, if you offer clear career progression within your company, top talent is much more likely to be loyal to you.
With millennials making up the majority of the workforce and 87% of them saying that professional development is very important to them in a job, we have to start listening if we want to attract and keep hold of them.
As the talent pool becomes more competitive, you have to offer something more than gym memberships and ping pong tables.
By offering learning and development programs aimed at reskilling and upskilling, your top performers won't feel the need to go outside of your organization to gain more knowledge, and you get to leverage their growing expertise within your company. Everybody wins.
3. Shield your business from market
Along with equipping your workforce with the skills they need to flourish, remember that a healthy soldier leads to a healthy army.
If you have a squadron of agile, knowledgeable employees who are used to adapting to new skills and retraining on the job, you set your business up for success when new market changes present themselves.
Enough with the battle narrative, but if you want to come out on top when everyone else is swallowed up in the flood, you have to be prepared.
Just as the fear of artificial intelligence (AI) has haunted many a L&D professional, successful companies have found a way to make friends with AI, learning how to use it to their advantage and see it as a tool to deliver highly-personalized learning programs.
Related: Read all about edtech – education technology – which is fueled by artificial intelligence, and see how it's impacting the world of education in 2020 and beyond.
4. Future-proof your business
Along with protecting yourself from possible disruptions in the market, upskilling and reskilling employees gives you the advantage of being able to project what skills your business will need in the future and start preparing early.
As you plan for your strategic goals in 2020 and beyond, you can see where your teams may need more work, define where skills gaps are likely to present themselves, and actively work at preventing them.
This preparation stops you from being taken by surprise and having to invest time and money into trying to catch up.
5. Align with business goals
As with all business-related strategies, your learning strategy should be fed by your business goals and objectives. Leveraging tools to analyze the skills and skills gaps of your employees will show you where you need to make changes and where upskilling and reskilling can be your best friend.
Being aware of what your organization wants to achieve over the coming year sets you up perfectly for an upskilling and reskilling strategy, where you can tweak your employees' skills to help you to reach these goals (while also helping them reach theirs!).
6. Reduce time to productivity
Just as when you first started your job, it can take a while to align with the business and start earning your keep. So how can you avoid this period of unproductivity?
You guessed it! Not only are your current employees already used to your internal systems, tech stack, learning platform, company values, and goals, but they already know how to do the core parts of their jobs.
In theory, they can start applying their newly-acquired knowledge as soon as they finish their course and, if they have any questions along the way, they already have pre-established relationships to lean upon.
7. Learning becomes your competitive advantage
The more you explore upskilling and reskilling your learners and they become Subject Matter Experts (SMEs) in their own right, the more they will start to see things from a different perspective and come up with new and better ways of doing things.
This new way of thinking stirs up your usual processes and increases efficiency, meaning that your teams can operate on full power throughout the year.
The obvious result is improved individual and business performance, which acts as a catalyst to spur new innovations and works to set you apart from your competitors. As businesses start realizing the power of learning, they unlock their secret weapon that makes them stand out in their market.
Adopt a skill-centric state of mind
While upskilling and reskilling seems like the cure-all remedy that we're all searching for, it's important to remember that this process needs to be a continuous cycle if you want to see real results.
Before you even begin to think about working on a upskilling and reskilling strategy, sit down with your C-Suite or senior managers and align with them on where they want the business to go in the upcoming year.
What are their revenue goals? What KPIs will each team be given to help the business reach those goals? What are their concerns? Without this background, how can you possibly decide what areas to focus on and have tangible measures of success?
Once your objectives and goals are aligned with that of the business, the next step is regular employee skills analysis so that you become familiar with everyone's strengths and where their skills are lacking. This information will guide you in finding the best candidates for your upskilling and reskilling strategy, and ensures that you will match the right person with the right learning program.
The final hurdle is scaling your strategy, something that learning technologies have taken off your plate. With a learning platform that can grow with your business, you can collect more data on your teams and provide targeted learning programs to your workforce.
Be the hero of your organization and set your business up for success by finding the right learning platform for you so you can focus on your biggest differentiator – your people!