Turn your passion projects into a full-time job.
Designers who are interested in the digital space and/or working in tech can leverage the skills they already to have to make a jump into the growing field of UI design.
What does a UI designer do?
UI designers, also known as user interface designers, work closely with user experience (UX) designer to create the best possible experience for the user. A UI designer is responsible for the visual aspects of a product and how a user interacts with them. UI designers help users get from A to B with buttons, swiping, or other gestures.
In short, UI designers create visual elements with human behavior at the center.
How to become a UI designer
Whether it's app design or web design (or both) becoming a UI designer can seem a little daunting at first, but here are 8 steps to get you on your way.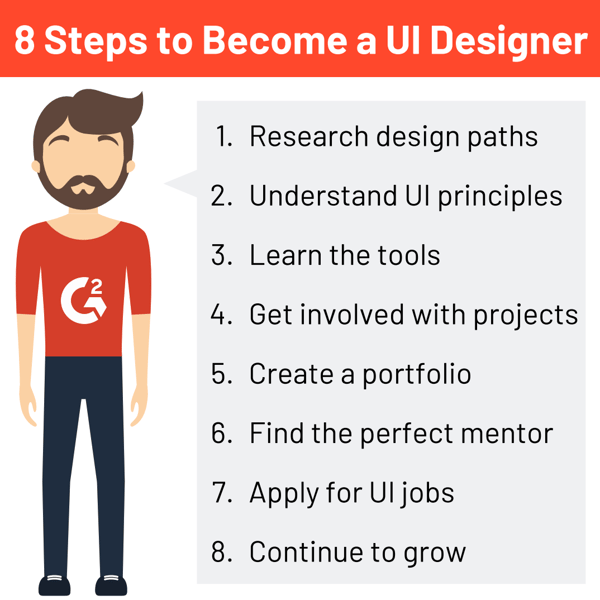 1. Research design paths
There are many career paths within the field of design itself and the direction you take should reflect your interests. Make sure UI is the way you want to go – related positions include UX designer, product designer, and graphic designer.
2. Understand UI principles
Before you start to design anything, you need to understand the underlying principles of design. Get a grasp on balance, alignment, proximity, repetition, and contrast to see how they are used in context. Only then will you be able to properly use them in your design.
3. Learn the tools
Design software is becoming a big component of a UI designer's role. These tools are meant to aid in the process, from the first sketch to the final prototype. These software categories include the various tools you should be familiar with.
4. Get involved with projects
Time to take on some real work (even if it's fake.) Create projects for yourself to practice your skills and hone your craft. If possible, try to do pro bono work in order to get client face time. These projects will come in handy for the next step – building out a portfolio.
5. Create a portfolio
This is your show-and-tell moment, and your portfolio should speak for itself. It needs to be well rounded and feature a variety of different design projects. Get inspired from designs hosted on Dribbble and Behance. Plus, it's a little peek at what other designers are creating.
6. Find the perfect mentor
Ahh, the road less traveled. We know is this a hard step, but it'll be worth it in the end. Not only does finding a mentor potentially give you a wider network to leverage, but they can also help you along the way. Ask for feedback on your designs. A third-party opinion is always worth more than what your family or friends have to say.
7. Apply for UI jobs
Start your job search when you're comfortable in your progress (and hopefully having at least a little fun.) It might take some time to find the right fit, but you'll learn a lot along the way. Interviews give you the opportunity to get a feel for the types of interview questions you'll be facing and what a future employer wants to see in your portfolio.
8. Continue to grow
Staying on top of industry trends is sage advice for any profession, but it's especially important in the design field. Things change so quickly, and you have to be ahead of it. Pushing your boundaries is part of the game.
UI designer vs UX designer
UI and UX are sometimes confused for the same thing, but they are in fact different areas of expertise and therefore require their own set of skills. While a UI designer is concerned with the fashion of a product, colors, fonts, etc., a UX designer deals with the function of a product.
In order to create a positive experience for users, products must have both exceptional UI and UX design.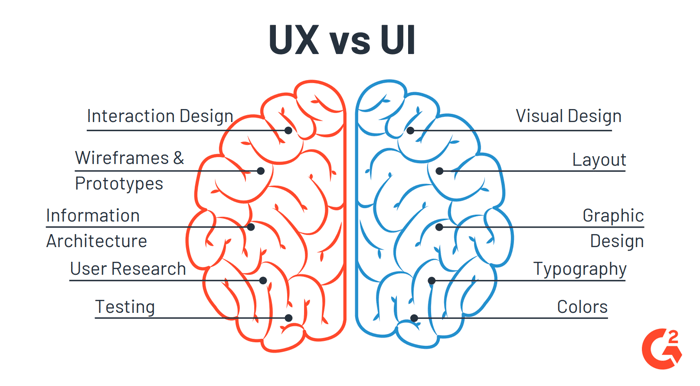 UI designer jobs
There are roughly 6,000 UI designer jobs listed on Indeed today. Ranging from junior to senior level, these positions are listed by companies in a variety of different industries, including tech, pharma, and more. Even Indeed itself is looking for a UI designer, Harvard (yes, the Harvard) is trying to build out their digital design team. Many of these positions are titled "UI/UX Designer" which isn't uncommon. Combining these titles and their skillsets is becoming a growing trend in this industry – especially for smaller companies looking to make a big impact.
TIP: Are you using the right job board software for your search? Learn which job search platforms are rated the highest according to real employers and candidates.
UI designer job description
Whether you're an employer looking to hire someone for your team or trying to get hired, here's a list of UI designer skills you'll most likely need to include or master:
Portfolio showcasing work in typography, design, visual storytelling, campaign concepting, and art direction across a variety of mediums
Comfortable working with design software, such as Sketch, After Effects, Invision, etc.
Exceptional design aesthetic and knowledge
Strong attention to detail throughout the design process
Open and receptive to creative direction and design specific feedback
Deep understanding of research, user interviews, and user testing tactics
Familiar with responsive websites, mobile web applications, and native mobile applications
UI designer salary
The average UI designer salary is $80,000 per year. There is a wide compensation range for this position, with junior-level jobs starting around $48,000 and senior-level or manager titles around $102,000. The average salary for the field of design is closer to $55,000 so it makes sense why there are designers that want to transition into a UI specialty. In general, the biggest enterprise companies with large design teams offer the highest salary for UI designers.
There's no turning back now
If you're passionate about pushing boundaries with design, it's time to make the transition into a career in UI design.
Design teams consist of more than just designers. Learn more about UX writers and their integral role in the process.