A functional help desk lies at the heart of customer support.
However, with so many options to choose from - including all the different types of help desk software - picking one can be quite a task.
The type of help desk you choose can have a drastic effect on the company and its support team. Let's look at this a bit more.
The type of software you choose can affect the productivity of support agents, as well as how they deliver support. Different types of software allow for different freedom of actions and choices. A poorly chosen type of help desk can hinder the company's growth. Certain types of software can have a high maintenance cost, while others offer more value for less money.
So, to help you the best option for your company, this post gathers the most common types of help desk software and explains what each of them can bring to the table. But before we begin, if you're new to help desk software, let's take a quick look at what it is.
Why do you need help desk software?
These days, there are so many ways a customer can address their problem. Some use email, others prefer Twitter or Facebook, and some like having a chat with a human. To effectively collect, manage, and resolve customers' issues, you can use help desk software.
With its help, you can collect messages coming from different channels under one roof and not let a single message slip through the cracks. Lastly, help desk software offers several ways to boost the productivity of support reps, eliminate manual work, and generally improve the communication between the company and the customer.
4 different types of help desk software
Now, let's get into the different types of help desk software and see which one fits your needs best.
1. Cloud-based help desk software
With a cloud-based help desk software, you can provide customer service and support functions in the realm of cloud computing. The transition from your existing system to the cloud is easy because of its inherent nature. You don't have to install software on your existing network. You can access all the features of a help desk by logging into a website. And since it is a web-based service, your staff can access it from anywhere in the world. All they need is a computer device/smartphone and an internet connection.
Why opt for a cloud-based tool?
First of all, a cloud-based help desk is easy to set up and maintain. You can have it up and running with some basic settings in a couple of hours or less. Second of all, it facilitates growth in several ways. Say you hired new staff. Just add them to the system, and they're all set to respond to tickets. You can also have support reps working from different locations, thus expanding your talent pool. Whenever you feel like the help desk needs a power-up, you just upgrade your subscription.
Disadvantages of cloud-based help desk software
Though providers invest a significant amount of money in developing reliable security systems, data breaches happen. So, opting for a cloud-based solution, there's always a risk of having your data exposed. When technical issues happen, the only thing you can do is wait for the service provider to resolve them. Limited feature-set can be an issue. If the software needs patches, updates, improvements, and so on, you have to wait for your service provider to make those upgrades. Since you need an internet connection to use the help desk solution, you automatically become dependent on the network connection.
2. Self-hosted help desk software
The self-hosted help desk is also known as an on-premise help desk. It is licensed proprietary software, and companies host and own this software themselves. Once a company purchases the license, they install it on their server and maintain it, which involves a one-time payment setup. The owner company has all the control to give or revoke access to the software. Plus, the company also needs an able IT team to take care of software maintenance, updates, troubleshooting, and more.
The benefits of self-hosting a help desk
Control and security are two things that come first to mind. You are in charge of how your data is stored, processed, and transmitted. This type of help desk would be an excellent choice for companies that work with sensitive data; for example: medical, insurance, and banking institutions.
Drawbacks of self-hosted help desk software
There are a few drawbacks, however. For instance, you need to maintain your own servers as well as have an in-house IT team to do it. Plus, self-hosting a help desk involves significant investments. For instance, you're responsible for backups and ensuring that no data is lost in case something goes wrong (power outages, hardware failures, etc.). On top of that, you must also follow security best practices to ensure that you are compliant with GDPR, CCPA, HIPAA, or other regulations that your company needs to follow.
3. Enterprise help desk software
Large companies use an enterprise help desk system as it includes features that most lower-tier packages do not. These include but are not limited to advanced encryption and security, multi-brand support, custom user roles, enterprise reporting, and sandbox. Enterprise-level software is also known to be more customizable so that enterprises could automate some more sophisticated capabilities of their teams.
Who is the enterprise help desk for?
As the name suggests, large companies can benefit and afford this type of help desk. Because the solution is larger in scale, companies can provide their customers and employees a one-stop-shop for solving issues both outside and inside the IT sector.
Disadvantages of enterprise help desk software
As always, there are also disadvantages. For one, it's expensive and might be overloaded with features, thus making it difficult to use. Next, might need help from a dedicated account manager to help get the most out of all the features. What's more, it also requires a specialist to maintain and customize the software.
4. Open-source help desk software
With this type of help desk software, you get access to the source code. You're free to use and customize it at your discretion. There are communities that work on the development of the help desk, as well as track and fix bugs. Companies can manage updates that these communities contribute rather than improving code by themselves.
The benefits of an open-source help desk
Open-source tools are generally free. There are no limitations or subscriptions, and you're free to alter your help desk at your heart's delight. Many users also think that open-source software is more secure and stable since there are so many eyes monitoring the updates.
Disadvantages of open-source help desk software
With the good comes the bad. Here we go. Open-source software is not always free. Developers can charge money for support, add-ons, and so on. OSS is relatively inaccessible to an average user. Unless you are an IT professional, you will need staff to customize the software for you. Plus, security of open-source software is under question, which makes it less safe and more unreliable.
5 ways help desk software helps businesses grow
Now, let's discover five ways different types of help desk software systems can help your business grow and perform.
1. Better performance and support
Say you had been using email to communicate with customers before you decided to implement a help desk. In this case, the software will help your team provide better quality service primarily by eliminating manual work and giving more clarity of who works on what issues. If you had already been using a help desk tool, then switching to a different solution can introduce your team to new opportunities and better toolset.
2. Self-service options for customers
The American Express reports that more than 6 in 10 U.S. consumers prefer solving simple issues through a website or a self-service portal. Nearly any help desk solution out there allows creating a web page with guides, tutorials, and FAQs for your customers to use to get their questions answered quickly.
3. More сlarity and better focus
With a help desk, everybody on the team can see who works on what issues and what issues are open. Therefore, the software helps reduce collisions. That's when two team members respond to the same message. And because you can leave private notes inside a ticket, team members can share essential details to let other employees stay informed.
4. Data-driven decisions
Whether it is ticket volume, team performance, customer satisfaction, you can have a help desk collect this and other metrics for you. You can then have a better understanding of which areas need improvement, who are your top performers, and what expectations your customers have. When you have real insights at hand, you're more likely to make decisions that drive results.
5. Preventing issues from happening
The help desk database retains all the problems. As a result, you can analyze what types of issues happen more often than others and take action to get to the root of the problem. You can also use all the records you have at hand to create new guides and tutorials or improve the product to eliminate the issue.
Features to look for in help desk software
Customer service is ever-changing, and so is the help desk software industry. The features you should look for at all times are as follows.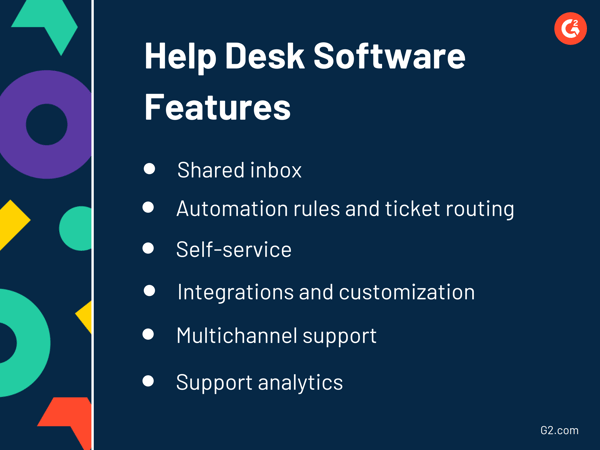 Customer context and personalization
Customers expect you to be aware of the previous interactions with your company as well as receive personalized service. In fact, one of the things that frustrate customers the most is having to repeat the same information to a different support representative. Therefore, in 2020 look for features like customer journey and interaction history.
Artificial intelligence
Starting with curating content in live chat and during email replies to resolving low-touch tickets, automatically prioritizing issues, and proactively starting conversations with customers. Artificial intelligence can be successfully employed to provide a prompt and personalized experience.
Video emails
Using videos in customer support is a relatively new practice. But as the popularity of video content grows, it gets more widespread. The explanation process for complex cases may be time-consuming and heavy to catch. Being able to record an instructional video and attach it to the ticket can be a game-changer in 2020. In case the help desk vendor does not offer this feature out the box, check their marketplace to see if there are any ready-made solutions you can implement.
Wrapping up
Choosing a help desk software that suits your business needs can be tricky. But not when you are aware of the features you need and the available options. Do your research and don't overlook the importance of trials and demos before you choose one.
Find the best help desk software solutions for your company's unique needs – only on G2.