Digital ecosystems can be thought of as a net underneath the emerging technologies featured in the Digital Platforms series — microservices, containerization and serverless computing are all components that fit within specific, decentralized business ecosystems.
What are digital ecosystems?
At the highest level, digital ecosystems are comprised of companies, people, data, processes and things that are connected by the shared use of digital platforms. These partnering ecosystems are created to enable collaboration and provide mutually beneficial results to all parties involved. The idea is to create a collection of flexible services that can shift around and quickly be adapted to the ever-changing needs of a business.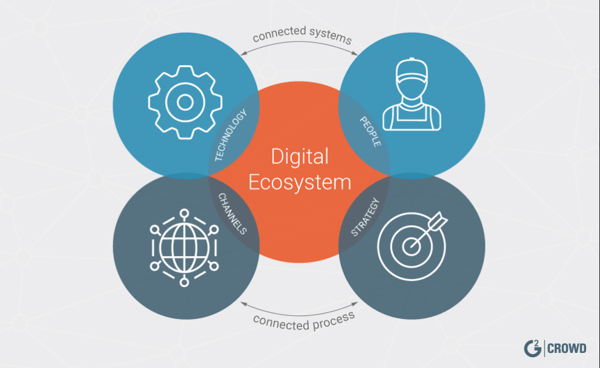 This type of distributed network allows technologies like blockchain, machine learning as a service (MLaaS) or even internet of things (IoT)-connected devices to exist as components within the ecosystem of a business, leading to more secure and intelligent networks that can be run and managed on third-party platforms.
New digital ecosystems will be created and utilized by forward-thinking business leaders at an increasing rate in 2018, as more and more businesses continue to integrate their core functionalities and applications with third parties and their platforms.
Leaders in technology are not only investing in companies, but also in long-lasting, fruitful relationships. When these digital partnerships are forged, companies are creating transformative digital ecosystems that will impact operations, products and the market as a whole.
The ecosystem approach
Departing from monolithic architectures and rigid business processes, digital ecosystems are made possible by digital platforms, which are made possible by the ultimate platform: the internet. Microservices, containers and serverless computing all contribute to the evolution of digital ecosystems, and the impending shift to more third-party involvement and business process as a service, or BPaaS.
Digital platforms, and the advancement of technologies that support and change them, are shaping the way businesses drive success. The agility, flexibility and speed offered by these platforms provides the infrastructure for modular digital ecosystems to exist. The key for business success, however, is not only in embracing the technological advantages of a digital environment, but also choosing and nurturing the right digital partnerships.
To oversimplify, these ecosystems are created through the business relationship one company has with another. GM's $500 million investment in Lyft and its rideshare platform is one such example, with a renowned car manufacturer aligning itself with a leader in ridesharing and the development of autonomous vehicles. This partnership created a new digital ecosystem for transportation, providing both companies with immediate and potentially future business advantages.
New digital ecosystems allow companies to be more agile and adaptive, with the burden of infrastructure management and other IT responsibilities taken off their plates. Entering a lasting digital partnership frees up time for businesses to build better strategies, as well as shift focus from short-term profitability to long-term growth and value creation. The push toward long-term value chains is driven by the idea of outcome as a service, or OaaS, a data integration tool, which integrates services with the products customers want in order to build packages that provide a better experience when grouped together.
Essentially, it creates services that are greater than the sum of their individual parts, with the goal being to provide the best possible user experience for the customer. The key component of OaaS is that it focuses specifically on the outcomes products provide to the customer, as opposed to the products that provide the outcome. For instance, instead of Nest selling you a thermostat for your home, they are in fact selling you a service that makes your house 70 degrees (or your desired temperature). Using this outcome-based approach, companies like Amazon, Google, Facebook and Apple strive to create "sustainable customer value" that leads to both increased customer retention and acquisition.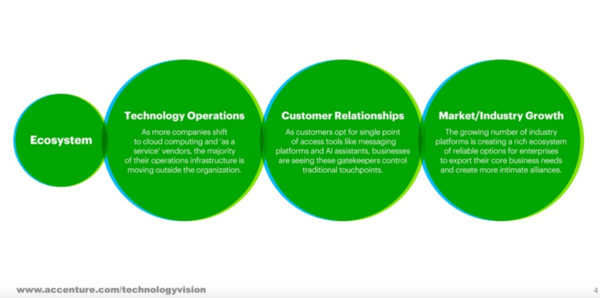 Embracing artificial intelligence and conversational systems, like messaging platforms and virtual assistants, and including them in a digital ecosystem as customers shift the way they communicate, seems to be a recipe for success.
As more and more businesses embrace an OaaS model and customer-centric approach, as well as migrate core applications and activities to third parties, they are met with a critical decision of who to trust with their business. This is so crucial because the decisions companies are making today will have a significant impact on their success 10 years down the road.
Forward-thinking companies shifting from self-reliance to distributed digital ecosystems need to have a strategic vision in mind when entering these digital partnerships. Looking at the big picture, businesses are faced with the challenge of determining who will influence the next generation of business services when building out their unique ecosystems.
The future of digital ecosystems
Digital ecosystems are not simply about building a digital business, but rather a connected and efficient digital society. Companies have understood this concept for quite some time, but 2018 should see more industry leaders focus on forging purposeful allegiances with platform providers.
The way businesses build their portfolio of digital partners is becoming increasingly important as more companies begin to adopt platform models. Companies will continue to invest in digital platforms to help provide better services and outcomes for both businesses and customers.
As discussed in the Digital Platforms post, "In the 2016 State of the Cloud survey, 95% of respondents reported using public, private, or hybrid cloud technology; and the CIO Strategic Partner Index run by IDC reports that 29% of IT leaders are spending more than half their IT budget on external providers."
The emphasis placed on new digital relationships helps businesses focus more attention on strategic initiatives that can help drive success. When an enterprise or other company decides to leverage a third-party platform to support business activities, thus creating a new digital ecosystem, they are choosing the partners they will rely on for years to come.
In 2018, more new digital ecosystems that include new technologies like IoT, such as connected homes, precision agriculture and connected health, are still relatively young. That being said, companies are and should be determining who their partners will be and where they will fit into their overall business plans. GM and Whole Foods took action early by making purposeful choices to best serve long-term business strategies.
Digital ecosystem predictions
Transition to the bot economy: Customer service will become even more bot-centric in 2018, with an increasing number of digital ecosystems featuring messaging platforms, connected devices or smart assistants to act as a middle man between buyers and sellers.

Adopters should see positive results: Companies utilizing multiple-industry ecosystems will increase their reliance on and should start to see return on investment in 2018.
More ecosystems featuring IoT: The IoT market as a whole should experience significant growth in 2018, bringing more IoT-connected technology into the platform economy.
Ready to learn more about the future of digital ecosystems? Learn about the impact cloud computing has on digital transformation in the workplace.