An effective knowledge base helps you in staying ahead of your customers' concerns and issues.
Most customers prefer browsing a knowledge base before they contact support. What this means is that a knowledge base is a powerful tool that can both please your customers by saving their time and reduce the number of common questions.
Building a knowledge base
In fact, 75 percent of respondents say that self-service is a convenient way to address support issues. So, how do you go about building an adequate knowledge base? This article will give you useful tips on how to manage knowledge, so it benefits your support team. First, let's go over some essential terms and questions.
Knowledge base vs. help center
Before you learn how to build a good knowledge base, you need to understand how it is different from a help center. These terms are often confused since they are so closely related.
In layman's terms, a knowledge base is a centralized collection of every single thing there is to know about your service or product. It can be internal, i.e., available only to the company's employees, and public. A public knowledge base is like an encyclopedia where customers can search for answers at any time of the day.
In contrast to the knowledge base, the help center has a broader meaning to it. The help center can contain a knowledge base, FAQ section, community forums, and so on. Since it has the verb "help" in it, users expect that there may be some documentation available along with someone standing by on headphones, ready to help them.
Which one should you go with?
You should go with both. Build a help center that contains a well-documented knowledge base and other components that can help your customers find a solution to their problem.
Choosing a knowledge base tool
Just like there are different approaches to building a knowledge base, there are multiple tools you can use. Each has its own unique features and can benefit your business in different ways.
Content management system (CMS)
A content management system is software that you use to manage and present digital content. Specifically, to create landing pages, publish blog posts, etc. CMS software may serve alright for the knowledge base.
Depending on the CMS you're using, you may start with installing an extension to add the knowledge base to your website. Once you have it installed, you can get down to customizing the look of the self-service portal and adding content.
Pros of managing knowledge content in CMS:
There's plenty of plugins and themes to choose from
Ability to Integrate Google Analytics or other tools to track website traffic and analyze user behavior
Ability to easily backup the content
Tagging content with metadata: this is allowing data input that classifies content (such as keywords) to make it easy to search
Numerous options for customization
Cons of managing knowledge content in CMS:
Basic knowledge of HTML is required
It is difficult to scale the knowledge base and categorize articles with a large amount of content
You can't restrict access to specific pages or review changes before they're published
If you have a lot of content, then hosting expenses might increase
The extension might not always work well with your website
Built-in help desk knowledge base
Nearly every modern help desk software has the knowledge base/help center functionality. Depending on the vendor, it can sometimes be locked behind a paywall. But more often than not, companies offer a free trial or freemium plans.
Opting for the knowledge base that comes with the help desk you pay for the convenience of it. The vendor has taken care of the essentials, all that is left to you is add your content.
Pros of built-in knowledge base software:
The software provider takes care of maintenance and updates
User-friendly interface
Ability to easily create self-service portals for multiple products
Support agents can easily contribute to articles
You're provided with training materials and product manuals
Built-in analytics
Ability to establish an approval process
Cons of built-in knowledge base software:
Depending on the help desk tool, there might be few levels of content organization.
Customizing the help center by yourself can be a pain
Not all help desks offer rollback, versioning, and other options that make editing a breeze
Standalone knowledge base software
Functionality-wise, it's not much different from the built-in help desk knowledge base. The advantage of standalone software is that it's more suitable for smaller companies who can't afford or don't need a full-stack ticketing system.
Pros of standalone knowledge base software:
Easy-to-use editor
The ability for collecting search queries and article insights
SEO-friendly content
Content access levels
Ability to customize the HTML/CSS code
Cons of standalone knowledge base software:
Might not integrate well with help desk and other software
Generally, few out of the box integration options
The setup process might be somewhat difficult/lengthy
Often overpriced, though targeting smaller businesses and startups
How to build an effective knowledge base
The number one thing your knowledge base should do is reduce customer effort. So generally speaking, it should be easily accessible, well organized, informative, and up to date. Let's take a closer at how you can achieve all of the above.
1. Decide on the core elements
The process of decision making here is contingent on the platform you will use for building your knowledge base. All the vital elements will already be included if you use a pre-designed knowledge base platform.
However, if you are building your platform, you will have to decide on the core elements to include. The following are some of the things your self-service portal ought to have:
An FAQ Section: When a customer has a basic query regarding your service or product, the first place he/she looks for an answer to that query is the FAQ section. By having one available, you manage to reduce their searching time. You must know how to create a useful FAQ page.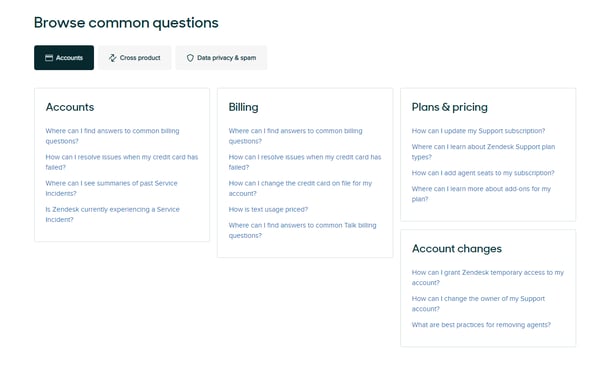 Contact support option. Regardless of how great your knowledge base is, it may sometimes fail to meet the expectations/needs of the customer. In such cases, it would be best to have a contact support option made available on the article itself. This makes sure that the customers do not waste any time looking for this option on your website once they realize that they require personalized support.

Search bar. Search bars are there on most knowledge bases and placed generally right before the list of the articles. By including a search bar, you facilitate people who are looking for a specific thing about your service or product. A search bar helps them find that thing easily.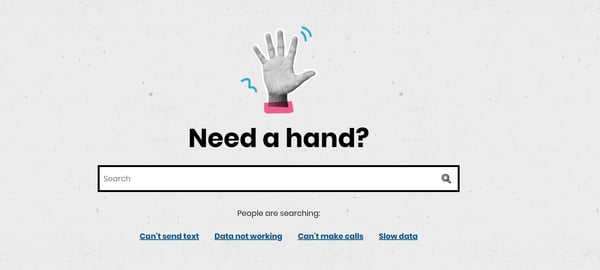 Apart from these core elements, feel free to include other things that you want such as a separate section for audio and video tutorials. What is critical here is that you have all your knowledge base components figured out before you begin writing the actual content for the knowledge base.
2. Follow a comprehensive article structure
There are some things you should keep in mind when it comes to the structure of your knowledge base content. To make the structure easy to follow, you should create a simple template and use it for every article in the knowledge base.
As a case to point, agree that all of your articles should follow a specific format and comprise the following things in the same order.
The main topic/problem: Describe the issue or the task that the customer is having.
Step by step procedure: Using simple and clear steps, describe the process of solving the issue or completing the task
Result achieved: What would be the result after the customer has completed the steps?
Related topics and articles
Bear in mind that the ultimate objective is to maintain your communication style very clear throughout the content of your knowledge base.
3. Make a list of topics
This is the crux of building your knowledge base. Making a list of topics might seem like an overwhelming task, but it is easily achievable if you start small. A couple of things you can put together without any prior research are:
The very basics: every basic question any individual would have about your service or product
The getting started process: the basic setup process a consumer goes through when beginning to use your product.
From this point onwards, you can delve further into the topics you want to cover in the different base sections. Talk to your sales and support managers to see what questions customers have. Or take a look at what content companies like your include in their knowledge base.
When jotting down the titles of your topics, bear in mind that individuals usually search using basic terms. Hence it is best if you use action words such as "Using" and "How to"
By knowing which sections and articles you will have in your knowledge base, you have the groundwork that you can start building on.
4. Create content guidelines
Whether you are writing the articles yourself or designating someone else to do so, bear in mind that simplicity is the key. By creating content guidelines, you ensure that your articles are clear, consistent, and concise.
Here are some general content guidelines that you should create for those who are writing down the content for the articles in your knowledge base:
Keep the text short and sweet: this helps people to swiftly scan and check whether the information they need is present in the text
Use lists and bullet points: by structuring information using lists and bullet points, make the text easy to read and follow
Use paragraphs: no one has the time to glean out vital information from pages and pages of text
Include links: by linking related articles, you can help users to find all the relevant information they need to solve their queries
5. Optimize for Google
If your organization's knowledge base is easy to access and locate via Google, you are very much likely to draw the attention of your potential customers.
Popular SEO strategies to optimize your knowledge base include:
Keyword optimization: This is targeting the right and highly relevant keywords that boost your visibility online and positions you exactly where your consumers are looking.
Metadata optimization: Including keyword phrases in your titles, URLs and meta description
XML sitemap for the knowledge base: This enables search engines like Google to rank the web pages from your website.
6. Use visuals
Visual content is a very effective strategy to enrich your knowledge base and keep the users fully engaged. The most popular and efficient type of visuals people use in their knowledge bases are screenshots of your service or product to provide a visual demonstration of how things work.
Moreover, you can also play around with other elements such as GIFs and instructional videos, and other visual elements that you feel would provide your knowledge base with that extra appeal.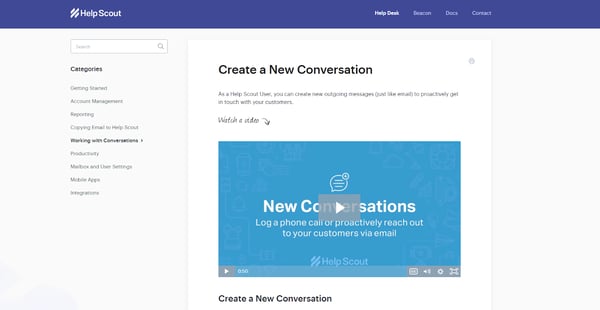 7. Set up analytics
Remember that your knowledge base should be informative and up to date. Analytics can help with that by pinpointing users' behavior and feedback. This, consequently, allows you to further grow and update your knowledge base. More specifically, by setting up analytics, you can find the most common search terms that customers type in the search bar in your knowledge base. This helps you to find exactly what your customers are searching for. You can also find out how users navigate through your knowledge base and support portal.
Conclusion
Don't try to make everything perfect right from the start. Begin with essentials and improve once you have customers start visiting the help center. Then, make sure to regularly monitor their behavior, update the existing content, and add new information.
By following the tips mentioned above, you can create an effective knowledge base for customers that tick all the checkboxes. While you're at it, explore knowledge management software solutions to help get you started.