Thought leadership is an overused term that's bantered about quite easily in the marketing world.
However, that doesn't mean it's not important. You have to know how to use it successfully to produce results.
It has the power to give your brand credibility and likability, but what does it really mean to be a thought leader as a brand? And how can it contribute to growth?
What is thought leadership?
In the context of content marketing, thought leadership is a strategy that leverages the expertise, experience, and passion inside your organization to answer the questions of your target market.
Content marketing brings great value to your brand, and a thought leadership approach can transform your content into highly readable and shareable material, increasing traffic to your site.
As a thought leader, your brand will command authority in your industry. Even more importantly, the answers you bring to the table will be taken seriously and can become a catalyst for growth.
It also inspires authenticity, which buyers crave in the modern world where everything is an ad. In fact, American consumers say authenticity is one of the top qualities that entices them to a brand.
Impact of thought leadership on growth
A recent study about the impact of B2B thought leadership revealed some key insights on the potential it has to drive sales. The research indicated three major takeaways:
The effect of thought leadership on sales is growing and more important than organizations realize.
When executed well, thought leadership can increase sales; if done poorly, it can actually be a risk to the company.
Most companies are missing thought leadership opportunities in the sales funnel.
Digging deeper into these thought leadership impact takeaways, research indicates that there are several challenges and many opportunities.
First, there is a huge disconnect between sales teams and executives on the importance of thought leadership. Sales teams lag behind on grasping how critical thought leadership can be to their bottom line.
Getting sales on board to understand the significance of thought leadership is vital to your organization's ability to use it for growth. You need to champion it in your organization to all parties. Alignment across the entire organization can make developing thought leadership content more seamless.
Second, thought leadership isn't just a tactic for acquiring new customers. It's also beneficial in cross-selling to existing customers. Your current customers already trust your brand, so when you position it as a thought leader regarding new products or services, they are more likely to listen.
There is more data that demonstrates how substantial the effect of thought leadership truly is. A report by Forrester found that thought leadership has more influence on buyers than all other forms of content marketing. Further, 35% of B2B buyers spend about one to three hours a week consuming thought leadership content.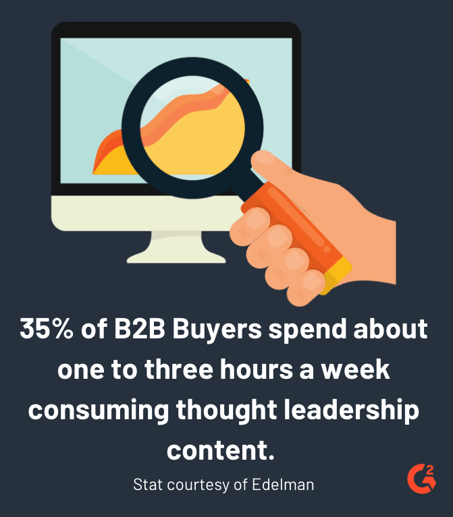 This is a desire for this type of content by decision makers. It's up to your brand to understand how to best use thought leadership to gain traffic, leads, and conversions.
Importance of consistent thought leadership
With almost every aspect of marketing, you want to be consistent. Thought leadership is no different. You don't want to randomly or erratically attempt to be a thought leader. You need a plan and a strategy. Positioning your brand as a thought leader, however, isn't easy. It involves working with your brand's subject matter experts (SMEs) and getting to know your audience.
Here are some tips on being consistent with thought leadership:
Understand your audience's motivations
What are their challenges and what do they need help with? By answering these questions, you can develop a thought leadership content marketing strategy that uses an SME's expertise to shift their perceptions.
By understanding your audience and how they are already trying to solve their problems, you can get ahead of the game.
Do lots of research
One important aspect of thought leadership is research. There are two types of research you should do. First, take a pulse on what other thought leaders in the space are saying, and then collect data that can substantiate your SME's perspective.
Be specific
Thought leadership isn't vague. It focuses on very specific topics and how to solve problems that aren't hypothetical. If it's too generic, executives and decision-makers will not stay engaged.
Focus on trust
Gaining prospects' trust is the objective of thought leadership content, which is another reason it has to be consistent, meaning the message must stay on course and shouldn't waffle.
Benefits of thought leadership content marketing
We've seen that thought leadership, when done well, has the ability to influence buyers and increase a brand's credibility, but what benefits can you expect?
Increased brand value
When your audience trusts you, it can immediately impact your brand's value. The perception will be that your company understands the industry, customer needs, and how to address challenges.
Attracting talent
Thought leadership can positively affect your internal teams as well, helping you attract and retain the best professionals in the business.
Offers exposure
Thought leadership can ramp up your PR efforts, especially if your content is cited by the press or other publications. Plus, your thought leadership content could lead to your brand's SMEs being featured in the news or at industry events.
Optimize your marketing spend
Content marketing is typically much less expensive than traditional marketing. The more you invest in thought leadership content marketing, which is really just an investment in your content team and SMEs, the less you'll waste on outbound marketing tactics.
Now, it's time to talk about the specific strategies for using thought leadership to grow your business.
Using thought leadership to accelerate business growth
First, it's important to consider that you won't become a thought leader overnight. It takes time to build your foundation. With these strategies, you'll be well on your way to becoming a credible source in your industry.
Ground our content in facts and opinions
The thought leadership content you create should be based on facts and opinions. You want data and research to support the points you are making, but you should also cultivate your own point of view. Regurgitating data won't give you credibility. Interpreting that data through a lens of experience will.
Ensure your perspective Is unique
Along with creating that point of view, you also want to make sure it's unique and not just a carbon copy of what everybody else is saying. Think about what makes your brand expertise different, then use that to create more thought-provoking content.
Address the entire sales funnel
Thought leadership content should be multi-faceted. Many marketers see it only as a tool for the top of the funnel, but that's not it's only application. As buyers get closer to making their decision, you should continue to use thought leadership to nurture the relationship and create more credibility for your brand.
Make content easy to understand
Remember that your audience is not made up of experts on industry challenges. Your brand is the expert, which means your audience may not react well to internal jargon. It's also easy to come off as condescending in thought leadership because you "know" all the answers.
You have to be inclusive in your content and make it easily digestible to your audience, regardless of their level of knowledge. Otherwise, it might come off as disingenuous.
Always be relevant
What's happening right now in your industry? You need to choose topics that are impacting your buyers right now. They need to know you have answers and ideas on how to overcome challenges that are derailing their business. If you aren't timely and relevant, your audience may not think you are in touch with the industry.
Be concise
While you could probably go on for days about your brand's expertise, you should keep in mind that shorter is often better. Getting to the point and delivering content that can be read or viewed in only a few minutes is often a good first step to getting a buyer interested.
Longer form content should also be part of your thought leadership content marketing plan, but those eBooks and whitepapers will probably be more influential down the funnel.
Have a distribution strategy
Your thought leadership content isn't going to help you grow if nobody can find it, so you need to define a distribution strategy. You want your content on as many platforms as possible. This means sharing the original content on a variety of social media platforms as well as other sites like Medium, which allow you to publish posts.
Better yet, use content distribution software to disseminate content to online audiences across multiple channels.
You can also consider things like guest blogging for sites, editorials, and being featured on an industry-specific website.
In a sea of questions, be a thought leader
By employing these strategies to bolster your thought leadership content marketing, you should be able to see discernable ROI from your efforts. As you continue to create content that has a strong message based on experience, data, and research, your audience will be more inclined to engage with you and see you as an expert in the field. When they are ready to buy, they'll go with a brand they trust.
Want to learn more? Read related content about inbound vs. outbound marketing.