Switzerland's startup scene is vibrant, exciting and expansive.
The variety of startups that exist in Switzerland is just as staggering as the fact that, despite the country's high cost of living, it's not startup barren. For example: On one hand there's Monetas, a startup that's rolled out a cryptocurrency platform. And then, on the other hand, there's FELFEL, which has the mission statement: "Free people from mediocre food at work." According to Forbes Magazine, the reason for its position as a European startup hub is because Switzerland "has a robust economy, and can attract the investment needed to drive innovation in digital technologies."
Swiss Tech and Startup Sector
However, where Switzerland excels is in scientific, technological research. Whether the research is in space, physics or earth sciences, the legacy of the place is staggering. (CERN, I'm talking about CERN.) In fact, the Swiss federal government itself supports the Swiss National Science Foundation, a private research funding organization that prides itself on the highest quality of research.
Switzerland ranks second (SECOND!) in The Global Entrepreneurship and Development Institute's "Global Entrepreneurship Index." This Index measures 137 countries on the health of their entrepreneurship ecosystems. You know what other countries are in the top five? The U.S. (No. 1), Canada (No. 3), the United Kingdom (No. 4) and Australia (No. 5).
This makes sense, considering that in 2016 Switzerland has, as a direct answer to San Francisco's Silicon Valley, rolled out a network of technology parks. Each of the parks (there are five in total) are located next to either a university or a research institute, and are meant to serve as incubators for startups. It seems like the whole of Switzerland (even the government and finance sectors) has put serious investment into incubators and accelerator programs. There's even a Girls Who Code movement in Switzerland called Girls in Tech: Switzerland. Its hashtag is phenomenal: #StartHerSuccess.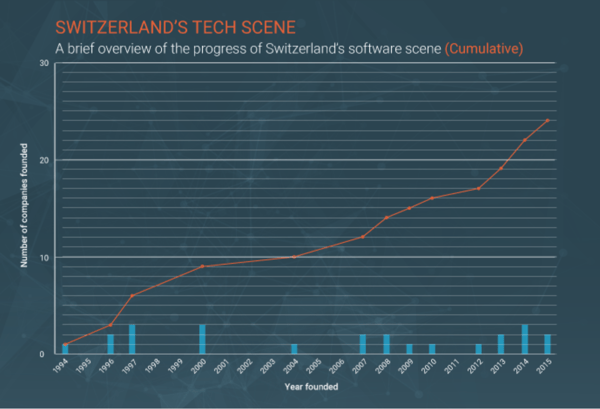 Note: Only software vendors on G2 with headquarters currently in Switzerland are included in graph.
---
With Switzerland's effort on technology and entrepreneurship, it's no wonder why it has emerged as a tech hub. We pulled together a list of the top-rated products on G2 with parent companies headquartered in Switzerland. The following list is ranked by real user satisfaction. To qualify, a company was required to have a product with at least 10 verified user reviews.
For each qualifying product, we dedicated a profile to give an overview of what it is and what it does, and to recognize that company's culture and history. All the data included comes from G2's near 750,000 verified user reviews, or from publicly available sources and sourced data such as LinkedIn, Crunchbase and Glassdoor. In all, 27 Switzerland B2B companies are represented across a variety of categories, from Business Intelligence to Content Delivery Network to Reference Management. Below, discover the most impactful B2B companies fueling Switzerland's bustling tech environment.
Top B2B Switzerland Tech in 2019
Pretty much anyone who's had to wrangle peers and coworkers for event attendance has probably used Doodle. It's a web-based tool where one person suggests dates, places or preferences, and they invite participants to vote on the best option. In 2011, Doodle launched MeetMe, a personal scheduling tool.
And in 2016, Doodle acquired Israel-based startup Meekan, embracing the company's artificial intelligence-driven chatbot into its platform. Doodle is simple to use, as determined by reviewers on G2 . The product has received 70 reviews to date and raked in an average 4.6 out of 5 stars. The company's headquarters location is in Zurich, Switzerland, with a total of 27 employees.
---
KeyCDN is a high-performance, HTTP/2 ready content delivery network that leans on its 25-plus POP (points of presence) strategically located around the world. In addition to advanced features like instant purging, RESTful API, CMS integrations and two-factor authentication, KeyCDN offers users pay-as-you-go pricing. Via content delivery networks, businesses can ensure better performance without necessarily disrupting their infrastructures or compromising existing security settings.
KeyCDN personally operates 10 POPs throughout Europe, with an 11th POP planned in Poland. While KeyCDN is based in Switzerland and is a leading European CDN provider, the company and product serve to accelerate users' content all around the globe. Recently, KeyCDN released their new point of presence (POP) in Poland, which will work to decrease latency and speed up content delivery. The product received 4.5 out of 5 stars based on 32 reviews on G2 to date. The company's headquarters location is in Winterthur, Switzerland, with a total of 5 employees. KeyCDN was founded in 2012 and remains a private company.
---
BOARD is a comprehensive, all-in-one solution that provides enterprise businesses with business intelligence, performance management, and predictive analytics. BOARD's overall mission is to unify all required business operations functionality for decision-making into a single, logical platform. Hence why BOARD users can create databases, process models and simulation applications without a single line of code.
The product has received 28 reviews on G2 to date, and an average rating of 4.7 out of 5 stars. The company's headquarters location is in Chiasso, Switzerland, with a total of 376 employees. The company also has branches across the globe, including Australia, India, Singapore, the United Kingdom and the United States. BOARD International was founded in 1994 and remains a private company.
"We are extremely proud to be included in the list of best tech companies in Switzerland. BOARD International has been headquartered in Switzerland since its foundation more than 20 years ago. Since inception, BOARD has developed its software and conducted operations from Switzerland. Recently, the BOARD platform, the leading decision-making software for unified BI, CPM and Predictive Analytics, was officially certified as "Swiss Made Software," by SwissMadeSoftware.org as well. G2 's evaluation further confirms that our customers appreciate and value BOARD's approach to decision-making processes. We see this international recognition as an opportunity to further improve the quality of our product to deliver exceptional service to our valued customers."
– Giovanni Grossi, BOARD International CEO
---
4. Fookes Software

Product: NoteTab
Category: Text Editor
City: Charmey
Founded: 1996
Employees: n/a
Webmasters can make NoteTab fits their needs, whether that need is for a versatile text editor to replace Microsoft Windows' text editor Notepad, or to leverage a lightning-quick HTML editor. NoteTab has garnered multiple awards for its text and HTML editor from outlets including PC Magazine and PC World. Like its name states, NoteTab is a tab-oriented text editor and even uses a multi-color system for users to tag HTMLs according to link or text.
The product has received 4.8 out of 5 possible stars based on 18 reviews on G2 . The product was created by FOOKES Software, a company that specializes in text data processing and email processing. FOOKES Software's other products include Aid4Mail and Easy Thumbnails. FOOKES Software's headquarters location is Fribourg, Switzerland, with a total of 5 employees. FOOKES Software was founded in 1996 and remains a private company.
"We are proud to be recognized as a top Swiss B2B company. For us, quality is very important and we strive to ensure our software meets the quality standards Switzerland stands for. We think the future is bright for Swiss tech companies, and we are lucky to operate in a country that attracts a wide array of technical and business talent. We look forward to seeing Swiss software companies continue to innovate and lead on the world stage."
– Eric Fookes, CEO and Founder at Fookes Software
---
SonarQube provides the capability for continuous system inspections, offers a sensitive code analyzer that detects issues, provides a central place to view and access code rules, and integrates with DevOps solutions. The product also has a SonarQube Community, where users can join in on discussions and feedback, as well as become contributors. SonarQube offers tiered plans and pricing, which includes a developer edition and an enterprise edition.
The product has received 10 reviews on G2 and a 4.6 out of 5 star rating overall. The product was was created by SonarSource, a company that provides solutions for continuous code quality management. SonarSource's headquarters location is in Geneva, Switzerland, with a total of 68 employees. SonarSource was founded in 2008 and remains a private company.
---
pCloud is a cloud-based file storage solution that, in addition to freeing up space on users' computers and laptops, provides an encryption option (pCloud Crypto) that restricts access to the one host user. pCloud Business can be adjusted to company need, and optimizes workflow and work processes by maximizing collaboration and communication across an organization. pCloud offers users both desktop and website versions to manage their documents.
The product has received 14 reviews on G2, and a 4.5 out of 5 star rating. From the very beginning, the company wanted to provide an easy-to-use, comprehensive cloud storage solution that didn't require the user to be a technical genius. pCloud's headquarters location is in Baar, Switzerland, with a total of 31 employees. pCloud was founded in 2013 and remains a private company.
---
Citavi is a reference management solution that is geared towards knowledge-oriented companies, universities and research institutions. Citavi has a well-oiled database search system, easily manages and imports PDF files, and facilitates the creation of reading or editing privileges on team members' projects. And while Citavi's support comes in English and German, the solution itself is multilingual.
The product has received 14 reviews on G2 , and garnered a 4.8 out of 5 star rating. Citavi is produced by Swiss Academic Software, a computer software company, with total of 12 employees. The company's headquarters location is in Wädenswil, Switzerland. Swiss Academic Software was founded in 2004 and remains a private company.
---
Other Swiss B2B Software Companies
Only seven B2B Switzerland software and tech companies had enough real user review data to be highlighted above, there are many other Switzerland startups that are impacting the Swiss SaaS-ecosystem. Here's a quick overview of other Switzerland software companies along side their total funding and founded at date.
This post was originally published in December 2017 and has been updated with new data as of June 2019
Can you guess top 100 software companies in Europe, the Middle East, and Africa?