Streaming has fundamentally changed the way we consume media.
A streaming service is an on-demand source of online entertainment that allows consumers to access audio and video content. The providers of these services require membership fees that typically take two forms: either pay-per-view or subscription. However, free streaming is readily available in the form of user-made content on platforms such as YouTube.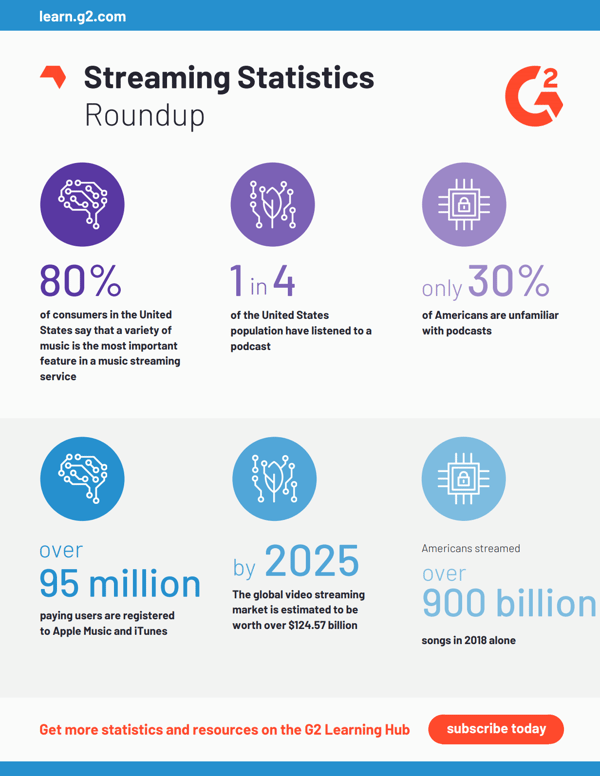 The streaming industry has undergone tremendous change and is expected to continue to do so for many years to come. It is at the forefront of how we consume media and being aware of the ways in which it is utilized can be a valuable asset for marketing campaigns and thought leadership in consumer practices moving forward. Feel free to skip ahead to:
2. Podcast streaming statistics
Streaming statistics for 2019
The following numbers and statistics provide insights into how streaming services have been used over the past few years and how they're likely to evolve through the remainder of 2019 and beyond.
Music streaming statistics
Looking to stream fully licensed music for your brand? Check out G2's reviews of business music software to get insights into what's best for you!

General statistics
Music streaming and monetization
Podcast streaming statistics
Choosing which audio editing software to use for your podcast is almost as important as deciding what to talk about.
Video streaming statistics
Looking for a good place to store your video content? Find the video hosting software that will meet your needs!
General video streaming statistics
Live-streaming
Video streaming platform usage
Mobile video streaming
The power of choice
While the uses of streaming services might seem obvious at first glance, a lot of valuable insights can be gained from taking a deeper dive into the medium. It's up to you to turn this information into a way to effectively leverage the ever-growing power of streaming services.
Looking for more information on all things tech? Check out our tech content for all the knowledge you could need!