Would you jump off a bridge if your friends did?
This age-old question is rooted in some truth. If my friends all jumped off a bridge and rated the experience as 5 out of 5 stars, I'd do it. Seriously, I would. And I'm not alone in this scenario. In fact, 72% of customers don't take action until they've read reviews, even when these reviews are from complete strangers.
Staggering facts as such prove the value of using social proof to drive sales in anything from your e-commerce shop to your brick-and-mortar store.
Social proof definition
Social proof, also known as social influence, is a psychological phenomenon that assumes people take action based on the actions of others. In the context of marketing, it means that if everyone loves and buys one product, others are likely to jump on the bandwagon and purchase the same product.
In this article, we'll cover what social proof really is, the types of social proof, and some examples of social proof so you can start implementing it into your business strategy. If you're here for some specific information, jump ahead using the links above.
What is social proof?
People want to be reassured when making a purchase. It's simple as that. If someone else used a product or service and hated it, then you'll know to avoid purchasing that product or service.
You can have the best product, the most prepared sales team, and incomparable customer service specialists, and still be missing your goals. That's where social proof comes in.
Social proof pushes consumers from a lead to a sale. It influences shoppers in ways that are impossible for a brand to do through traditional advertising campaigns.
Tip: Social proof and bandwagon advertising go hand-in-hand. Learn how to use them both to improve your marketing strategy.
There are five types of social proof that you can use to drive sales. Choosing one depends on your budget and available content, like reviews.
Types of social proof
Think about your target audience when choosing a type of social proof to implement. Are they the type of people that will buy anything a Kardashian endorses, or are they skeptical and more trusting of a close friend? Insights like these will inform your decision.
Crowd-sourced
Ah, the power of the crowd. This type of social proof usually uses numbers to show either the number of reviews, users, or followers a brand has. If these numbers are high, use them on your website and marketing campaigns. No one wants to miss out on something thousands of people love.
Celebrity
This is one we're all too familiar with. It's when a celebrity either appears with the product on social media, mentions the product in an interview, or is in advertisements for the product or service. Be sure when using this strategy to be wary of making false claims and know the difference between libel and slander.
The wisdom of your friends
Leveraging the wisdom of friends is a difficult tactic, but once mastered, it has high conversion rates. You can do this by increasing your number of social media accounts, because if someone sees that a friend liked or shared something from a brand, then they are more likely to check it out. Use all of these metrics to create user-generated content.
Expert
Experts are also a very trusted source. This is why Aveeno says they are the #1 dermatologist-recommended lotion. Expert social proof is most important for medical products or services, but can also be useful for anything that needs more explaining.
Examples of social proof
Since the bread and butter of G2 is hosting a platform for authentic consumer reviews, and because I'm of course very familiar with G2, I'm going to use the homepage to point out examples of social proof.
Don't have your profile yet?
Create your free G2 profile in and connect with millions of buyers seeking social proof regarding B2B software and services.
I've never gone through G2.com and analyzed it for social proof, but wow. We are using every type of social proof across our website. See below how you can integrate social proof into your website in a simple, yet effective way.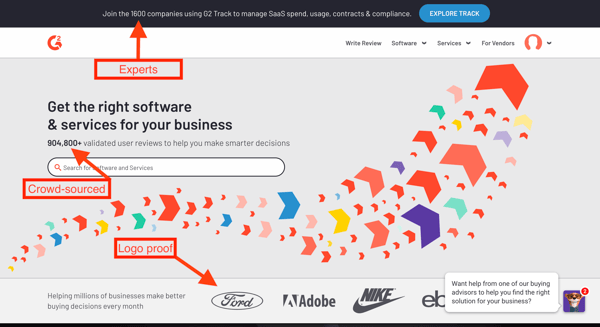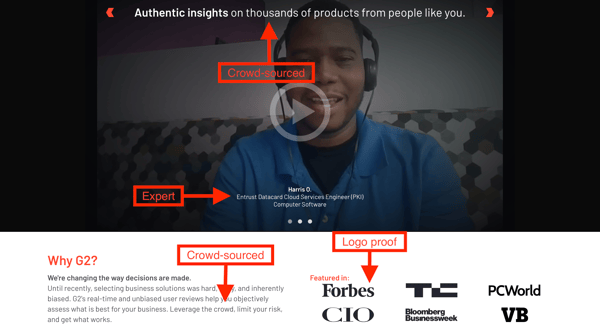 Follow the pack
With the public's trust declining and the proliferation of information, it's become difficult to make purchase decisions. Through leveraging social proof, you can increase both trust and sales.
Are your reviews tanking from a PR crisis? Learn how to recover with six simple steps.