Text marketing has been continually growing in popularity with businesses of all sizes, largely due to the ability to reach customers on the go as well as having an extremely high open rate.
However, there's a lot more to SMS messaging than a simple text message. Text can be used in a variety of ways to help your business grow, provide customer service, collect feedback, and more.
SMS marketing ideas
In this article, we'll break down some of the creative SMS marketing uses and messaging features.
1. SMS polls and voting
Using text message to gather feedback can work for almost every type of business or service. By texting your list options to choose from, respondents can cast their votes by replying to your text message. When someone replies with one of the options, you will see the results in real-time.
Use case: Retail can use text voting to ask customers which types of items they want to see more of a selection of.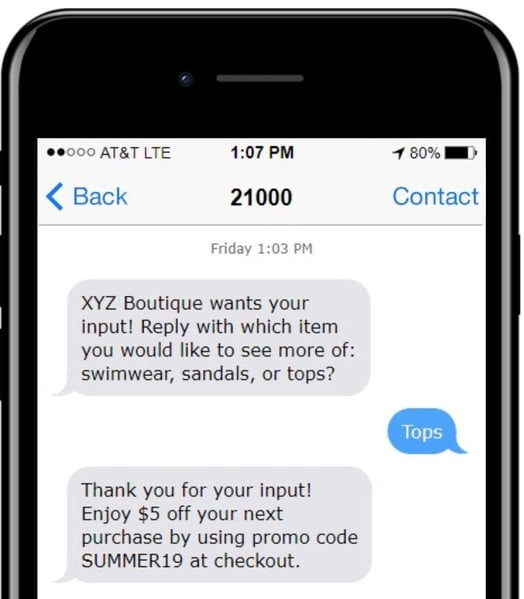 The possibilities are truly endless with text voting. Many text services allow you to view the results of the poll on a graph in real-time, which is great to display at live events or in a classroom setting.
2. Text to win and randomly select a winner
Host a text-to-win or a giveaway using SMS. If your business does giveaways, implementing the contest using text is a great way to automate the process.
You are able to determine what time and date the contest will finish. You can also determine the number of winner(s) you would like the system to select. The system will then randomly select the number(s) for the winners and send out the winning text message that you have set up. This can be a coupon code to redeem online, a winning text asking them to reply with their address to be mailed the winning item, a text asking them to visit your location and present the text to be awarded the winning item, or whatever fits your business model and giveaway.
The best part about hosting a giveaway using SMS is that all of the entrants will now be part of your text club that you can use to re-market to in the future.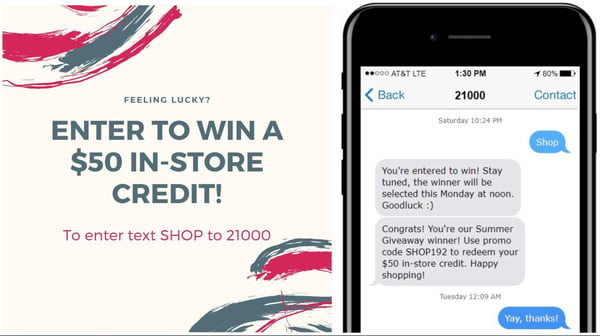 3. Two-way messaging
With SMS messaging, you are able to mass text your subscribers or groups and when any of those people respond, you will receive their response instead of the entire group.
This is great for answering customers' questions or scheduling an appointment. The inbox will contain the entire thread of each contact's conversation so you are able to keep track of the conversation over the term they were a part of your text group.
Some businesses choose to provide customer service via text message, and many consumers report they would prefer to communicate with a business via text message rather than a phone call or other method of communication.
4. Group segmentation
With SMS, you are able to segment your customer contact list by setting up multiple keywords or groups. This is great if your business has multiple segments to reach.
For example, a school could set up groups for parents, administration, and students. By segmenting these groups, you are able to send relevant messages to the respective groups. Send students a reminder of a test or send administrators reminders about a training course.
Text message group segmentation works great for many business types, but not all businesses have a need to segment their contacts.
TIP: Read our roundup of SMS marketing statistics to get a better idea of how many people actively use SMS for their marketing campaigns!
5. Data capturing
You can use SMS messages to collect other customer data, such as email addresses and birthdays. There are two ways to collect this information: text message or website widget.
If you choose to gather the data using text messages, you would text your subscribers and ask for them to reply with their email address or birthday. When a subscriber completes that action, their contact information is automatically updated with their information.
The easiest way to collect this information is by using a text website widget like the example below that gathers all of this information in one place and will update the contact's information in your account.
You can also choose to integrate your text message system with your email provider so that those emails import automatically to your email list. Alternatively, you can download your contact list and upload them manually to your email service, even though some people might question if SMS is the new email.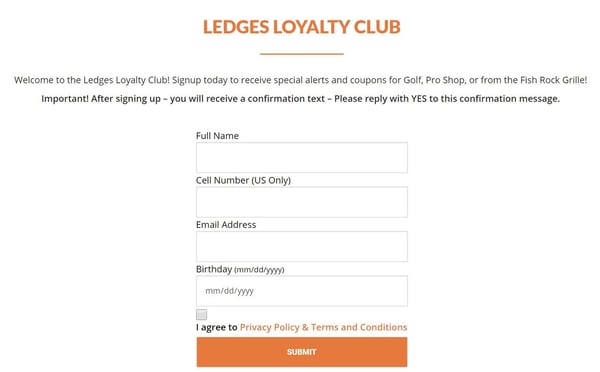 6. Gather reviews
You can use text to gather reviews for your business or service. By texting your list with a review link to gather reviews on Google or any other platform you'd like to gather reviews for your business.
This is a great way to engage with your text following and get their input on your business or services.
7. Drip messages
You can set up text drip messages to go out to your text list at whatever intervals of time you choose.
For example, you can choose to have a second message go out to the subscriber a week after the initial opt-in, and then a month after that, and so on. This makes your marketing messages automated.
Use case: An auto shop could choose to set up drip messages based on a customers oil change dates to have a reminder go out about the service is due in three months after the initial visit. The text could also include a discount to incentivize the customer coming back to their specific location for the service.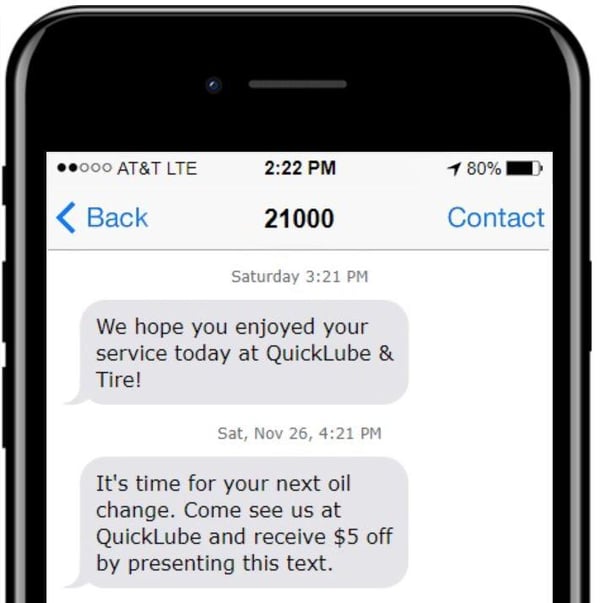 TIP: Learn more about drip campaigns and how to implement them successfully for your SMS marketing strategy.
8. Birthday texts
Connect on a personal level with your text subscribers by collecting their birthdays and sending them a text on their birthday.
You can choose for the text to include a special birthday offer or simply just wish them a happy birthday. The birthday text messages can be set up to go out automatically, so you don't have to manually trigger each one.
But if you're feeling creative, adding a GIF or photo to the birthday text gives an extra personal touch and will surely be remembered.
9. Mobile coupons
With SMS, you are able to send out coupons directly to your subscribers' cell phones. This is great because there is no coupon clipping required and text messages have 10 times the redemption rate of print coupons and 60 times faster response time than email coupons.
10. Auto-replies
By using a mass texting service, you are able to set up auto-replies. These replies go out automatically when someone texts your specific keyword to the short code.
Your auto-reply can be changed at any time to reflect specials, incentives, or information you want your text club to have.
11. Recurring messages and message scheduling
If you have messages that you'd like to send out on a regular basis, schedule them to go out at your desired interval of time – such as weekly, monthly, bi-monthly, and so on.
You can also take the time to set up texts for holidays or known sale dates in advance with the message scheduler, which will automate your text marketing.
12. Multiple-user access
Many SMS providers allow for multiple-user account access, which is a great feature if you have different departments that will be sending their own messages to text subscribers.
13. Text reminders
Set up text appointment reminders to cut down on no-shows and save staff time rather than placing a call. When someone replies to an appointment reminder to cancel, you are then able to text your list and see if anyone would like to take the last minute appointment.
14. Cross-market using SMS
Use text message to cross-market your business, services, or products by sending text subscribers a link to your website, social media, a new blog post, or whatever you're trying to gain traction on.
Because SMS receives a whopping 98 percent open rate, it will be the best way to make sure your following sees your message.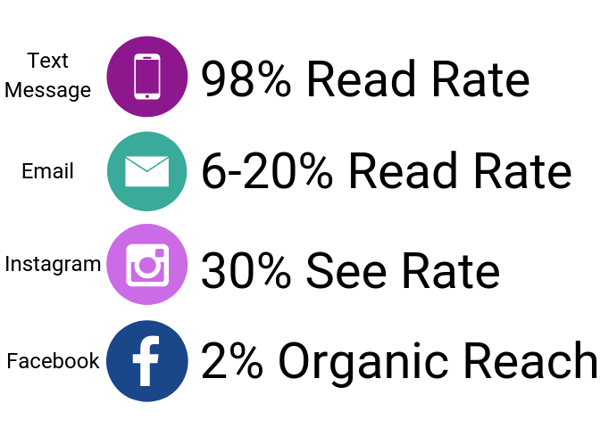 The versatility of SMS
SMS messaging is very versatile and can be altered to fit each business' needs and uses. If you're ready for improved communication across your channels, it's time to consider SMS marketing today! What are you waiting for?
Need help choosing SMS marketing software to get your feet off the ground? Check out our extensive catalog to get started!