As audiences for "The Last Jedi" died down, the U.S. prepared for another epic showdown, with far realer stakes than any lightsaber duel.
After months and months of intercity tension, 2018 brought the finale ofAmazon: The Battle for HQ2.
For evidence of Amazon's supremacy, look no further than its own Death Stars — three long-in-the-making "biospheres" smack dab in downtown Seattle. These extravagant, ultra-modern structures will serve as work and play centers for Amazon employees, a can't-miss photo op for tourists and a punctuation mark on the company's (and city's) unprecedented rise. Amazon cleared the way for thousands of innovators and startups to settle in the Northwest, and the Emerald City has quickly become a tech mecca to rival Silicon Valley and its ilk.
Amazon now boasts more office space than Seattle's next 40 biggest employers … combined. It's brought 40,000 jobs to the area and tens of thousands more are projected in the next few years. As industries like coal fade into obscurity and tech marches forward, it's easy to see why other big American markets are offering arms and legs for the chance to house Amazon's upcoming second headquarters.
While we munch popcorn and watch the bidding war come to a head, Seattle takes a victory lap as Amazon's main squeeze. There must be something in the Puget Sound water; the Seattle area's business resume includes Microsoft, Nintendo, Starbucks and the "I Can Has Cheezburger" empire. The city landed at No. 5 on Cushman & Wakefield's recent list of Top Tech Cities in the U.S and No. 2 on a similar list by CBRE. And, according to LinkedIn, the largest source of new workers to the city is the Bay Area. Research from Hired and Zillow, respectively, shows that expat software engineers from San Francisco on average make an extra $50,000 in Seattle and pay less than half the price to live there. In other words, tech workers can has way more cheezburger in Seattle, which helps explain the caliber of recent output — and the expectation that the best is yet to come.
"Seattle is a thriving hub for people who love new ideas, exchanging views and collaborating on innovation," Jake Braly, vice president of marketing for Highspot, wrote in an email exchange. Highspot is currently the highest-rated Seattle-based software product, according to G2 Crowd users. "Over the past decade, the region's identity has shifted away from a Microsoft-centric ecosystem to a vibrant tech hub and innovation center for cloud computing. This has spawned a throng of startups that are taking the cloud and SaaS (Software as a Service) to new areas and solving B2B challenges like security and digital transformation."
Seattle's recent contributions to B2B tech extend far beyond Amazon Web Services and lunchtime animal memes. Hundreds of software vendors take advantage of the city's mild climate, lush surroundings and vast bounty of gourmet coffee to produce business products of all shapes and sizes. In addition to fortifying the more established B2B software spaces with exceptional products, Braly expects the region to play a big role in bringing artificial intelligence and machine learning further into the mainstream.
"We've seen a number of both startups and large enterprises that are going deep on AI and truly revolutionizing their industries," Braly said. "We've only scratched the surface on what AI and machine learning can do. I expect we'll see continued innovation in AI, developing more 'real world' applications across verticals and horizontals that will break new ground in enhancing productivity and competitive advantage."
Tableau Software, a business intelligence developer, saw the appeals of Seattle at the beginning of the 2000s when opening its doors. The company now employs several thousand in the area and went public in 2013.
"Our founders decided to build Tableau in Seattle for a few reasons, but the primary reason was personal — Seattle is an excellent place to live, with a great outdoor culture and a vibrant startup and engineering community," said Elissa Fink, the company's chief marketing officer. "Since then, the region has seen incredible growth from homegrown companies like Apptio and Redfin, and from Silicon Valley companies like Oracle, Google, and Salesforce opening offices in the area. As these companies — and the talent they bring with them – continue to flock to Seattle, I expect to see an increase in tech investments coming out of the area in 2018, particularly in the cloud computing market."
While large software companies such as Tableau and Amazon help drive Seattle's tech environment, they also provide some expected, but not frequently talked about, hurdles. This is true especially for smaller startups in Seattle.
"We have to compete for hiring with Amazon, Google, Facebook and Microsoft," said Zach Simmons, Founder at the Seattle software startup Discuss.io. He added, "The giant tech firms drives up the price of engineering talent for everybody. Seattle is now the 2nd most expensive engineering labor market in the world."
But Safe money says we'll continue to see success stories like Highspot and Tableau (and the Jeff Bezos crew) sprout from Seattle's fertile soil. And as the city prepares for another exciting year of growth and invention, we'd like to provide a snapshot of the current landscape and acknowledge the city's best B2B software exports, as judged by reviewers on G2 Crowd.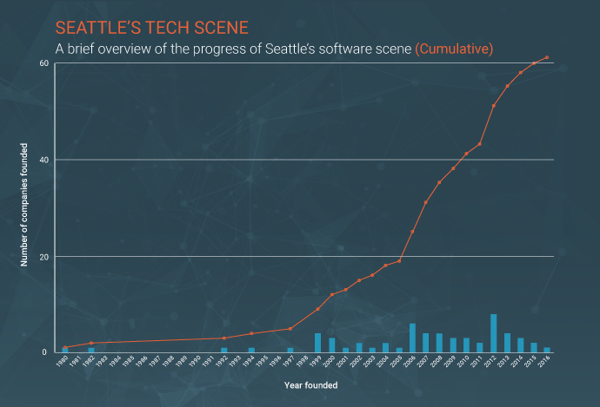 Note: Only software vendors on G2 Crowd with headquarters currently in the Seattle area are included in graph.
---
The best Seattle tech companies in 2019
The list below is ordered by user satisfaction, and to qualify, a product was required to have at least 10 verified user reviews. For each product, we created a profile to give a snapshot of what it is and what it does, and to give some insight into the company behind it.
All the data comes from G2 Crowd.com (and our 300,000-plus B2B software and services reviews), or from publicly available sources such as LinkedIn and Crunchbase. These 25 Seattle B2B companies are represented by 3,710 verified reviews from real users across a variety of categories, from Diagramming to SEO to Employee Engagement. Read more below about some of the companies playing a major role in the Seattle area's bustling tech environment.
Since the last Grid® Report for Sales Enablement, Highspot has jumped from a High Performer to a Leader, and is the most positively reviewed software in the category as of press time. As described on the vendor website, Highspot can help connect sales teams to effective content, optimize content and sales pitches, and present to customers while tracking engagement. The platform also integrates with major marketing and sales tools to leverage existing investments. Customers of Highspot include Sisense, Falcon.io and PayScale — another Seattle-bred software featured on this list.
---
Tableau doesn't mess around, with two offerings near the top of this list. As the No. 1 Leader on the Self-Service Business Intelligence Grid®, and more than twice as many reviews as the next most-reviewed software in the category, Tableau Desktop has a hard-fought stature in its tech space. Intuitive drag-and-drop features help users around the world gain insights from their data without the need for technical assistance. Regarding this user-friendly component, user Jake D. wrote in their Tableau Desktop review, "Sure, there are other tools out there that have the same feature, but the implementation is superb. The Tableau team really hit the mark for overall business impact."
---
The most popular offering on Amazon Web Services is a handy compliment to Amazon S3's storage abilities and some other AWS products, which we'll cover a little later. Amazon EC2, or Elastic Compute Cloud, is a "true virtual computing environment," with a resizable capacity for launching web application instances and performing a wide range of tasks within the secure servers. EC2 is built to integrate with S3 and other AWS solutions to help businesses scale and streamline their operations. For help deploying the EC2 environment and connecting it with other cloud systems, you can reach out to Amazon EC2 consultants, which are also listed on G2 Crowd.
---
Used by the likes of ADP, Act-On and Kaplan, Bizible is a robust marketing tool for revenue attribution and planning. The product website describes use cases for CMOs, demand gen, marketing ops, paid media and agencies, along with the laundry list of integrations (e.g., Marketo, Microsoft Dynamics, Eloqua) that helps simplify adoption for new users. As of press time, Bizible is a Leader in the Attribution, Marketing Analytics and Marketing Resource Management categories, with a stellar 4.8 out of 5 stars overall based on review scores.
---
Zillow is a go-to resource for families and businesses in the market for new property, and on the other end of the screen, real estate brokers and development companies (not to mention independent sellers) leverage the platform for creating listings and generating leads. It's the far-and-away Leader of the MLS Listings category, and integrates with Trulia: a similar software product from the same developers and the only other Leader on the MLS Grid.
---
PayScale helps crunch the numbers and construct salary plans for all current and incoming employees within an organization, including bonuses and wage adjustment ranges. It's currently the best-reviewed product in G2 Crowd's Compensation Management category. In addition to its professional features, PayScale offers a Pay Report tool that allows individuals to determine their own value as a employee, along with a helpful Salary Negotiation Guide. Managers can also take advantage of the website's Compensation Research offerings, which includes gender pay gap studies and compensation best practices.
---
Hostwinds review, "My friend has advised me to try them and I was pleasantly surprised with the level of their services. Their plans contain many useful resources which help me much in running my website smoothly and flawlessly. There are a lot of useful resources which I need for running my website and their tech staff is online any time I put a question, even at night hours. All in all they provide quality services which are worth every cent you pay for them."
---
8. PipelineDeals

Product: PipelineDeals
Category: CRM
City: Seattle
Founded: 2006
Employees: 35
The Grid® for CRM is perhaps the most crowded and contentious on G2 Crowd, and PipelineDeals has impressively garnered one of the highest Satisfaction scores in the bunch. The software's product profile describes it as "the first sales productivity platform to combine sales engagement and CRM in one simple app," while the company website declares the platform is "built by sales people, for sales people." Glowing reviews are backed up by a 14-day free trial and 30-day, 100 percent satisfaction guarantee for a full refund, as detailed on the PipelineDeals website.
---
9. Moz

Product: Moz Local
Category: SEO
City: Seattle
Founded: 2004
Employees: 278
After its beginnings as an SEO consulting company in 2004, Moz now is now a standard-bearer in delivering impactful SEO software for businesses. Moz Local is designed for boosting local web presence and promoting one's product or services in area-based searches. Features of the software include location data management, local SEO analytics and reputation management that monitors mentions across various review sites. For growing awareness in one's community, Moz Local is a proven asset for thousands of diverse organizations. Moz Pro picks up where Moz Local leaves off, with an all-in-one SEO toolkit for boosting traffic and rankings on the grand scale.
---
Izenda is a self-service, embedded BI tool built for software product teams. The product, which has 45 reviews on G2 Crowd, is modular (the portal can standalone or integrate, depending on your need), scalable, open with exposed REST API endpoints, and secure. Izenda received a High Performer badge in the Winter 2018 Embedded BI Grid® Report and the Winter 2018 Self-Service BI Grid® Report.
---
For success-driven sales teams, Outreach provides the insights and functional assistance to help chase the always-shifting goalposts. Though only a few years old, this platform has quickly become a Leader in three different categories on G2 Crowd and claims the best overall Satisfaction score of any Seattle-born software. The main features of the sales engagement platform include sales sequences, sales rep workflows, and sales email templates and interaction tracking. To further assist sales individuals, the Outreach website offers a bevy of sales engagement resources including webinars and blogs.
---
Though it only has 15 reviews to begin 2018, Siftrock is off to a near-flawless start with 4.8 out of 5 stars overall. The platform offers email reply management tools, and can streamline your team's email game with features like automatic detection of job changes, invalidation of out-of-date contacts, and pulling of contact information from email signatures. Marketing and demand gen leaders such as RingCentral, SurveyMonkey and HubSpot use Siftrock software to improve their data quality and the platform is currently a High Performer in the Data Quality category.
---
Trakstar is a certified High Performer in the Performance Management category, an important breed of software for managers and HR teams to assess employees on a technical level. Trakstar promotes the philosophy of SMART goal setting for employees — specific, measurable, achievable, relevant and timely — and provides tools that help companies establish goals on an individual and team level, based on prior performance and company needs. Pricing is based on the size of the user base, and annual subscriptions come packaged with comprehensive training and unlimited support.
---
Released in May 2017, Rhino 5 is the latest version of this design software, built specially for use in the 3D modeling of products and machines. The long list of features included in the product can be found on the Rhinoceros website, along with a vivid gallery of project use cases. Rhinoceros users also benefit from a talented community and a constant stream of enhancements that increase the tool's versatility. An anonymous user in architecture and planning wrote in their Rhinoceros review: "Rhino is used by students and professionals alike for a reason. It is really unparalleled in its usability, flexibility, interoperability and available support from the community."
---
This handy scheduling tool "built around the hourly worker" gives shift-based companies a reliable, modern tool to keep everyone on the payroll informed and in sync. In addition to scheduling, Shiftboard integrates features of workforce management to improve productivity and reduce costs based on insightful data of previous workweeks. The client portfolio of Shiftboard includes Harvard University, NPR and Major League Baseball. If you're an hourly organization looking to streamline your operation, you can request a free, customized demo of the software from the Shiftboard website.
---
Creative teams can reel in their many and varied workflows using Slope's highly praised project management solution. Everything from planning and assigning of tasks to the collaborative editing process and version control makes it fun and easy to work on videos, images, songs and other multimedia endeavors from start to finish.
In a positive Slope review, Morgan S. wrote, "Slope is an awesome tool for not only keeping me on task with the many creative projects that our team takes on, but in helping to keep all of the feedback we receive organized and accessible in one convenient location. The platform eliminates what would otherwise be lengthy email chains, sometimes from several different individuals, by creating a dedicated space for those conversations to live. Additionally, I love that I can look back on the archived progression and/or evolution of our pieces as we move them from the draft stage to the final product.
---
Panopto empowers management and training teams to create lasting multimedia presentations and lectures, as well as webcast events and "organizational YouTubes" where present and future employees can access helpful video lessons. The software is a Leader in the Corporate LMS category, and reviewer Frank J. F. recently wrote in a Panopto review that "Panopto is a visionary company that serves its customers exceptionally well." You can find a free trial of the modern video platform on the Panopto website.
---
In the recently released Grid® Report for Social Media Analytics, Rival IQ was certified as High Performer. Features of the platform include competitive analysis, hashtag analytics and instant alerts for important interactions with your company's social media accounts. Companies including Razorfish and fellow Seattleites Tableau are just a couple of the major brands on Rival IQ's resume of customers. As summed up on the product's homepage, Rival IQ offers "social media analytics that make you look good." Even the Denver Broncos organization uses the software — just don't tell Seahawks fans.
---
Courtesy of the PicMonkey website: "We're a small team of experienced professionals — plus one monkey — who believe that our greatest competition is our last release. We live to beat ourselves at our own game, always topping what we've done with more features and more cowbell." If the skiing monkey on its staff doesn't sell you, you may enjoy the unique design tool's robust photo editing abilities, available through both a desktop version and mobile application. You can create designs from premade templates or edit photos of your own, and then get the real thing delivered to your office with the PicMonkey Print Shop. The PicMonkey team isn't just monkeying around in their downtown Seattle office; PicMonkey is a Leader in the Other Design category after more than 60 generally positive reviews.
"Seattle's been known for two polar opposites of the technology spectrum: hyper-consumer companies with huge global footprints, such as e-commerce and gaming, as well as the backend tech that powers much of today's business. That means Seattle's tech community is well positioned to lead the next wave. In the coming years, we're going to see billion-dollar opportunities around tech that blurs the line between B2B and consumer. Our economy has fundamentally changed, and businesses want software that's both powerful and intuitive—premium features without a luxury price tag, and you'll see Seattle lead in this." Matt Emmons, Vice President of Marketing at PicMonkey
---
What started as a hosted continuous integration (CI) service in 2013, Shippable quickly evolved into a robust DevOps platform with a focus on automation streamlining workflows. It's in four categories on G2 Crowd, and as described on the vendor's LinkedIn profile, "is available as an on-premises Server product, Hosted SaaS, as well as a unique hybrid offering called Custom Nodes which is a mix of SaaS orchestration and on-premises infrastructure." With the booming and supportive development scene in Seattle, there's a good chance Shippable is increasingly popular in the area's Dev community.
---
The flipside of performance management is employee engagement: Asking your staff what they think of your company (and management) so you can understand what needs to change and what you're doing right. TINYpulse Engage works by sending short and frequent surveys to employees that they can answer anonymously, then translating this data — about culture, job difficulty, and whatever else — into actionable items. Features of the software product also include a company dashboard with a full scope on the company's culture health, and an employee portal for continuous feedback and peer recognition. Since the Fall 2017 Grid® Report for Employee Engagement, TINYpulse Engage has bumped up from a High Performer to a Leader in the space.
"Pioneering organizations like Microsoft have made the history of B2B in Seattle extremely rich. This has resulted in what I would consider a culture of business mentorship that is special to the local tech community. Startups, new technologies, and turning lumbering processes upside-down are celebrated and encouraged here. I'm a great believer that this Northwest DNA plays a huge role in TINYpulse helping over 1,000 companies worldwide, starting with progressive business leaders in Seattle." Andrew Sumitani, Marketing Director at TINYpulse
---
OmniGraffle from The Omni Group is a Mac-based diagramming and wireframing tool, designed for "everyone from professional artists and designers to casual data mappers and beginning diagrammers" to make clean, precise graphics. New specs of the latest version, OmniGraffle 7, include automation with JavaScript, touch bar support, and converting text or lines to shapes. The software product, a current Leader in the Wireframing category, can be purchased as a Standard or Pro model, and downloads come with a 30-day return policy. You can take it for a spin with a 14-day free trial, available with one click on the OmniGraffle homepage.
---
How many calls into your business are related to specific ads you placed in different mediums? Marchex helps uncover these insights with its inbound call tracking features. The Marchex Omnichannel Analytics Cloud, the vendor's main software solution, provides all the tools necessary to fully understand your call-in traffic and use that information to spend more of you budget in the right places.
In a five-star Marchex review, Kevin S. wrote: "I tried many, always come back to Marchex! Best value, reports, options and reliability! The ability to show the DNA of every call to a customer not only eliminates any question of performance of the ad, it sets us up as reliable and provable providers of advertising! Providing analytics for a digital advertising placement is great, everyone can do that. But providing the actual call DNA including a recording of the actual call knocks it out of the park!"
---