When a SaaS startup moves to the scale-up phase, a shift often happens.
Suddenly, security shoots up on the ever-growing list of business priorities – and with good reason.
As a business scales, it needs to manage more customers and more data than ever before. And if the business is aiming to attract larger clients, these clients will no doubt have greater security concerns and stricter standards to be accommodated.
Of course, there's also the reality that once your SaaS business reaches the scale-up phase, it's likely your team has put a lot of time and effort into establishing the business's place in the market.
Stéphane Nappo, the global Chief Information Security Officer (CISO) of the year, summed up the need for security this way: "It takes 20 years to build a reputation, and few minutes of cyber-incident to ruin it."
SaaS security for startups vs. scaleups
When SaaS businesses first start out, their primary focus is on attracting and acquiring customers to support their growth. It makes sense. After all, if you don't have customers to buy your product, then you don't have a business.
In the startup phase, security doesn't even make the top 10 list of reasons why businesses fail. The most common reasons startups fail are:
There isn't enough need in the market
The business ran out of cash
It didn't have the right team in place
Competition outperformed them
There were pricing issues
The product wasn't user-friendly
The business model was insufficient to support the product
Marketing tanked
Customer needs were overlooked
The product came at the wrong time
However, when a SaaS business reaches the scaling phase, security does become a top concern. And as Nappo pointed out, breaches can take down a well-established company in no time.
But how serious of an issue is online security for SaaS businesses during these modern times? The short answer is, very serious. Security is actually the biggest concern when adopting enterprise cloud computing strategies, according to 66% of IT experts.
The realities of modern business security
Unfortunately, compromised security isn't the exception anymore. In the first half of 2019, breaches left 4.1 billion records exposed. Businesses of all kinds are expected to spend more than $1 trillion in security measures between 2017 and 2021. And with the rise of Internet of Things (IoT) technology and the prevalence of connected devices, this number is bound to swell.
Estimates suggest that spending on IoT security solutions alone will rise from $1.5 billion to more than US$3.1 billion worldwide by 2021. And the IoT industry's piecemeal security solution efforts thus far have been concerning to say the least.
The pace of business has never been quicker, and the emphasis on speed to market as opposed to data safety within the market is certainly ubiquitous. Short term gains of being first or early to market can be very appealing for many growing businesses – and even established businesses with new products – but the long-term fallout can be devastating.
It's also worth noting that the repercussions of data breaches don't end after the headlines falls off the first page of Google results.
For example, when MyFitnessPal was hit with a data breach, it impacted an estimated 144 million subscribers. In response, these subscribers were encouraged to change their passwords in addition to other suggested protection measures. But it many cases, suggestions like these can be too little too late.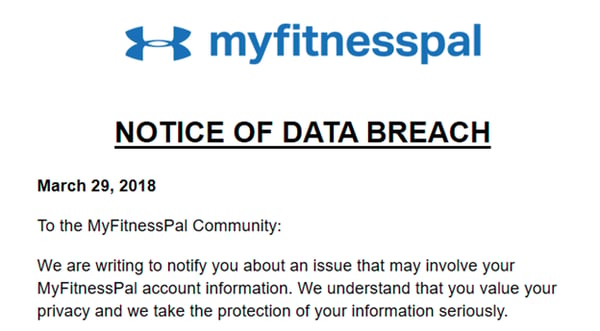 A year after the data breach, that original compromised information along with hacked data from 15 other websites was offered up on the dark web marketplace to the highest bidder.
In 2012, SaaS file-sharing giant Dropbox had its own security dilemma. Hackers gained access to 68 million user accounts, including email addresses and encrypted passwords. From there, the 5 gigabytes reportedly made their way to the dark web marketplace as well.
High-profile breaches like these drive scaling SaaS businesses to look at their own security measures and take preventative action. At least, they should.
Security concerns for the scaling SaaS business
Scaling SaaS businesses need to address the following question: can their systems meet their growing security needs, or will their current practices and infrastructures make them vulnerable to data theft and other nefarious cyber activities?
Here are some of the primary security concerns for scaling SaaS businesses, and some tips for how to address them using technology and more stringent processes.
1. What are SaaS security best practices for secure customer data storage?
As mentioned, scaling SaaS businesses have growing numbers of customers—and growing sizes of customers—concerned with keeping their data secure. Data breaches in enterprise businesses are the occurrences that generally garner headlines, but data can be stolen from companies of all sizes.
These breaches can negatively impact your business's reputation, customer retention, and ultimately revenue—not to mention they can create long-lasting impacts on your customers' businesses and lives.
As Steve Durbin suggested in a recent Security Magazine article, security needs to go beyond the mere perception. Instead, all facets of the business need to be engaged.
"A successful business-focused security assurance program requires positive, collaborative working relationships throughout the organization," he wrote.
When businesses understand the ins and outs of how security is handled within their organizations, they can convey that to customers with confidence.
As a SaaS business scales, this is the ideal time to implement processes and platforms to keep data secure. For example, there needs to be a process of continually assessing the data your business manages and identifying any potential vulnerabilities, taking actions to remediate those vulnerabilities, and then immediately and transparently reporting any issues so that action can be taken at once.
And in terms of secure platforms, options such as a robust subscription billing platform can maintain a high level of financial security for your SaaS billing – a huge selling point for customers trusting you with their financial information. Solutions that offer PCI Level 1 certification adhere to the most stringent standards for storing credit card data.
Established more than a decade ago, the PCI Security Standards Council was created to ensure the security of financial data and can issue fines of up to $100,000 per month for banks tied to businesses that are not compliant.
Not only is PCI compliance tied to security standards, but those standards can be confidently maintained as audits are performed frequently and the process can take months. The strict requirements put in place to protect customer data are an essential component for businesses that are concerned with security.
Make sure you do your homework when learning about the SaaS solutions you may want to team up with to ensure they're held to a high level of security compliance. There's no sense in putting in the effort of creating sound processes and a secure environment within your own business if you're integrating with other solutions that aren't doing the same.
2. What exactly is a firewall and how can it help my business?
The term 'firewall' has been thrown around for many years, and as a SaaS business prepares to scale, it's wise to learn more about firewalls.
Firewalls act as network security systems that monitor and control both incoming and outgoing traffic based on the security parameters set by your company. It's your first line of defense, and it creates a barrier between you and the internet at large.
In the most basic sense from a customer perspective, a computer owner protects her PC with a firewall by installing anti-virus software. This software analyzes all incoming information from websites that are visited to make sure the traffic coming in is protected.
If that customer decides to make a one-time purchase or subscribe for a service that has a monthly recurring fee, the information that customer shares is no longer protected solely by their own computer's firewall. That data is sent elsewhere, to be stored for future billings or purchases. The SaaS company they're working with needs to have its own firewalls in place.
Therefore, ensuring your SaaS business is protected by a secure firewall is essential for the safety of your own data as well as that of your customers. In addition, businesses should consider partnering only with technology protected by state-of-the-art firewalls to protect fully the data they're storing.
3. Will SaaS security measures slow my business processes?
By the very nature of a SaaS product, data should be quickly and easily accessible. The faster the information can be obtained, the more agile a business becomes, which is essential for maintaining a competitive edge.
A scaling business brings in a lot more data than ever before because it's handling all the information for more customers than it did when it was in a startup phase. For example, consider databases that run scripts which are bogged down with unnecessary information. That data can tangle up and slow down processes.
However, there are steps that can be taken to ensure scripts are sped up and you have access to necessary data results quickly. Also with data being stored in the cloud, accessibility is increasing thanks to processes sped up by machine learning and artificial intelligence (AI).
4. If my business is protecting user data, does this reduce transparency?
Data security can be a double-edged sword in this instance. While a business can assure its customers that their information is stored safely, it may be hesitant to illustrate what those security measures are and risk compromising that safety. By not being upfront with customers, it can appear that the business is not being transparent.
SaaS businesses can maintain transparency while demonstrating their security protocol, though. A service level agreement (SLA) is used to explain to a customer what they can expect from the business, such as downtime and response times if there is an issue with service. An SLA also provides the avenue for discussing security issues, outlining the steps for notifying a customer if there is a data breach.
Additionally, it's generally common knowledge that data is going to be stored in the cloud, or on another server. Let your customers know the details of your business's data storage through your privacy policy so they understand what can happen if there's an outage or another issue that takes down the servers where data is being stored.
5. What SaaS security measures do I need to consider when working with a vendor?
In addition to firewall protection, a scaling SaaS business should make sure any platform it partners with can offer network intrusion detection and content delivery software. Hand in hand with stringent firewall protection, network intrusion detection continually monitors a system for malicious activity. If activity is sensed, an alert is immediately sent to the network administrator, prompting action.
Network intrusion detection differs from a firewall because a firewall works from a static set of preset rules, while network intrusion detection actively terminates connections. They're interconnected but have different responsibilities.
At the same time, security should encapsulate content delivery networks (CDNs) that enable data to be transmitted rapidly and allows for a high rate of availability and performance. Today's CDNs also need to ensure that the transmission is protected by security protocols that are always 'on.'
Regardless of vendors and platforms you may select, remember that what may be the cream of the crop security-wise at one time may not always be the most secure in future years. You need to make sure that the partners you select maintain a high level of security in the future, because protocols change, software is updated, and new threats emerge.
Maintaining effective SaaS security is an ongoing journey
While your SaaS business may have been busily focused on things like customer growth, product updates, and basic survival in its early stages, it requires a shift in focus as it moves toward scaling up.
When preparing to handle an onslaught of additional information, from increased SaaS billing and customer information management to transparency and partnership security, make sure you have systems in place to handle and secure that data. And remember, security is an ongoing journey, not a one-and-done shot.
It's vitally important to review your business's security defense mechanisms on a continual basis. Put people, processes, and solutions in place, both internally and through partnerships and vendors, that can be reliably held to a high level of compliance and security protocol, now and in the future.
Keep your SaaS business secure with the latest knowledge about cybersecurity and compliance tools at your fingertips.