Software development is an increasingly popular field in our tech-forward society. Some of the innovations in that field like video conferencing software have catalyzed another trend: the rise of the remote worker
Enter: the remote web developer. A remote web developer is responsible for developing applications that are used online, and so happens to not work in an office setting.
If you're a web developer who is looking to go remote, you're probably wondering where to start. Lucky for you, there are plenty of job boards full of freelance and full-time opportunities for a front-end, back-end, or full-stack developer to choose from. Let's go over a few.
How to find remote web developer jobs
Job hunting is more challenging than it used to be. With hundreds to thousands of applicants applying to roles at coveted companies, it can be difficult to even get your resume seen by a hiring manager.
Tip: Check out reviews of job board software to further help you decide which is right for you.
Sometimes, looking in the right place can make all the difference. If you're in the market for a remote web developer job, consider using one of the following resources to help you find it.
1. Indeed
Indeed is a very popular website for job searchers, and it's no different for those looking for remote web developer jobs. The best part? You don't even have to clarify your location because the jobs are remote. You can apply for anything that comes up.
Keep in mind that many companies still benchmark salaries by location, so if you want more money, you may have to look for a company that is positioned in a larger metropolitan area.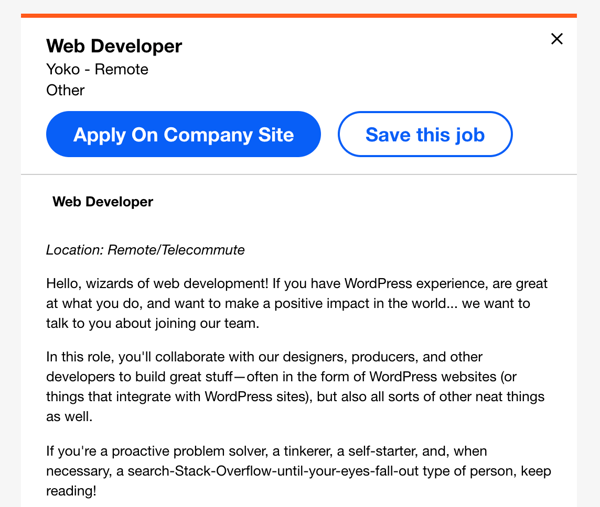 Additionally, be sure and read the fine print to be certain that a job is fully remote. Some companies may want you in town one day a week, which isn't feasible for everyone.
2. Skip the Drive
Skip the Drive has an array of job opportunities for remote web developers including opportunities for varying types of development. Some examples: PHP, Java, J2EE, HTML, CSS, and Ruby on Rails.
They list jobs from client-side to server-side, as well as both back and front end. They have opportunities for entry-level employees as well as experienced professionals. In Skip the Drive's 27 pages of remote web developer jobs, there is certainly something for everyone.
3. Remote.co
Remote.co is a job site specifically made to help people find remote job opportunities. As you can see in the photo below, they list roles for a wide variety of industries.
As far as developing jobs go, they have listings for big-name companies such as Python, Wells Fargo, and AT&T. That's right, well-known organizations hire remote employees!
4. ZipRecruiter
ZipRecruiter is a job board that keeps your resume and work history on file so you can apply to several of jobs quickly and easily. You may have to go in and reformat your information though, as it doesn't always pull details from your resume correctly.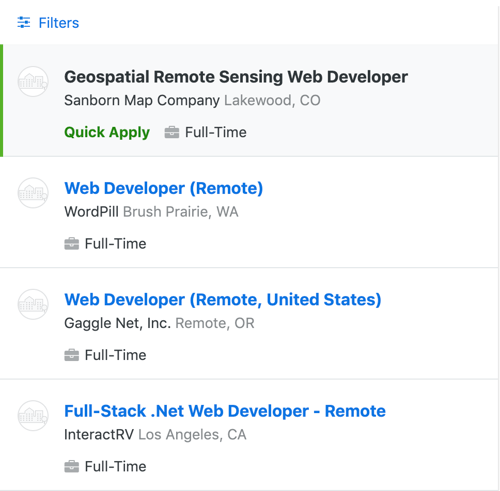 Currently, the site boasts over 12,000 remote web developer jobs. So what are you waiting for?
5. LinkedIn
LinkedIn is known by many as a networking site, but what does networking lead to? Friends? Sometimes, but the correct answer is "jobs," which LinkedIn also lists. Currently, they advertise more than 5,000 results for "remote web developer" in the United States.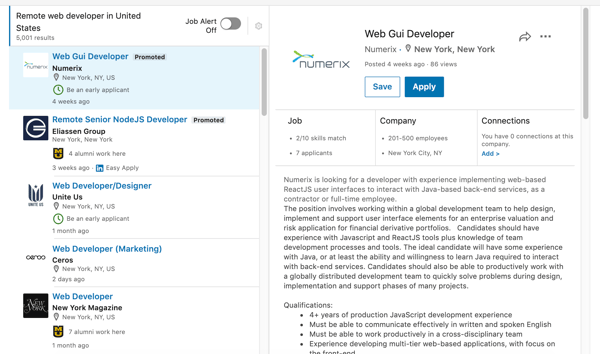 Again, I would again urge applicants to read the fine print to make sure each job is remote.
You have the remote control
As you can see, it's an applicant's market. Companies need developers more than developers need companies. So if you're looking to change the channel of your life, take control of your schedule, and work remotely, create a profile on any one of these job boards and see how far you can go.
To learn more about remote work, check out How to Work From Home.