"I'm gonna wear that Carolina blue, baby." — Viola Hastings, "She's the Man" (2006)
A few things immediately come to mind when you first think of North Carolina: Maya Angelou, Duke, basketball, craft beer and the Great Smoky Mountains.
Raleigh/Durham's Tech Sector
However, both Raleigh and Durham can proudly hang their hats on the "Research Triangle." The Research Triangle is made up of the cities Raleigh, Durham, Chapel Hill, and surrounding institutions like Duke University and University of North Carolina.
In 2015, Mashable included the Research Triangle in its list of areas that could become a fierce competitor to Silicon Valley. Mashable explained that the area "boasts one of the most educated communities in the nation, with nearly one in five residents holding a graduate degree."
A few months prior, Fast Company preceded Mashable's post by totaling the number of open tech jobs (28,510 in 2015), the top five tech jobs available in the area, and the average rent in Raleigh that made the city irresistible for entrepreneurs who were "looking to launch their career or their startup in an active technology hub."
In July 2017, USA Today reported on real estate and investment firm CBRE's annual ranking of the top cities for tech talent. Turns out Raleigh-Durham made seventh on that list.
When it comes to tech, the Triangle is only growing. In fact, the Triangle region got its name from Research Triangle Park (henceforth referenced as RTP), a massive tech research and development campus that was established in 1959.
While North Carolina has a strong foundation in the arts, with the first state-owned art museum and one of the first state symphonies, the Wright brothers started a trend of technological innovation that has yet to slow down. According to the 2017 North Carolina State of Technology Industry Report, the tech sector employment is expected to grow by 7.2 percent between 2016 and 2020.
Considering the fact that the combined population of Raleigh and Durham is a little less than 750,000 people, that's impressive.
In fact, in 2016, Raleigh/Durham had the some of the highest venture capital returns in the country. With a steady stream of STEM graduates coming out of NCSU, Duke University and the University of North Carolina at Chapel Hill, combined with low real estate costs (way more than hubs like San Francisco) the Triangle has a thriving technology scene that is host to giants like Cisco, IBM, Glaxo Smith-Kline, and soon-to-be Google Fiber.
In addition, Raleigh is one of the 20 North American cities that made it on the shortlist for Amazon's HQ2 location.
---
Some more quick hits about Raleigh-Durham: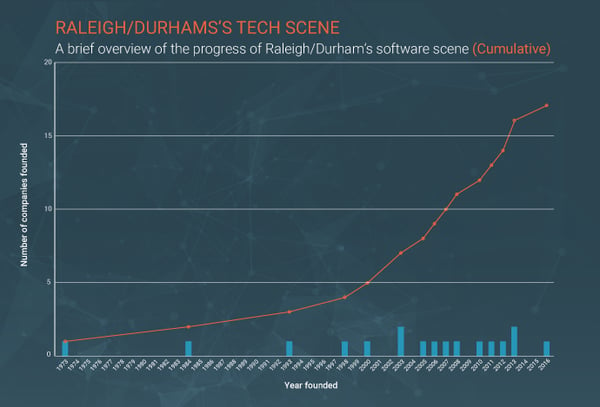 Note: Only software vendors on G2 Crowd with headquarters currently in the Raleigh/Durham area are included in graph.
---
North Carolina Tech Leaders on the State's Tech Scene
Pendo
"It's an exciting time to be building a SaaS company in the Triangle. Our region is drawing incredible talent thanks to top universities, industry-leading tech companies and our beautiful setting in the south. We still need more local capital sources to fund the innovation and entrepreneurial activity here, but investors from the East and West coasts are increasingly adding our companies to their global portfolios.
Pendo is fueling the region's momentum by creating compelling job opportunities, drawing new investors to town, hosting local meetups and providing educational opportunities like Pendomonium, our annual conference for product leaders." Todd Olson, CEO and founder at Pendo
Noteninja
"The Raleigh/Durham tech landscape continues to rise quicker and quicker each year. Whether it's the IPO of bandwidth.com, or the increase in VC funding coming to the area, RDU is looking to make some big waves in the coming years in regards to tech. Combining the talent from large companies like Red Hat, SAS, Cisco and IBM with the growing entrepreneurial drive, RDU is poised to expand its mark in the tech scene. You can start a competitive business here for half the cost of Silicon Valley without sacrificing talent." Matt Finneran, Cofounder and CEO, Noteninja
---
We have compiled data on the state of the Raleigh/Durham B2B tech scene that includes all of the top-rated products on G2 Crowd which have parent companies headquartered in North Carolina. Our list is ranked by user satisfaction of a company's top-rated product. To qualify, a product was required to have at least 10 verified user reviews.
For each qualifying product, we created a company profile to recognize what that company is and does, as well as give a little insight into its history. The data relies on G2 Crowd's more than 300,000 B2B software and services reviews, or from public data sources such as LinkedIn, Crunchbase or each vendor's website.
---
Top B2B Raleigh/Durham Tech in 2019
Bandwidth powers communication systems like Google and Skype. Bandwidth built its own nationwide VOIP network, one that would deliver business-grade quality to companies. The solution also offers APIs that help users embed voice calling and text messaging into software and customer-facing applications. In October 2017, the company filed for an $85 million IPO, and now lists on the Nasdaq as BAND.
---
With 32 reviews on G2 Crowd, OpenShift is both a leader in the cloud platform as a service category and a leader within our Raleigh/Durham-based products. OpenShift is Red Hat's container application platform. The product automates the provisioning, management and scaling of applications, so that developers can streamline the processes of creating, testing and delivering them. OpenShift received a Leader badge in the Winter 2018 Cloud PaaS Grid® Report. G2 Crowd features 18 Red Hat products on the site, including RedHat Enterprise Linux and JBoss Middleware. In October 2017, Red Hat made it to the shortlist of Computing's Women in IT Excellence Awards. In January 2018, Fortune named Red Hat as one of the Most Admired Companies for 2018.
---
With ServiceTrade, field service and contractor organizations can streamline and make more efficient service operations and enhance customer engagement. Additionally, ServiceTrade's mobile applications increases field tech and workers' productivity. The product integrates with third-party accounting applications as well as offers an open API that helps integrate the solution into your existing workflow. ServiceTrade received a High Performer badge in the Fall 2017 Field Service Management Grid® Report.
---
Pendo is a product experience platform that provides user analytics, user feedback, and tailored user onboarding. With the product, product managers can understand why a product succeeds or not. They can also use Pendo to understand early adopters and super users of a released product. Pendo received two badges in the Winter 2018 Mobile App Analytics Relationship Index: Easiest Doing Business With and Best Support. Pendo.io was ranked on LinkedIn's 2017 list of top 50 startup companies.
"To me, this means product teams at companies across industries are doing their jobs better as a result of Pendo. Users are more engaged in our customers' products, helping to drive revenue and satisfaction for both parties. When users love the products they need to do their jobs every day, it's a win for our customers and our team at Pendo." Todd Olson, CEO and founder at Pendo
---
Noteninja leverages demos to create enriched assets that sales teams can share and learn from. Noteninja provides "game film" of sales conversations to facilitate future training, coaching and knowledge transfer between sales professionals. By capturing and retaining customer interactions, organizations can retain patterns of success and align with customer needs. Noteninja easily integrates with video conferencing solutions like Zoom, UberConference, GoToMeeting and join.me.
"We're honored to be recognized as a leader in the RDU scene. We consider ourselves to be small by mighty and hope we can achieve the same recognition as other large companies in the Triangle." Matt Finneran, Cofounder and CEO at Noteninja
---
KeePass is a free, open-source password manager that helps users securely manage their passwords. (KeePass is certified by the Open Source Initiative.) The solution stores passwords into a database that is entirely encrypted, even during the process stage. Users and organizations do not need to install any software to utilize the password manager.
---
ProcessMaker is an open-source business process management and workflow management software. The web-based solution offers a drag-and-drop interface that simplifies the creation and deployment of approval-based workflows. The software also provides digital forms that can simplify form-driven processes. ProcessMaker easily integrates with third-party ERP, business intelligence, CRM and document management tools. The company was one of the finalists for the 2017 Stratus Awards for Cloud Computing.
---
Global Software, Inc., provides Microsoft Excel-based reporting and automation platforms to streamline the processes and workflows of data analysts. Atlas, one of its products, provides a two-way integration with Microsoft Excel so that organization can easily collect data from multiple sources in one report. The product supports all versions of Microsoft Dynamics AX and Microsoft Dynamics 365.
"As one of the top five tech markets in the United States (Cushman & Wakefield), Raleigh-Durham features a host of global tech and R&D firms alongside nationally-ranked research universities and healthcare systems. Global Software, Inc. is proud to be a contributing member of this local tech economy for the past 45 years. We are humbled to have been voted one of the highest-rated B2B software products by users and commit to continually deserving this distinction by offering ever-evolving Excel reporting software innovation." Spencer Kupferman, President & CEO at Global Software Inc.
---
Other B2B Raleigh/Durham Tech Companies
While we recognized only the 8 best-reviewed software exports from the Raleigh/Durham area, there are still an abundance of other B2B tech companies impacting the region's tech scene. Here's a rundown of other Raleigh/Durham B2B software companies with their founded dates and total funding.
For any questions about the methodology or data included in this piece, or to request that your Raleigh/Durham B2B tech company be added, please reach out to Editorial Team Lead Jakub Rudnik at jrudnik@g2crowd.com.
---