"Where we're standing right now, in the ruins in the dark, what we build could be anything."
While I love Chuck Palahniuk and his extremist perspective on the world and its people, this quote from him is the exact opposite of how to approach a construction punch list.
All construction projects must wrap up at some point. The contractor must deliver the final project to their client to get paid. It's at that point in the construction closeout process after walking through the completed construction site, conferring with subcontractors that they've everything assigned to them and making sure that every piece of leftover material is accounted for that things can get tedious and manual.
It's time for the punch list to make an appearance and potentially create setbacks, right when the construction project was seemingly complete.
Source
What is a punch list?
What is a punch list?
A punch list (also called a "snag list") is utilized by contractors to ensure all aspects of a construction project have been completed. A punch list itemizes things that must be fixed and tasks that must be addressed by subcontractors before the client will sign off on the project.
Punch lists are most effective when generated at the start of a construction project. And though they may see last-minute additions, punch lists are created collaboratively. The client and contractor discuss and determine "must-have" action items. Punch lists offer contractors a window of opportunity to make sure details aren't forgotten or miscommunicated as a project progresses. If misunderstandings do arise, contractors can resolve them thanks to the punch list and still get paid at the end of the day.
After all, a contractor cannot receive payment until everything on a designated punch list has been checked off.
Punch list vs. quality management checklist
The process of creating and double-checking punch lists might sound like quality management, and while there is some overlap between punch lists and quality assurance checklists, distinctions do exist. Construction QA checklists are focused on ensuring construction projects and workers remain on track as well as in compliance with safety regulations. Work on punch list items can be documented in QA checklists. QA checklists can also be used when construction sites and projects are audited for risk and safety.
---
Why is a punch list important?
Punch lists are an unavoidable aspect of construction projects. They might be a slog to get through but they help keep everyone on the same page. A well-written punch list can function as a blueprint and a quality checklist for a construction project.
A proactive punch list can prevent a project from spiralling out of control. Contractors use punch lists to identify aspects of a project that are incomplete or deficient, in addition to spotting compliance issues with building regulations. The different players on a construction project work together to create the punch list after walking through the construction site, ensuring the list contains all relevant deadlines, assignments and expectations. By creating a punch list early in the project timeline, all players can track and record completed tasks throughout.
Thorough project contracts, open communication and ample quality control help contractors handle the punch list process. Punch lists were previously manual beasts but fortunately, software and mobile applications have helped punch lists evolve into efficient digital tools. Even common present-day technology such as smartphone cameras simplify the necessary documentation involved in creating punch lists. Rather than waiting for printouts of photos taken on disposable cameras, modern contractors can snap a picture of the site with a smartphone and easily upload it to construction management software.
As mentioned earlier, without a client signing off on a completed punch list, contractors can neither close out a project nor receive final payment. Construction projects are only "done" when all loose ends are tied up. That means the project — be it an office building or a house — should be 100 percent move-in ready by the end of construction.
---
Who uses a punch list?
There are really just two phases involved in a punch list: 1) creating it, and 2) addressing it.
Even more important are the different players involved in those phases and how their responsibilities coalesce.
The players
The following are key players involved in a punch list:
Owner/Client: Generally, the "owner" of a construction project is the client who submitted the initial project request. The owner will most likely monitor the progress of a construction project, especially as it nears the closeout period. During the punch-list creation process, it's the owner who is responsible for populating the list, in consultation with the contractor. The owner has great control over the makeup of a punch list and therefore should be completely aware of their needs and wants for the project. ("Needs" and "wants" mean different things in terms of construction projects. A contractor does not need to fulfill all of the owner's wants.)
(General) Contractor: The contractor acts as mediator between owner, architect and subcontractors. The role of the contractor is to take a close look at the construction site, consult the owner's punch list, and work with subcontractors to determine what can realistically be delivered. On a construction site, the contractor speaks on behalf of the owner.
Subcontractor: Subcontractors have punch list items delegated to them by the general contractor. They are the ones who turn those punch list items into a structure that complies with contract specifications. One of the biggest hurdles subcontractors must clear is addressing punch list items on time. Another challenge is effective communication, which can minimize the possibility reworks will be required due to misunderstandings.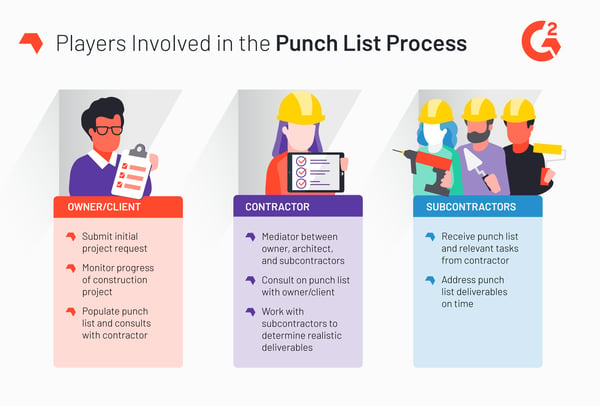 ---
What should a punch list include?
Myriad articles spell out items that commonly appear on punch lists. The consensus is, a good punch list is clear and detailed, contains supporting photos, and easily allows a contractor to track item completion.
The items that populate a punch list have been determined by the contractor and owner to be issues and flaws that must be fixed. Of course, "must" is a subjective word; there are different kinds of flaws. Unreasonable flaws are ones added to a punch list because they would unreasonably delay project delivery.
For example, cracks in a driveway, incorrectly installed flooring and defects in appliances or electrical systems should all appear on a punch list. Minor, incidental or cosmetic flaws that don't compromise contract obligations, should not.
Punch lists generally look the same, given they all have the same goal: outlining items that need fixing, and time-stamping when those items are addressed. Punch list software gives contractors the option of standardizing or creating a punch list template, which can improve efficiency. Software has the added benefit of allowing contractors to tag all punch lists with company branding.
Must-have punch list features
Some other must-have punch list features when creating a punch list template:
Action history

Photo and document attachment and editing functionality

Task notifications and reminders

Mobile application

File sharing

Messaging or communication functionality

Templating

Easy integration with third-party ERP systems, accounting software, and project management software
---
Software that simplifies punch lists
Software and other construction technology have greatly simplified the creation, generation and completion of punch lists. Punch list software exists both as standalone programming or as a feature within a larger construction project management tool. Punch lists get a boost when contractors incorporate mobile devices onsite. This is where the aforementioned snapping of pictures comes into play — contractors can use the cameras on their tablets or smartphones to take and attach pictures that document the status of punch list items. Punch lists, when bundled within construction project management software, benefit from collaborative functionality.
Digital punch list software and applications make it easier to track and monitor the punch list process via automated notifications and reminders. That means less scrambling to remember which items have been added to the list and which have already been crossed off. It also means any turnaround time, during which players might wait to hear back about whether punch list items have been addressed, is significantly reduced and automated.
While punch lists are a necessary evil during the project closeout process, software has been developed that eases the more manual aspects of creating and tracking them. The construction software industry has realized there are many opportunities for streamlining and efficiency. It's high time contractors, architects and other construction professionals be freed from the slog of handwritten spreadsheets and belabored communication
---
Do you prefer using standalone punch list software or taking advantage of a comprehensive construction management solution that offers punch list functionality?